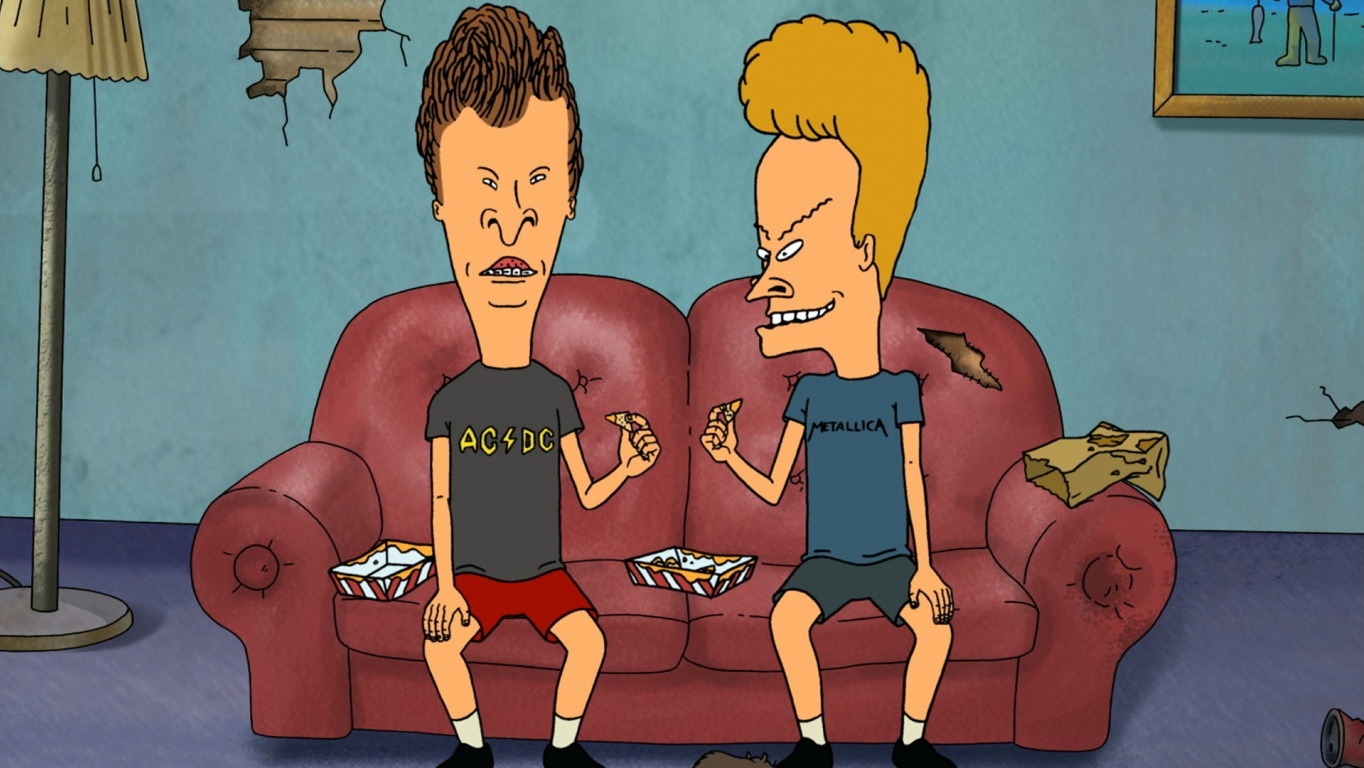 Welcome to my small tribute to two iconic characters of the 90's: Beavis and Butt-head (B&B). For those unaware, B&B is an animated show about two dumb, sex obsessed teenagers who discuss rock music videos.

Here you will find information about the show, an episode listing, a gallery with video clips, information about home releases such as the DVDs and video games and a few other random things.

Use the menu above to reach the main sections. I hope you enjoy!
History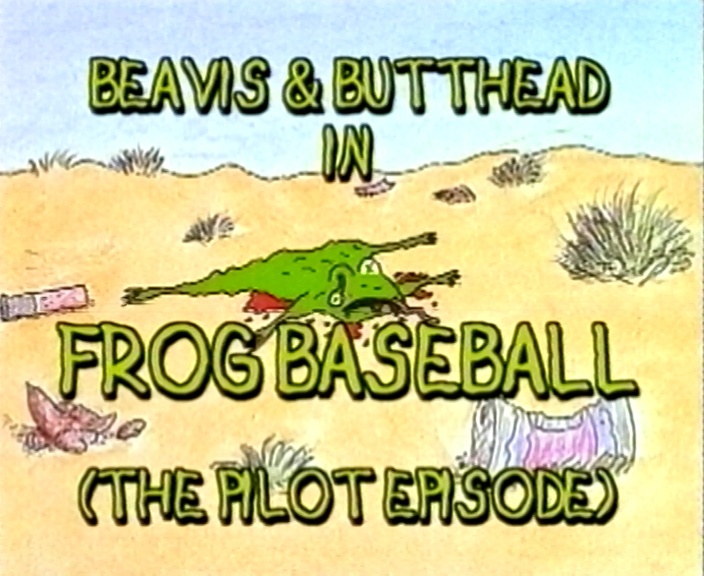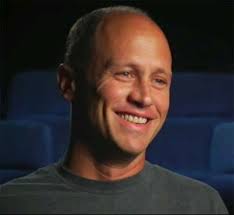 Inception and Original Run (90's)
B&B originally started as two small segments in a separate program called Liquid Television in 1993. The two shows: Frog Baseball and Peace, Love & Understanding did not contain any music videos. These were created by a Mike Judge (Judge) who also voices the duo.
These shorts caught the attention of more people than anticipated and MTV picked up the idea for a show. This became a quick success.
It was one of the very few animated shows aimed at adults and from the very start, B&B were steeped in controversy thanks to some of the early episodes (though this would happen occasionally throughout the lifetime of the show) and as such there are about five episodes that will never be shown on TV again with several more heavily edited. A brief rundown of these are detailed below. For example, as the title suggests, in Frog Baseball the boys play baseball with frogs; with their bats hitting each other as well.
The show, no doubt helped by the controversy and subsequent headlines, was proving very successful (particularly with young men) so much so that later in 1993 the team struggled to keep up with demand for new episodes. More episodes allowed the show to expand to include more recurring characters and locations in the fictional US sub-urban town of Highland. Judge also voiced several of these recurring characters such as Tom Anderson and Mr Van Driessen.
At the height of the show's success, B&B were somewhat synonymous with the MTV brand and as such were included in some bigger MTV events such as the VMAs, Thanksgiving shows and special segments during the Superbowl aptly entitled "Buttbowl"; and allowed to interview the likes of Snoop Dog.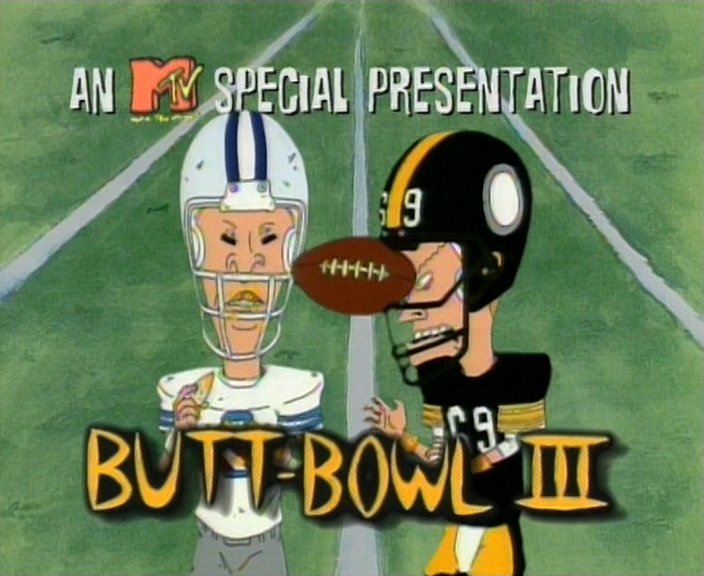 They went on David Letterman's show who appeared with the boys are few mores times.
Like many successful shows, merchandise spawned. This included books, toys, video games and a soundtrack with some of the biggest artists of the era which also had a duet with none other than Cher. See below for an overview of some of these items.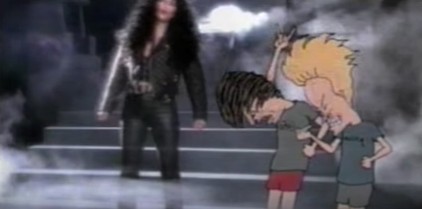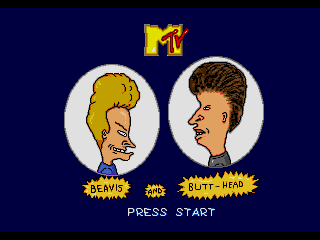 There was a steady supply of new episodes until 1997 (where the show had a slight format tweak) and the final extended episode "Beavis and Butt-head Are Dead" aired on MTV in 1997. B&B was over, with Judge citing creative burnout as a reason. By this time, the show had amassed some 200 episodes.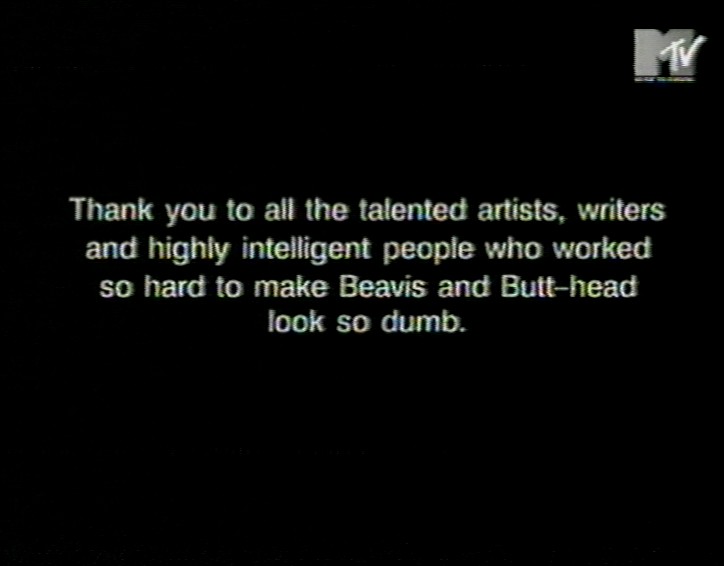 So now B&B seemed over, but the duo would return on occasion to cameo in special MTV events such as the VMA's which acted as teasers for potential new shows.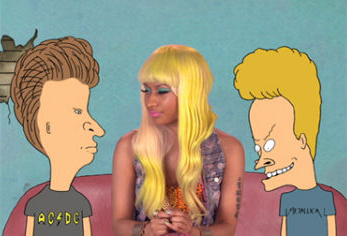 Yet all was not over because successful TV could often spawn successful movies...
The Movie: Beavis and Butt-head Do America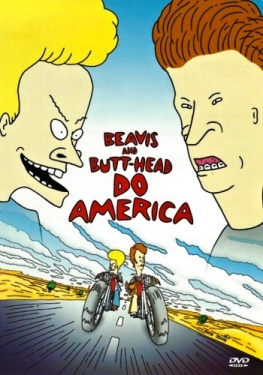 The duos first and (so far) only trip to the big screen was released in the winter of 1996. It was up against some big movies of the time such as Titanic but managed to draw a decent sized audience. It gained good reviews from movie goers and critics alike.
It took a few more months before it was released in other countries. For example, it did not arrive in the UK until May of '97.
It was co-written (with Joe Stillman and Brian Mulroney), directed and produced by Mike Judge. Intriguingly it was originally planned to be a live action movie which leads to the obvious question: who could actually play Beavis and Butt-head?
The story starts when the boys discover that their beloved TV has been stolen. They quickly become upset and unsettled needing to set out in search of an alternative source. They quickly become caught up in a fast moving plot involving murder and espionage which takes them across America with government agencies on their tail, climaxing in Washington DC.
Some big stars of the era added their voices to the movie most notably Bruce Willis, Demi Moore, Robert Stack (best remembered for his role in Airplane one of my favourite movies, and host of Unsolved Mysteries) and Cloris Leachman (who has been in the 'biz since the late '40s).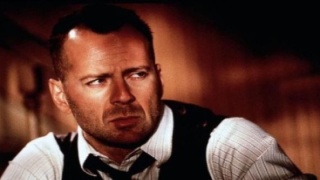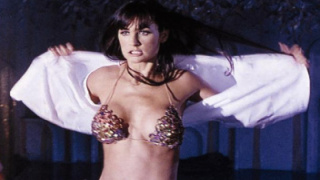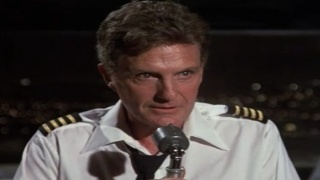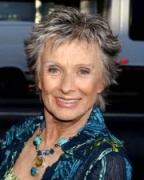 Also there were people who volunteered to be part of the movie such as David Letterman whom had several encounters with B&B in the past even having them on his show.
The line-up for the soundtrack of the movie was very impressive with some of the biggest names of all time on it, many of whom B&B were fans (see below for a track listing) and a dreamy addition from Englebert Humperdink. The soundtrack as a whole manages to convey the spectrum of music seen in the music video commentaries of the TV show but we all know B&B's favourite music is Metal.
It's a relatively short movie but this is no means a negative as it's full the usual B&B behaviour and classic dialogue with many of the recurring characters from Highland that we have come to know involved in the unlikely but entertaining plot.
There is obviously the massive improvement in the quality of the animation which is simply the result of a much bigger budget making the movie look and sound great.
It has been released on VHS and DVD for those who wish to own a copy and is available online through the likes of Google Play and Amazon.
See below in the gallery for some images from the movie.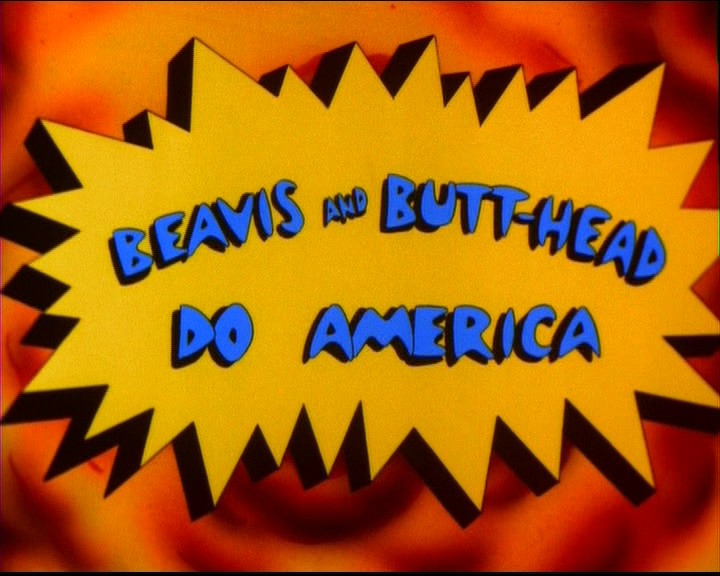 Trailers
2011: The Return
After much speculation, rumour and counter-rumour, B&B returned to the screens of MTV in 2011 with the new season openers entitled "Werewolves of Highland" and "Crying". The logo was changed to have Beavis on the left and Butt-head on the right and Interestingly there had been a slight name change too with the logo dropping "MTV" for "Mike Judge's".
After a small amount of promotion, the show proved successful once again - even if not to its original heights - but enough to prove there is still lots of love for the show out there.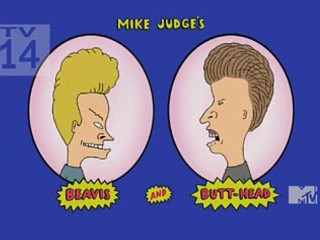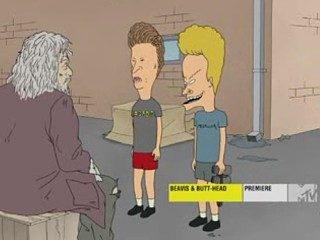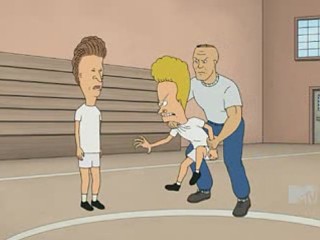 Virtually nothing had changed in the lives of B&B over the years and thus the show retained its style and format; though with the slight tweak being, on occasion, the boys would comment on some of MTV's shows of the time - primarily Jersey Shore (since MTV don't really show music videos anymore) and Cinema Classics but returning were all the classic characters: Tom Anderson, Van Driessen, Buzzcut, The P.A.T.s and they had not changed either thankfully.
It's clear the show had gone to digital animation and the image quality is top-class but it retains the style and feel of the original perfectly. Also, for those with a good ear, there is a slight change of voice for Beavis.
Future
Post 2011 it seems that the management of MTV are responsible for the halting a new season. Thankfully Judge is very keen to continue with the duo. MTV is very different today than it was then and there are a lot more animations aimed at adults now. Perhaps MTV do not take kindly to jibes about their own shows, even if they are crap. Perhaps they should consider that in effect we are all B&B now that we have the YouTube comment section...
All Rejoice!
On the 1st July 2020, MTV announced that two new seasons along with spin-offs and specials had been commissioned for Comedy Central bring back the duo with content that will appeal to older fans and a new generation of fans alike.
No specific dates have been mentioned so far but hopefully it will not be too long since the show already switched to computer animation back in 2013.
2022: A Most Triumphant Return
In 2021 as part of the upcoming launch for Paramount+ a new feature length movie and a new season of the show was announced and then released to the masses in the summer of 2022.
Beavis and Butt-Head Do the Universe
Released June 23rd (Sonic's Anniversary) this was the first new content since 2013 to setup the new season that followed shortly afterwards.
After destroying a Science Fair, the guys are sentenced to a term at Space Camp by a 'visionary' judge. By showing technical ability with a docking simulator, they are selected for a very special mission to garner some PR. Misunderstandings ensure the mission goes wrong and they are pulled into a blackhole that deposits them in the future where they are pursued by the NSA, The Governor of Texas and highly intelligent versions of themselves from a parallel universe trying to repair space and time – and whilst all the time – attempting to score.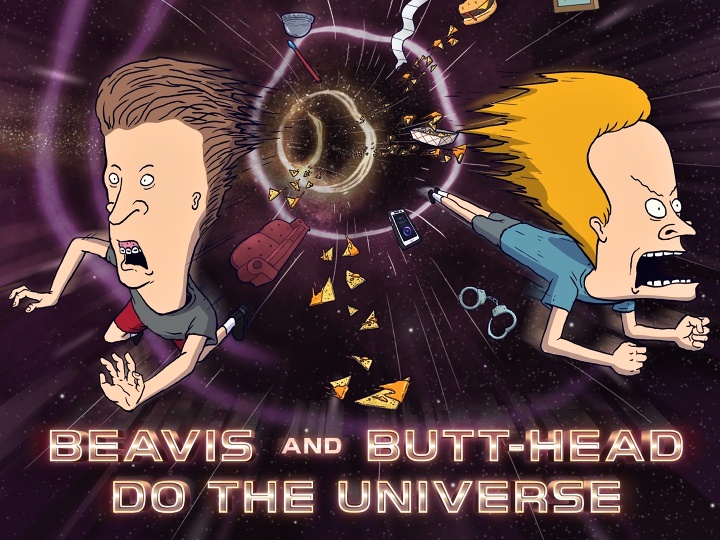 It has received excellent reviews and is a laugh-a-minute ride serving as a great start to the new episodes and fantastic to new comers.
It is available to stream on Paramount+.
See the gallery below for a few screenshots.
Season 9 and 10!
The latest season began in August and saw the returning of familiar faces and some new characters along with a new heavier take on the classic theme tune.
There are 23 episodes in the 2022 season with another planned for April 2023 in time for the shows 30th anniversary!
There are 24 number of episodes in the 2023 season. There is another sub-item entitled 'Tom Anderson's War Stories' where he tells us a boring anecdote from the time in the forces.
See the Episode Guide for a complete listing.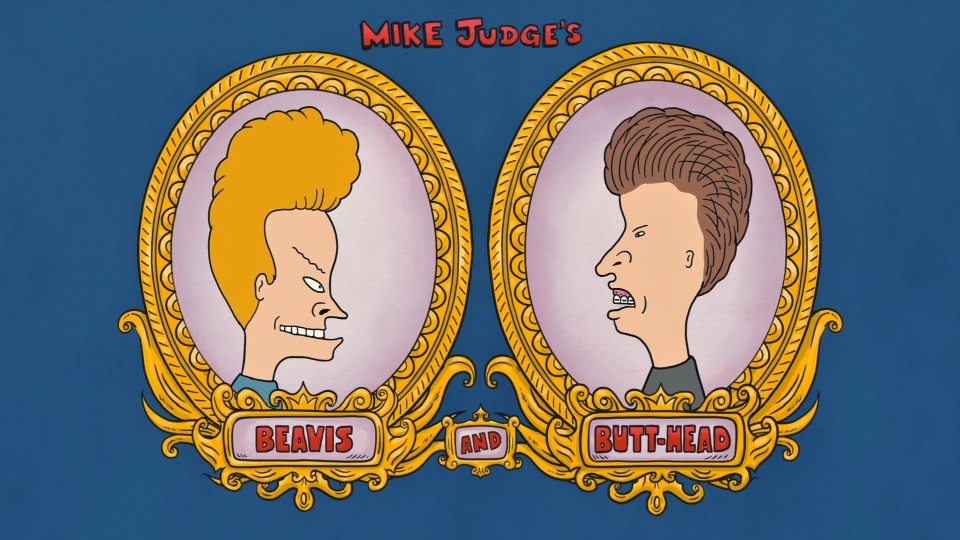 Thankfully there are only subtle tweaks to the format of the show. Whilst there are fewer music videos to tear into there is now Youtube and TikTok nonsense that deserves thorough rinsing.
Beavis gets a few solo adventures (maybe Butt-head will in time) and we also see an 'Old Beavis and Old Butt-head' in episodes trying to exist as men in their 40s, drinking and smoking still getting caught up in stupidity.
Mike Judge has the voices spot on (Beavis sounded a little scratchy in the 2013 season) with some new ones thrown in. The modern animation abilities allow for some newer scenes and camera angles that were not possible back in the day which is a nice enhancement to the already HD quality.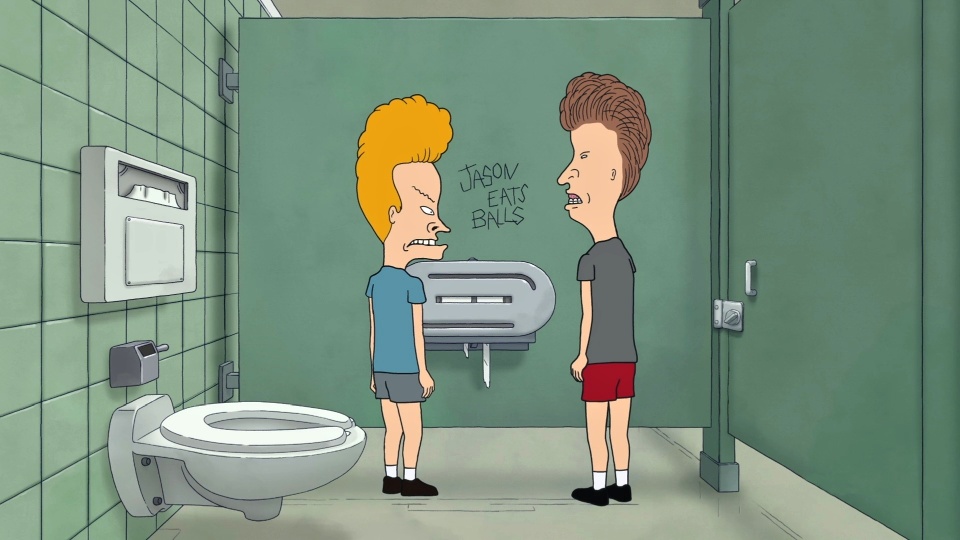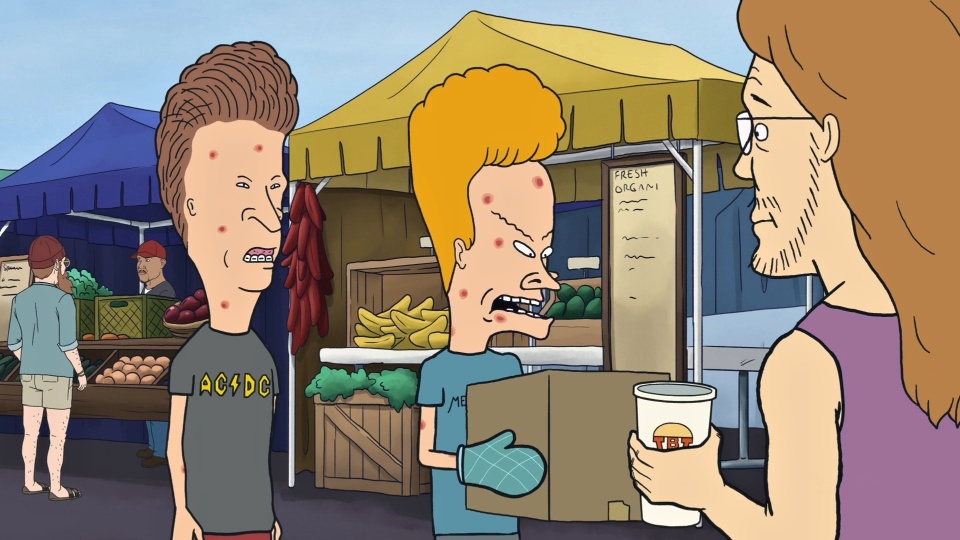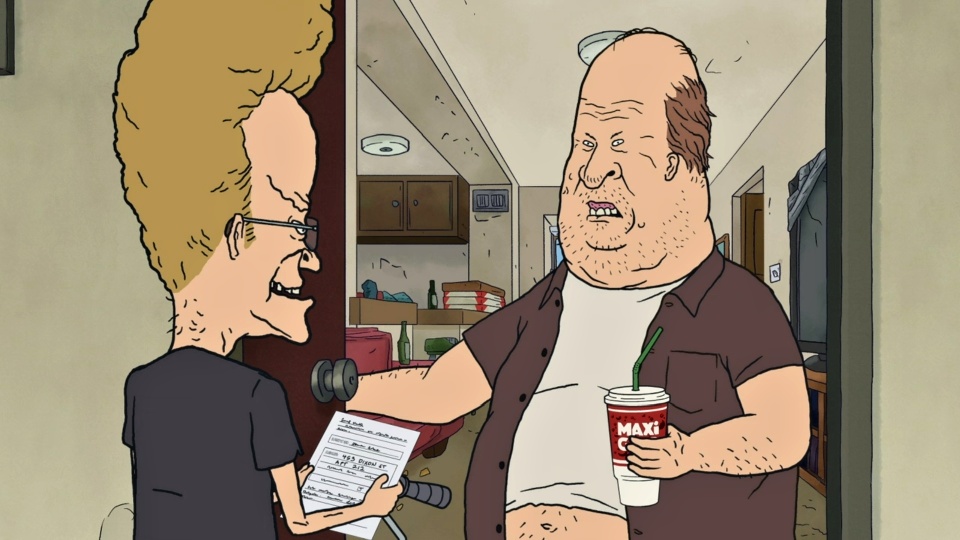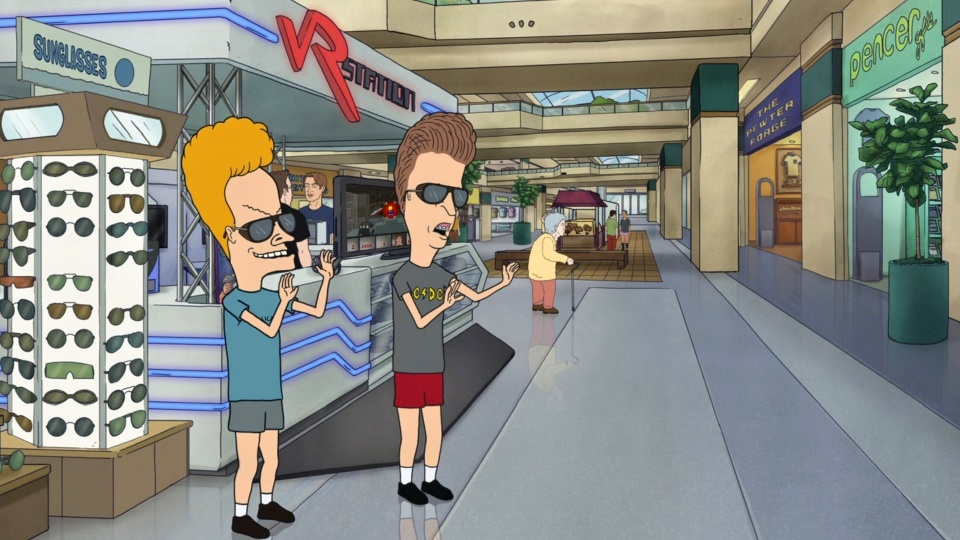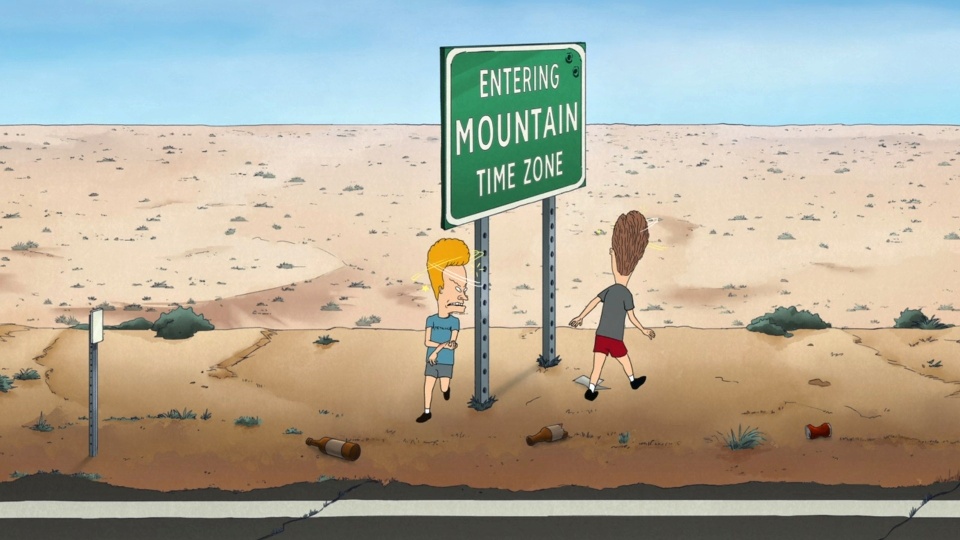 But crucially, the episodes themselves remain the same genius stupidity which is absolutely brilliant. So, if you were a fan of the old shows and have concerns you have absolutely nothing to worry about and as such received great reviews.
With the movie combined, it has managed to reignite interest in the franchise so hopefully there will be plenty more episodes to follow.
B&B can be seen as somewhat of a commentary on other shows at the time (American TV) having spoofed Star Trek, ripping off soaps with "The Rich and the Horny" and the copious amount of talk shows of the era.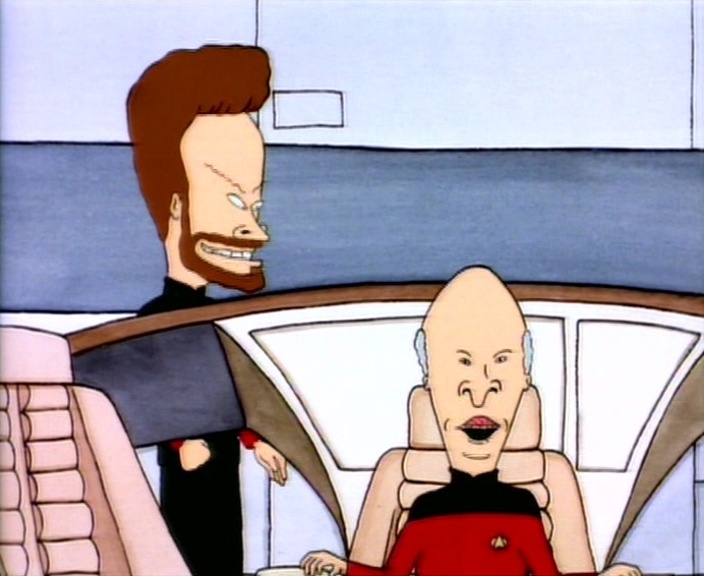 And in retrospect, the show was clever at times highlighting some of the social and cultural attitudes of the time: there probably were a lot of dumb kids just watching music videos all day - those dubbed the "MTV Generation".
Much to its success, it spawned the spin off show "Daria", a classmate and witness of B&B stupidity from the very beginning, and inspired Judge to create "King Of The Hill". South Park creators Trey Parker and Matt Stone cite B&B as a major influence for their long running show.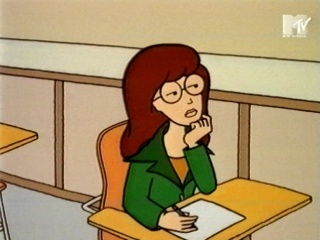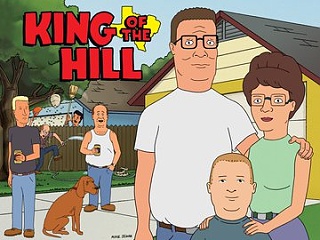 For me, One of the most enduring things about B&B is how quickly we young males degenerate into the similar giggles and laughing that B&B have, a joke used several times in the show. Sometimes it can be just as funny when they don't say anything. One can just turn to the other and you know they disapprove.
In conclusion, whether there is a new seasons or not one thing is for certain, B&B will remain one of the defining shows of the generation.
Where to Watch
The show is not on TV much these days. That may change if and when new episodes come but thankfully there are plenty of places online (including plenty of fan made and uncut collections) and Netflix with a decent amount of home releases too. See below for an overview of these.
Unofficial Ultimate Collection
Looking for a complete B&B Collection? Well you are in luck as a man called KingTurd has invested tonnes of time into creating a comprehensive collection (all episodes with music videos) that can be downloaded via peer to peer downloads.
Do a search for Kingturd Collection v2 or Version 2 and obtain a torrent file.
Note that it is x15 DVDs in total (approx. 76GB) so it's a very large download. There are custom covers about the internet for those wishing to finish theirs.
Cut and Banned Episodes
The following episodes have been subject to rare airings and/or heavy editing due to events taking place at the time the episodes aired or complaints. Some have not been included in most of the various home releases however, they can be found online.
Cut and Banned Episodes

Stewarts House
(Original Airing, June 14, 1993)

Not only the scenes of vacuuming the cat, inflicting pain on Stewart and destruction of the kitchen but moreover because of the gas inhaling at the stove which also got an MTV disclaimer slapped on it.

This image is often shown as the height of their outrageousness.

It is included on the "Too Dumb For TV" VHS collection uncensored.

Comedians
(Original Airing, September 6, 1993)

This was pulled as in the closing moments Beavis burns down the comedy club. It also marked the censoring of Beavis' "fire" ranting.

It aired a few weeks before a young man in Ohio allegedly inspired by the show burnt down his family's trailer killing his sister.

This episode became heavily edited with fans making their own versions in an attempt to make a complete episode.

Way Down Mexico Way Part 2
(Original Airing: May 26, 1993)

This rarely aired episode has its second part pulled because of the drug trafficking scene. Beavis and Butt-head swallow condoms full of pills but untied. It also had an MTV disclaimer on it.

It is included on the "Too Dumb For TV" VHS collection uncensored.

Home Improvement
(Original Airing: May 24 1993)

Was pulled simply because of all the appalling things the boys do, any of which would get someone in serious trouble if they copied them.

Included on the "There Goes The Neighbourhood" VHS collection.

Heroes
(Original Airing: June, 30 1993)

Banned due to the use of guns which results in them bringing down a commercial airliner. MTV do not like guns.

Not yet included on any home releases.

Washing The Dog

Presumably because of the treatment of animals: they put the dog into a washing machine.

Included on the "There Goes The Neighbourhood" VHS collection, The Mike Judge Collection DVD and was aired on MTV2 unedited.

Incognito

This was pulled due to the scene where Earl fires his gun out of the classroom window. MTV do not like guns, even animated ones.

School shootings in the US made this episode an easy target but it did air in the UK.

Cyber-Butt

Rarely aired as the as it encourages searching the Internet for porn underage (of course nobody does that).

This never aired in the UK and yet to be included on any home releases.
---
Below are my Top 10 episodes. These episodes are what made the show so appealing to me and I have many fond memories of myself and friends laughing or speaking parts of these episodes to each other.
It was tough to choose these so I will probably expand it to 20 at some point.
Top 10 Episodes

Buttniks

Beavis and Butthead end up in a poetry reading seminar and Beavis goes into Cornholio mode and amazes everybody with his thoughts.

Check out a clip in the gallery below.

Mr. Andersons Balls

Roaming the golf course, Beavis and Butt-head find a business opportunity - selling golf balls. To get them they stalk Tom Anderson and steal every ball he hits. Check out a clip in the gallery below.

Woodshop

Fascinated by the saw in woodshop class they decide to place all the objects they can find through it. Beavis has a psychotic episode and puts his finger on the blade.

Prank Call

A new phone book arrives and they pick a name to start calling. Harry Sachz (pronounced Hairy Sack by Butt-head) is continuously harassed over the phone. Eventually the neighbour ends up with a mobile phone shoved up his butt.

Spanish Fly

During an inspection of the toilets in a local garage looking for advice for scoring, the duo discover a vending machine dispensing Spanish Fly. They attempt to test their new tactic on a girl at school only to have their plan backfire.

Screamers

Inspired by TV shows, B&B venture outside screaming. This naturally includes travelling door to door with their T-Shirts over their heads relentlessly at their victim.

Die Fly, Die!

An invading fly enters the living room and disturbs them watching TV. All attempts are made to destroy the fly unsuccessfully.

Impotence

Because B&B have not yet scored despite all their efforts, they conclude that they are impotent. They visit an impotence clinic only to be thrown out for being totally the opposite.

Tired

B&B discover a huge tractor tire to play with when harassing the local garage. At the top of the highest hill in the town Beavis climbs in and is booted down the hill for a wild ride.

Close Encounters

The boys are ordered to attend a feelings and sensitivity class with bad results for Mr McVicker, their school principle.
---
Because of the shows origins there are conflicting articles about the season numbers.
Pilot Episodes
Beavis and Butt-head actually began life as 2 short segments on a separate program called Liquid Television and did not include any music videos. Videos were later added when the show moved to MTV later that year. They were:
Frog Baseball

Peace, Love & Understanding
Season I (1993)
Give Blood
Door-To-Door
Sign Here
Balloon
Season II (1993)
Scientific Stuff
Good Credit
Burger World
Baby Makes Uh, Three
Beware Of The Butt
At The Sideshow
Customers Suck
Sick
Home Improvement
Way Down Mexico Way
Way Down Mexico Way 2
At The Movies
No Laughing
No Laughing 2
The Butt-head Experience
Lawn & Garden
Stewart's House
For Better Or Verse
Bedpans & Broomsticks
Babes R Us
Yogurt's Cool
Heroes
Washing The Dog
Friday Night
Be All You Can Be
Season III (1993)
Comedians
Carwash
Couch-Fishing
Incognito
Kidnapped
Kidnapped Part 2
Naked Colony
Tornado
Cleaning House
Scratch 'N' Win
Scared Straight
Eating Contest
Sporting Goods
Sperm Bank
Buff 'N' Stuff
Citizen Butt-head
Citizen Butt-head Part 2
Politically Correct
Ball Breakers
Meet God
True Crime
The Trial
The Crush
Plate Frisbee
Canoe
Young, Gifted & Crude
Foreign Exchange
A Very Special Christmas With Beavis and Butt-head
Closing Time
Most Wanted (Extended Episode)

Season IV (1994)
Wall Of Youth
Cow Tipping
Trouble Urinating
Rabies Scare
They're Coming To Take Me Away, Huh Huh
Jump!
Pumping Iron
Let's Clean It Up
1-900-BEAVIS
Water Safety
Blackout!
Late Night With Butt-head
The Final Judgment Of Beavis
Pool Toys
Madame Blavatsky
Beavis and Butt-head's Island
Figure Drawing
Date Bait
Butt Is It Art?
Right On
Manners Suck
The Pipe Of Doom
Safe Driving
Mr. Anderson's Balls
Patients Patients
Teen Talk
Crisis Line
Vs. The Vending Machine
Generation In Crisis
Radio Sweethearts
The Great Cornholio
Liar! Liar!
Season V (1994-1995)
Held Back
Killing Time
Beard Boys
Choke
Safe House
Hard Sell
Walkathon
Temporary Insanity
Dude, A Reward
Walking Erect
Career Day
Plastic Surgin'
Take A Number
Beaverly Buttbillies
Tainted Meat
Stewart Moves Away
Top O' The Mountain
Party
Wet Behind The Rears
Bad Dog
Lightning Strikes
Dream On
Candy Sale
Animation Sucks
What's The Deal
The History Of Women
To The Rescue
I Dream Of Beavis
Pregnant Pause
Here Comes The Bride's Butt
Screamers
Beavis, Can You Spare A Dime?
Skin Trade
Oil Change
Buttniks
Bang The Drum Slowly Dumbass
Another Friday Night
Tired
Close Encounters
Womyn
Premature Evacuation
Whiplash
Spare Me
Patsies
Murder Site
Spanish Fly
Sexual Harassment
Bus Trip
Green Thumbs
Steamroller
Season VI (1995-1996)
Bungholio - Lord Of The Harvest (Extended Episode)
The Mystery Of Morning Wood
U.S. History
Feel A Cop
Date Watchers
Blood Pressure
1995 Christmas Special (Huh-Huh-Humbug)
1995 Christmas Special (It's A Miserable Life)
Babysitting
Vidiots
Stewart Is Missing
Gang Of Two
Sprout
Prank Call
No Service
Yard Sale
P.T.A.
Substitute
Shopping List
Buy Beer
Season VII (1997)
Show had a format change of 5 minutes and a single music video at the end.
Butt, Butt, Hike!
Vaya Con Cornholio
Evolution Sucks
Ding-Dong-Ditch
Just For Girls
A Very Special Episode
Dumbasses Anonymous
Underwear
Head Lice
Cyber-Butt
Nose Bleed
Citizens Arrest
Pierced
A Great Day
On Strike
Follow Me
Nothing Happening
Take A Lap
Shortcuts
Bride Of Butt-head
Special Delivery
Woodshop
T.V. Violence
Canned
Garage Band
Impotence
The Miracle That Is Beavis
Shopping Cart
Inventors
Die Fly, Die!
Drinking Butt-ies
Work Is Death
Breakdown
Graduation Day
The Future Of Beavis and Butt-head
Speech Therapy
Our Founding Losers
Leave It To Beavis
Butt Flambe
Beavis And Butt-head Do Thanksgiving (Extended Episode)
Beavis and Butt-head Are Dead

Beavis and Butt-head Do America (Feature Movie)
Season 8 (2011)
Each episode is now around 10 minutes with music videos and MTV shows sections throughout.
Werewolves Of Highland
Crying
Daughter's Hand
Tech Support
Holy Cornholio (Extended Episode)
Drones (Extended Episode)
Supersize Me
Bathroom Break
The Rat
Spill
Doomsday
Dumb Design
Copy Machine
Holding
Used Car
Bounty Hunters
Time Machine
Massage
School Test
Snitchers
Whorehouse
Going Down
Beavis and Butt-head Do The Universe (Feature Movie)
Season 9 (2022)
Escape Room
The Special One
Boxed In
Beekeepers
Roof
River
The New Enemy
The Doppelganger (Beavis Solo)
Nice Butt-Head
Home Aide (Old B+B)
Virtual Stupidity
Locked Out
Kidney (Old B+B)
The Good Deed
Two Stupid Men (Old B+B)
Freaky Friday
Weird Girl
Time Travelers
Spiritual Journey - Double Length
Refuse Service
Downward Dumbass
The Most Dangerous Game
Bone Hunters
Season 10 (2023)
Meditation Sucks
Polling Place
Old Man Beavis
Tom Anderson's War Stories
Hunting Trip
Pardon Our Dust (Old B+B)
Pranks
Hellhole
Take A Bow
Tobacco Farmers
Married (Old B+B)
Sad Boys
Are You There God? It's Me, Beavis
The Day Butt-Head Went Too Far
Tom Anderson's War Stories
Spring Break
The Warrior
Vasectomies (Old B+B)
Stolen Valor (Old B+B)
Breeding Frenzy
Hoarders
Needle Dicks
The Ciabatta Zone
Tom Anderson's War Stories
Warehouse
Abduction (Smart B+B)
Sleep Over
---
Below is a multimedia gallery from various sources over the years including DVD, VHS and online galleries now long since gone.
Click on any of the images for the larger version or to begin playing the video (HTML5/WebM) format.
Images
Image Gallery

Living Room, Sofa, Dancing ect

Randoms
Beavis and Butt-head Do America
Trailers
Do America Trailers

| | | |
| --- | --- | --- |
| | > | > |
| Trailer 1 | Trailer 2 | Trailer 3 |
Images
Do The Universe Image Gallery

| | | |
| --- | --- | --- |
| | | |
| | | |
| | | |
| | | |
Video Clips
The video clips below are presented in HTML5 (VP8) video. Click on any of the images to view.
Music Videos
Video Clips (Music Videos)

| | | |
| --- | --- | --- |
| | | |
| From the episode "Spanish Fly". | From the episode "Citizen Butt-head". | From the episode "Beavis and Butt-heads Island?". |
| | | |
| From the episode "Womyn". | From the episode "Beavis and Butt-head Vs The Vending Machine". | From the episode "Plastic Surgin'". |
Episodes
Video Clips (Episodes)

| | | |
| --- | --- | --- |
| | | |
| From the episode "Ball Breakers". | From the episode "Buttniks". | From the episode "Mr Anderson's Balls". |
| | | |
| Lolita And Tanqueray, resident hoes. From the episodes "Tornado, Date Bait and Teen Talk". | Working Out From the episode Killing Time | From the episode "Candy Sale". |
---
Detailed below is some of the various merchandise that feature B&B and the home releases on VHS, DVD and Blu Ray.
Books and Comics
These are high quality publications both of which can be found on Ebay for less than £5.
Ensucklopedia
An A-Z of the essential things creating the world around us detailed through the eyes of the boys.
They present us with alternative history, advice and some creativity.
There are lots of illustrations and parodies such as the X-Files and Star Trek.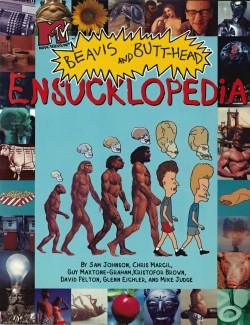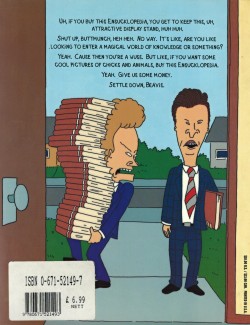 Reading Sucks
This is a compilation title that not only includes the Ensucklopedia but also several other smaller titles including: Huh Huh For Hollywood, The Butt-files and Chicken Soup For The Butt.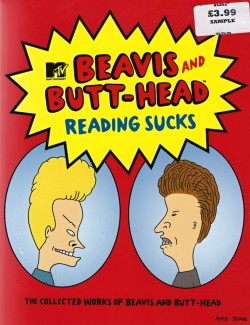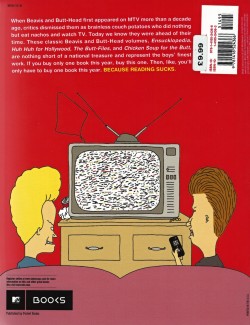 Comics
Marvel Comics had 27 issues of their Beavis and Butt-head comic series. It was only every released in the US and is rather rare.
Music / CD's
So far only three CDs have been released and both are still relatively easy to obtain.
The Beavis And Butt-head Experience
MTV released a compilation album in 1993 and featuring some of the biggest acts of the era including Nirvana, Aerosmith and Cher whom appeared in a video with the duo. You can view this below via Youtube.
Track Listing
1: Nirvana - Hate Myself and Want to Die
2: Anthrax - Looking Down the Barrel of a Gun
3: Beavis and Butthead - Come To Butt-head
4: Megadeath - 99 Ways to Die
5: Run DMC - Bounce
6: Aerosmith - Deuces Are Wild
7: White Zombie - I Am Hell
8: Primus - Poetry and Prose
9: Sir Mix-aLot - Monsta Mack
10: Red Hot Chilli Peppers - Search and Destroy
11: Jackyl - Menatl *@%#!
12: Cher with Beavis and Butt-head - I got You Babe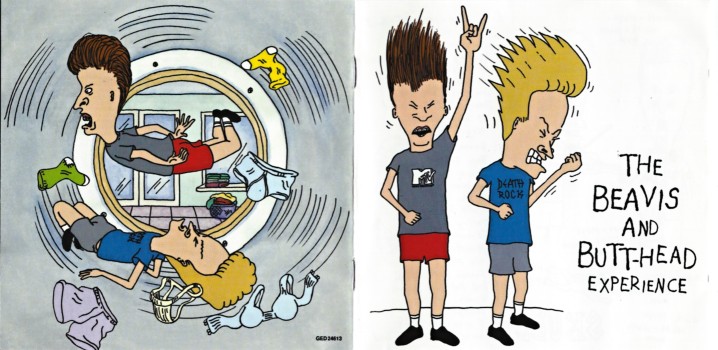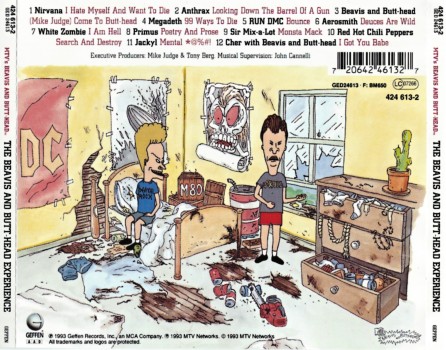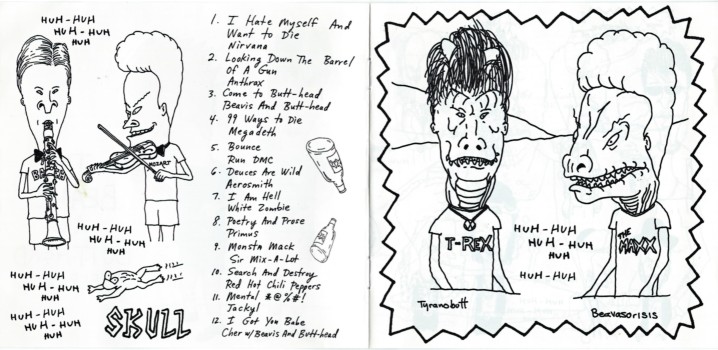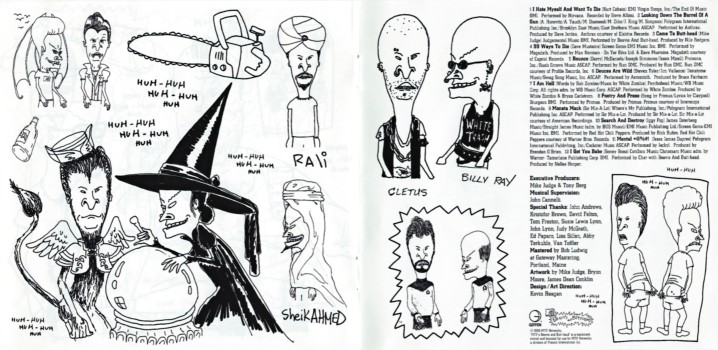 Beavis And Butt-head Do America Original Motion Picture Soundtrack
This is the soundtrack that contains the songs from the artists featured in the movie.
The track from LL Cool J was a No 1 in the UK Top 40.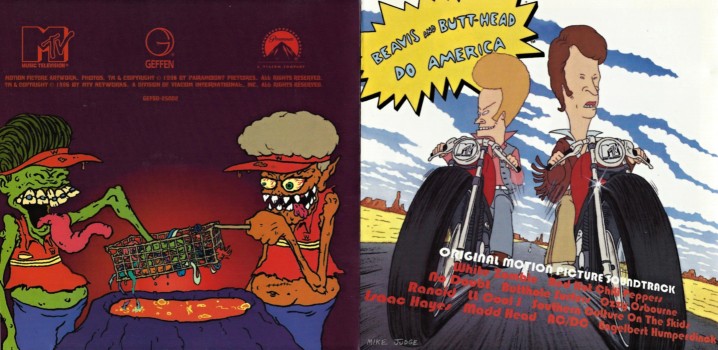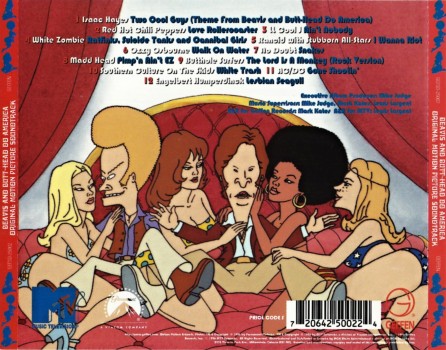 Track Listing
1: Isaac Hayes - Two Cool Guys (Theme from Beavis and Butt-head Do America)
2: Red Hot Chilli Peppers - Love Rollercoaster
3: LL Cool J - Aint Nobody
4: White Zombie - Ratfinks, Suicide Tanks and Cannibal Girls
5: Rancid with Stubborn All-Stars - I Wanna Riot
6: Ozzy Osbourne - Walk on Water
7: No Doubt - Snakes
8: Madd Head - Pimpn Aint EZ
9: Butthole Surfers - The Lord is A Monkey (Rock Version)
10: Southern Culture On The Skids - White Trash
11: AC/DC - Gone Shootin
12: Englebert Humperdink – Lesbian Seagull
Beavis And Butt-head Do America Score Soundtrack
This is the movie score: the orchestral action music.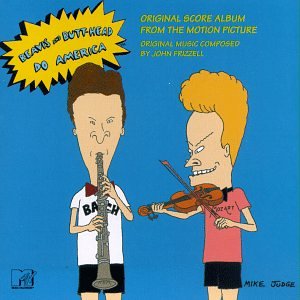 Track Listing
1. Buttkong
2. The Flood
3. The Unit In Beavis' Pants
4. Dying In The Desert
5. The ATF
6. Dallas And Muddy
7. Searching For The T.V.
8. Beavis The Sperm
9. The Freeway Incident
10. Defcon 4
11. Judgorian Chant
12. Mr. President, We're Never Gonna Score
13. The Walk Into The Sunset
14. The Standoff
15. Aunque La Mona
16. Mucha Muchacha
Clothing
T-Shirts sporting the duo are rather popular and have been made by several companies most recently Jack And Jones. Now there are many more designs available in many places such as Amazon and Ebay.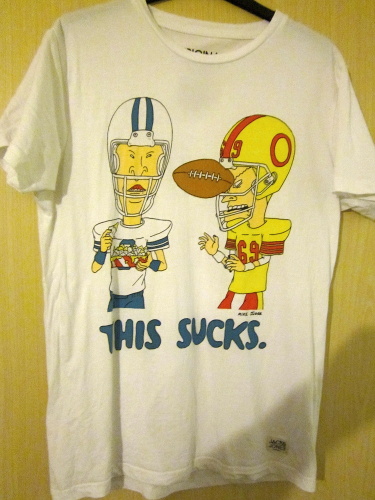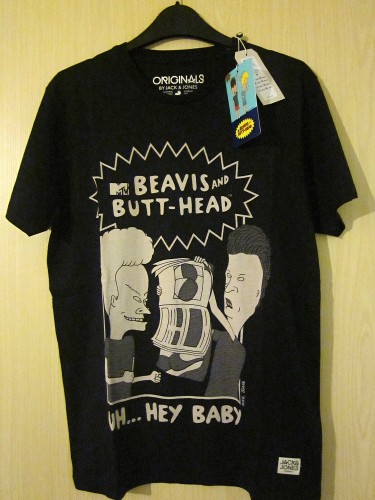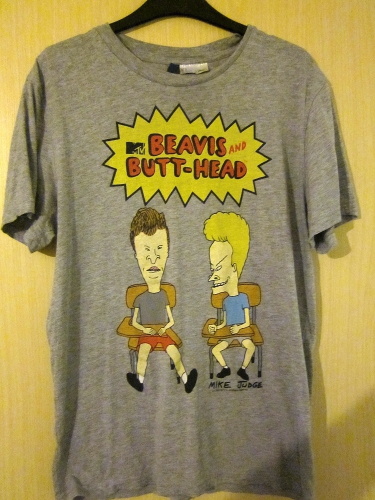 There are one or two other products such as beanie hats and wallets but are more difficult to find in the UK.
Until recently there was very little pieces of clothing but it seems that some of the retro love for the 90's has generated much more choice.
Toys
Whilst there are plenty of plush toys and figures such a bobble-heads all of which can be found quite easily on Ebay and Amazon there are a few rare ones.
Posters, mugs, skateboards (which MTV UK were giving away as part of their 1 year anniversary in 1998)
Examples are:
TV Talker. Made in the 90's this toy is the pair sitting on their sofa and is designed to sit on top of your TV and activates whenever a remote control signal is detected and then the guys will say one their famous sayings such as "This sucks, change it".
Talking keyring that contains classic quotes (samples) from the two.
Trading card set that shows the duo in many circumstances with descriptions, bits of wisdom and quotes on the reverse. There is a binder to store the entire collection.
VHS Releases
This page details all of the PAL VHS tapes released and the episodes they contain. Most of them do not contain any music videos. Those that do are detailed on the sleeves.
Click on any of the thumbnails for a larger scan.
VHS Releases

Feel Our Pain (1996)

1. Animation Sucks
2. Bad Dog
3. Tired
4. Bus Trip
5. Patsies
6. Choke
7. Blood Pressure
8. Lightning Strikes

Also includes LL Cool J's Ain't Nobody music video to promote Do America.

The Final Judgement (1996)

1. No Laughing
2. Scared Straight
3. They're Coming to Take me Away, huh huh
4. Manners Suck
5. The Great Cornholio
6. Liar! Liar!
7. The Final Judgement

Chicks N' Stuff

1. Friday Night
2. Naked Colony
3. 1-900 Beavis
4. Party
5. Top O' the Mountain
6. Plastic Surgin'
7. Pregnant Pause
7. Dream On


There Goes The Neighbourhood (1996)

1. Home Improvement
2. Lawn and Garden
3. Good Credit
4. Washing the Dog
5. Beavis and Butthead Vs the Vending Machine
6. Mr Anderson's Balls
7. Pool Toys
8. The Trial

Work Sucks (1996)

1. Burger World
2. Customers Suck
3. The Butt-head Experience
4. Be All You Can Be
5. Cleaning House
6. Sperm Bank
7. Blackout
8. Closing Time

Beavis and Butt-head Do Christmas (1996)

Innocence Lost (1997)

1. Held Back
2. Safe Driving
3. Figure Drawing
4. Stewart Moves Away
5. A Very Special Episode
6. Nosebleed
7. Dumbasses Anonymous
8. Vaya Con Cornholio

Law Abiding Citizens (1997)

1. Generation In Crisis
2. Citizen Butt-head
3. Sexual Harassment
4. Stewart is Missing
5. Prank Call
6. Feel a Cop
7. Buy Beer
8. Buttniks

Troubled Youth (1998)

1. Citizen's Arrest
2. Substitute
3. No Service
4. Impotence
5. Speech Therapy
6. Work is Death
7. Die! Fly, Die!
8. Tainted Meat

Hard Cash (1998)

1. Hard Sell
2. Temporary Insanity
3. Beaverly Butt-Billies
4. Green Thumbs
5. Whiplash
6. Investors
7. Yard Sale
8. Baby Sitting

Get Lucky (1999)

1. Date Bait
2. Evolution Sucks
3. Here Comes the Brides Butt
4. The History of Women
5. Spare Me
6. Womyn
7. Spanish Fly
8. Date Watchers

Star Pupils (1999)

1. Butt, Is It Art?
2. Wet Behind the Rears
3. Premature Evacuation
4. US History
5. Walkathon
6. Wood Shop
7. Breakdown
8. Shortcuts

To The Rescue (1999)

1. Jump!
2. Let's Clean It Up
3. Crisis Line
4. Teen Talk
5. Safe House
6. Dude, A Reward
7. Career Day
8. To the Rescue

Self Improvement (1999)

1. Patients, Patients
2. Right On
3. Radio Sweethearts
4. Beard Guys
5. What's the Deal
6. Water Safety
7. The Mystery of Morning Wood
8. Close Encounters

The History Of Beavis (1999)

1. Give Blood
2. Balloon
3. Door to Door
4. Yogurt's Cool
5. The Crush
6. Babes 'R Us
7. Bedpans and Broomsticks
8. Baby Makes Uh, Three

Too Dumb For TV (2000)

1. Frog Baseball
2. Stewart's House
3. Way Down in Mexico
4. For Better or Verse
5. At the Movies
6. Ball Breaking

History Of Beavis II (2000)

1. Plate Frisbee
2. Science Sucks
3. Sick
4. Sign Here
5. Side Show
6. Foreign Exchange
7. Car Wash
8. Walking Erect

History Of Beavis III (2000)

1. Rabies Scare
2. Pumping Iron
3. Steamroller
4. Sprout
5. PTA
6. Head Lice
7. Follow Me
8. On Strike

1. Butt-O-Ween: Bungholio: King of the Harvest
2. The Pipe of Doom
3. Killing Time
4. Leave it to Beavis
5. Ding Dong Ditch
6. Late Night with Butt-head
7. Candy Sale

The Future Of Beavis And Butt-head (2000)

1. Beavis, Can You Spare a Dime?
2. Another Friday Night
3. Garage Band
4. Graduation Day
5. The Future of Beavis and Butt-head

Sticky Situations (2000)

1. Couch Fishing
2. Tornado
3. Kidnapped Parts 1 and 2
4. Most Wanted Parts 1 and 2
5. Trouble Urinating
6. Beavis and Butt-head's Island

Beavis And Butt-head Do America (1998)

A fairly standard transfer of the movie presented in 4:3 aspect with stereo sound.

It also has the Love Rollercoaster music video before the movie.

And the usual MTV trailers of the day for The Maxx and The Head and adverts for the music CDs.
DVD and Blu Ray Releases
Until the release of the Mike Judge Collections, there were very few DVD releases and those were in the US and were essentially the same as the earlier VHS releases. Some of which can be very hard to find. Luckily they are region free so easily played. This list is not exhaustive.
DVD And Blu Ray Releases

Hard Cash (The Best Of) (1998)

Essentially the same as the VHS release. See Above.

Beavis and Butt-head Do Christmas (The Best Of) (1999)

Contains the two extended episodes:

Beavis and Butt-head Do Christmas (Huh-huh-Humbug, Season's Greetings I, Letters To Santa Butt-head I, It's A Miserable Life, Season's Greetings II, Letters To Santa Butt-head II).

Curiously in Letters to Santa Butt-head II the letters differ from that of the TV version. There are two different/extra ones.

Butt-O-Ween Bungholio: King of the Harvest

And the following episodes without music videos:

Killing Time
The Pipe of Doom
Leave it To Beavis
Ding-Dong-Ditch
Candy Sale
Late Night With Butt-head

Mike Judge's Most Wanted

A selection from the collections above along with a decent amount of extras in a single disc at a budget price.

The original DVD version was released 2000. The disc contained a good quality transfer of the movie presented in 1.78 anamorphic widescreen and 5.1 surround and stereo 2.0 audio mixes and there are two very small teaser trailers.

Overall it's a very thin release offering little over the VHS release other than the obvious picture and sound quality improvement. It does not have the Love Rollercoaster video either.

Released in 2006 this edition contains no changes to the actual movie and there are no new additions inside the case but there are plenty more extras features and the menu system is different from the original release.

The new extras are:

An Audio commentary featuring director Mike Judge and animation director Yvette Kaplan.
The Big Picture - A Behind-The-Scenes featurette with interviews with cast and clips.
We're Gonna Score – A featurette about the efforts involved in making the music for the movie.
The Smackdown - A montage of slaps, smacks, punches and other acts of violence from the movie.
MTV New's Celebrity Interviews – Three clips featuring Jennifer Tilly, Snoop Dogg and Steve Buscemi.
Trailers and TV Spots – Fourteen of them!

The movie is presented in its original 1.85:1 aspect ratio and enhanced for widescreen displays. There is an ever so slight improvement in picture quality as it properly signed for progressive can TV's but the original release had no issues. At the bottom of this page are links to compare the image quality between the versions.

Audio is available in either English 5.1 Surround or 2.0 Stereo mixes.

Both releases of the movie can usually be found very cheaply usually around £8.




There are three volumes each consisting of three discs. The first two discs containing episodes and the third containing extras. See below for the full contents.

The episodes were hand selected by Mr Judge and the included extras are an impressive addition for the discerning fan who may also notice that some of the episodes have the odd scene dropped or odd scene extended. Contrary to reports and reviews it does not contain every episode nor are all the music videos contained which is understandable due to licensing.

These can be bought separately or as an entire set in a shiny gold case (original release) which also includes the Special Collector's Edition of Beavis And Butt-head Do America - a very welcome addition.

Volume 4 (2012)

This is essentially the 2011 season of the show (see episode listing above) on one disc.

It includes extras: 2011 San Diego Comic Con Panel where Mike Judge talks about the return of the show, Beavis and Butt-head Interruptions where the two contact the members of Jersey Shore, and a few seconds of them telling movie goers to shut up.

The Blu Ray can be somewhat tricky to track down but thankfully is also region free whereas the DVD version is much easier to find.
---
Video Games
There were several games released for the games consoles of the time along with the PC and Mac. All had the typical jokes from the show with some being classic and some new.
None of these games did particularly well on their respective platforms, however, bear in mind that the mid 90's was more or less the end of the life for those.
Below is a quick overview of each.
Consoles
Simply entitled "Beavis and Butt-head", there were four games however each were different and developed by a different company.
Reviews for each version were somewhat positive suffering mostly due to repetitive and tedious gameplay but all sported excellent animation and plenty of recognisable elements from the show.
All versions became quite rare in Europe and can cost approx. £50 for a complete game.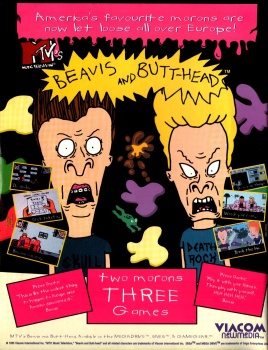 All four of these games are fully playable using their respective console emulators.
SEGA Mega Drive/Genesis
It is essentially an RPG where the goal is to locate the torn up parts of their GWAR concert tickets and this will take them all across town to familiar locations such as Burger World and Highland High School because the dog that ate them has randomly spewed them back up.
The game looks has plenty of sampled sounds (low quality obviously).
Game Gear
This game is a more simple side-scroller in a similar vein to Wonder Boy where they travel from point A to B collecting as much money as possible with various obstacles in the way such as birds pooping out eggs which hatch rats(!), Todd blasting a fire extinguisher and rabid dogs.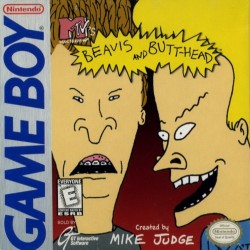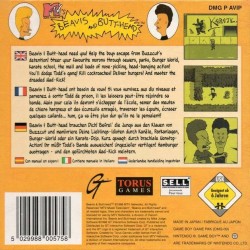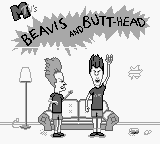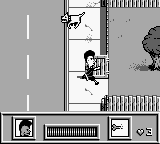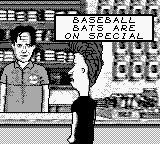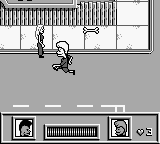 The game plays very smoothly with good animation and sampled sounds which is quite impressive considering how limited the hardware capabilities are.
Not only is the game rather tricky but response is not that great making it somewhat challenging and frustrating.
Super Nintendo
Similar to the Game Gear game, this is also an obstacle avoiding side-scroller. It's more sophisticated and is easily the better looking console game which more varied and detailed environments.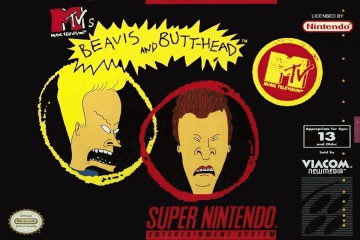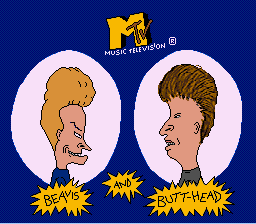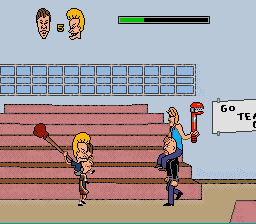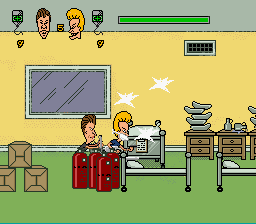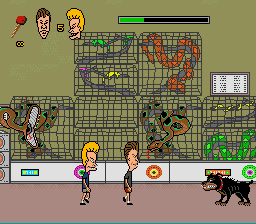 Game Boy
This game is a top down adventure starting with escaping Buzzcut's detention. From there its 10 levels through classrooms, the streets, sewers, fights at local burger place, and the possibility of ending up in jail.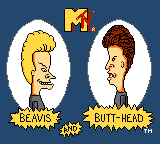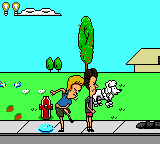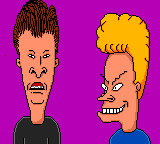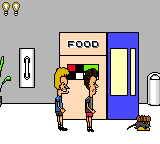 This game can be somewhat rare and cost around £50 for it complete.
PC and Mac
These games more technically advanced taking advantage of the multimedia abilities of PCs and Macs simulating the look and sound of the show successfully. In most cases, there was voice acting from Mike Judge himself and most of the supporting cast.
They can all be played with using only mouse only though there are optional keyboard controls.
Not only were their games but some utility/customisation titles also.
These titles were also somewhat scarce and can be costly when found.
Virtual Stupidity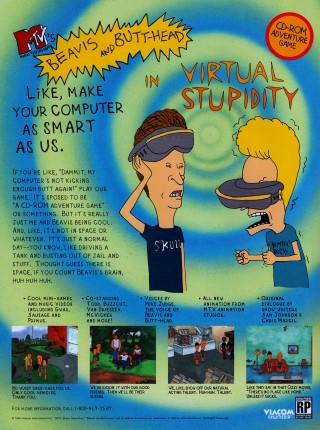 A point-and-click adventure. The game begins with the boys at school where they witness Todd getting involved in a fight only for it to disband with no action. Eager to see more, they attempt to leave school.
From school it's onto to several familiar places around the town encountering familiar characters which whom the boys interact with. Each location will have an amount of problem solving to be done needing items collected from all the locations.
There are some cool inclusions too. For example, when on the sofa at Butt-head's house and activating the TV a music video commentary section from the show plays. It also includes a few mini-games that become unlocked as the game progresses. These are: Hock-A-Loogie, Bug Justice, Court Chaos and Air Guitar from the Little Thingies Collection (see below). Also there is a trailer for the VHS release of Chick 'N' Stuff.
This game was actually ported to the Playstation but was only released in Japan.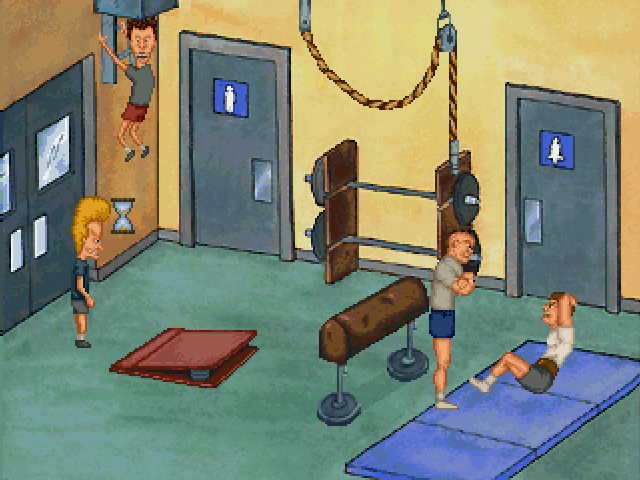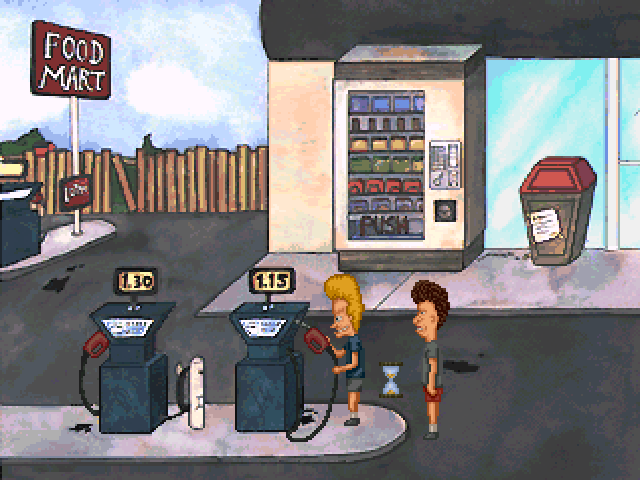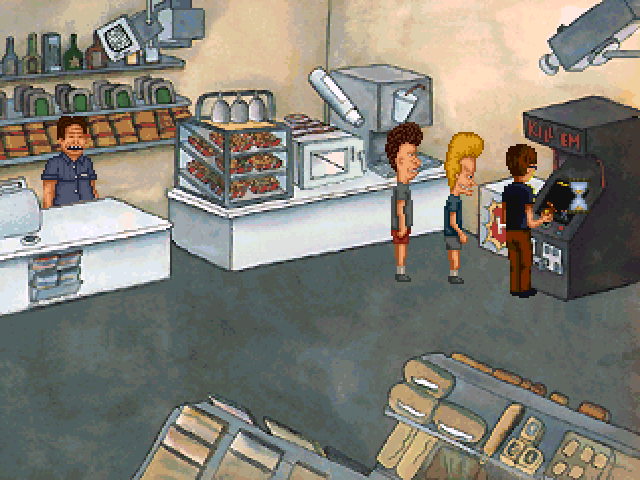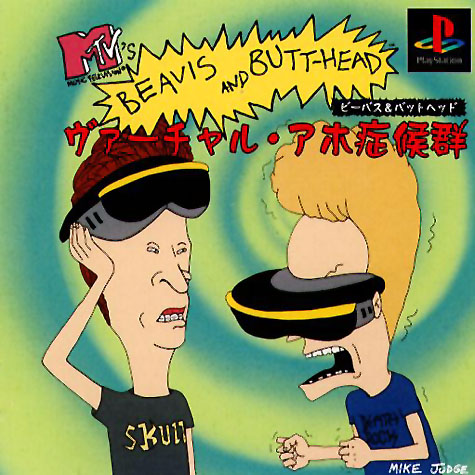 Do U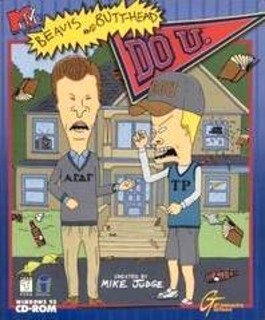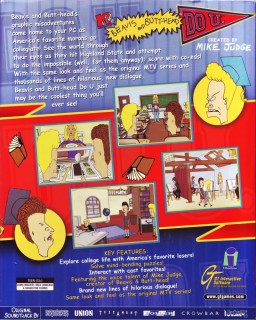 A point-and-click adventure similar to Virtual stupidity.
Its college orientation day for high schoolers at Highland State College yet moreover there is a party afterwards. But in order to attend (and hopefully score) B&B must have their sheet signed off from 8 separate locations on campus. Sounds simple, until things start to go wrong thus there are tasks to complete along with problem solving using collected items in order to get the marks needed.
There are plenty of familiar and new characters the boys interact with and the animation and sound is superb and really feels like the player is directing an episode.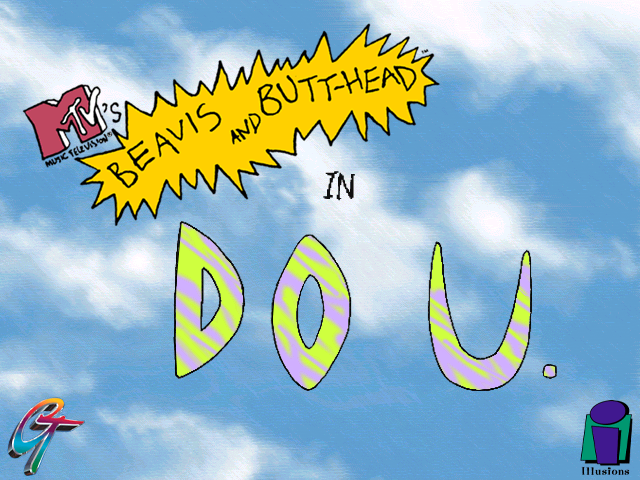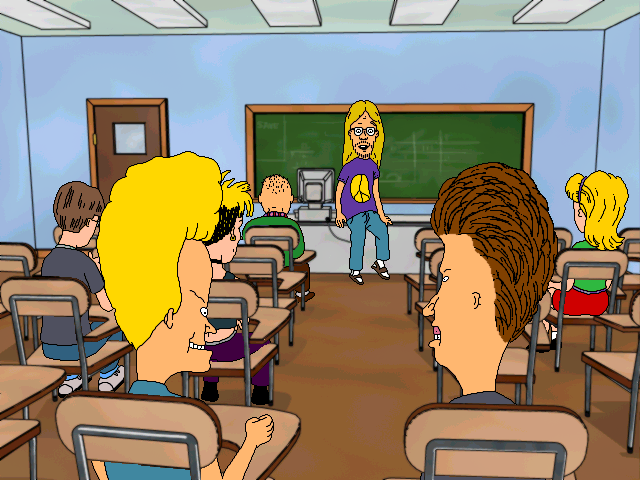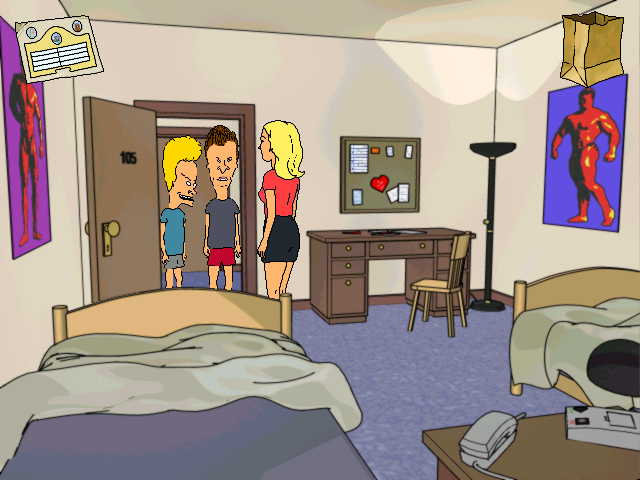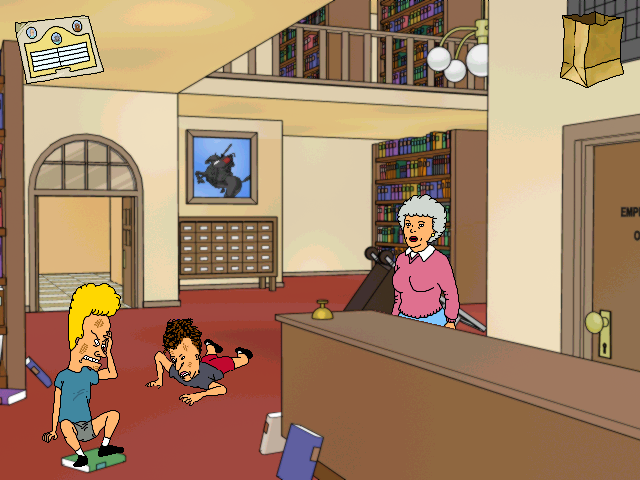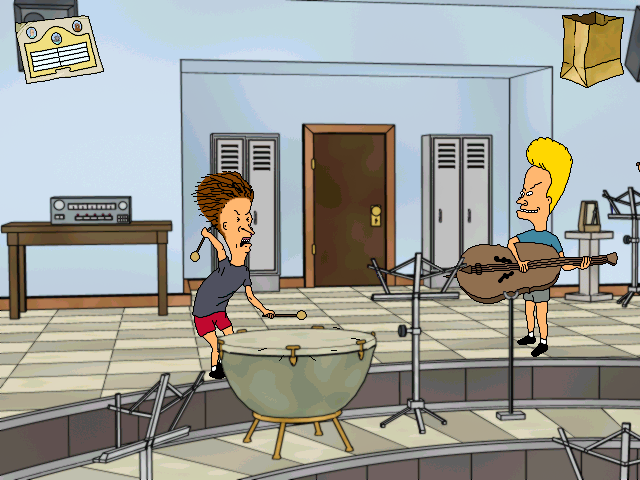 Bunghole In One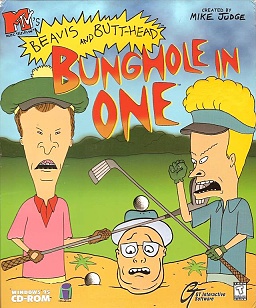 A crazy golf game where up to 4 players can take part around various courses inspired from episodes of the show such as the Maxi Mart, Mr Anderson's garden and Stewarts bedroom.
Thankfully it is not too tricky though waiting around to take a shot will garner abuse from the other players.
Again the animation closely resembles that of the show along with more excellent quality sound.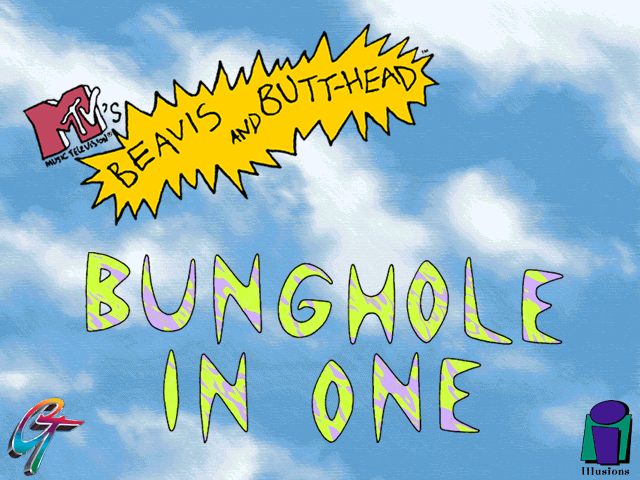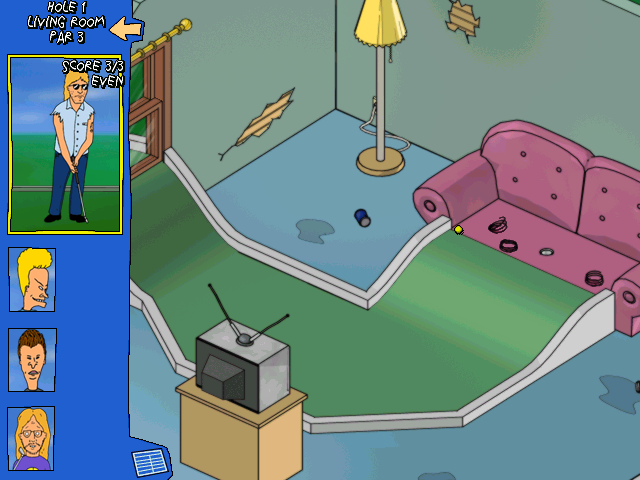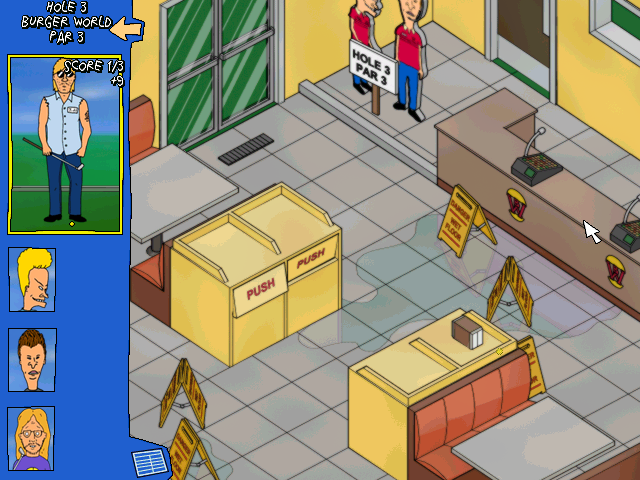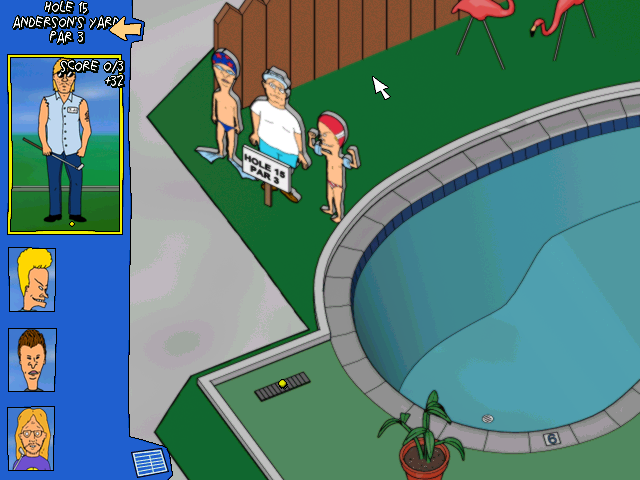 Little Thingies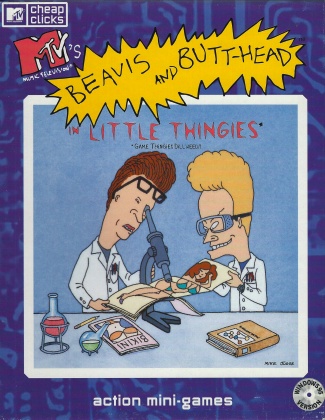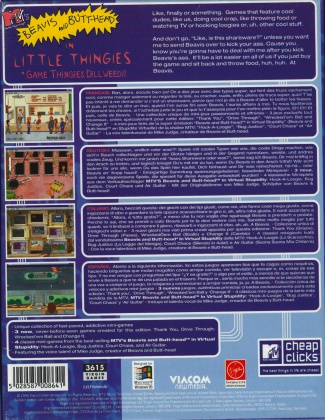 Is a compilation title of the simple mini-games that were in other releases such as Virtual Stupidity.
At the time of release, several of these games also appeared on PC magazine cover CDROMs.
Some of these can be played online via browser at http://www.mtv.com/games/arcade.
A brief rundown of each in the collection is below.
Little Thingies
Air Guitar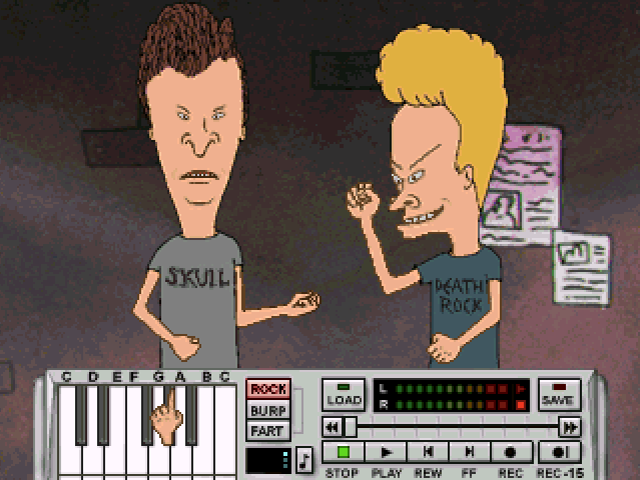 Not actually a game but fun nonetheless. Choose from three 'instruments': rock, burp and fart, click on notes on the keyboard to produce the sounds complete with appropriate facial expressions. Compose your own masterpieces which can be recorded in a sequence and played back.
Bug Justice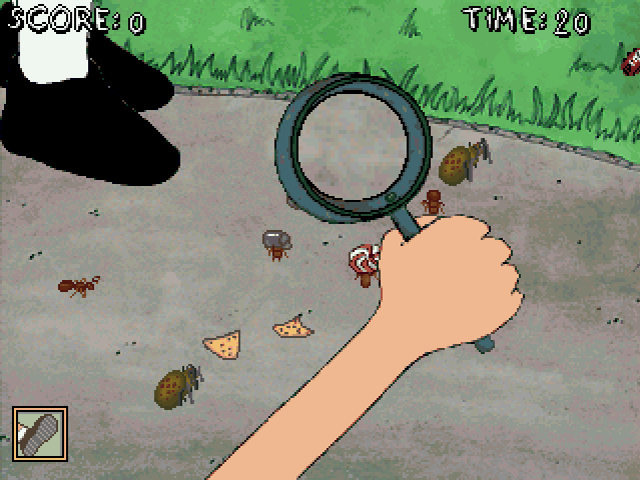 Beavis defends the candy by frying the pesky beetles and ants using sunlight and the magnifying glass. They can all be stunned by a stomp from Butt-head.
At the end of each time period any remaining candy will become points. The more points the more pieces of candy for the next round. When all the candy is gone the game is over.
Change It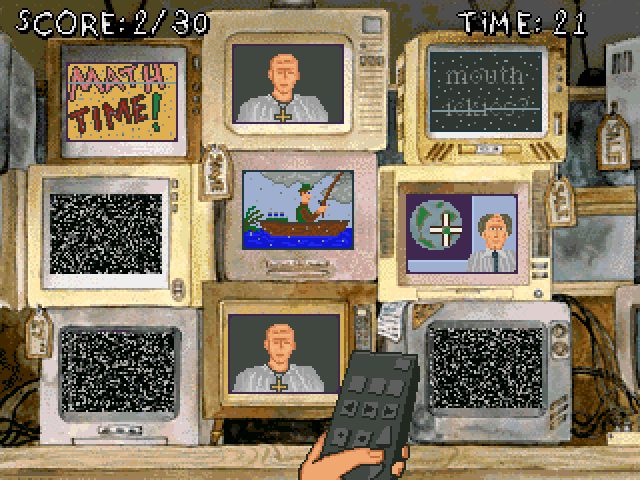 There are nine TV screens and not all of them are showing something cool.
Use the remote control and zap at each screen to change it to a channel that's more suitable.
A quota of successful channel changes needs to made within a time period to go to the next round however, an unsuccessful change will loose a point.
Content to avoid includes educational and religious programs in favour of music videos and chicks wearing little.
This is the trickiest game of the collection.
Court Chaos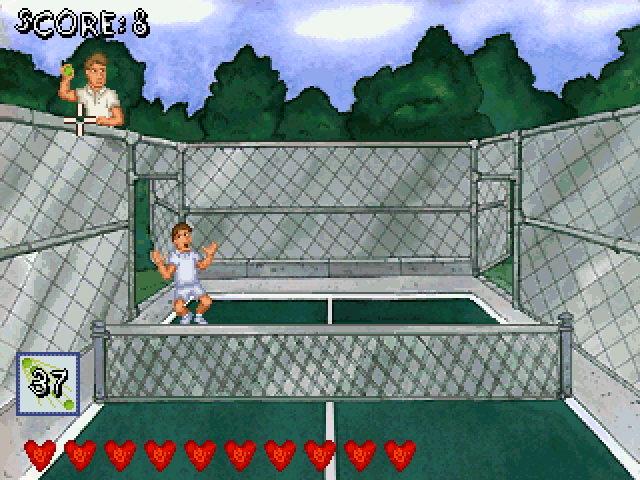 Maintain supremacy over the Tennis courts by launching balls at the posh invaders. The boys can take a certain amount of hits from balls that these asswipes launch. When all hits have been taken the game ends.
Hitting the squirrel that randomly runs across the top of the fence will give a brief period of rapid fire to take them down.
Hock a Loogie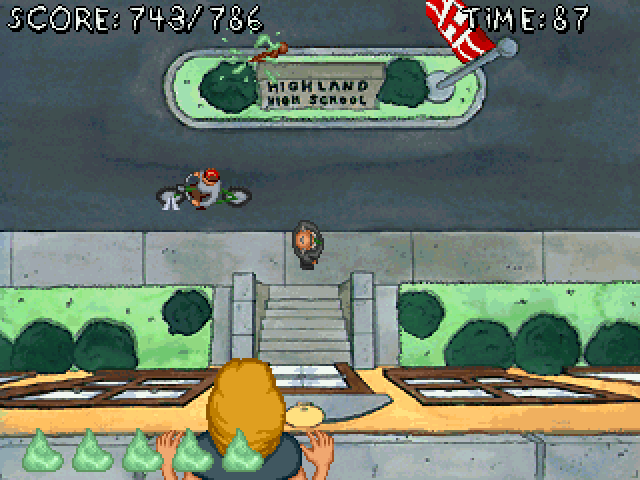 Choose either Beavis or Butt-head and begin spitting on various moving targets from the roof of Highland High.
Additional points can be earned by hocking a loogie (greeny) and hitting a target. The most points can be had by hitting the squirrel that randomly appears on the school banner.
A quota of points needs to met within a time period to go to the next round. The game ends upon failure to do so.
Thank You Drive Thru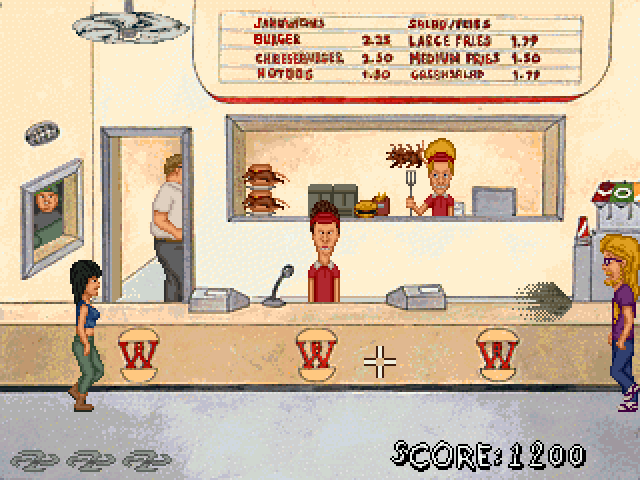 Customers suck and the only way to get rid of them is to give them what they want.
At Burger World, Butt-head serves the customers at the counter and Drive-Thru whilst Beavis cooks. Special Rat Burgers eliminate entire rows of customers whereas throwing food at the ceiling fan will clear the screen.
This needs to be done as soon as possible as the impatient buttholes will cause the manager to bust you and the game ends.
Wreckem' Ball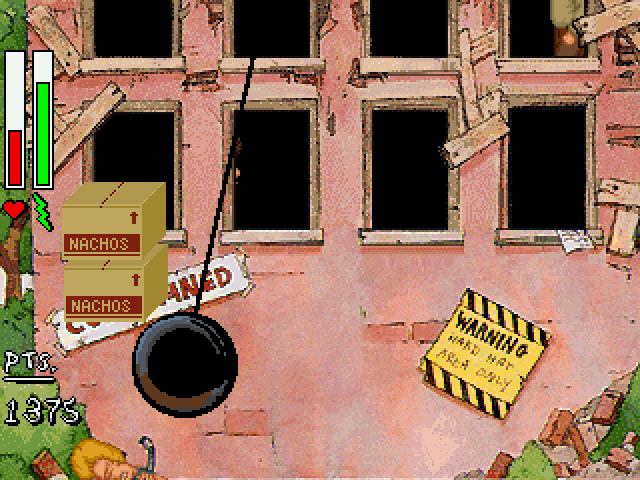 On a derelict building site, Butt-head drops treasures such as adult magazines and nachos to Beavis below to catch. Amongst this is debris being thrown down by the builders and the wrecking ball that randomly sways across the whole site.
The larger boxes can only be collected after Beavis has consumed enough candy bars for Cornholio to emerge.
The game ends when Beavis takes too many hits.
Weiner Takes All
Up to three players can take part in a quiz show 'Winner Takes All'. There is a bank of over 750 questions sourced from general trivia or B+B episode trivia with the option of questions from both.
Throughout the quiz the boys will provide their own commentary.
The player with the most points wins.
Not much animation and there are no extras. This title has much more audio.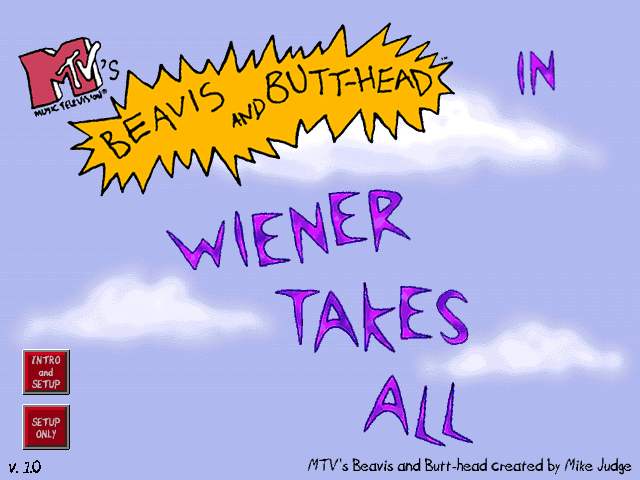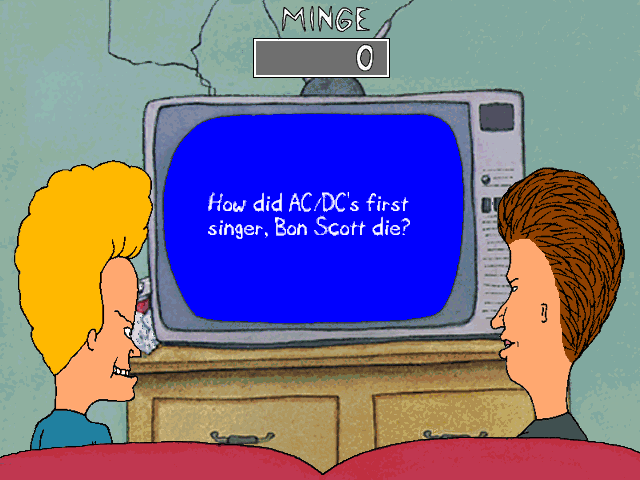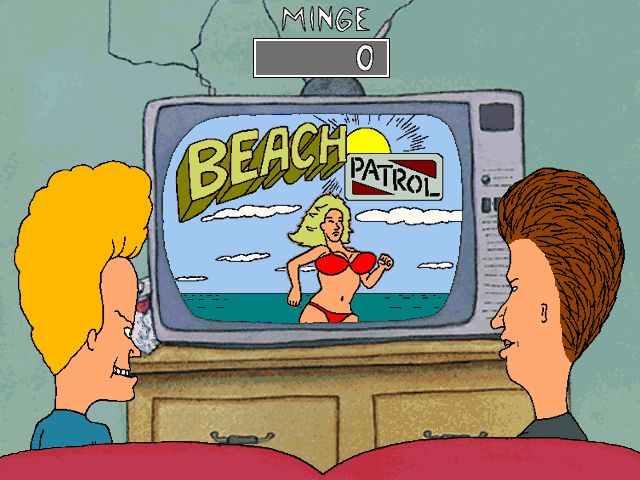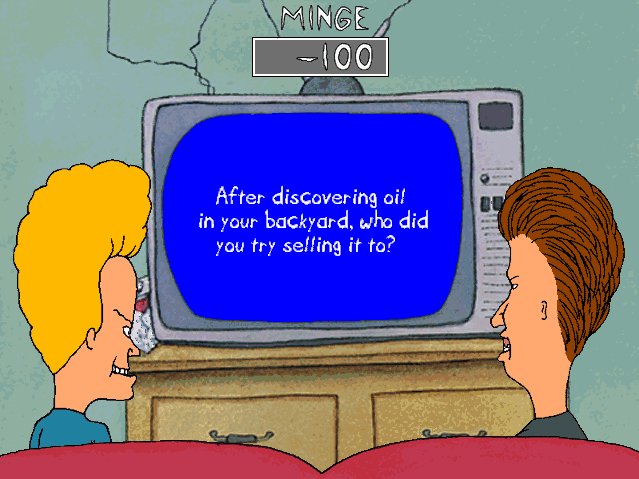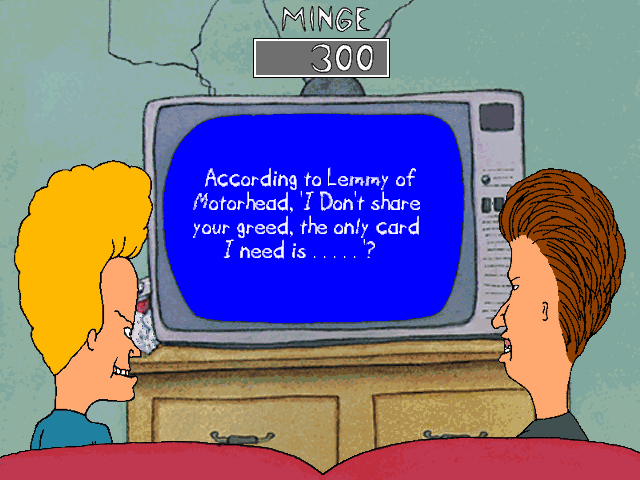 Calling All Dorks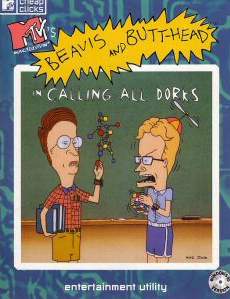 Not exactly a game. This is a collection of themes (sets of desktop images, sounds, mouse pointers and their assignments to events) for Windows 9x and Mac.
By using a small utility called Makeover (Windows) many personalisations can be made from this program. A brief list is:
Calling All Dorks
Change Windows themes from the ones supplied.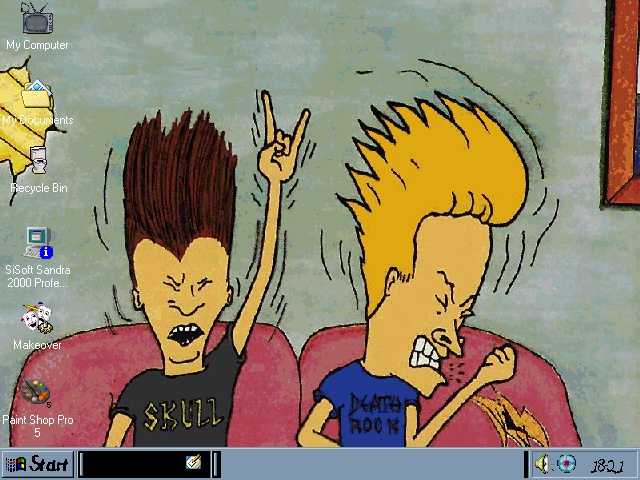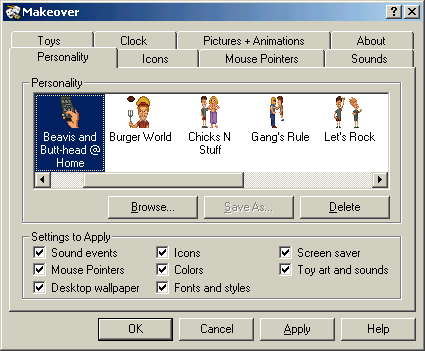 Decision maker (Beavis), Concentration game, and Beats Me game.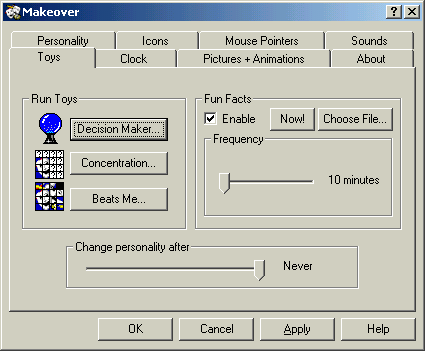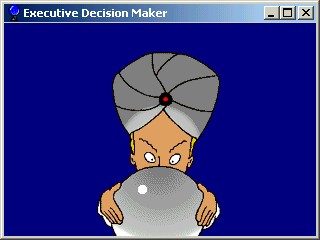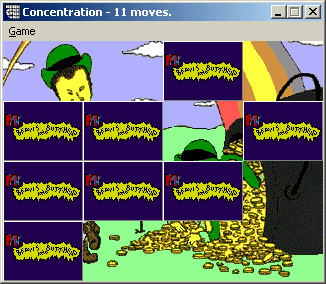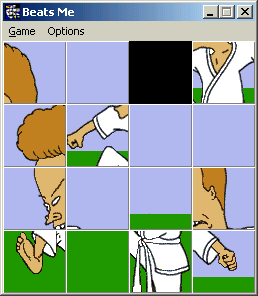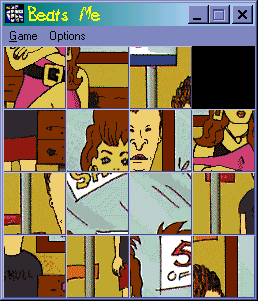 Fun Facts that display snippet of wisdom each time the PC is booted.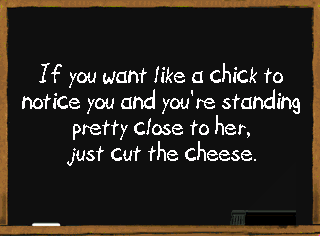 Change the Windows start-up and shutdown logo's.
Set desktop animations that are small video clips from episodes.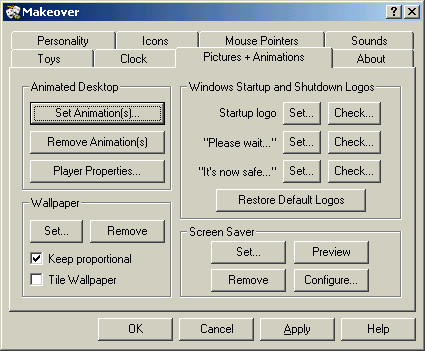 Apply a 'speaking' Beavis or Butt-head clock.


Unfortunately it is obsolete though the individual files (images, sounds and videos) can still be used by those who know how to utilise them.
Tiger Handheld
This is a simple LCD game where the duo need to avoid being detected messing about in the classroom.
It used a few voice samples which were most welcome to break up the very simple and repeating theme tune.
In the 90's Tiger made many LCD games based on popular SEGA franchises.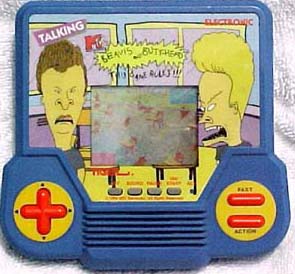 Cancelled Game: Beavis and Butt-head Do Hollywood
This tentatively titled game was bound for the Playstation at the time of the development of the movie. Several screenshots exist showing the duo walking around some scenes very similar to the move. It is not known whether this is from a mock up or a beta.
More information can be found at the rather excellent unseen64.net
---
Official page at MTV.co.uk
http://www.mtv.co.uk/beavis-butthead
Here you can watch the trailer for the latest season and various other clips which is a marked improvement as the UK arm of the company never really acknowledged B&B all that much back in the day.
There is also a US version but the website will detect which country you are in and refuse certain content.
Top 50 Quotes
http://www.stussy.com/beavis-and-butthead-quotes
Some of the greatest lines uttered by the boys are listed here.
Collection of Animated GIFs
http://giphy.com/search/beavis-and-butthead/
A large collection of clips from the show reduced to animated GIF files.
An ever growing Wiki
http://beavisandbutthead.wikia.com/wiki/Beavis_and_Butt-head_Wiki
Has tonnes of information about the show.
Indepth Review of the Mike Judge Collection
http://www.dvdtalk.com/reviews/24694/beavis-and-butt-head-the-mike-judge-collection/
Useful as it includes the entire contents of the collection.
---
During the run on MTV in Europe many of the adverts segments were replaced by a little show entitled "Sifl and Olly" which were sock based two entities musing about various topics into a microphone.

Do America image quality comparison. Click on the links to see the same frame from their respective versions. As you can see there is an improvement in the Special Collector's Edition of the movie. The VHS version is..well...VHS.
---
Disclaimer:-This webpage is totally unofficial. All logos and copyright are of their respective owners. No infringement intended.