EXTREME ASSAULT | BLUE BYTE | PC | 1997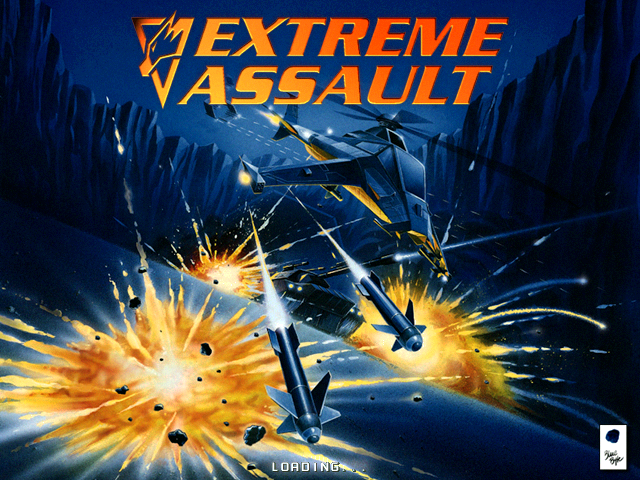 Extreme Assault (EA) is an action combat game for the PC from defunct UK games developer Blue Byte released in September 1997. With its simple and short-mission based gameplay it's one of several similar titles available for the PC blending FPS and arcade shooting.
HISTORY

What set EA apart from the others at the time was a level of comprehensiveness not seen until later in the era. Not only was there a decent single player campaign with plenty of re-playability, but there was also multi-player via network and Internet. Rather kindly, in order for others to join in the network play, only one copy of the game was required and a network demo could be installed for the other players.
It supported some then-brand-new technologies: Intel's MMX Technology was one of the biggest buzzwords of the time and one of the first games to do so along with Force Feedback joysticks.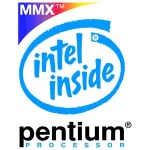 EA boasted some of the best graphics of the era such as dynamic lighting, fog, transparencies, and realtime 3D cutscenes all running without the need for a 3D accelerator card which were still new at the time and rather expensive. Low resolution modes provided for older PCs making the game accessible to a wide audience which easily matched the consoles of the day and high resolution easily defeated them.
Later patches would add support for 3DFX/Voodoo making for a lush looking game.
It also sounded good with high-quality voices during gameplay with cut-scenes and CD audio when selected.
The well put together package included a website on the CDROM from the studio with news about other games along with some shortcuts to ease the execution of the game under Windows 9x as the industry was moving away from DOS. As DOS games quickly started to vanish boxed copies of the game could be found for about £10.
EA's blend of FPS and action gameplay and plenty of missions combined with high production values made it review very well.
Unfortunately, this is one game that has been locked in its era as it has never been ported to any other platform nor has there been any sequels made. The original demo can be found on many of the DOS abandonware websites or even the complete game can still be found on Ebay for around £5 which is a bargain. Thankfully, it is fully playable in current versions of DOSBox and there are instructions below to get it running.
Blue Byte are now part of Ubisoft and there is no trace of EA on their website.
I first encountered EA had a shareware demo from a cover disc (remember those?) and having played similar games before on consoles but never on a PC. And for those of us who's PC's were not the most powerful and needed to squeeze every bit of performance out of them – the CDROM included a few useful utilities for tweakers like me.
Note: This article was produced using version 1.2.2 of the game (running DOS4G 2.61) under real DOS.
STORY
Aliens are attempting to take over the Earth. Not only are they armed with powerful weapons they have captured people and Earth military equipment to pursue their evil agenda. They have also constructed some elaborate underground bases too which they are using to enslave humans. The swines.
GAMEPLAY
The charm of EA is the relatively simple gameplay and the short nature missions which for the most part it will be destroying all the enemies and advancing onwards.
However, there are some specific requirements on some such as destroying a generator or rescuing a pilot that will give missions a specific strategy in order to complete. Additionally, rescuing the people captured by the aliens can either be part of the mission or a source of bonus points.
The missions are performed in either the Sioux AH-23 helicopter or the T1 Tank.
Between missions is a voice briefing about what is required in the mission. The ever present and encouraging commander will crowbar in some swearing that makes for some amusement. Verbal notifications come from the on-board computer when collecting items and other status changes during the missions.
Although the missions are short, they can be rather intense and some will be boss encounters. They create a somewhat additive game if you like short controlled bursts of gameplay.
Dangers are mostly in the form of enemy vehicles of varying sizes mostly firing pulse cannons and rockets. There will also be environmental hazards such as lava and gas vents, and some missions will have booby traps in the form of enormous moving barriers or clusters of floating mines.
There will be plenty of other harmless objects to destroy such as trees, cargo containers and equipment. A few shots will make them catch fire where they will eventually explode whereas more shots will blow them up almost instantly.
Caution when destroying fuel drums as less shots are needed and the size of the explosion can easily inflict heavy damage to the vehicle as they are often in groups and chain react. This can be used to an advantage for damaging enemies.
Exploration will yield extra power-ups. Look out for oddly looking walls as they can usually be destroyed giving way to a secret area of power-ups. However, exploration is not without risk. Venturing outside the mission area is only allowed for 10 seconds before automatic mission failure.
Not only is there the story campaign but there is also network play with up to 4 people should you want to play with others - though it's probably been a very long time since anyone did that.
The game plays very well on a keyboard even with the default settings. It plays like a cross between Descent (PC) and Thunderhawk (Mega-CD).
Standard difficulty (4 operation areas) offers little challenge – but in order to access all 6 operation areas the game must be played on higher difficulties which offers some re-playability. Progress is saved automatically. It's worth noting that at the end of a mission (Press F12 displayed) the action can continue and your vehicle can still be destroyed nullifying your victory.
The game is not perfect. There are a few niggles with the game engine. The vehicles tend to feel a little slow. It is possible for both the helicopter and tank to get stuck on a piece of terrain. This will be most common with the tank coming off a ramp.
The graphics are some of the best seen for the era and at high resolution (which every PC in DOSBox should be able to do now) there is plenty of detail. Animation is done well.
Audio quality is good. Sound FX are reasonable and appropriate. The voices are clear and of good quality. There ais the option of CD audio or MIDI tracks to compliment the gameplay. Neither of which is particularly memorable and somewhat cliché but the CD audio is far better. The CD audio can be downloaded as the official soundtrack to the game.
The Vehicles
The game is played out with both a Sioux AH-23 helicopter and the T1 Tank. Both are equipped with the same weapons and shields both of which can be replenished via power-ups.
Shields are reduced in strength by either enemy fire, hazards and collisions. Coming into contact with a forcefield will very rapidly drain the vehicles shields. When shields are critically low an alarm will sound. When depleted the next hit results in destruction and thus mission failure.
Weapons
As ammo becomes low so does the firing rate of that weapon until there is no ammo remaining.
Some weapons do not appear until much later in the game. Picking up an upgrade of a weapon will increase both strength and range.
Some weapons can auto-aim. Pressing TAB key cycles between targets within range. There will also be a sound played – a high pitch tone - when a target lock is on.
Weapons are:
Weapons

Razor Gun

Rapid-firing gun. This has least strength but can be auto-aimed. Very useful against moving enemies as it will track. A maximum of 600 rounds.

Laser Cannon

A concentrated pulse of laser energy. It is more powerful but must be aimed manually. Good against slow moving targets. This weapon also never runs out of ammo totally. A maximum of 600 rounds.

Fire Flash

Releases a powerful burst of laser energy resembling a lightening bolt. The power of the shot depends upon how long the trigger is held for energy charging. It must be aimed manually. A full burst can vaporise most smaller enemies. A maximum of 600 units of energy.

Guided Missile

A singular missile that will destroy most smaller enemies easily such as a turret or helicopter, and do a reasonable amount of damage to larger enemies. For best impact, target and then fire. If launched without selecting a target, it will simply fire directly ahead. Useful for large doors. Check surroundings before launching in case they need space to turn and/or climb. Both vehicles can carry a maximum of 6.

Smart Bomb

An advanced intelligent bomb. They explode into several smaller bombs that devastate the target. A single smart bomb can be most effective against clusters of enemies as each projectile will destroy a smaller enemy. These are rarely left behind by destroyed enemies and generally found in more hidden areas.

Thunderbolt

They function similar to guided missiles but have more devastating impact. Upon impact covers an area with grenades making them highly effective against clusters of stationary enemies. These tend to be hidden in more secretive areas.
The Cockpit / HUD (On Screen)
This is the main gameplay view. All essential tactical information is on screen at all times. Whilst there are several options for the camera, they are unlikely to be of great use.
Scrolling across the bottom of the screen are the mission objectives (should you have missed it from the enthusiastic commander).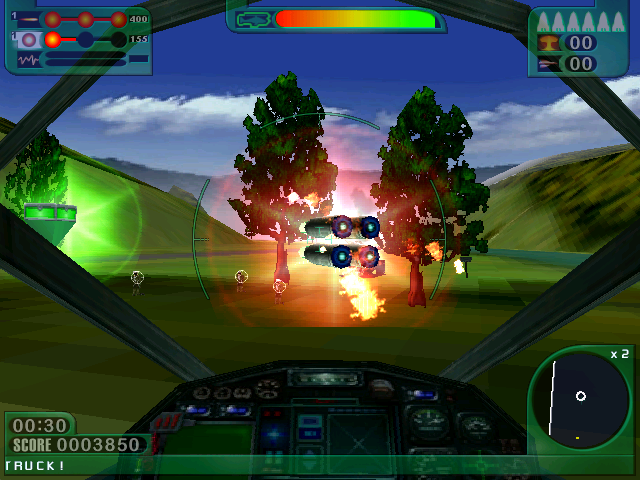 The crosshair in the centre of the screen never moves.
Primary weapon status (top-left) -
Razor Gun, Laser Cannon strength (as indicated by the single digit number) and Fire Flash energy status / ammo remaining.
Shield strength. (top-center) -
As the vehicle takes damage shield strength reduces. When the shields are gone the vehicle explodes and the mission ends. There will be warning alarms when shields are critically low.
Secondary weapon status (top-right) – Shows how many Guided Missiles, Smart Bombs and Thunderbolts are available.
Remaining time and score (bottom-left) – Any remaining time is converted to bonus points. Each mission will have a par time to complete and doing so within will reward some extra points. Scores are placed on a leaderboard.
Radar (bottom-right) - Red squares indicates an enemy vehicle and those with a white circle around them are primary targets and must be destroyed in order to complete the mission.
Smaller white/green squares indicate incoming fire.
Vehicles that are visible in the game/cockpit but do not appear on the radar are friendlies. Try to avoid destroying these.
The X2 (default) indicates the radar zoom level. It can be changed using the R key.
Enemies
These will come in a variety of contraptions from stationary turrets to tanks and helicopters to huge mechanical insects.
Enemies will have their own enemy bar that appears upon firing on them. This is most useful when deciding whether to hang in a fire fight.
It is possible to damage enemies by setting off nearby explosions such as destroying a fuel drum but this works both ways so beware.
Incoming fire cannot be shot down with one exception: missiles. By destroying them close to the offending target, the explosion can damage them also.
Power-Ups
Power-Ups are found either out in the open (and discovered possibly by destroying a secret entrance) or left behind when an enemy or random object such as a crate is destroyed. Thankfully, they are easy to spot as they are much more illuminated against the background.
Should the weapon/shields already be at full capacity, it will simply be left behind, however, those power-ups left behind by enemies or destruction of objects will not remain available for long and will disappear.
The rundown of Power-Ups is:
Weapons

Shield Energy

Restores shield strength by 20%.

Extra Sheild

Fully restores shields (100%).

Ammunition for Razor Gun.

Rapid-firing gun. This has least strength but can be auto-aimed. Very useful against moving enemies as it will track. A maximum of 600 rounds.

Ammunition for Laser Cannon.

Fire Flash

Ammunition for Fire Flash.

Guided Missile

Provides x1 extra missile.

Provides x1 extra thunderbolt.

Smart Bomb

Provides x1 smart bomb.
Controls
The game can be played with a variety of devices such as keyboard, joysticks and a mouse with combinations of those devices possible.
It is possible to select from some pre-set assignments: Normal (described below), Pilot and Arcade with the Customise option allowing for more than one device being used.
Default (Normal) Keyboard Setup
Forward UP ARROW

Backward DOWN ARROW

Turn Left LEFT ARROW

Turn Right RIGHT ARROW

Up (Increase Altitude) A

Down (Decrease Altitude) Z

Drift ALT

Drift Left LEFT

Drift Right RIGHT

Fire CTRL

Change Weapons BACKSPACE

Guided Missile (Rocket) ENTER

Smart Bomb SPACE

Thunderbolt T

Lock Target No 1 TAB

Lock Target No 2 Q

Zoom Radar R

Cockpit / External View Toggle 0

Virtual Cockpit Toggle 9

HUD Toggle 3

Forward View 8

Backward View 2

Left View 4

Right View 6

Upward View 7

Downward View 1

Stationary Camera 5

Adjust Outer Camera , (key)

Zoom In +

Zoom Out -

Reset View *
Keyboard Commands
These are general functions available that can be used to alter in-game performance.
General [Function] Assignments:
ESC Terminate Mission

P Pause

F1 Help

F2 Options

F4 Quit Program

F5 Toggle LowRes/HiRes

F6 Change Viewing Range

F7 Ground Details

F8 Fog on/off

Shift+F8 Transparent effects on/off

F12 Next Mission
Network Key Assignments (only)
ESC Terminate Mission

F1 Help

F2 & P Unavailable in network play

F9 Message for Everyone

Shift+F9 Message for team

Alt+F9 Message for opponents

F10 Review message

Alt+1 Send SOS

Alt+2 Retreat message

Alt+3 Report a kill

Alt+4 Threaten your opponents

Alt+-5 Insult your opponents
Main Menu (and Options)
Most options available are for configuring the game to make it perform its best for your PC.
Use the arrows and ENTER key or mouse to navigate the menu items.
Note that starting the game without the CD will only provide network play.
Main Menu
New Game – Start a new game. This creates new pilot data thus erasing the currently selected pilot's game status data saved from previous missions (used in order to continue).

Continue Game – Continue from the last mission played.

Load Game – Load a game starting at any of the operation areas already completed.

Change Pilot – Change the difficulty level: Easy, Normal, Difficult and Extreme. The difficulty determines which operation areas that can be played.

Options – Settings for appearance and performance. See below.

Top Ten Scores – View the leaderboard.

Network Play: Mplayer (Windows only) and Training which is a selection of arenas. IPX network required.

Credits – View the production credits of the game.

Quit Game – Back to DOS.
Options [Menu]
Press Enter to toggle between the available selections.
Sound Setup
Sound Setup: [Text and Voice, Text, Voice]

Computer voice: On/Off

Music selection: MIDI, No Music, CD Audio

MIDI volume:

Sound Effects volume:

Lead point signal: On/Off

No of effects: 8/16
Resolution Setup
Resolution: HiRes or LowRes

LowRes [Options]

256 colors coarse

256 colors fine Cinemascope

256 colors fine

Half-line HiColor Cinemascope

Half-line HiColor

HiColor Cinemascope

Hicolor emulated

HiColor

HiColor with linear frame buffer

HiColor with MMX Technology

HiRes [Options]

256 colors

HiColor

HiColor with linear frame buffer
Graphic Detail Level
Viewing range: Low, Medium, High

Ground objects: Low, Medium, High Fog: On

Transparent effects: On/Off

MMX Technology: On/Off. Seems to enhance the explosions without performance loss.
Controls Setup
Joystick Type: None

Mouse: On/Off (DOS mouse driver required).

Calibrate joystick

Calibrate joystick axis

Adjust Force Feedback

Choose and adjust controls. Some are preset.

Control type: Normal, Pilot, Arcade or customize. Selecting customize allows the assigning of any controls between keyboard and joystick.
---
THE MISSIONS (SCREENSHOTS)
Each operational area has a number of missions to be completed giving a total of 57 in the game. These areas can be in valleys, out at sea and even underground.
Difficulty levels provide decent amount of re-playability as only in the higher difficulties are all operation areas unlocked. These areas can be in valleys, out at sea and even underground.
Screenshots (PC Version)

Operation Area 1: The Lost Valley

Operation Area 2: Trapped Beneath the Earth

Operation Area 3: The Volcanic Island

Operation Area 4: Factory of Hostility

Operation Area 5: The Plateau

Operation Area 6: The Final Chapter
Soundtrack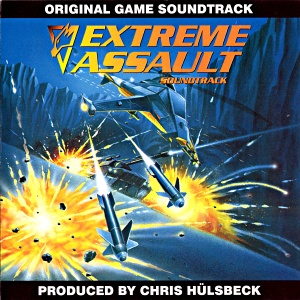 There is an official website for the soundtrack from the composer Chris Huelsbeck at:
https://chrishuelsbeck.bandcamp.com/album/extreme-assault-soundtrack
It can also be bought from iTunes and played on Spotify.
CHEATS AND TIPS
General Tips
Avoiding Damage
When destroying items such as fuel tanks beware about being too close as the resulting explosion can be devastating should they chain react. Thankfully, there is a short delay making time for escape.
Save Thunderbolts and for bosses
These are quite sparse throughout the game so best used on the bosses which can need allot of punishment to destroy particularly the last boss.
Codes
First type "oh dear" at the main menu (must be lowercase).
A voice should say "Password Recognised" and "Cheat Codes Activated" will display across the bottom of the screen. This applies to version 1.2.0 and above.
Afterwards, enter the following key combinations during gameplay to activate the desired cheats.
Alt + 1 Max Ammo of all weapons
Alt + 2 Current Weapon is Upgraded by 1
Alt + 3 Max Energy ?
Alt + 4 Indestructible / God Mode
Alt + 5 Wow Mode ? / No Mission Limits
Alt + 6 Complete Mission / Mission Successful! (Must press twice)
Alt + 7 Deactivate All Enemies
Alt + 8 Helicopter Mode
Alt + 9 Tank Mode
Alt + 0 Speed Mode. A burst of speed twice as fast lasting 99 seconds.
Network Names
By naming yourself HAMMER in a network game, additional language sets from the Code Red series are waiting for you.
TECHNICAL INFO
Playing Extreme Assault with DOSBox
This guide will detail how to get the retail game to work with a default install of DOSBox for Windows.
You can obtain the latest version of DOSBox from https://www.dosbox.com/
.
Process
After installing DOSBox, create a folder on your hard drive, for example, c:\dosgames.
Inside this folder, create another folder to store the game, for example EA or XA.
Launch DOSBOX.
Follow the commands as seen in the screenshots below.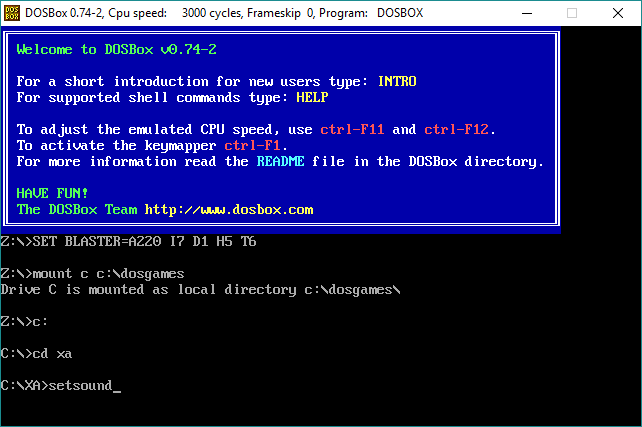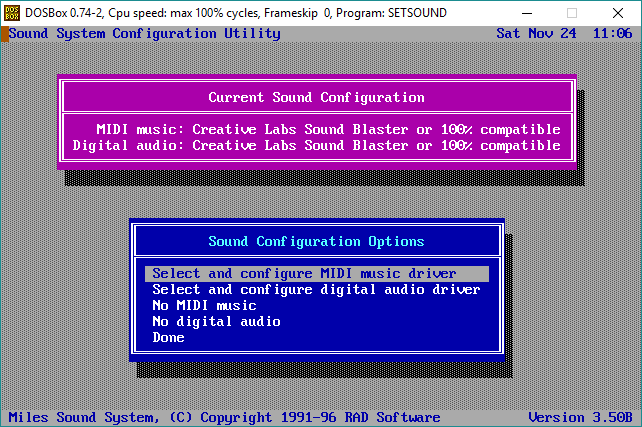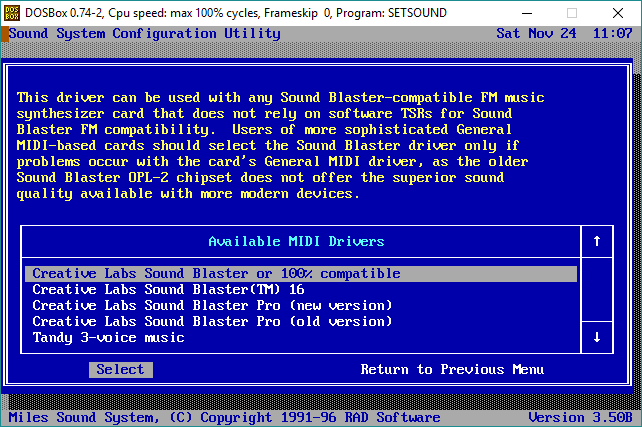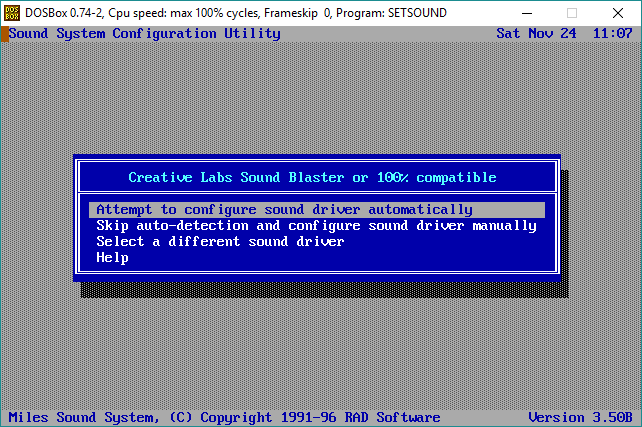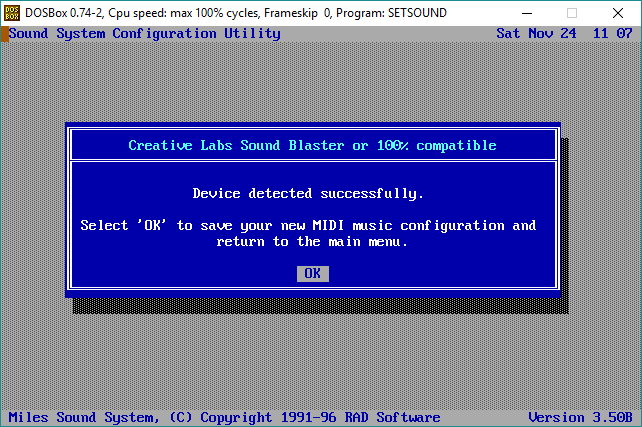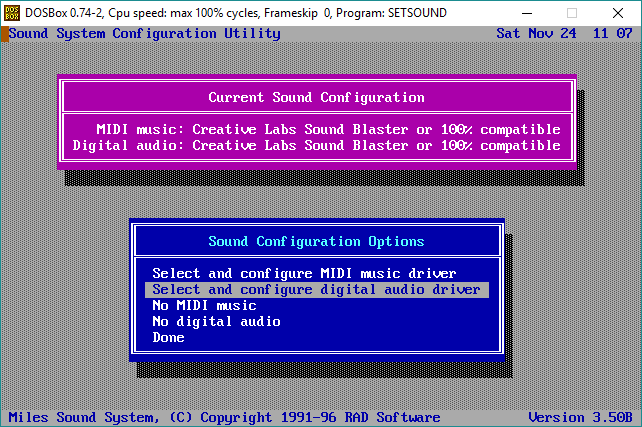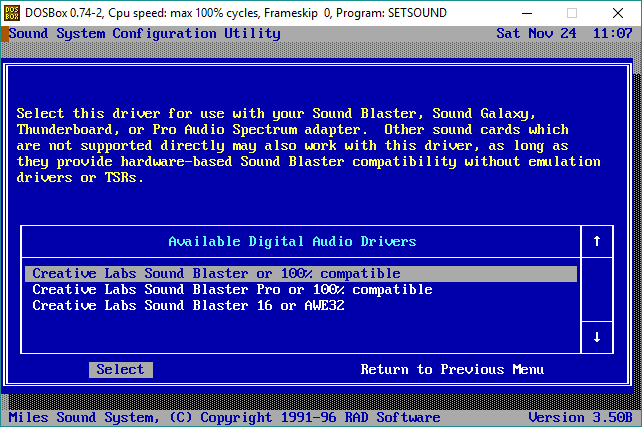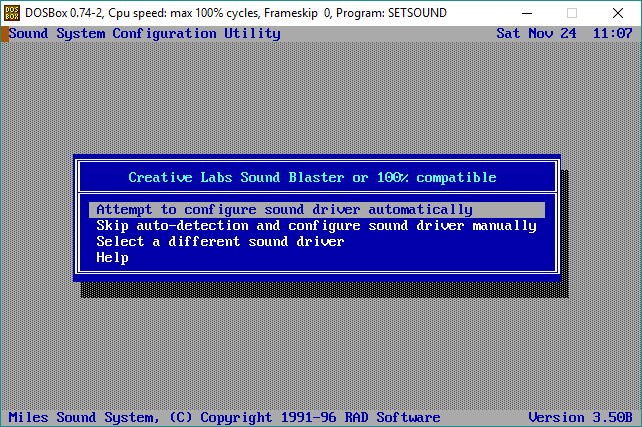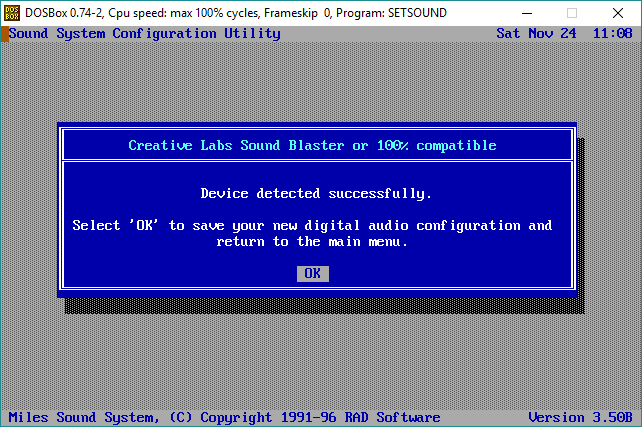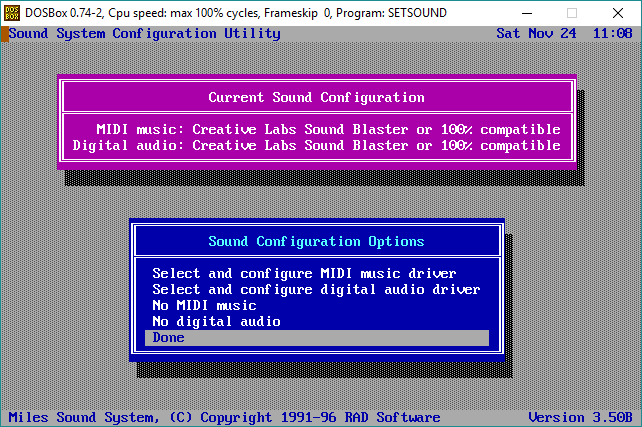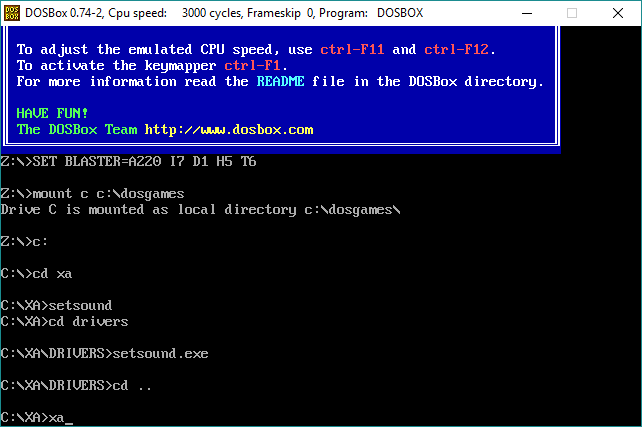 Note: It is not possible to enable the MMX option under DOSBox.
Patches
These are the official patches for the game and they have to be applied cumulatively and in a specific order. Click on the link to download them.
Launch the game to determine which version is currently installed and then patch from there. The version will be on the bottom-left of the title screen. Typically, the English CDROM version is version E.1.1.0 therefore the following patches can be applied.
Patches

| | | | |
| --- | --- | --- | --- |
| Filename | Start Version | End Version | Description |
| | E1.1.0 | E1.2.0 | Patches XA.EXE and XA_3DFX.EXE |
| | E1.2.0 | A1.2.1 | Patches XA.EXE and XA_3DFX.EXE |
| | A1.2.1 | A1.2.2 | Patches XA.EXE and XA_3DFX.EXE |
| | A1.2.2 | A1.2.3 | Patches GLIDE2X.OVL and XA_3DFX.EXE for Voodoo2 chipsets. |
E=English
A=All Languages
To apply, copy the patches into the same folder as the game and execute them in the required order.
Hit enter for the current directory.
There are also two patches available for the Deutsch version of the game.
For Playing the game under Real DOS
Since EA is a pure DOS game it performs best in that environment. For those like me whom have a PC just for these types of games here is some extra info.
EA does not like newer extended memory managers such as QEMM and JEMM and is prone to crashing.
Sometimes the game does not recognise the CDROM when starting up. To avoid this run a dir on the CDROM drive before launching.
Like many games of the era It uses DOS4GW. It comes with version 1.97. It runs fine and more stable with newer versions 2.01 and 2.61. It also runs fine with the alternative DOS32A if conventional memory is low.
Using the MMX option will give a small speed boost. If it cannot be enabled even though you have a MMX capable CPU then it is due to the BIOS on the motherboard.
More performance can be had with a Linear Frame Buffer when available with a VESA2 compliant video card is installed. See if the option is available under Options > Resolution Setup.
If you have an AMD K6-2 or similar CPU be sure to use a tool such as setk6v3 to enable Write Allocation and Write Combining for extra performance.
There are batch files installed with the game in the installation directory for launching with several parameters. They have the following purpose:
Checkvga.bat – checks if EAs resolutions are available. This is mostly useful for seeing if a linear frame buffer is available as enabling this mode in the game's options give a performance boost.

Lowcol – launches the game in 256 colours only. Useful if having set a mode in the game and the screen is no longer visible.

Lowmem – launches the game in low resolution mode only.
3DFX Version
Before the days of DirectX there were several competing standards for 3D accelerated games for DOS and Windows but the two most popular were Glide from 3DFX and PowerVR PCX. The Story of 3D graphics acceleration can be found at http://ixbtlabs.com/articles2/video/3d-chronicles-1-page1.html
Extreme Assault for 3DFX (Voodoo)
By default, EA comes with a 3DFX (Voodoo) version. When applying any patches this version is updated also.
In order to play with a Voodoo2 chipset then the game must be patched using the A123 patch. It will only patch GLIDE2.OVL and XA_3DFX.EXE.
This will run under DOS also.
Windows 9x 'Version'
The Windows 9x 'version' of the game is simply some pre-set shortcuts that allow for less troublesome execution under Windows 9x. It still runs as a DOS game so may still be prone to crashes.
Also, the autorun will launch a DOS window when the CDROM is inserted which could be troublesome depending on your setup. It can be stopped by holding down SHIFT when inserting the CDROM.
MISC INFO
CDROM Contents

The original system requirements were:
Minimum: 486 DX4/100, VESA compatible video card, Local bus, 16MB RAM, 40MB hard disk space, MS-DOS 5 or higher or Windows 95, Double speed CDROM drive.
Recommended: 133MHz Pentium, PCI bus video card, 16MB RAM, 110MB hard disk space, Soundblaster 16/AWE 32, Joystick.
Supports: Intel MMX technology, Pentium processors, 3DFX, Kali Internet gaming, Force Feedback joysticks, all common soundcard CD audio and mouse.
There is a small bug in the game where the shield indicator icon of the vehicle does not change when the vehicle does!
You can even destroy the animals by the tress in Area 3 Mission 4 – if you really wanted to.

LINKS
A Review
https://www.oldpcgaming.net/extreme-assault-review/
Download the game
The full version of the game can be downloaded in ISO format from https://www.myabandonware.com/game/extreme-assault-49t
---