Website News
Shit - 4 years! That was most certainly another lifetime ago.
So, since 2020 has gone to hell for us all I'm revisiting to tidy some things I'd always planned on.
What's changed? Firstly, the site has been moved to a nice new hoster. The old one whom I'd been with for 18 years became a bit of a joke. Not only were the prices going up (that I can handle) but then they introduced a separate charge to access my emails via webmail (and it was the only way) for the address on this domain which I thought was a piss take.
During those years I thought I'd only done one big addition (the other day) but It turns out I did far more! Which brings the content of this site rather close to well..everything I'd ever planned. Right now, there are some more SEGA updates in the pipeline as we approach the 60th anniversary of the company in June.
First, I want to share is that there is now a Republica Section on the site which you can see from their logo on the left. It is a feature dedicated to my all-time favorite band. This was something I wanted to do from the very start. This also mandated there being a second photo of me on here. If you're a fan of the band then let me know!
New game features added:
Golden Axe: The Revenge of Death Adder (Arcade), Extreme Assault (PC), Danan: The Jungle Fighter (Master System), The Ninja (Master System), Vectorman (Mega Drive/Genesis), Sonic 4 Parts 1, 2 and Metal (Xbox 360), Eternal Champions: Challenge From The Dark Side (Mega-CD)
Lots of updates all over: Beavis and Butt-head banned episodes caps, Ecco 2 feature revamped (Mega Drive/Genesis and Mega-CD), Sonic R feature re-vamped, a new Lesbian Report, A sampler of Classic SEGA tunes taken from games (until I'm asked to remove them) and some info on fixing a Creative Zen - I adored my Zen.
The quick way to view all this and plenty more is to use the sitemap linked above.
I hope you enjoy some of the changes. More coming soon. Stay safe people.
2016 and Beyond
It is with mixed emotions that I have decided this website will not see any new content for a considerable while. This was going to be the case for most of 2016 as I rebuilt my career; however, my personal circumstances have taken an unexpected and somewhat explosive turn which has prompted me to re-evaluate life and thus left me no choice but to place this expression of mine on hold indefinitely.
It will remain online for a long time to come yet so please feel free to continue to email your thoughts, suggestions and corrections.
All I will say for now is enjoy Sonic's 25th Anniversary later this year and also Star Trek's 50th.
And since there has never been an image of me on my own website, now seems as good a time as any to add one.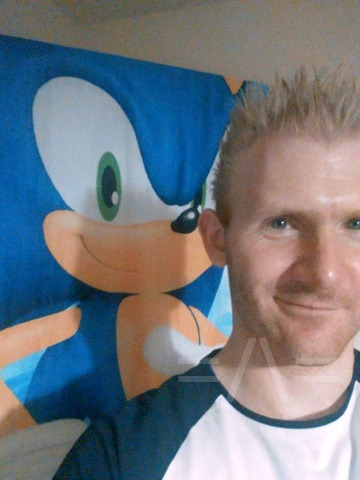 A big thanks to you all who visit and revisit. It means allot.
Peace and light people.
Minor Update
Sorry for all those people whom have emailed me in the last few months. I suffered a minor calamity and its taen a good chunk of my emails with it. So please do contact me again.
Blimey, I had not realised just how much time has passed since putting something on this page. Allot has been done but I'll mention the important things below.
Right now, I'm enjoying playing games again, and doing it cheaply that's to the combination of the Xbox 360 winding down and Amazon. Many superb titles can be had a really low prices right now.
New Stuff
Finally I have a massive chunk of the new SEGA area online. All the console features have been revamped (including the newly discovered SEGA Pluto) and there are new game features for each as well such as Psycho Fox, Soul Star, The House Of The Dead and Rez to name a few. All the existing stuff has been updated and plenty of mistakes (some rather embarrassing) have been fixed too.
The Ban This Filth feature has been revamped and now has lots of video clips. I don't know how the hoster will feel about some rather filthy stuff on their servers so grab a viewing before I'm possibly forced to remove them.
New Sonic stuff is some more 8-Bit features and a revamped Sonic Adventure feature.
A newish area on the site is for classic PC gaming. Populating it at the moment are features for Descent, Doom II and Worms United.
Fixes
As part of the overall effort to improve things literally, hundreds of things have been fixed especially external links that no longer exist. I notice from my stats that many people now visit with their phones so much more code is not XHTML1.1 compliant to try and ensure things are viewed correctly on all manner of devices.
Coming soon will be the rebuilt Sonic Adventure 2 Feature.
SEGA Progress Update
Work continues to massively upgrade the SEGA section of the site. Since getting some 50% of the way through I thought I'd give a few hints into what's coming. Included in the new make up is much more in-depth information, games galleries, tips for collecting rarities, cross-platform comparisons of games and of course more articles. Hopefully all this will be online towards the end of the year.
Sonic's 20th
Sonic The Hedgehog is rapidly approaching his 20th Anniversary which is on June 23rd. There seems to be allot less buzz compared to the last two anniversaries so what's occurring? There is the annual Summer of Sonic event in London and SEGA USA are hosting an event called Sonic Boom.
As always there is plenty more Sonic content in the pipeline for this website but I will be spending the time playing to the games in all honesty but I really like a new hat that SEGA have released as official merchandise.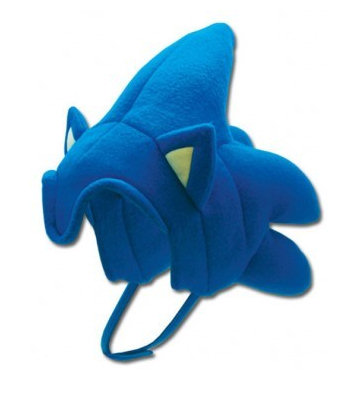 You can grab them easily off Ebay at the moment.
In the meantime we all await Sonic Generations and with justifiable scepticism considering the quality of the last few releases. Checkout much more detail here. I still havn't finished Unleashed yet.
Duke Nukem Forever
A day many of us thought would never happen, Duke Nukem Forever was released last week. It is the sequel to Duke Nukem 3D that rocked PC gamers some 14 years ago. I am a Duke fan and very much enjoyed Duke Nukem 3D back in the day and will be playing this game through.
Reviews are mixed and rightly so. It is certainly not without its problems (loading times being a big one) but I think people are expecting too much out of this game therefore leading to their disappointment. Regardless of the development time (due to one reason or another) it was conceived in the late 90's so it is not going to be on par with the shooters of today. The fact it never got released timely (around 98, 99) speaks volumes. Perhaps it should never have been released after so long.
So if you are thinking of buying this keep in mind it is Duke Nukem not the likes of CoD or Bioshock.
---
Very recently, this humble website received its 1 millionth visitor! I still cannot quite believe it either. I'd like to take this opportunity to thank people who visit and hopefully there are some regular ones amongst you and especially those who contact me with questions and information. I know this site isn't the greatest or the most flash but it feels great when people visit.
It seems to have been so long since I have posted any news lately but at the same time doesn't feel like it at all. So what is new? Well actually quite a few fixes and minor updates have happened here and there.
The Ban This Filth page has been updated. I really wanted to put some new clips on but I'm stuck with a 2MB filesize from the ISP for uploads which is shit for videos.
The new Sonic Adventure Feature (Dreamcast) was added ages ago (oops) to coincide with the XBLA release. You can find it in the Sonic Section of the site.
Things in the pipeline include a feature to one of my first PC games; Doom II.
There is an enormous amount of info to come in the SEGA section, so much so that a good chunk of it has gone out to be proof read to speed things up. There are plenty more game features in there too such as Rez, The house of the Dead and Keio Flying Squadron.
Sonic 4 Episode 2 is apparently still coming and in early development. This is on the back of news that many features were removed out of the first episode to save time.
Beavis and Butthead are set to return to MTV this year with new episodes! These are already in production but the airdates are yet unknown. Sources suggest this is a way for MTV to actually show music videos again. Very much looking forward to see how this goes.
---
At the moment there is an effort to round off the many things in the pipeline and get to the overall 'vision' I have for the site. Not only is it a very busy time (there have been some good game releases lately) but my server had died taking many of my documents offline thus slowing down progress.
I'm rather chuffed to say that I'm about to have 1 million visitors! To that end I'm heavily considering looking for a new hosting service with PHP and the ability to upload files larger than 2MB. Any recommendations welcome.
So whats new...
PBN finale
I have finally got round to finishing the silly series I started back in my uni days. It ended up being a tad longer than I envisioned but hopefully you will find it semi-entertaining at least.
Sonic News
On the back of the news that Sonic The Hedgehog 4 is going to be upon us - check out the official website at http://www.sega.co.uk/SONIC-THE-HEDGEHOG-4-Episode-II.aspx - it's been quickly followed by another compilation title for the Nintendo DS and we also have Sonic Adventure hitting XBLA!. Watch out for the in-depth feature coming soon..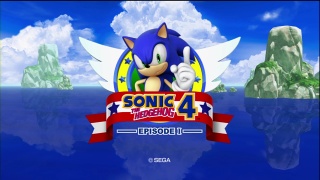 Other Developments/Progress Update
Progress is slow on the new Sega Section revamp. The project has amassed to huge degree (some 47,000 words at the moment!) without the stuff about the games themselves. It's going to be deployed in segments rather than totally - before it goes out of date! Any suggestions always welcome.
So coming soon will be Sonic Adventure, Sonic 06 and (Saturn), Wonder Boy In Monsterland.
Big thanks to all those people who visit the site. Since improving the navigation and creating new some newer content the visitor stats have had a marked improvement. Thanks for your feedback and comments!
New Sonic The Hedgehog Feature Added
Finally got around to replacing the feature for Sonic on the Mega Drive/Genesis. It has been updated with much more information and now has improved layout etc. Various updates were made to the other games (Sonic 2, Sonic 3, S+K) to fix some of the shocking mistakes I originally made.
New Dr Robotnik's Mean Bean Machine Feature Added
Added a feature for this puzzler.
New Section and Stargunner Feature
A new section has been opened to cover some of my favourite games outside of the Sega realm such as PC, Neo Geo and Nintendo. Kicking off is features for Stargunner (PCDOS) and Sin and Punishment (N64). Hope you enjoy these.
Other tweaks and stuff
Other upcoming features in the pipeline include the revamp of the Sonic Adventure feature which I admit is long overdue. Uploaded the new episodes of my (somewhat rubbish) mini-series Posh But Not (climatic finale will be available soon) and plenty of little additions here and there.
Work on the overhaul of all things Sega is still ongoing. This is a pretty massive undertaking but some content should be uploaded soon.
Problems Displaying Pages
It seems there was a slight problem with the PHP server over the last few days that meant some pages were not being displayed but would eventually with a few refreshes. This hs now hopefully been fixed and pages show load normally.
Site Re-Design
It has been a while since there has been any major updates owing to the fact that the site has undergone some essential re-design work. Hopefully it should (eventually, as the work is still ongoing) offer a much improved navigation system. This work is still ongoing. Check out the About/FAQ page for more info.
---
New Features
These are Neo Geo Pocket Colour and the excellent Sin and Punishment on the N64 (now available for Wii on Virtual Console) and Sonic Rush on Nintendo DS and Knuckles: Chaotix on the 32X.
---
Sonic Unleashed

By now Sonic Unleashed has been out a few months. By most accounts the Wii and PS2 versions are pretty poor but do not let that put you off!. I have been playing the Xbox 360 version and believe the PS3 version to be pretty much the same and it is a good game! I'm enjoying playing and don't find it a chore to play unlike Sonic '06.
The Sonic sections are a blast and the Warehog sections can be a tad frustrating and their length are out of the Sonic norm, but they are fun to play even if the whole system is a blatant rip-off of Devil May Cry.
It looks and plays very well with some nice tunes to go with the action. Checkout some movies on Youtube or the demo on Xbox Live.
Overall it is a good game and can now be brought for around half price in the UK so I advise you to check out what is hopefully Sonic's first step back to righteousness! It is clear there is potential in Sega's new Hedgehog Engine and hope to see it in use elsewhere.
---
Items Currently Under Construction
These are the sections are are currently in the pipeline and should appear on the website in the near future.
Sega Area revamp (massive updates to all consoles)
Game features including James Pond II (Mega Drive), Psycho Fox (SMS), Soul Star (Mega CD), The House of The Dead (Saturn), Sonic Adventure (Dreamcast)