REZ | SEGA/UGA | 2001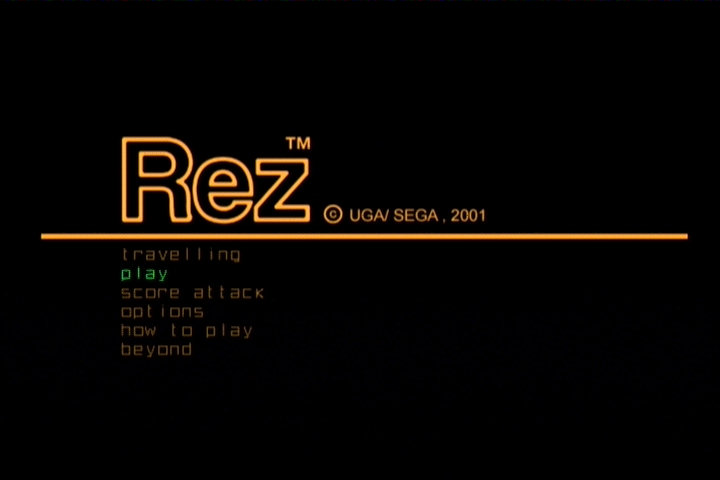 Rez is a cult title created by the now disbanded United Game Artists (UGA) (one of SEGA's development studios) and released by SEGA in 2001 to the vanishing Dreamcast market. Unfortunately this release was in relatively small numbers meaning few Dreamcast owners sampled it but for those that did they found one of the most artistic and reactive games ever made along with the approval of critical acclaim.
Tetsuya Mizuguchi, the man behind Rez began his development at SEGA in 1990. There he created SEGA Rally, Space Channel 5 (of some SEGA's biggest names) and Rez, before moving to Q Entertainment in 2003. At Q he designed Lumines, Ninety-Nine Nights, and most recently Child of Eden. While Mizuguchi did not oversee Q Entertainment's latest game, Lumines Electric Symphony, he was heavily involved with its development. In 2012 he announced that he is not involved in active game development for a duration instead focusing more on academic work.
It has since become one of the more rare titles in the consoles library. A PS2 version was released shortly after and is also somewhat rare with a special edition of the game released that included a peripheral called a "Trance Vibrator". There was an ultra rare edition that included a T-Shirt, stickers, eye-patches but moreover Tapex Vibration headphones that pulsed with the games music.
In 2009 it was re-released on Xbox Live Arcade and with High-Definition graphics which has exposed the game to a wider audience.
A spiritual sequel entitled Child of Eden was released on the Xbox 360 and PS3 in June 2011.
Rez European Case

Case Quote

"Rez is an endorphin machine, releasing the essence of trance through futuristic sound, visuals and vibrations. Journey through cyberspace as visualised by the 'system', in your quest to awaken 'Eden',....can you beat the system? Ladies and gentleman, open your senses, go to synesthesia."
STORY
In the future, the computers of the world have formed a super-network. This has been subjected to virus attacks from hackers. The damage is extensive and the system is on the verge of collapse.
As a solution, a super-computer called K-Project running a highly advanced AI called Eden was created. It was powerful enough to process the network with independent thoughts in order to expand and evolve.
The huge amounts of data then caused Eden to become confused questioning her own existence and decisions. As suicide she began shutting down and in doing so flooding the network with the existing problems, only worse than before.
GAMEPLAY
Rez is essentially a simple on on-rails shooter comparable to Panzer Dragoon in terms off gameplay shooting down enemies with a lock-on laser. The player takes the role of a hacker whose purpose is to hack into each area, destroy the firewalls (bosses) as well as the viruses (enemies). Your goal is to ultimately restructure "Eden" sleeping in deep cyber space.
The player soars over colourful vistas in a virtual world that draw influences from Egyption, Arabic and Chinese cultures pulsing to the beat of the music, but the beauty of Rez is the synchronisation of audio with the players actions (in this case shooting) to create a unique audio/visual experience. The way this is done can only really be appreciated with watching the game in motion. Check out the video below. Skip to the first 5 minutes to get a real impression of the game.
You will be battling against viruses (enemies) that take the form of creatures, machines and even structures like walls to block you. These will vary in size between those that can be taken down in one shot and huge contraptions that need several parts shooting off them before they are defeated.
Enemies will attack from the full 360o aground you but your angle of viewpoint can be up to 150o with 360o for boss fights. Any projectiles launched toward you will need to be shot down also. You will be directed at times to incoming danger.
Rez offers a decent challenge to people familiar with the style of gameplay and a tougher challenge for those who are not. It also offers plenty of replay value in terms of unlocking extra modes and options. See Beyond Mode Options described later.
The game plays very smoothly with almost zero slowdown throughout the entire game. The graphical style is possibly one of the most unique seen in a game and the music fits very well with the onscreen action. It begins quiet at first and finishes as a pumping beat.
Responsiveness of the controls is excellent and feels very comfortable with the Dreamcast controller. The game also supports the vibration pack.
The D-Pad and the analogue thumbstick moves the sight around. All directions are allowed.
L and R Triggers change the viewpoint.
BUTTON A is shoot. Holding will give a lock-on laser. No shot will be fired unless something has been locked onto done so by moving the sight over targets and the button released. A maximum of 8 viruses can be locked onto simultaneously.
BUTTON B uses Overdrive items.
START pauses the game/shows the pause screen and available options. These are: continue, log-out (quit), vibration on/off toggle, up/down normal or reverse, BGM and SFX volume.
Leaving the game paused for a period of time will activate a screensaver.
Each Area (stage) consists of 10 layers each of which will give a change in the background and sounds.
A basic breakdown of your performance is detailed at the end of each Area given as percentages. The higher the percentage the more points will be awarded. These will be for:
Analysation - How many layers were completed. Layers are connected to Network Openings.

Shotdown - How many enemies have been shotdown. This does not include projectiles launched at you.

Support System - How many support items collected.
The K-Project [the game of Rez] consists of 5 Areas (or Cores) in total - 4 of which are available to begin with each unlocked after the previous one is completed. The fifth and final area is opened when the previous 4 have achieved 100% analysation. This is where Eden resides. Unlike the previous 4, Area 5 is not broken into layers. Instead it describes the system through a narrative.
At the end of an Area will be a boss encounter which are actually firewalls in the system. What makes these dramatic is simply targeting the core of a boss will not be enough to destroy it. The entire sequence of attack will be played out. Additionally, should you have shot down 98% or more during the preceding 10 layers, you get a more difficult boss but get a lot more points are awarded for its destruction.
Your progress is automatically saved and you can return and replay any Areas at any time.
There is little information displayed on screen allowing you to concentrate on shooting down the enemies. This is: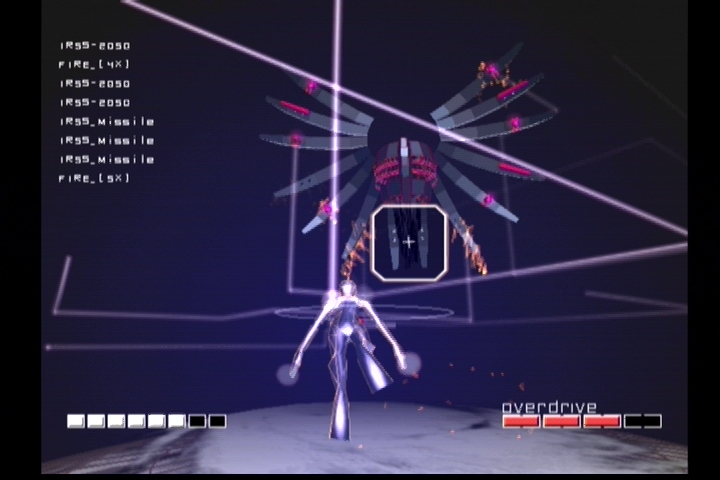 Hacker (player) - This might sound obvious but the hacker will show which form you are currently in.
Red arrow - This will hover next to the hacker and indicates where you should be facing/where the attack will be coming from.
Information Window (top left) - Displays the name of the virus that you are currently locked onto, the number of lock-on shots fired and your status. This is in pseudo-code but easy to understand.
Progress Bar (bottom left) - increases each time you collect a progress item. Your form (level) increases when 8 units are filled.
Overdrive Gauge (bottom right) - shows how many Overdrive items you possess.
Score - Indicates the capacity of the viruses that you shot. By default this is displayed only in modes such as Score Attack. Can be toggled visible in the games main options.
Support items appear as orbs and usually appear on the screen from destroying clusters of viruses or a very large one. You must move your target over them for the player to assimilate them. They provide the following:
Blue - The progress gauge will increase by one unit.
Blue 2 - The progress gauge will increase by three units.
Red - Overdrive. This is essentially a bomb that will quickly destroy enemies and projectiles. You can carry a maximum of four.
Green - Points. This item is only displayed in a mode such as Score Attack for competing over the score.
Network Opening - act as gateways to the next layer. To progress to the next layer you must shoot a network opening. They always require 8 shots. It is possible to miss layers by failing to go through a network opening by not shooting it. This will affect the level of analysation and therefore points rewarded and whether the final Area opens.
Evolution
Evolving into newer forms is an essential component in Rez. You begin the game in First Form. Since you only have 1 life, evolving essentially creates more lives as the higher the form you are the more hits you can sustain. Each time you are hit or collide, your form is reduced by one. When hit as form Zero the game ends.
Evolution in Rez

| | | |
| --- | --- | --- |
| Level 00 | Level 01 | Level 02 |
| Level 03 | Level 04 | Level 05 |
Each form has different beam types which emit different sounds therefore altering the audio component of the game. [The player] is capable of locking onto 8 targets at once. This could be 8 separate targets or 8 shots for a single larger target. More points are awarded for more lock-ons. For example, shooting down 4 enemies with single shots rather than taking down all four simultaneously will earn less points. Points are essential for unlocking additional gameplay options in Beyond Mode.
Gameplay Modes
Rez has the following modes of play available from the outset:
Travelling - flies and invincible player allowing you to practice or just have a show playing. You can select Areas 1-4.

Play - Begin a normal game.

Score Attack - Select areas 1-5 (if opened) and play to achieve the highest score. This will unlock options in Beyond [Mode]. Detailed below.

Options - View the main options screen. Detailed below.

How To Play - A brief tutorial on how to play the game.

Beyond - offers several more modes of gameplay that the player can customise. See below.
Game Options
The main options of the game are:
Sound Mode - Mono or Stereo toggle.

BGM Volume - Adjusts volume of the music. Crank it up!

Sound Effects Volume - Adjusts the volume of the sound effects. Crank them up too!

Up/Down - Toggle normal or reverse for up and down directions.

Shot Button - Assign a button for the lock-on laser.

Overdrive - Assign a button for the Overdrive.

Vibration - Toggle the vibration feature on or off should you have a vibration pack.

Heads Up Display - Toggle the visibility of the information window, progress gauge and overdrive gauge.

Point Display - Toggle the score to be visible or not.

Ranking Data - Displays the top 10 scores for each of the five Areas, Direct Assault and Lost Area.

Default - Returns all settings to default.

Return - Head back to the title screen.
Any changes made will be saved for the next game.
Beyond Mode
This has a total of 9 modes and 22 options. These are unlocked as you achieve certain criteria within the game. The current number unlocked is displayed before the number 9 or 22 respectively. If new items have become unlocked the word "new" will be displayed so it is worth checking back after playing a game but you will be notified at the end of a game. The criterion is detailed in cheats and tips below.
Beyond Mode Options
The options here essentially allow the creation of a customised game as well as providing more modes of play.
Direct Assault - all Areas played back to back. The colour scheme can be changed. Selections are: Normal, Ambient, Punk, Trance, Oldschool, Psychedelic and Trance.

Lost Area - is essentially an extra stage on an old part of the network. The accompanying track is EBZ: F6 G5.

Trance Mission - Is rather odd and best described as a demo mode. It is a very basic version of the game where the player shoots different coloured blocks that behave erratically and do not attack. It repeats over and over.

Boss Rush - Fight all the bosses in order.

Player Select - the initial form of the player. Select between Zero Form through to Fifth Form, Final Form and Morolian Form. Beware of using the Morolian form as you will die instantly when hit!

Immortal - Toggles whether the player will take damage like a normal game or not.

Beam Type - Select between 6 different beam types from the forms. Options are beam 1 through 5 and the bubbly Morolian beam. Each beam behaves slightly differently and will emit a different sound.

Overdrive Infinity - Toggles whether the player has infinite number of Overdrives.

Camera View - Select between different camera views. Choices are: Near View, Far View, Dynamic View and First Person View.

Default - Resets all options to their default.
THE AREA'S (SCREENSHOTS)
Rez Screenshots Areas 1-5 (Dreamcast)
Area 1 (Keiichi Suqiyama / Buggie Running Beeps 01)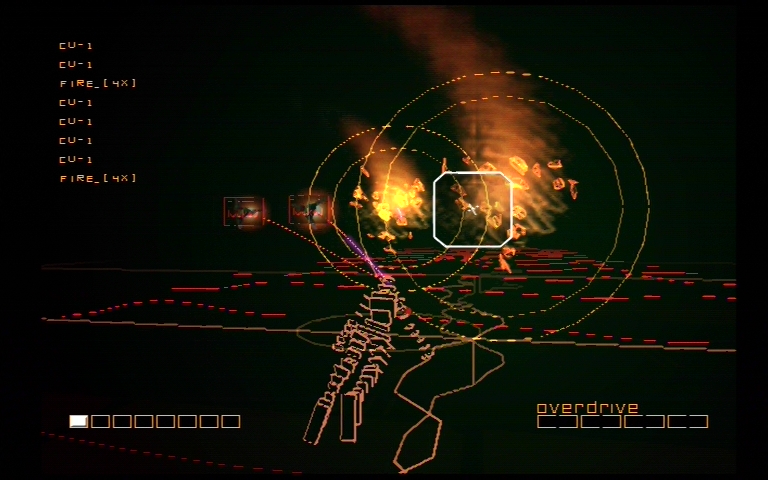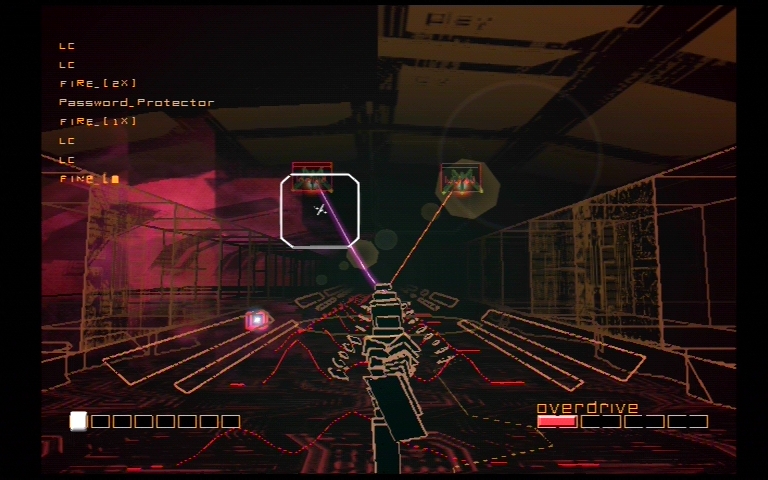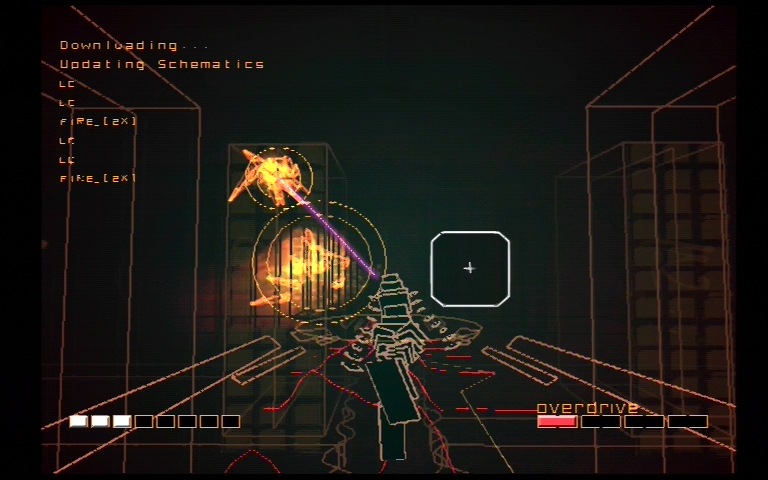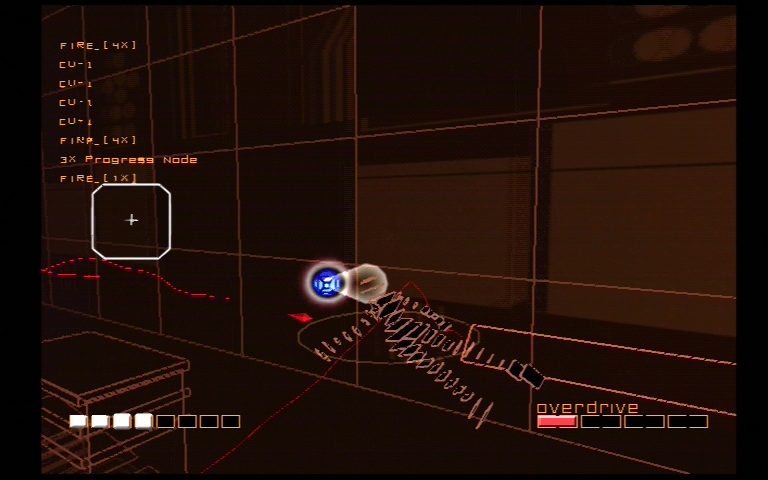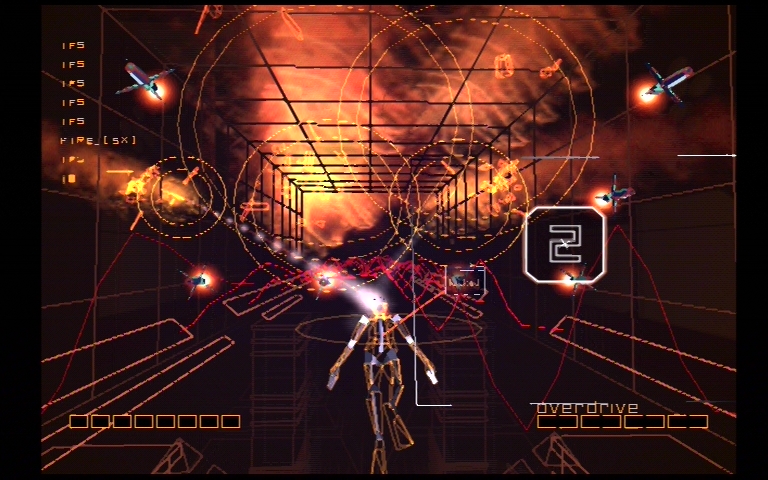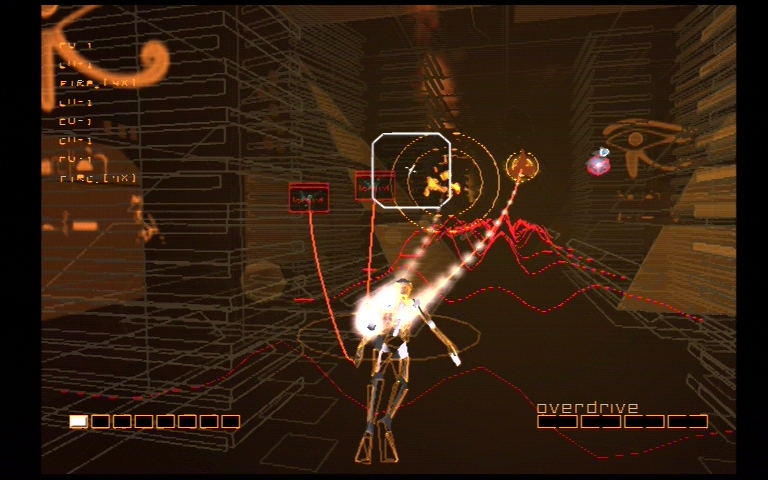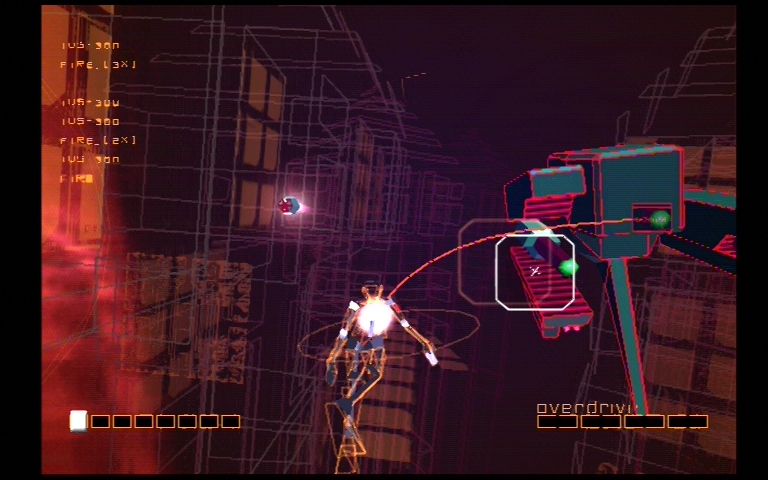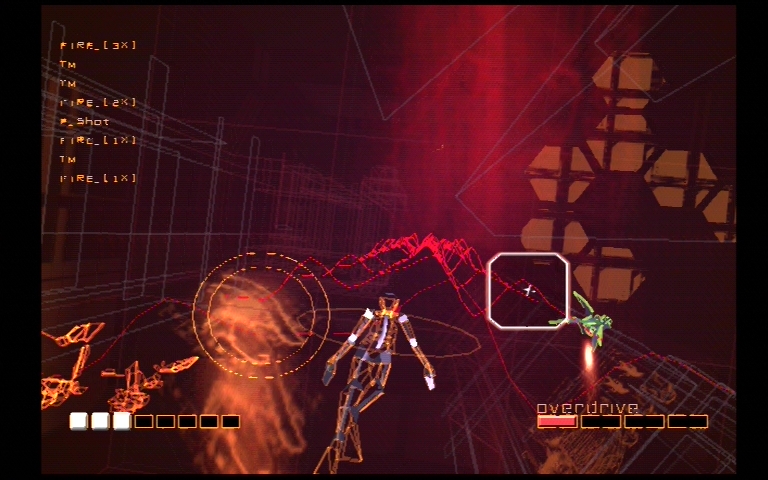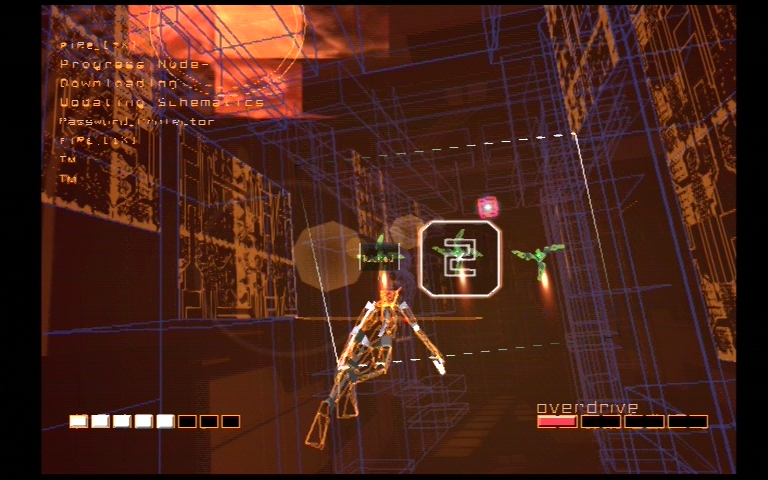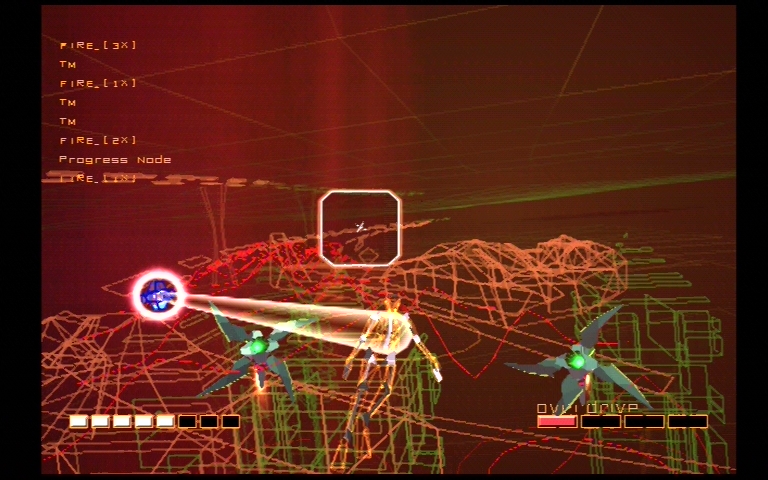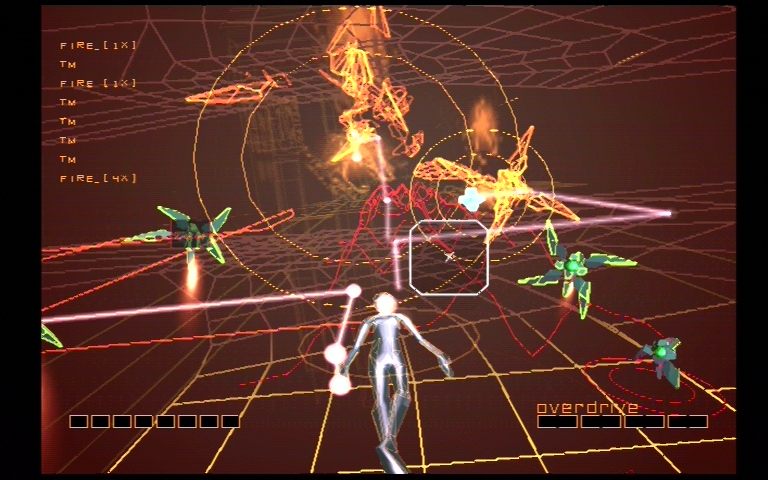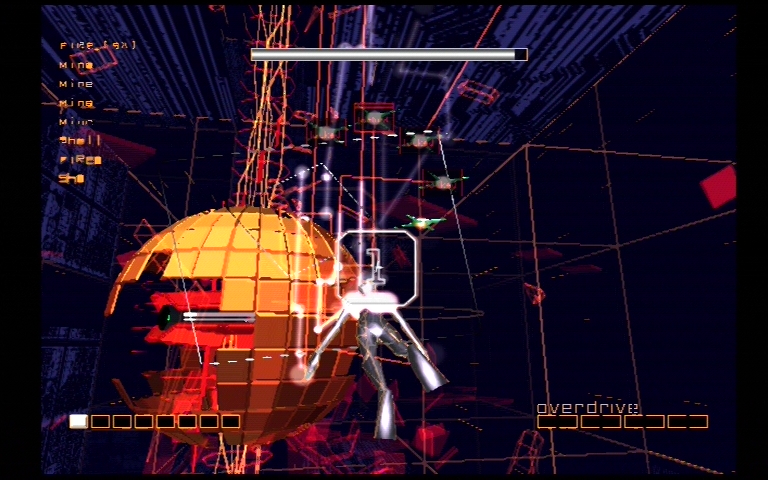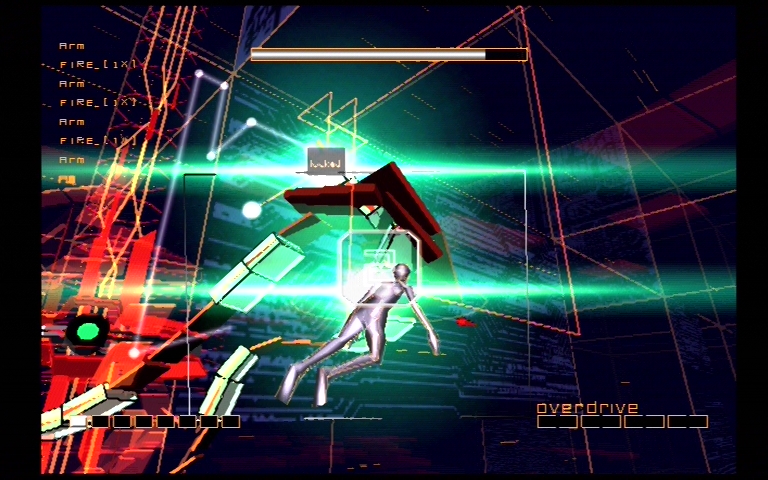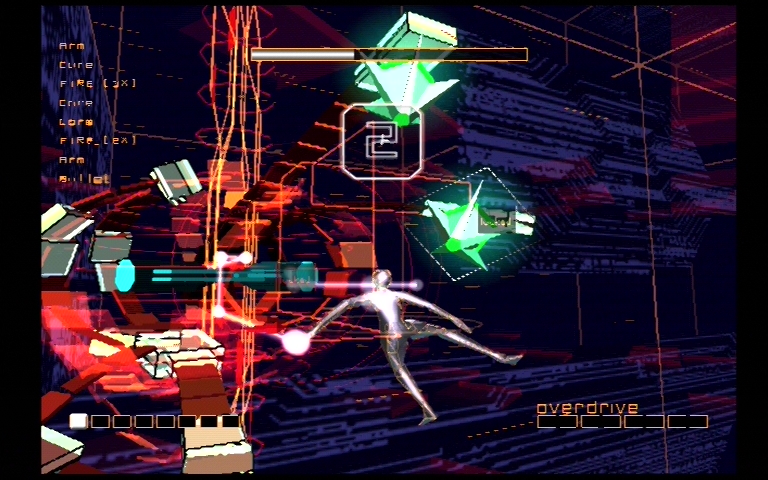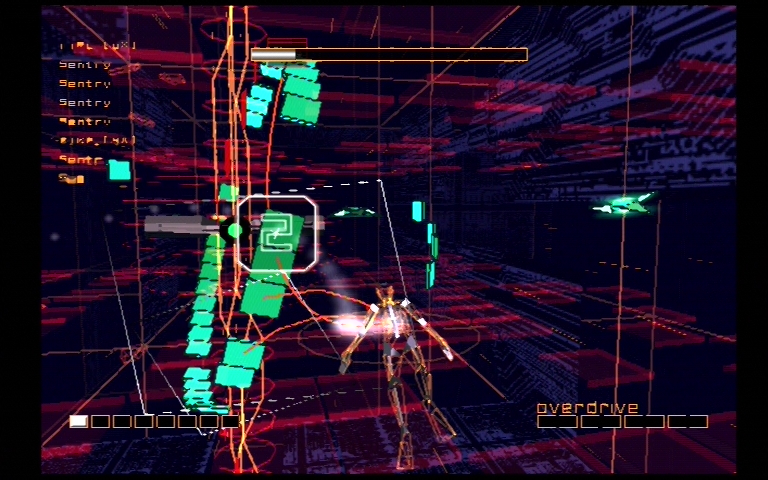 Area 2 (Mist / Protocol Rain)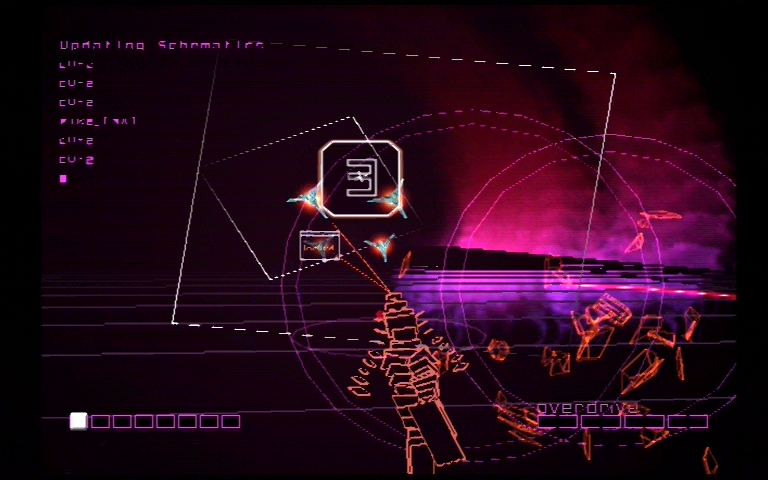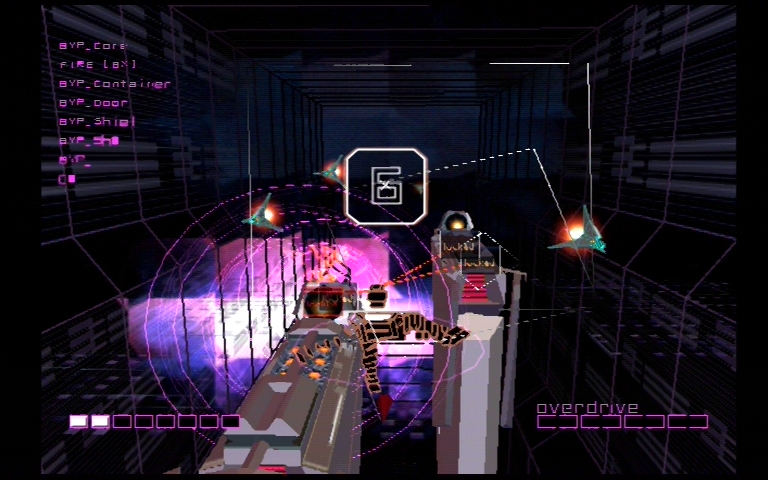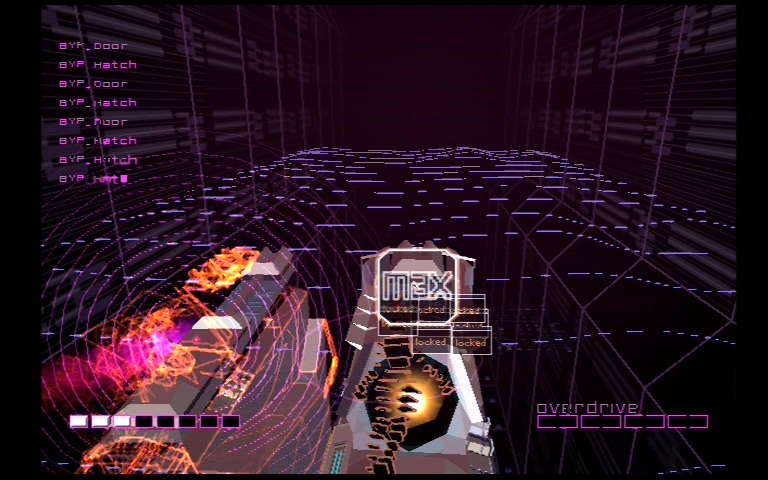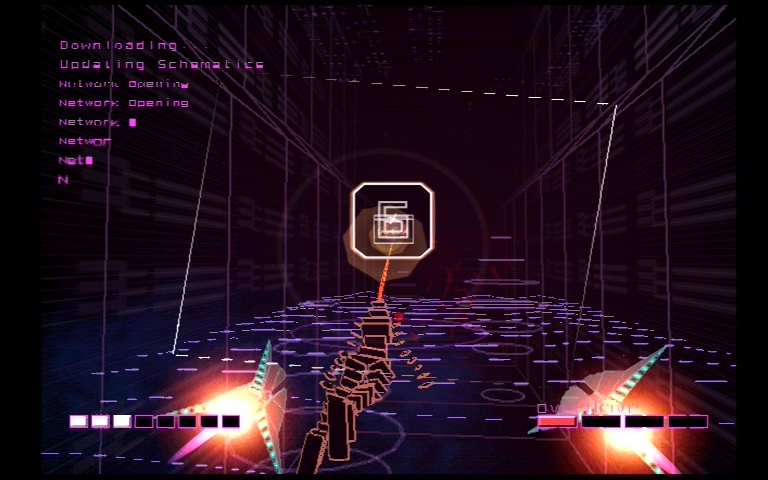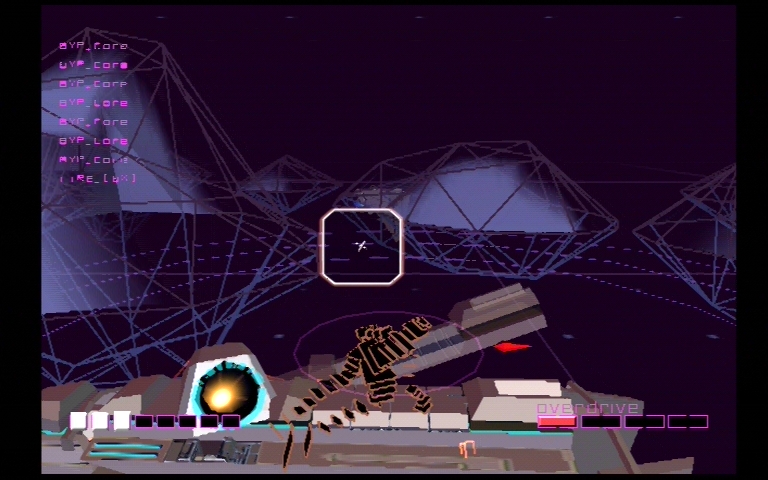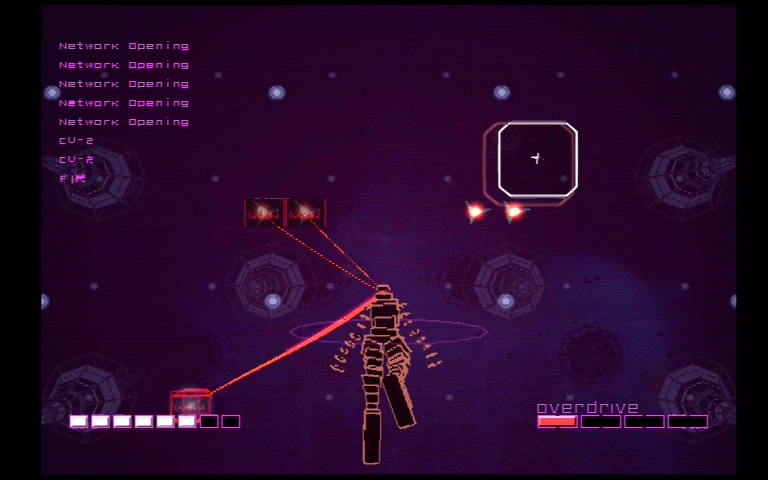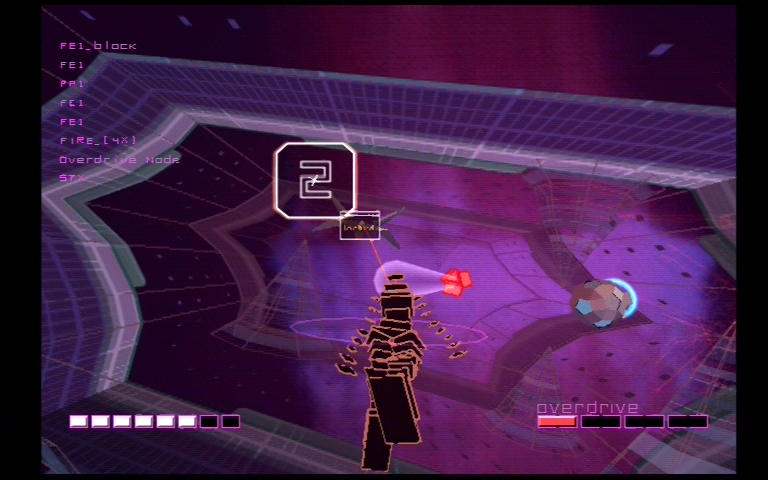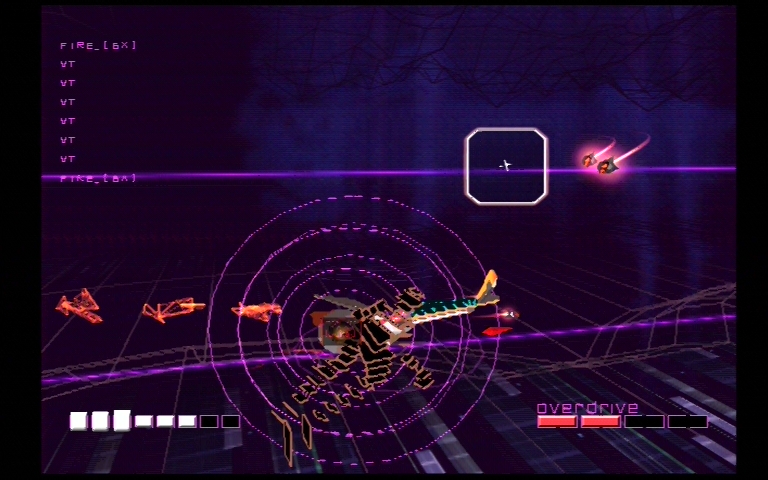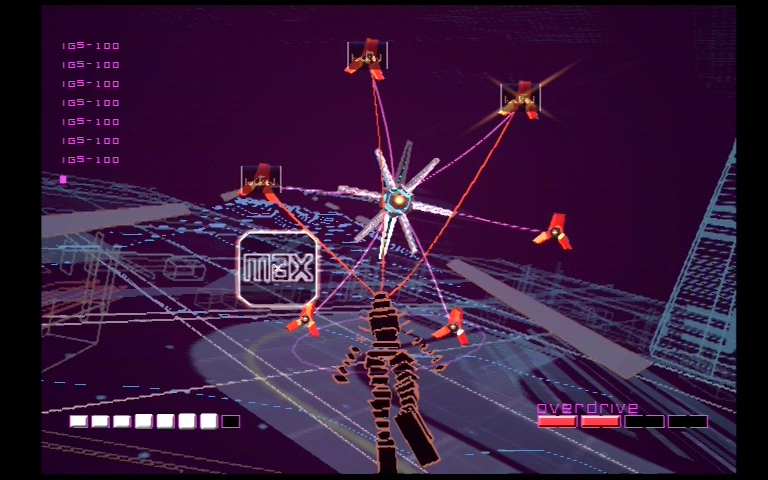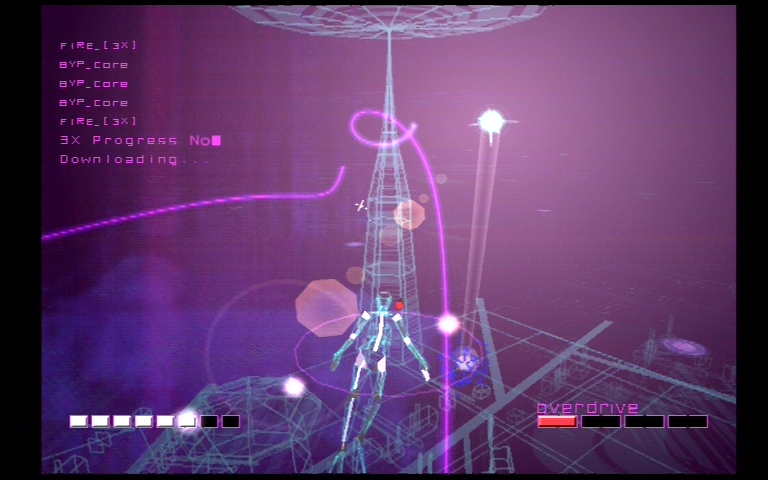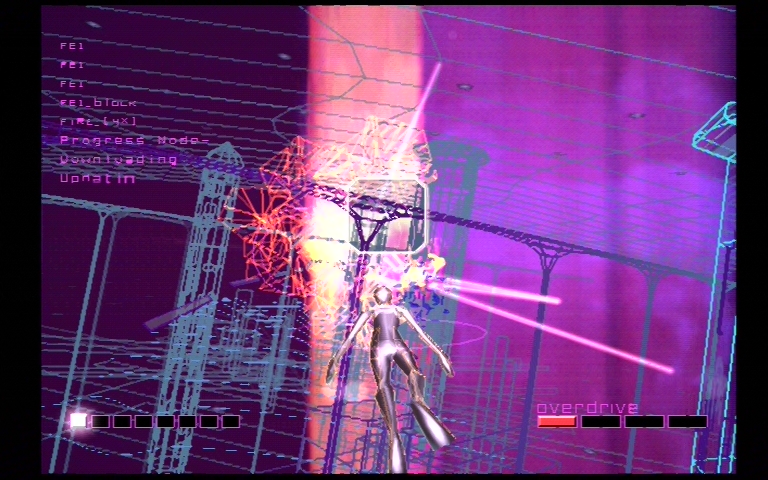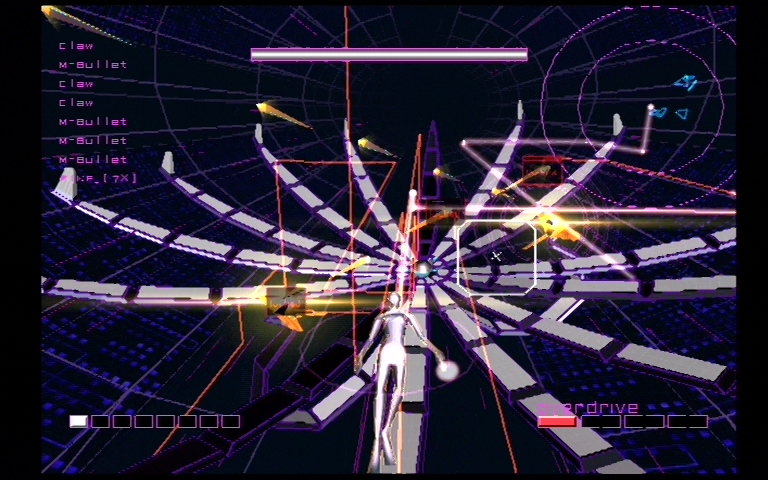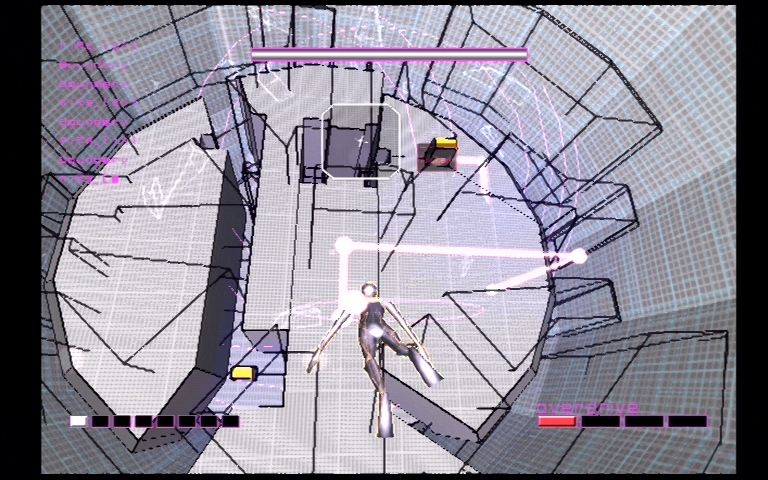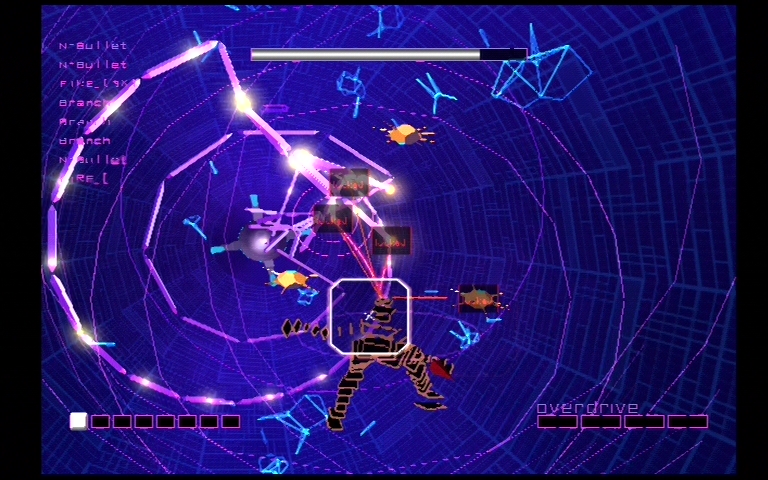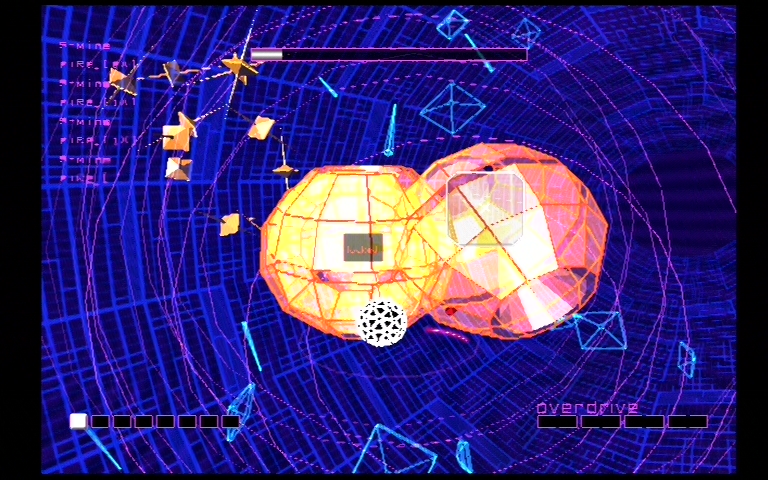 Area 3 (Ken Ishil / Creation - The State of Art 1 of 6)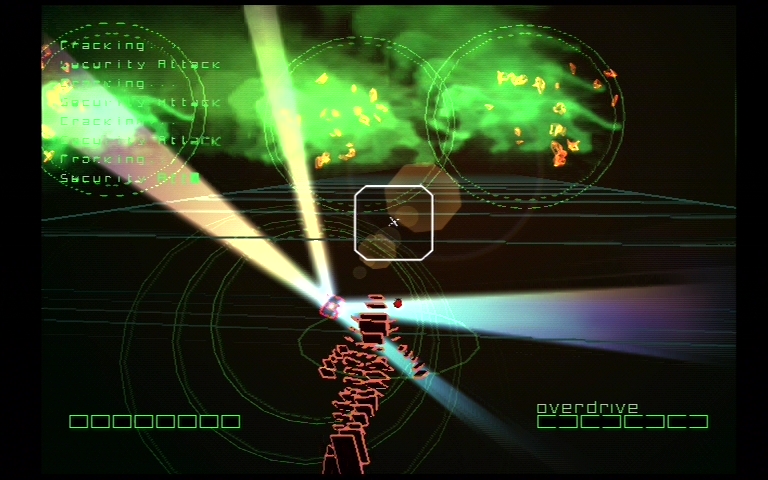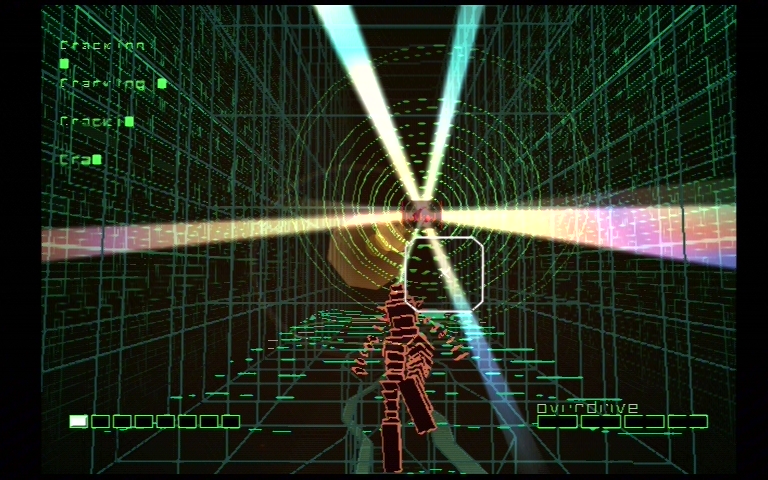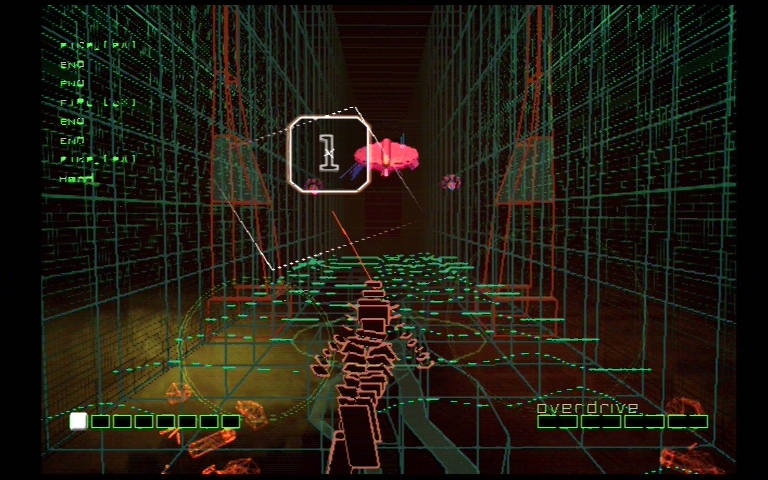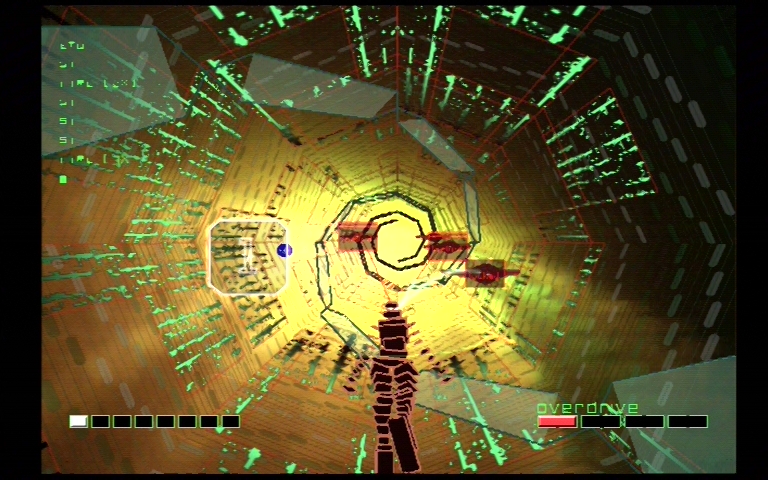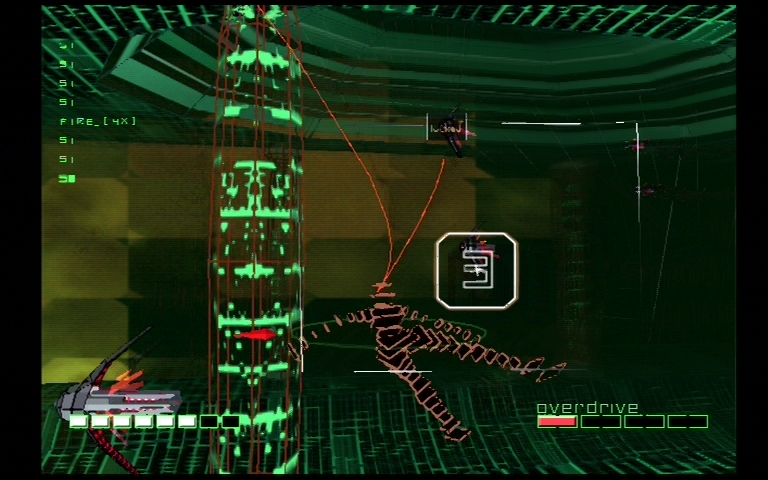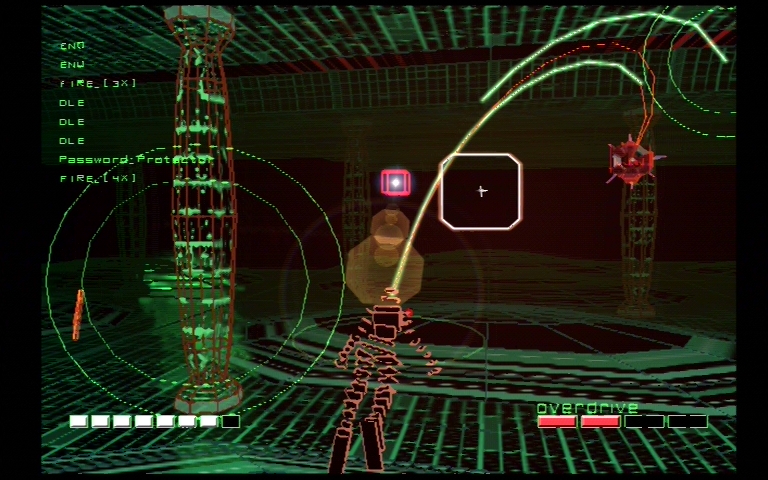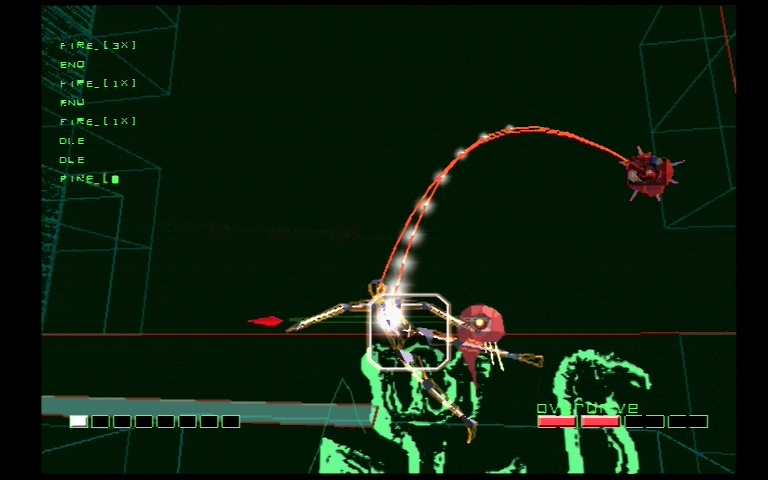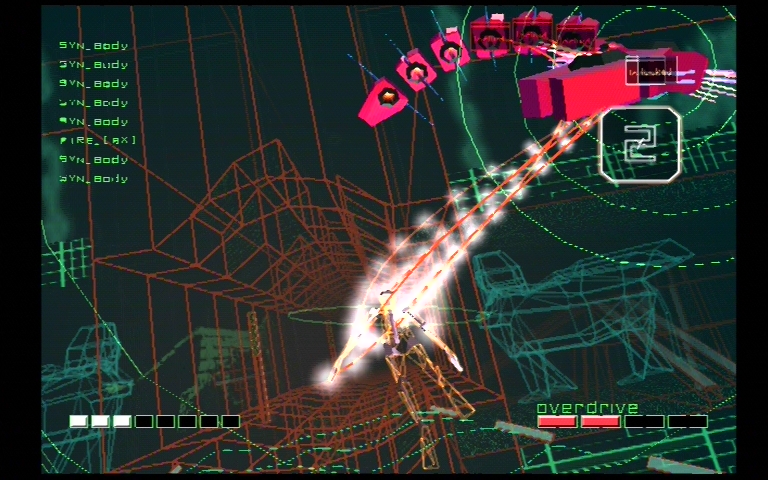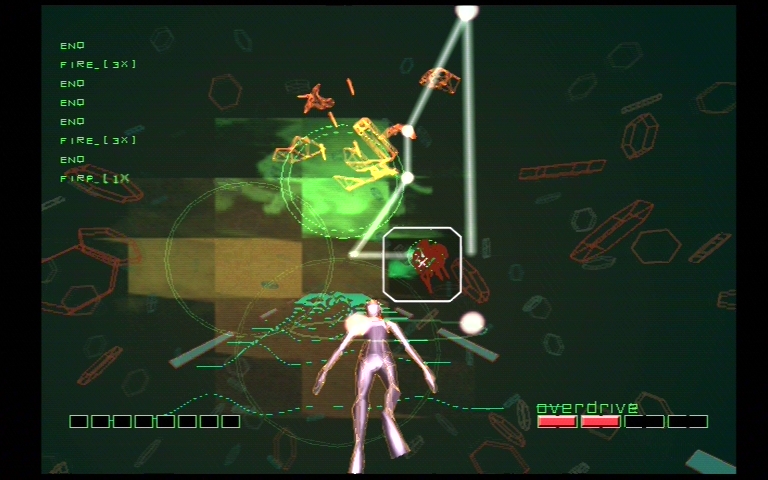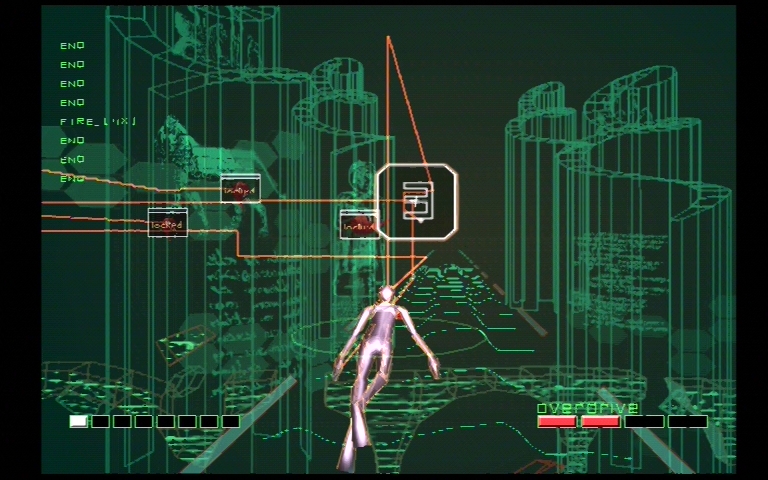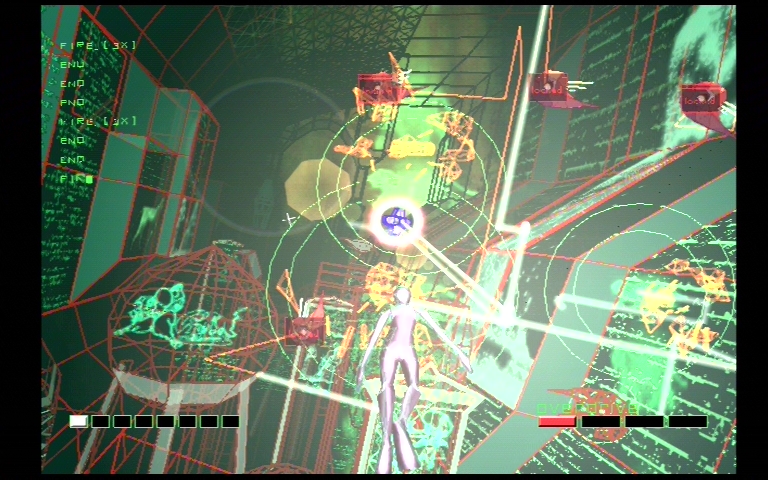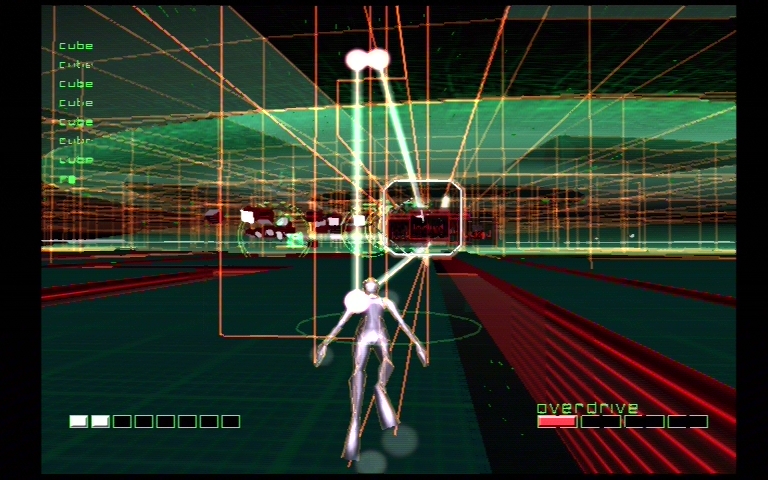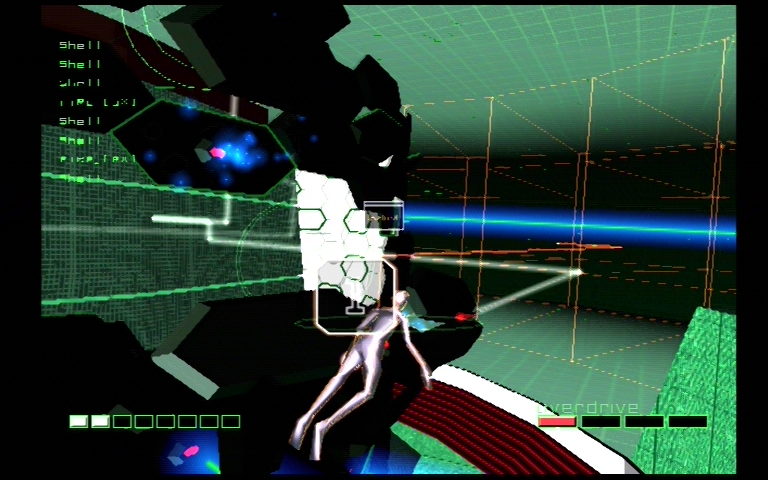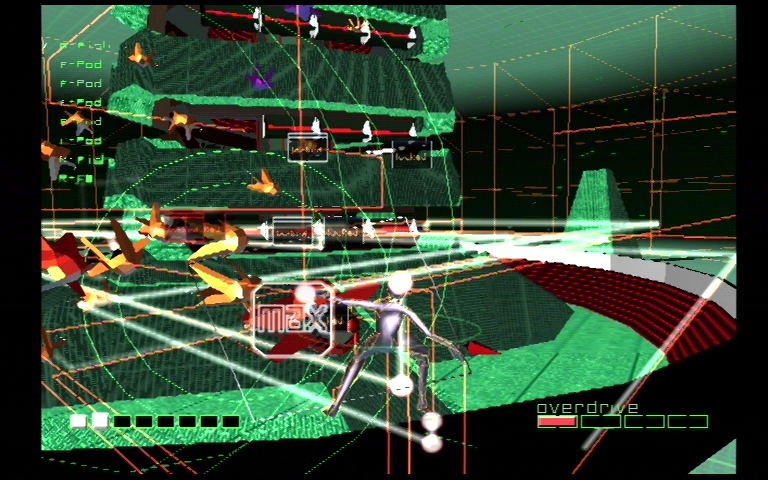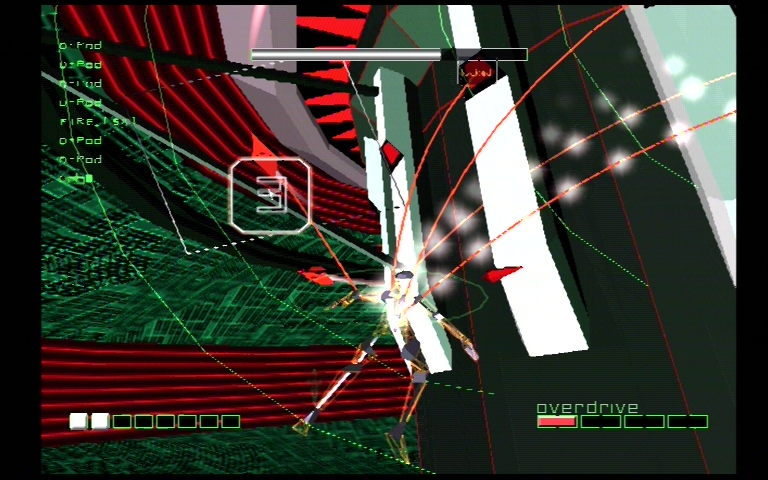 Area 4 (Joujouka / Rock is Sponge)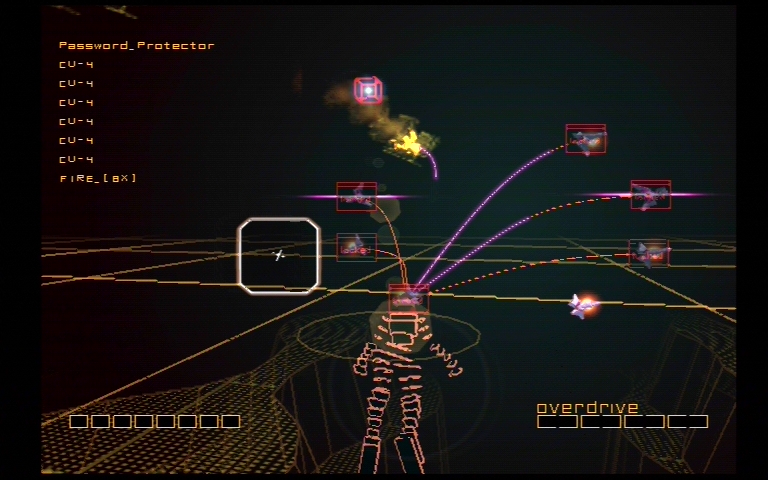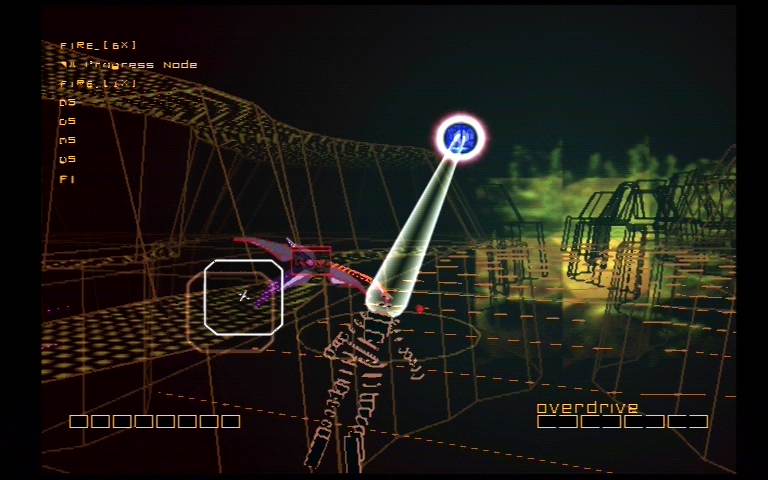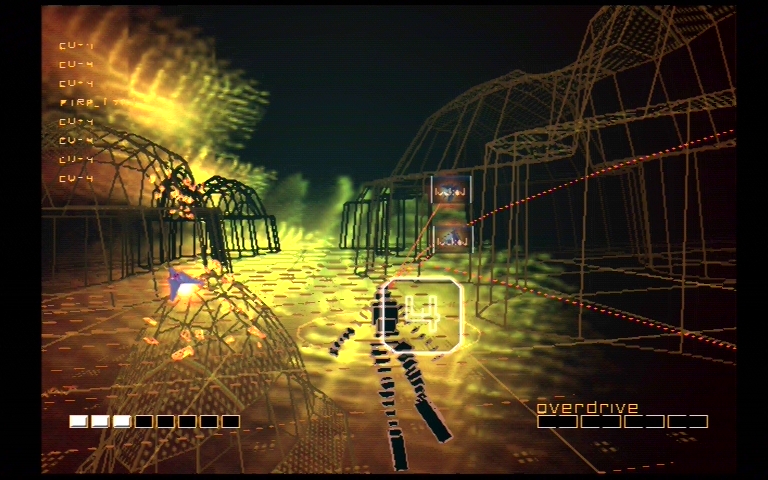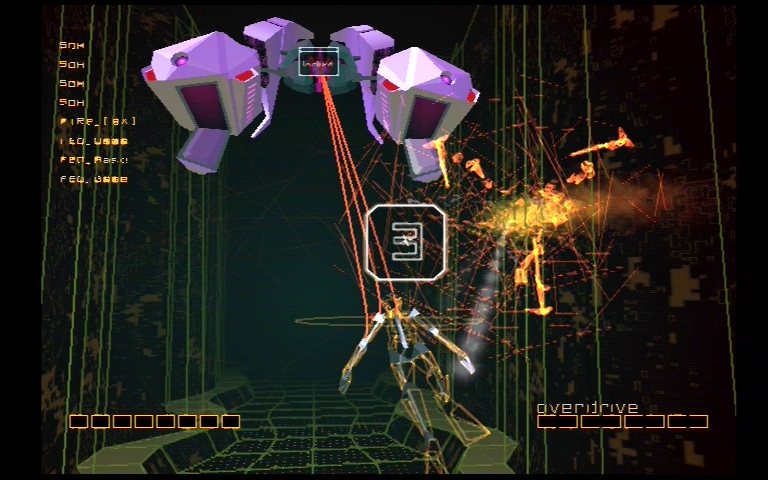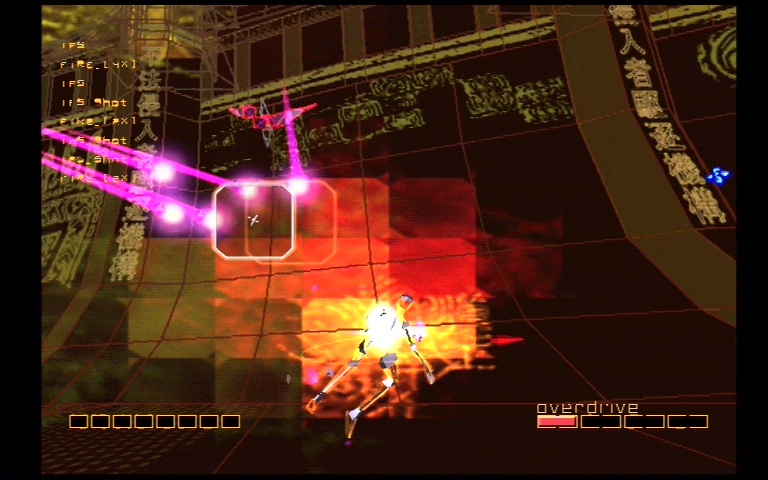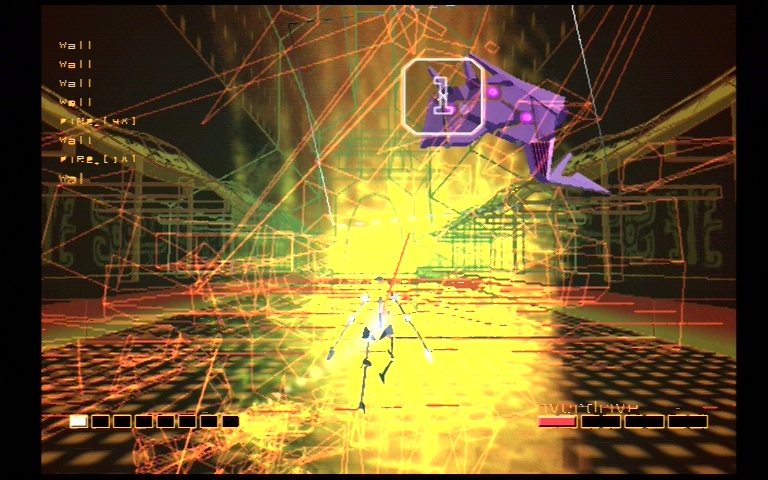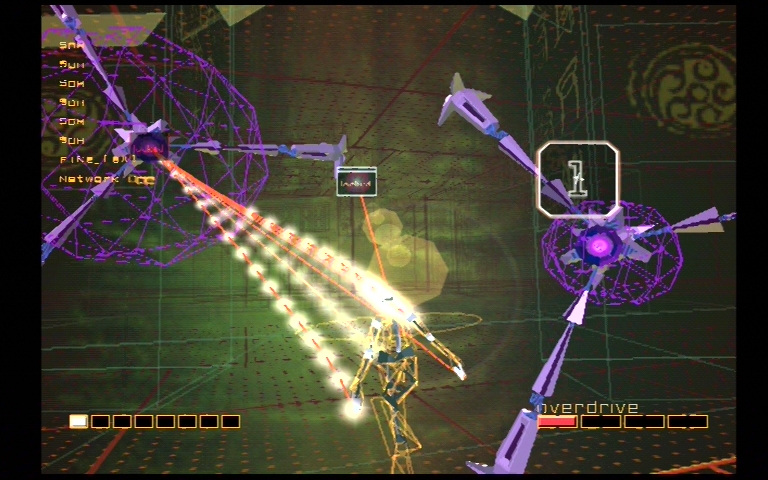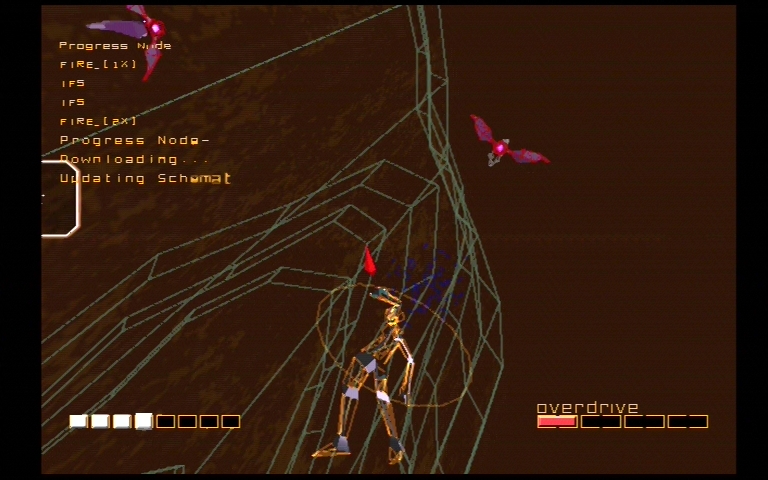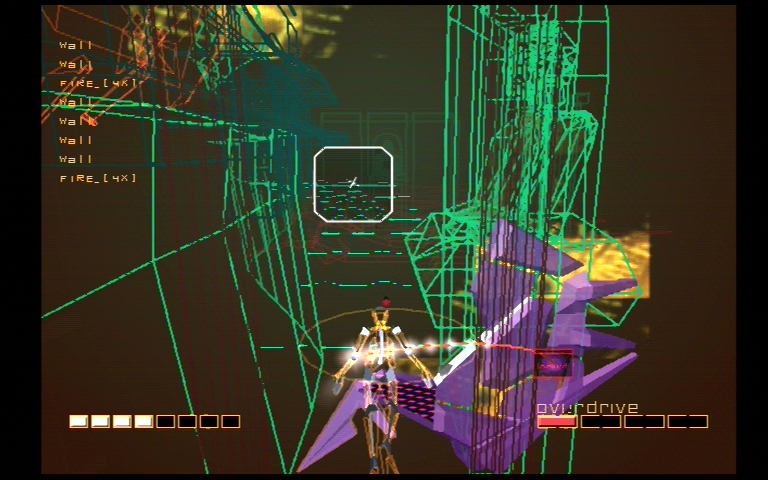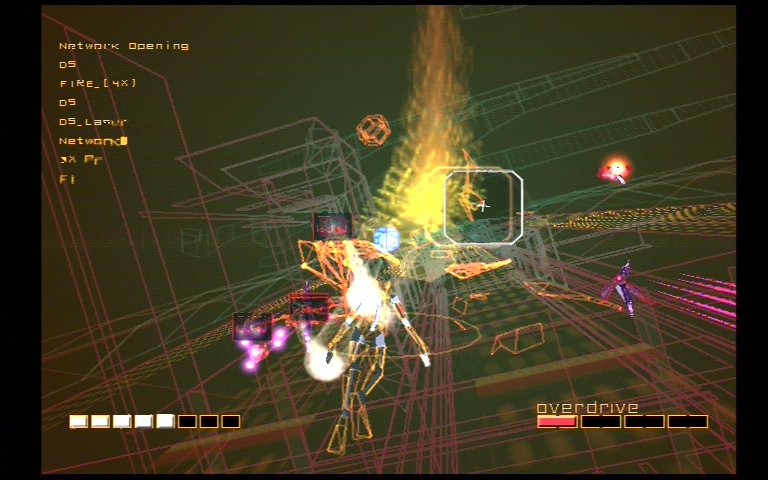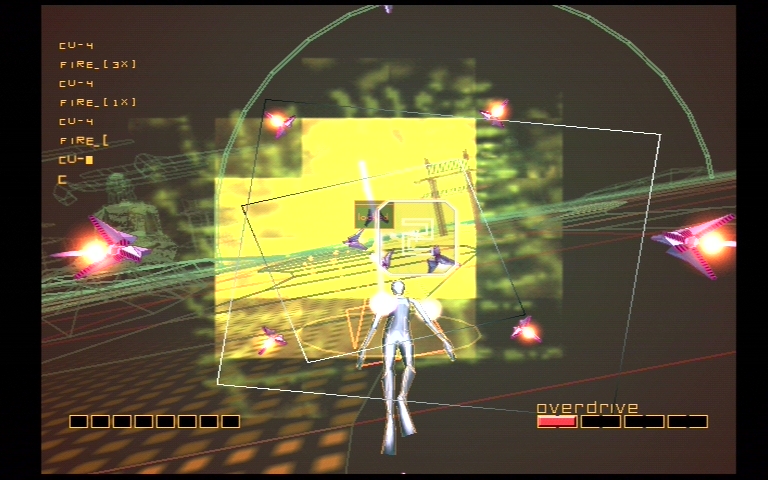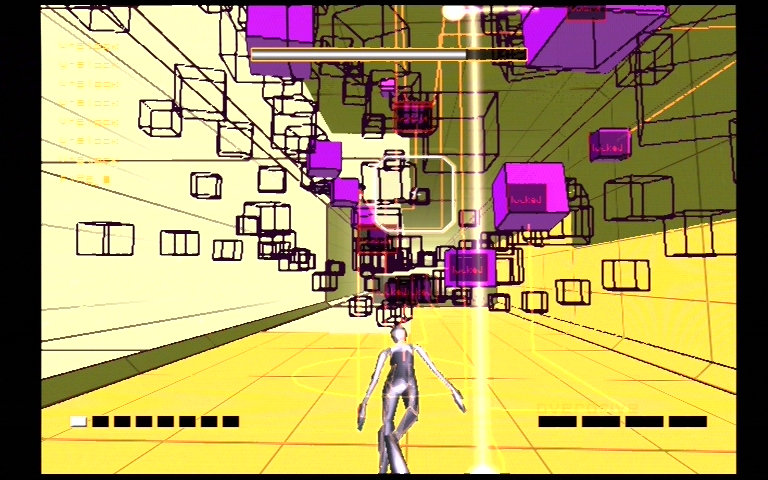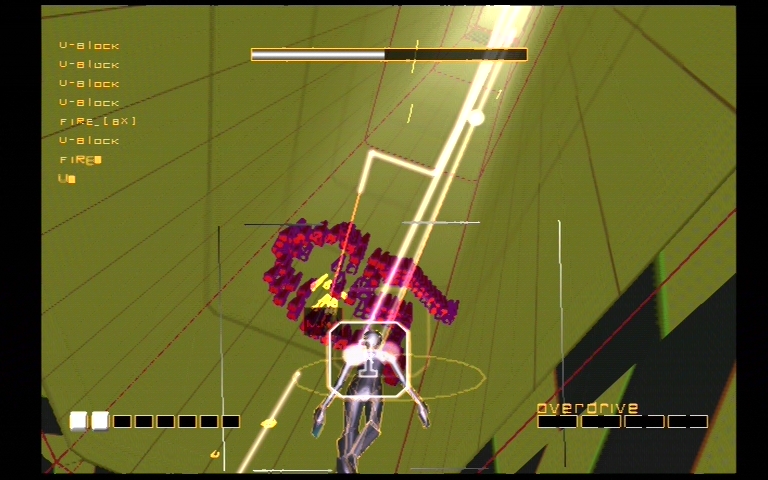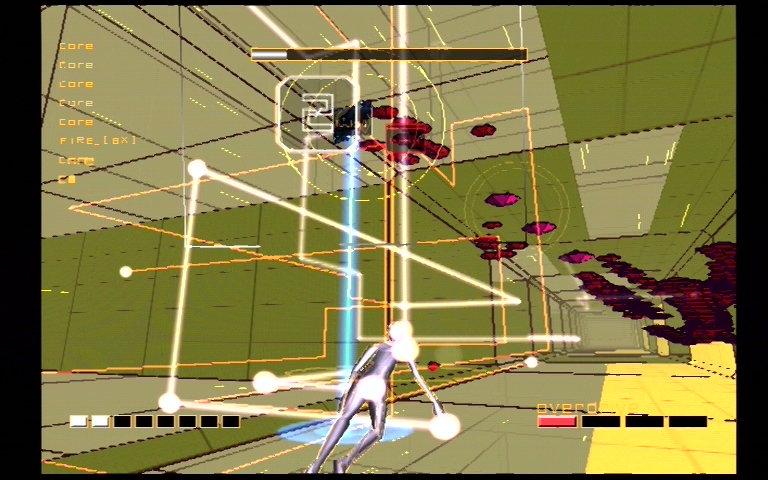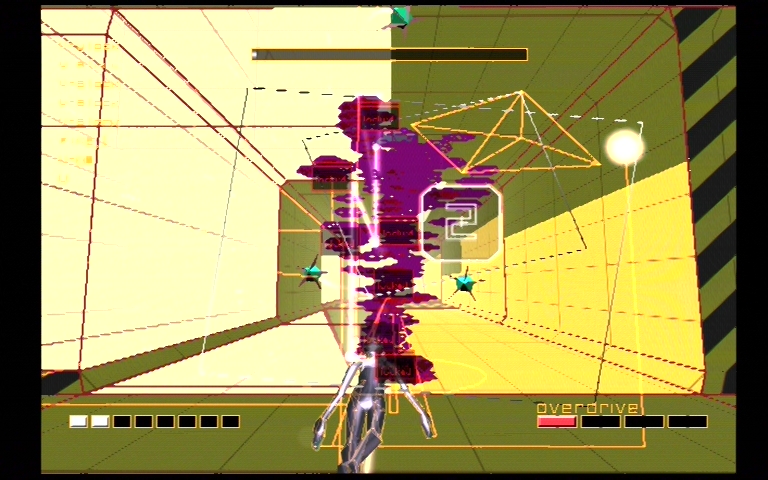 Area 5 (Adam Freeland / Fear)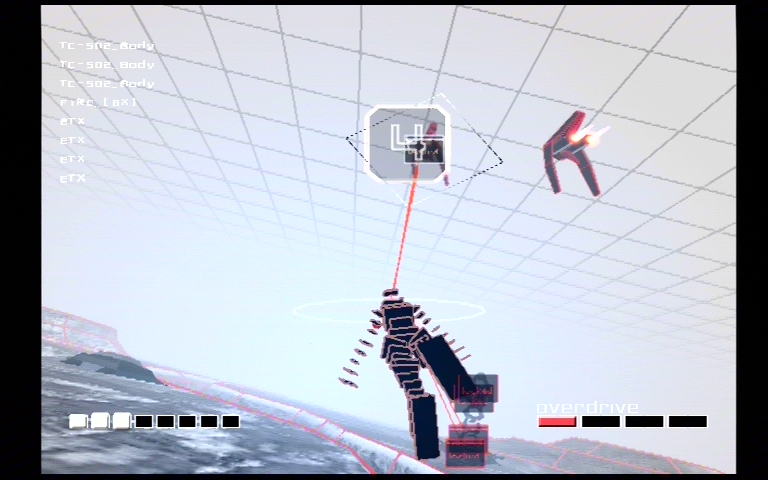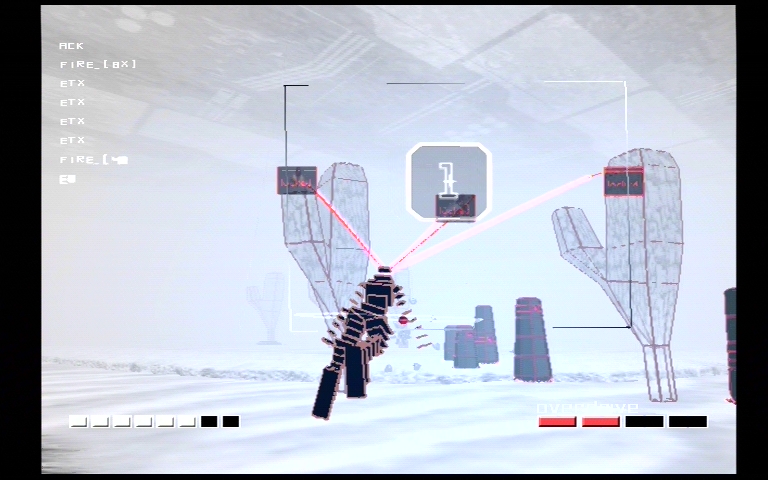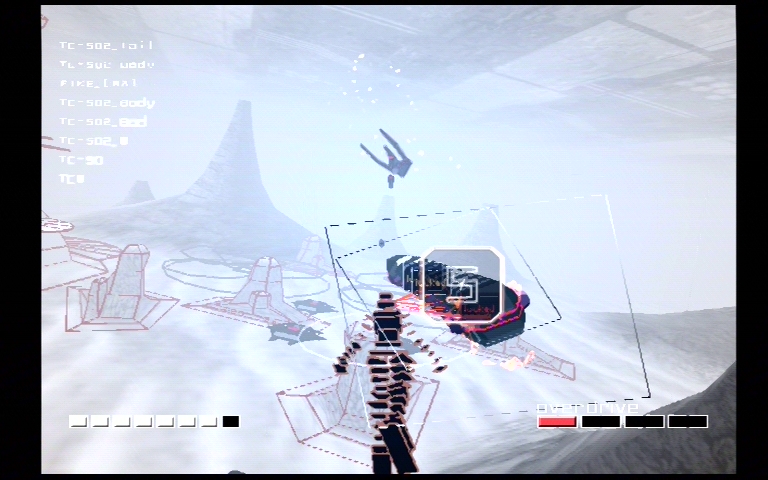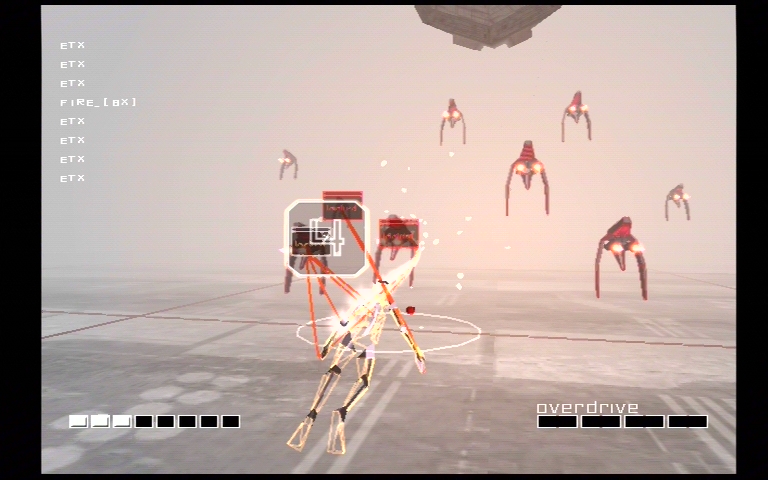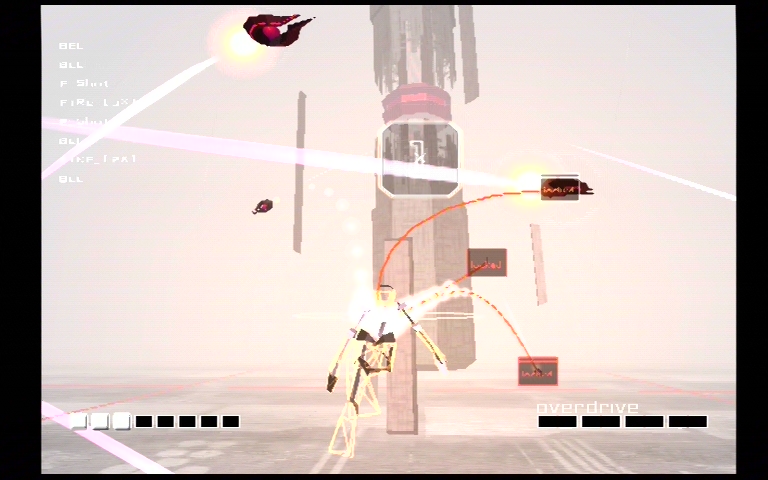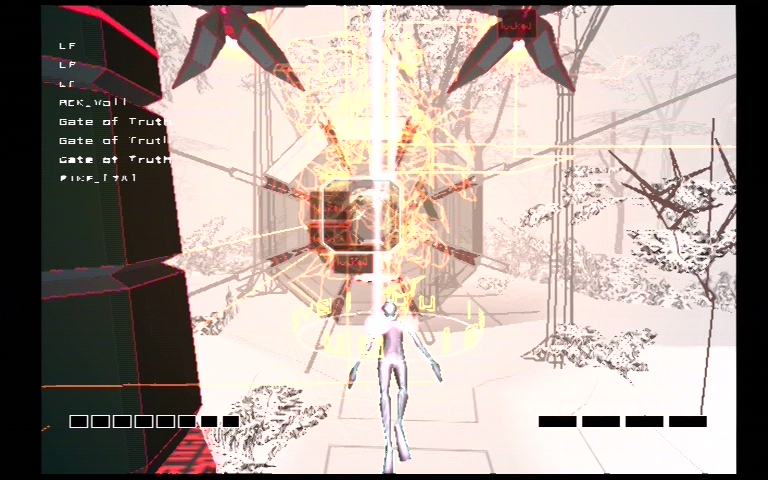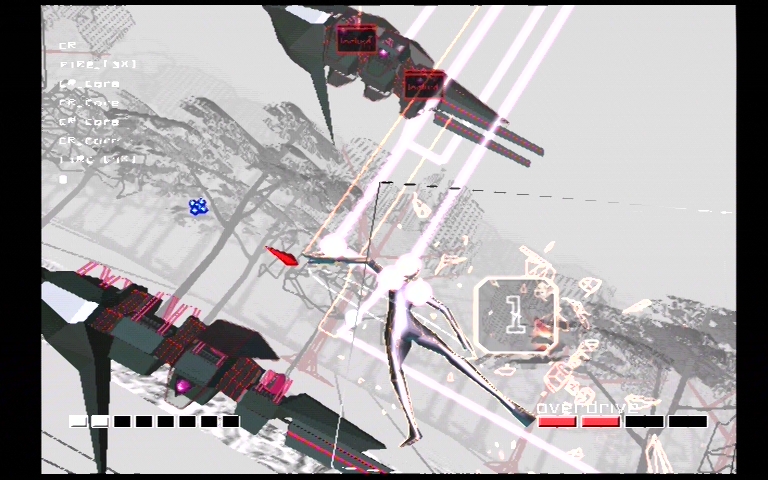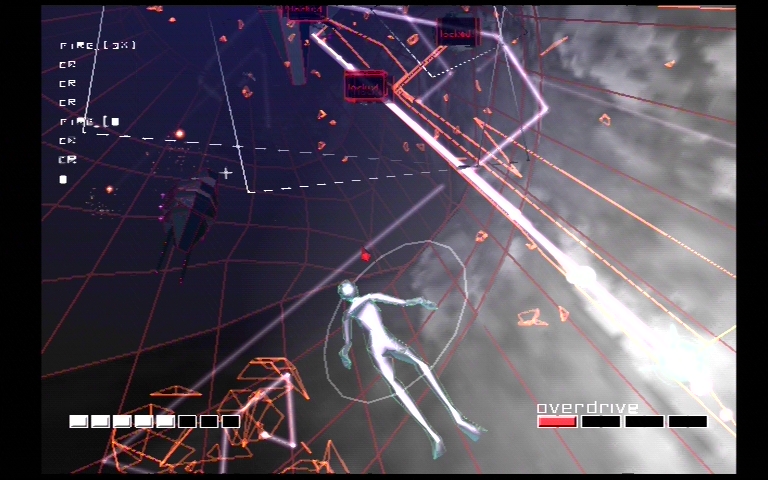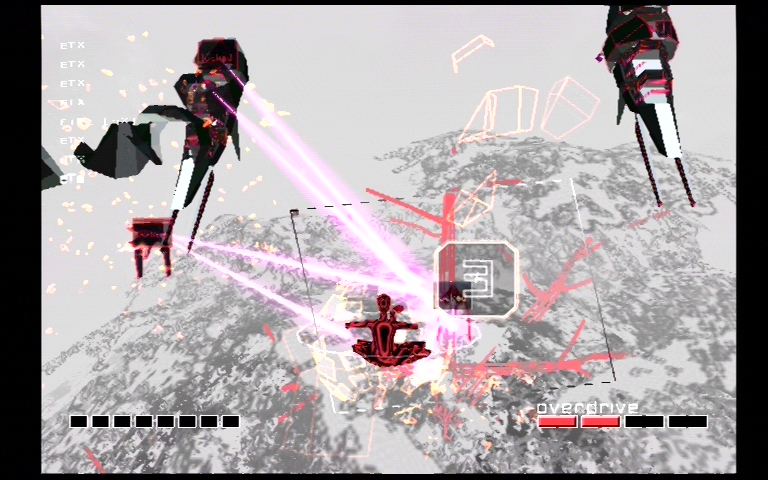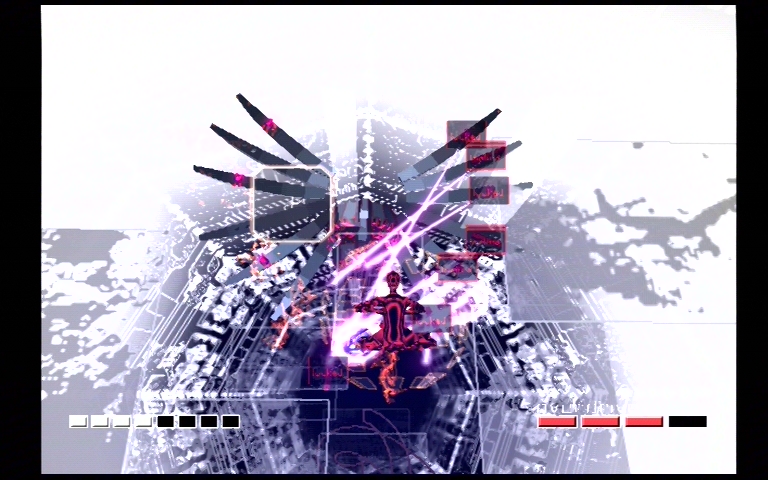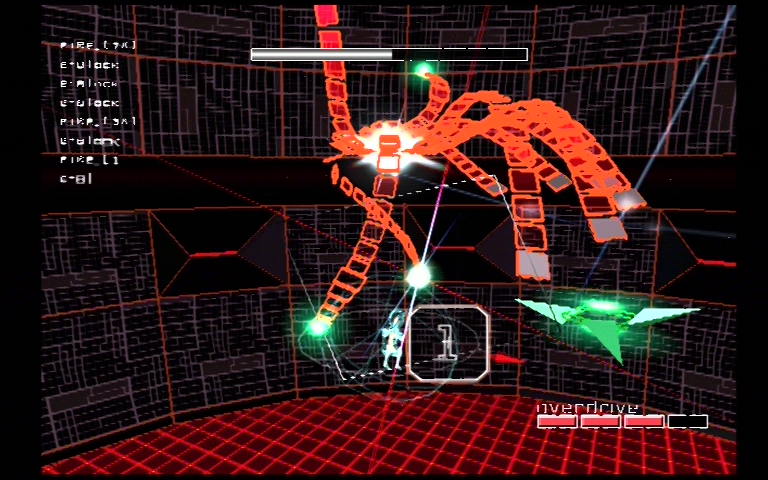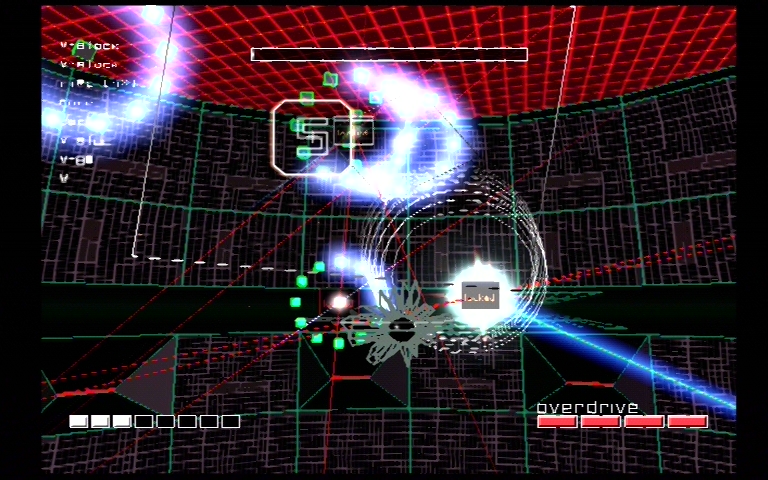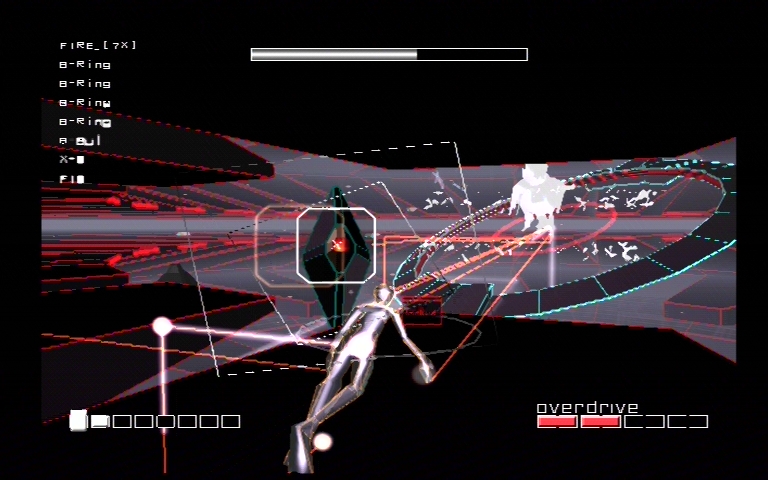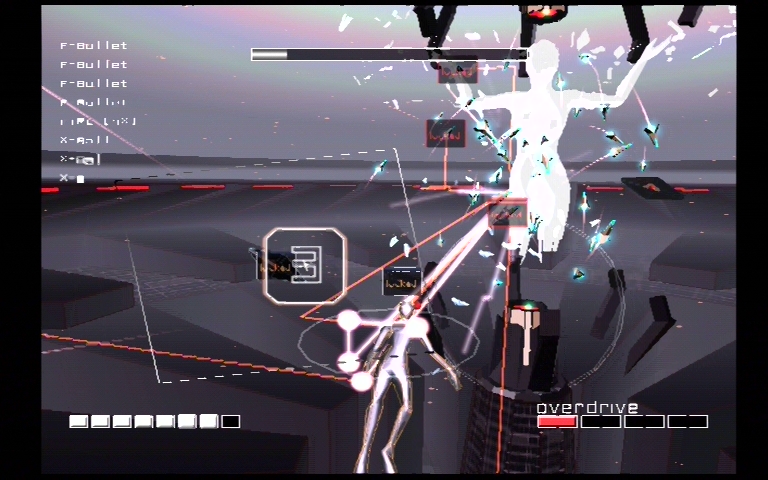 Lost Area (EBZ / F6 G5)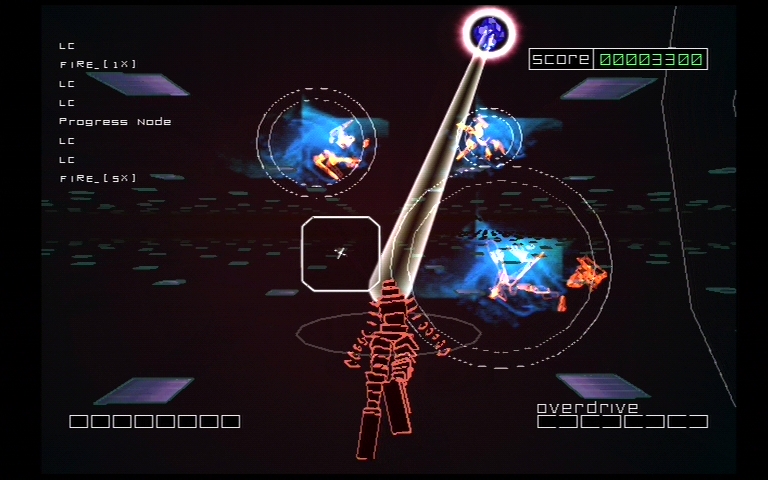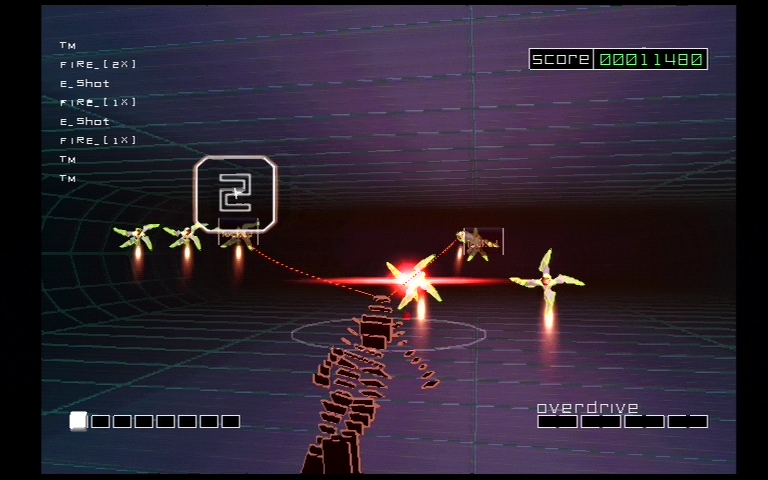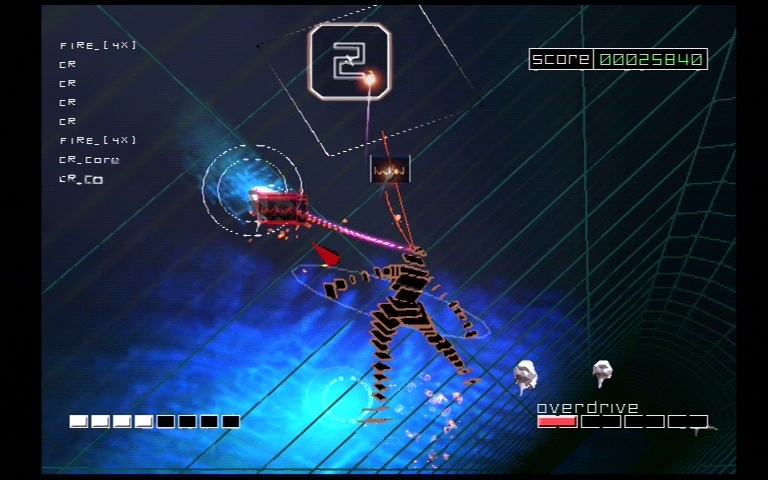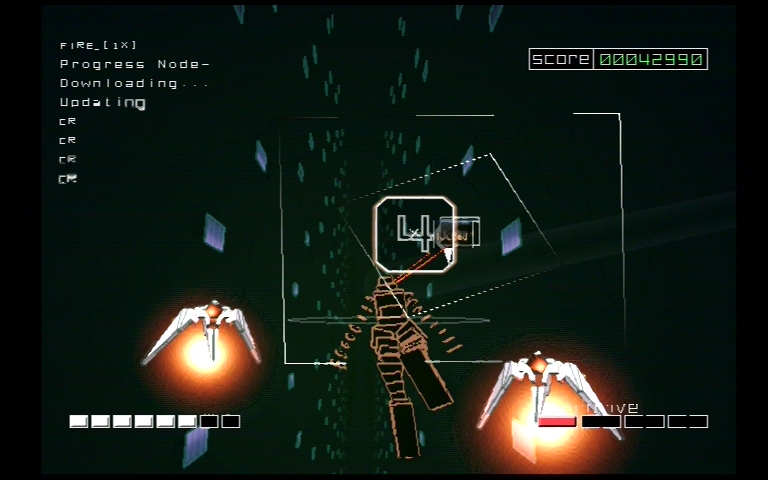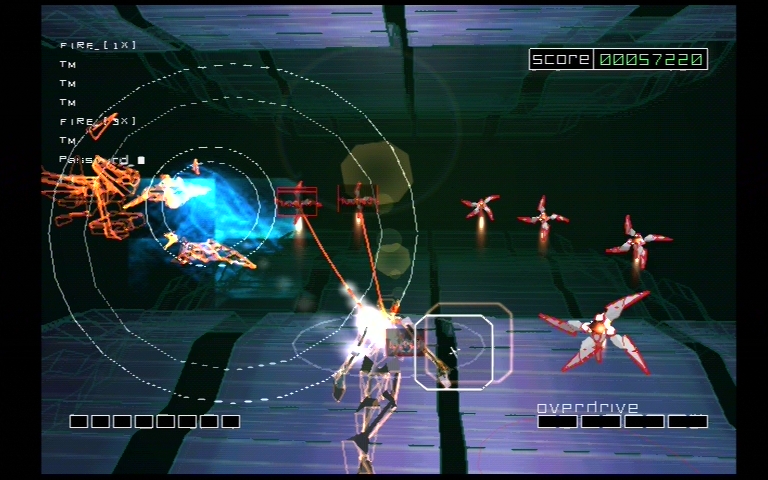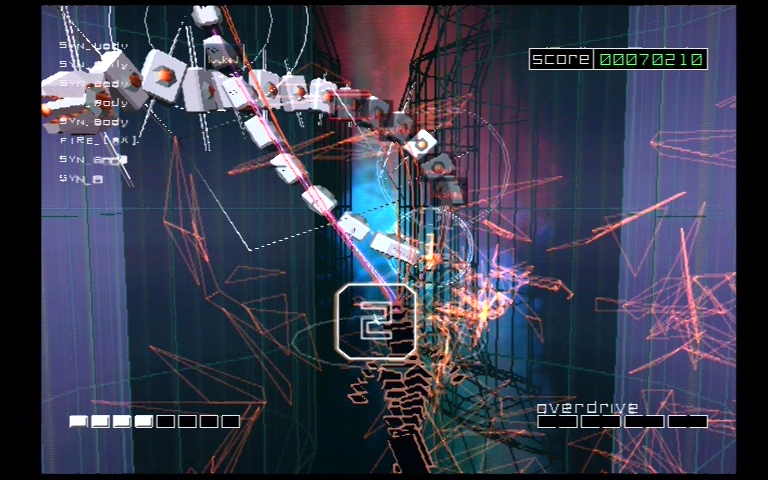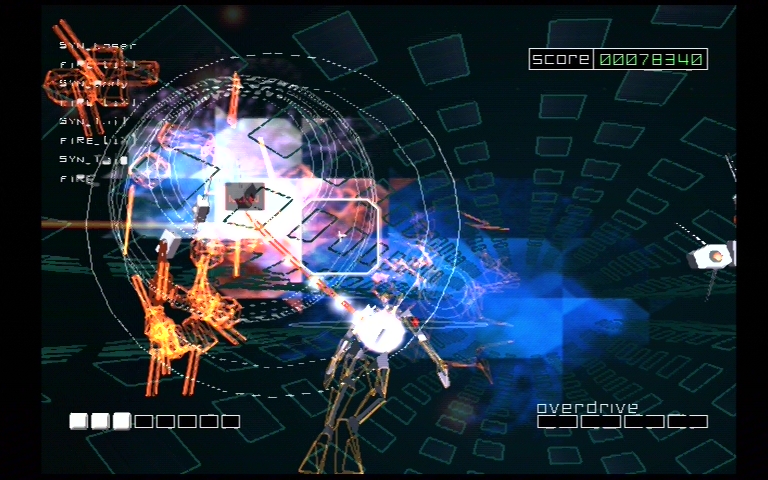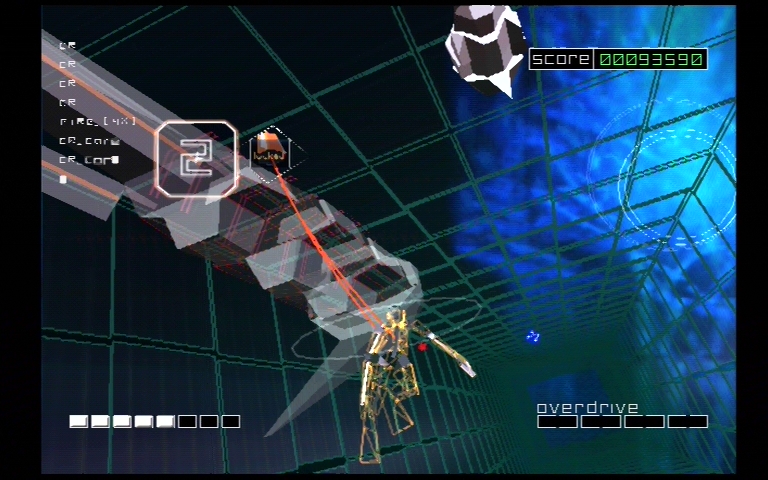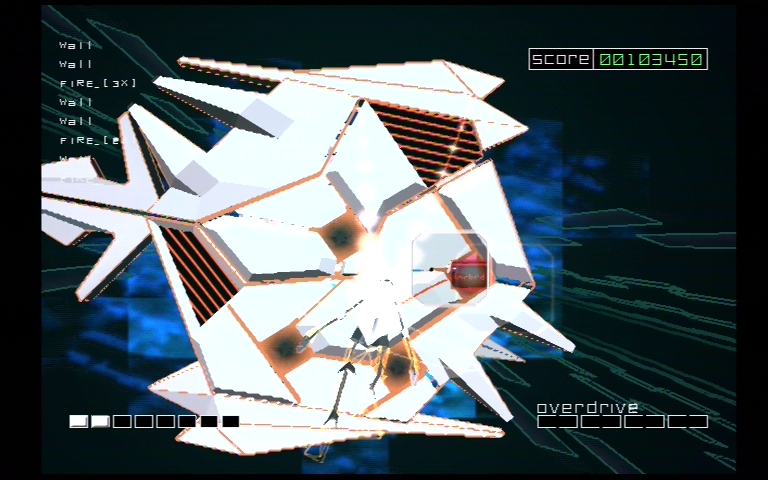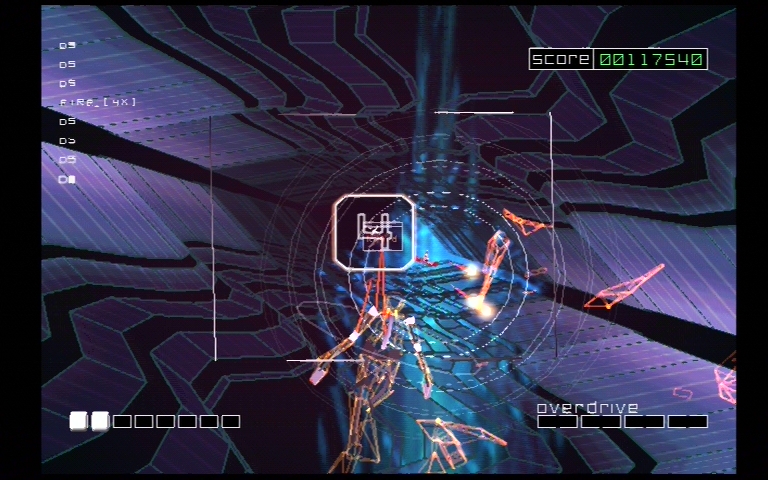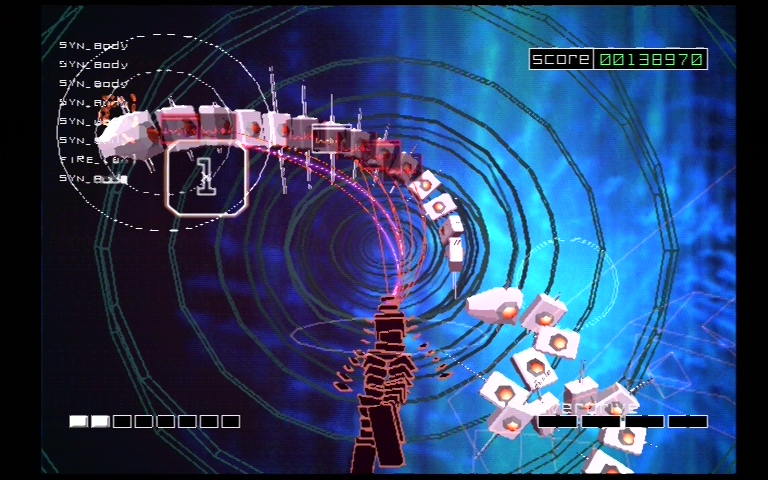 SOUNDTRACK
A soundtrack entitled "Gamers Guide To Rez" contains 10 tracks from the game. It is fairly rare to find.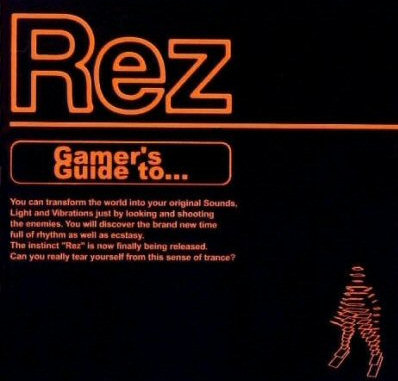 Gamers Guide To Rez Track Listing

| | |
| --- | --- |
| Track | Title |
| 1 | Keiichi Sugiyama - Buggie Running Beeps (5:20) |
| 2 | Mist - Protocol Rain (7:08) |
| 3 | Ken Ishii - Creation The State Of Art (Full Option) (6:33) |
| 4 | Joujouka - Rock Is Sponge (7:31) |
| 5 | Adam Freeland - Fear (Rez Edit) (5:06) |
| 6 | Coldcut & Tim Bban - Boss Attacks (Remix) (7:15) |
| 7 | EBZ - F6 G5 (7:48) |
| 8 | Oval - Octaeder 0.1. (3:22) |
| 9 | Ken Ishii - Creative State (6:20) |
| 10 | Oval - P-Project (5:38) |
CHEATS AND TIPS
General Tips
Try to chain as many shootdowns as possible as this will be worth more points.
With some practice, you will learn/remember the patterns of enemies in the game so you can do this. For example, enemies often appear in waves of 2,4, and 8. Also take note of the larger, more powerful enemies so you know whether to direct a full 8 shots at them several times or not.
When shooting down incoming projectiles try to include them as targets with other viruses to increase the points earned. On their own they are worth very little.
In large groups of missiles (the boss on Area 3 for example), look for those that are either flashing or slightly different coloured than the normal missiles. These are the only danger. The rest are extra points if you take them down.
Use Overdrives when the screen is very full such as when large enemies spit out huge amounts of missiles. This will help you to earn more points as you probably will not be able to shoot them down otherwise.
By shooting down 98% or more during the 10 layers, you get a more difficult boss but additionally, you get a lot more points for its destruction.
Beyond Mode Unlocks
The following are how to unlock options in Beyond mode.
Unlock the Direct Assault Option
Complete play Area 5.
Unlockable Direct Assault Schemes
Ambient Complete the normal Direct Assault mode.
Normal Available when Direct Assault is unlocked.
Old Skool Complete the Punk Direct Assault mode.
Pcychedelic Complete the Old Skool Direct Assault mode.
Punk Complete the Ambient Direct Assault mode or normal twice.
Trance Complete the Psychedelic Direct Assault mode.
Unlock the Lost Area
Complete play area 5, or play the game for over five hours.
Unlock the Trance Mission
Achieve first place in the Lost Area.
Unlock Boss Rush Mode
Achieve 95% shot down enemies in areas 1-5 of Play Mode.
Invincibility / God Mode
Complete the Direct Assault - Trance in the Beyond Mode.
Unlockable Forms
Fifth Form - Either get a 100% in any four areas or play for a total of eight hours.
Final Form - Either get a 100% in all five areas or play for a total of nine hours.
First Form - Clear Area 5 (in Play Mode).
Fourth Form - Either get a 100% in any three areas or play for a total of seven hours.
Morolien - Play for a total of ten hours.
Second Form - Either get a 100% in any of the areas or play for a total of five hours.
Third Form - Either get a 100% in any two areas or play for a total of six hours.
Zero Form - Either get a 100% in any of the areas or play for a total of five hours.
Extra Beams
Beamtype Normal - Clear any combination of levels in Score Attack 05 times.
Beamtype 1 - Clear any combination of levels in Score Attack 05 times.
Beamtype 2 - Clear any combination of levels in Score Attack 10 times.
Beamtype 3 - Clear any combination of levels in Score Attack 15 times.
Beamtype 4 - Clear any combination of levels in Score Attack 20 times.
Beamtype 5 - Clear any combination of levels in Score Attack 25 times.
Morolian's Beam - Clear any combination of levels in Score Attack 30 times.
Unlimited Overdrives
Achieve first place in Boss Rush Mode.
Unlock Different Viewpoints/Camera
Dynamic View - Achieve first place in four score attack areas.
Far View - Achieve first place in three score attack area.
First Person View - Achieve first place in five score attack areas.
Near View - Get first place in two score attack areas.
OTHER VERSIONS
The differences between the Dreamcast and PS2 port are graphical. The Dreamcast manages a fluid 30 frames per second whereas the PS2 version is 60 frames per second but fluctuates when action onscreen intensifies. Also the Dreamcast version has sharper visuals overall and can be played on a VGA monitor.
Both the port to PS2 and the HD port to Xbox Live Arcade leave the game itself virtually untouched.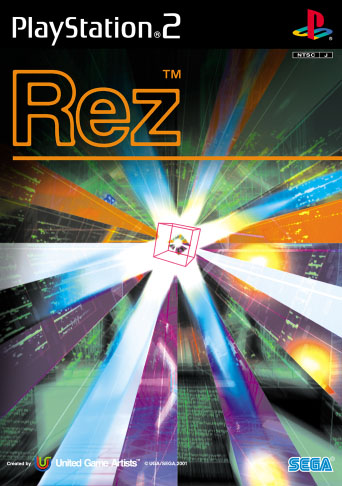 XBox Live Arcade
Released in 2009 (not by SEGA) at a cost of 800 Microsoft points (though the game has appeared on special offers since) it is a perfect and upgraded port of the original fitting completely with the 360's controller. It offers HD graphics (a SD option is available) with widescreen and 5.1 audio and runs at a silky smooth 60fps.
Everything is perfectly recreated. There are some very minor differences in how the options screens are laid out with a few tweaks and there is the additional option of viewing leaderboards, tutorial demo and story. Extra controllers can also be used for more vibrations!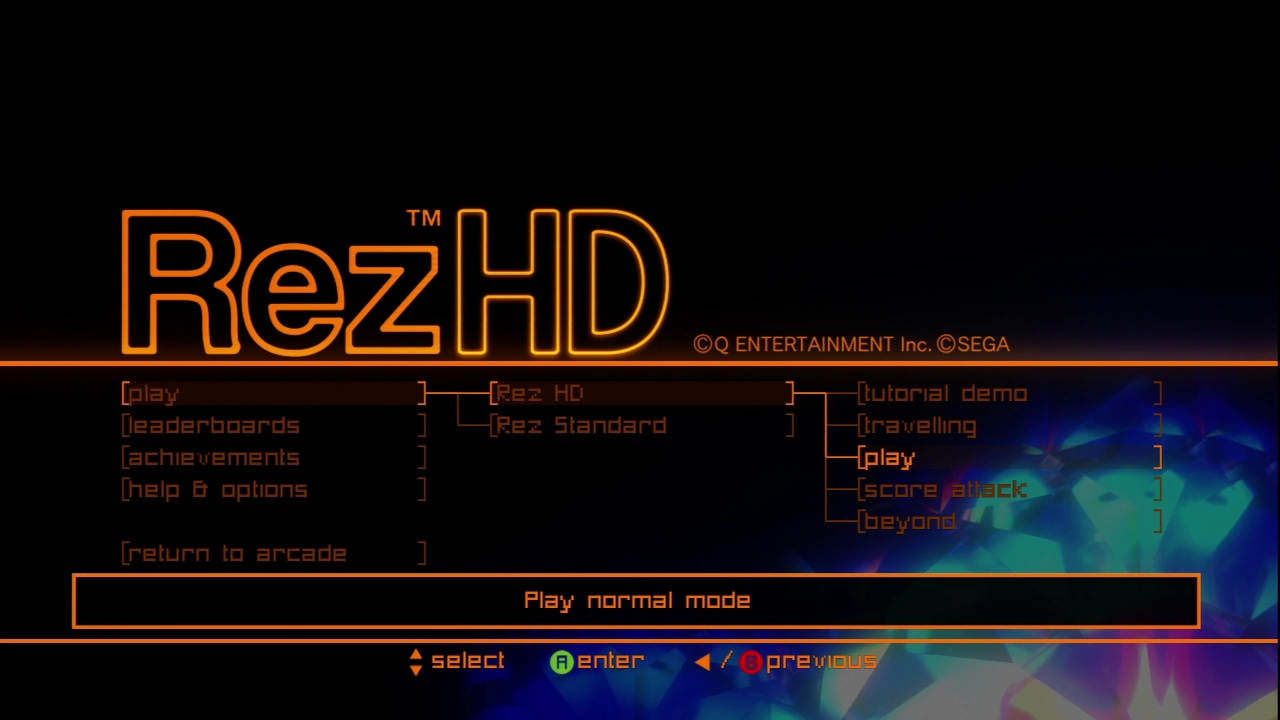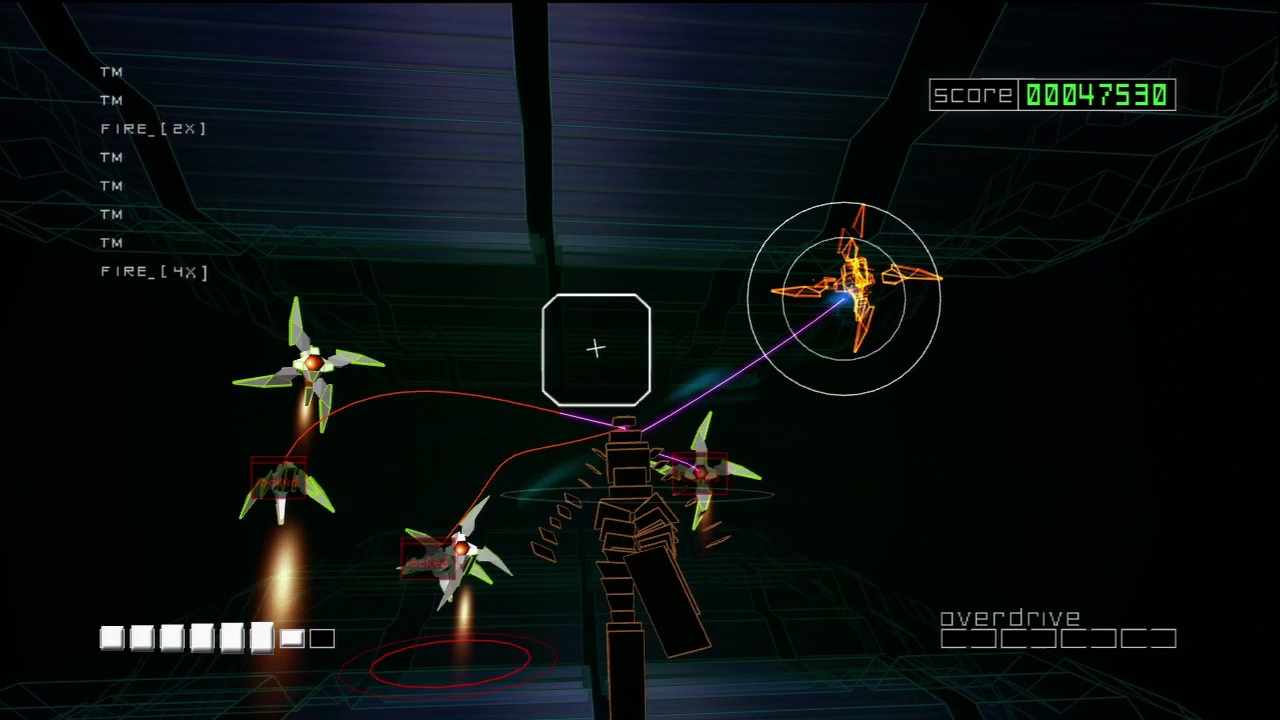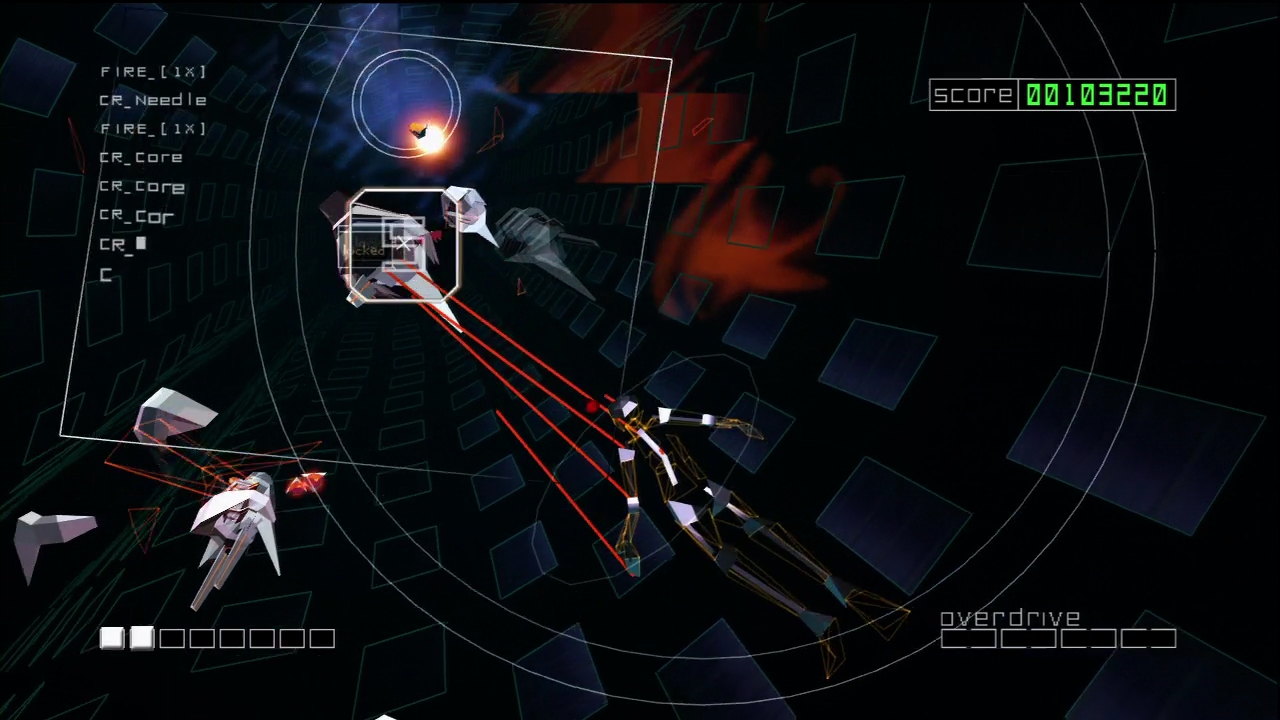 There are a total of 200 achievement points possible and conveniently they tell you what becomes unlocked.
Achievements
Rez Xbox Live Aracde Achievements

| | | |
| --- | --- | --- |
| Achievement | Description | Gamer Points |
| The Rezident | 100% show down/support item or played 10+ hrs in play mode areas 1-5! Secret Character unlocked! | 15 |
| Laser Assassin | 95% show down rate achieved in play mode areas 1-5! Boss Rush unlocked! | 15 |
| Ultimate Cracker | Ranked 1st in all 5 areas of score attack! First person view option unlocked! | 15 |
| The Forgotten | Ranked 1st in lost area! Trance mission unlocked! | 15 |
| Eden | Area 5 cleared! Beyond mode unlocked! | 20 |
| The URANUS | Play mode area 4 cleared! Achieve 100% analyzation in areas 1-4 to unlock area 5! | 20 |
| The VENUS | Play mode area 3 cleared! Area 4 unlocked! | 20 |
| The MARS | Play mode area 2 cleared! Area 3 unlocked! | 20 |
| The EARTH | Play mode area 1 cleared! Area 2 unlocked! | 20 |
| Trance Hacker | Clear Direct Assault (trance) | 15 |
| Firewall Buster | Get a local ranking of 1st in boss rush | 15G |
| Power Breaker | Clear score attack over 30 times | 10 |
CHILD OF EDEN | 2011
Child of Eden (COE) was released in 2011 for the Xbox 360 and PS3. It's a pseudo-sequel that takes the player into a battle to save Project Lumi - an attempt to reproduce a human personality inside that of Eden, the archive of all human memories.
Nearing the completion of the project, the archive is invaded by an unknown virus. The mission is to save Eden from the invader, restoring hope and peace.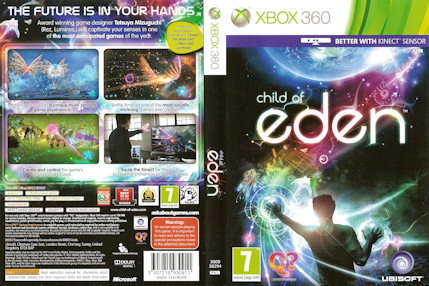 MISC INFO
The original development name for Rez was "Project-K".
The Morolian character was only available in the Japanese Dreamcast and PS2 versions of Rez and is a staple character from the Space Channel 5 games. To unlock in those versions you needed game saves from Space Channel 5 on either your Dreamcast VMU or your PS2 memory card.
UGA members merged with Sonic Team in 2004.
Several members of Team Andromeda of Panzer Dragoon fame were in UGA.
Concept videos of the Beta version of the game "Project-K" can be found online.
Analyzation is not a real word.
Related
Games of the Month Archive (April 04)
LINKS
Rez used to have a very cool official website as part of Sonic Team's website with movies, sound clips and background information on the people who created the game. It has since seemingly gone offline but if anyone locates it please let me know.
Rez at Gamespot
Several gamer reviews at Gamespot.
http://uk.gamespot.com/dreamcast/action/rez/players.html
About the Re-Release
Some information about the Xbox 360 re-release from the creators.
http://www.1up.com/news/scoop-rez-wednesday
The Rare Edition
An article detailing the very collectible version for PS2 with the vibrating headphones!
http://collectorsedition.org/7565/unboxed-rez-kanzentousui-set
---