The SEGA Game Gear (GG) was the companies first entrant into the handheld gaming market which again was dominated by Nintendo at the time with the Game Boy amassing a 95% market share.

Although a superior system and being the first colour handheld released it never had much of a chance to be become successful.
Inception
The GG began life as Project: Mercury in 1990 with the goal to create a handheld superior to the Game Boy in every possible way.
Rather than designing a new machine, the still superior technology of the Mark III / Master System (that was proving more popular in Europe than the other territories) was redesigned to the size of a handheld constructed width-wise to avoid reported cramping Game Boy users would get after a few hours of play.
Its standout feature was to be a colour screen supported by an increase in colour palette via an upgrade to the VDP. SEGA hoped that this technical detail would showcase the superiority of games on the system and sway gamers away from the aging monochrome Game Boy.
The other upgrades were stereo output via the headphone port and an additional START button.
Also, development costs of games could be cut since nearly all of SEGAs 8-Bit library for the Master System would be playable with savings channelled into developing new titles.
A set of accessories were designed: screen magnifier, a rechargeable battery pack, mains adaptor and a TV Tuner allowing TV reception which was ambitious for the day.
Regional Histories in Brief
Japan
Launched: 6th October 1990. Available Titles (3): Columns (bundled), Pengo, Super Monaco GP.
The system launched and had a very successful first month -only. It was very quickly forgotten about. The Game Boy continued to increase in popularity even being able to stamp out the PC Engine GT - the handheld version of NEC's popular console which had strong support in the region.
Releases continued with some limited support from third-parties and some coloured variants of the hardware unique to this region failed to stoke up any major interest.
By 1995, approx. 1.25 million systems had sold.
Last title: G Sonic (otherwise known as Sonic Blast) 13th of December, 1996 from SEGA.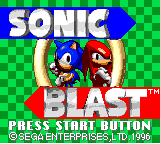 North America
Launched: April 26th 1991 (simultaneous with Europe). Available Titles: Castle of Illusion starring Mickey Mouse, Columns, G-Loc, Psychic World, Revenge of Drancon (Wonderboy), Super Monaco GP, (US Got x2 extra)
There were some soft launches throughout the month of April with the main launch on the 26th seeing SEGA staging an elaborate event involving avid fans and the US military.
Aggressive marketing began Immediately attacking the Game Boy at every opportunity in typical SEGA fashion. This continued throughout the time the system was available with TV spots.
The GG would hold second place to the Game Boy which had been written off by the gaming press when pictured against competitors a few years after launching as it appeared to age quickly but similarly in Japan continued to amass gamers.
There were two other competitors also. The GG easily beat the Atari Lynx which although offered a colour screen also, was more expensive and with a smaller library of games but that did manage to eat into the Game Boy market share a little. The Turbo Express from NEC also failed to gain traction with a very high price but advanced features. Both units also suffered the same issued the GG did: their screens reducing battery life drastically.
There were some rare blue units released this region in packages for World Series Baseball and The Lion King.
By the end of 1993 approx. 4 million units had sold.
Last Release: 26th of August, 1997 in America and Europe, The Lost World: Jurassic Park from SEGA.
Majesco Sales – whom were given the rights to distribute SEGAs old consoles – re-released the system entitled 'Game Gear Core' system in 2001 costing $29.99 and games such as Sonic The Hedgehog 2 for $14.99. The screen and battery life were improved and it was compatible with the entire back catalogue. They can be identified with coloured START buttons.
Europe
Launched: April 26th 1991 (simultaneous with US). Available Titles: Castle of Illusion starring Mickey Mouse, Columns (bundled), Super Monaco GP
The system was distributed by Virgin who were making the SEGA brand strong in Europe but like the other territories it remained in second place with the same issues; battery life, games library and moreover total Game Boy dominance.
Later, the bundled games were changed to Super Monaco GP and for some reason SoE would put an emphasis on the TV Tuner accessory and even included it in bundles.
Bundles would change again with Sonic The Hedgehog being included in 1991 and then a 4-in-1 Sports compilation with: Championship Tennis, Flash Columns, Pan American Road Rally and Penalty Shootout in 1992.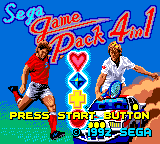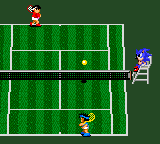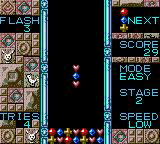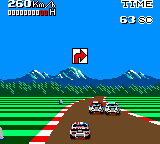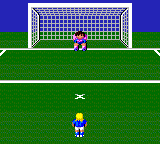 Last Release: 26th of August, 1997 in America and Europe, The Lost World: Jurassic Park from SEGA.
In 2001, the Majesco model did turn up on the shelves of GAME costing £29.99 with games at £9.99. It did not sell well and quickly vanished.
Legacy
Ultimately it sold approx. 11 million units worldwide and amassed a library of 390 games after being discontinued in 1997.
The GG seemingly always took a distant second-place in the handheld markets. SEGA claimed a much larger market share which is perhaps why new game releases continued right up to the end.
Whilst an ambitious attempt, SEGA had less chance penetrating the handheld market that it did with the console market.
The unit itself was not very portable. It did not fit the average size of any pocket and factor in an extra battery pack and/or mains adaptor then its stops becoming portable. Contrast that with the Game Boy becoming more portable with later revisions whereas the GG stayed the same.
The GG was ahead of its time it seemed as the screen technology was not efficient enough for a decent battery life. Not even Nintendo gave their GB a colour screen until 10 years later with the GBA. The backlit screen could not be turned off so no way of mitigating the battery consumption and it was reported to give off allot of heat. Indeed, it also showed that the technology for an efficient colour screen was not ready as the system ate batteries. There were stories in gaming magazines of many cars having their batteries drained with angry parents stranded on holiday.
Only a handful of titles showed real differences between their MS counterparts – for example Space Harrier -whereas the rest were almost identical. Perhaps this was not a bad thing as it allowed users of different hardware to share and talk about the same game – or did it give less reason to invest in the handheld version knowing a budget was needed for batteries also?
This would not be the only superior handheld SEGA would release. There was rumoured to be a successor to the GG in development at the time of the 32X's development. It would have been 16-bit, high-resolution colour screen and touchscreen interface but an envisaged high price made it unmarketable so hence the Genesis Nomad – a portable version of the Genesis was release in the US only.
Since then SEGA has only ever supported the handheld market as a third-party and quickly went about releasing games for the Tiger.com and NeoGeo Pocket Colour and then ultimately for all handheld formats when going third-party in 2001.
The Game Gear Today
So today, as the platform is the same as the MS, their outcomes parallel somewhat with SEGA showing some recent support themselves.
Less people are playing on real hardware as it is becoming rather expensive and presumably people do not want to spend allot on batteries. For those that do, there is a hardware modification to replace the screen with a higher quality TFT model.
The accessories are quite rare such as the TV Tuner (even though there is no signal available).
A new first-party model was announced as part of SEGAs 60th Anniversary. The Game Gear Micro is a tiny device and available in four colours each with a different selection of built-in games due for release in October 2020.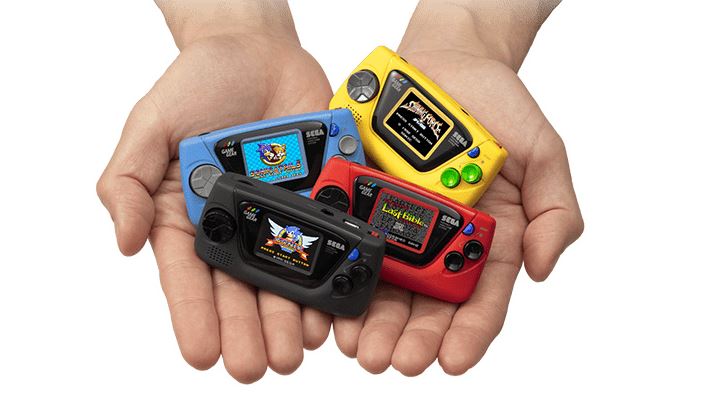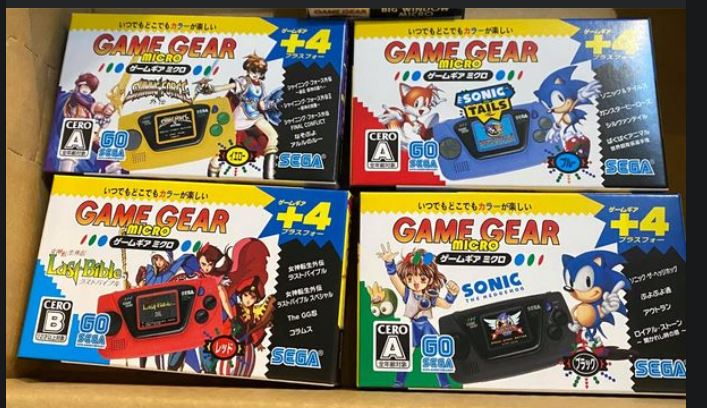 There are a few handheld versions made by third-party manufacturers the most popular being from AtGames and Blaze which includes 30 games (some Master System titles) and TV output for around £30. Capabilities of models vary such as quality of the screen and/or SDCard slot so checking the specifications and reviews is recommended.
Software is preserved to an excellent degree as quality of emulation is superb and available for multiple platforms.
SEGA have used emulators in their compilation games such as Sonic Mega Collection Plus that included Game Gear games and main titles such as Sonic Adventure DX. Several releases were made for the Nintendo 3DS Virtual Console service including Sonic Triple Trouble/Sonic and Tails 2 (which sold very well in the UK), Shinobi (the GG version naturally) and Dragon Crystal.
Game Gear releases Nintendo 3DS

| | |
| --- | --- |
| | |
| | |
Plenty of community websites exist dedicated to the system (as well as the Master System as the hardware is the same) offering historical finds, reviews and other content such as soundtracks, game hacks and prototype/unreleased games now surfacing. More interestingly, there are new homebrew games and coding competitions that produce some outstanding results from the hardware and well worth a look.
For much more content for GG zen check - out some of the URLs in the Links section.
The Game Gear is essentially a portable SEGA Master System (SMS) with a colour LCD screen having a resolution of 160x146 which was technologically impressive in the era. The screen is in a traditional 4:3 aspect ratio which was the same of the TVs for the era. There is a technical difference being a slight tweak to the VDP which allows for a larger colour palette of 4096.
It was designed to be used lengthwise as to improve upon the cramped style felt in one's hands when using the Gameboy.
It comes in predominantly black casing though some rare models associated with game releases are of different colours.
Game Gear Technical Specifications - Various Sources

CPU

Z80 8-Bit @ 3.58Mhz

RAM

64Kbit (8KB)

Video RAM

128Kbit (16KB)

Video Display Processor (VDP)

Same as Master System*

160x144 pixel resolution
4096 Colours
32 Onscreen

Audio - Programmable Sound Generator (PSG)

Texas Instruments SN76489A
3 square wave generators, 1 noise generator
X1 mono speaker
Stereo headphones jack

Screen

3.2 Inches / 81mm backlit LCD

Storage

ROM Cartridge

Power

x6 AA Batteries
External PSU DC9V 300mA 3W
Virtually all Master System games are backwards compatible through the use of a Master Gear adaptor though there are a few exceptions.
There is no territorial lockout meaning games from any region can be played on any system.
It has been discussed that Game Gear games can probably be played on a Master System and adaptors were fabled to be in development although none ever made it to release. When simply attempting to play a Game Gear game on a Master System via an emulator colour distortions appear. One suggestion has been the modifying or rewriting of the SMS BIOS.
The system notoriously suffers from a short battery life due to the colour screen. A full set of batteries lasts for around 6 hours (some accessories helped to alleviate this) but this can be extended with the volume turned down by about 50%. The Game Gear can output stereo sound via the headphone jack unlike the Master System.
Accessories
The system has an array of accessories. These are some of the more common items.
SEGA Game Gear Accessories

Master Gear Convertor

Allows for the playing of the 100's of Master System games on the Game Gear. Games that utilised text such as RPGs were difficult to follow because of the size of the screen.

TV Tuner

Probably the most impressive, expensive and now rare peripheral. It allows you to receive TV channels and watch them on your Game Gear. Signal reception was apparently bad. These devices are region specific.

It became useless in the UK as of April 2012 because the analogue TV signal was turned off.

A/V Cable

A composite cable, 3.5mm jack to x2 RCA/Phono connectors; 1 for video and 1 for mono audio similar to those used by some digital cameras.

When used in conjunction with the TV Tuner, allowed the Game Gear to function as a colour LCD display for any composite input from a video camera or even another console.

It is not for playing Game Gear games on a TV.

Link/Versus Cable

Link up with other Game Gears for multi player gaming. Quite a few games supported this.

Master Link Cable (unofficial)

These allowed the use of a Master System or even a Mega Drive/Genesis controller for the second player when playing Master System games.

Wide Gear/Super Wide Gear

These were pieces of magnifying glass that hooked onto the unit and over the screen to increase the viewing area. Some also improved the brightness and the contract. They were best used for games with lots of text.

There were several third party versions.

Mains Adaptor

For continuous power from the mains, if not very portable.

Car Adaptor

For continuous power from a car cigarette lighter. There were some third party versions.

Rechargeable Battery Pack

Essentially one big rechargeable battery designed to reduce the cost of your replacement batteries.

It can be recharged by mains or car adaptor in 8 hours providing approximately 3 hours more gaming time. It was limited to 300 charge cycles.

It has a clip which allows it to be attached to clothing.

Stereo Headphones (unofficial)

Insert your favourite set of stereo headphones (3.5mm jack) and enjoy your games with clearer sound with the bonus of extending your battery life a little.

Pictured are Sennheiser.
Other devices included and official cleaning cartridge, carry case, SEGA branded Alkaline Batteries (which are now very rare but useless), Action Replay and Game Genie cheat devices.
Game Gear games were mostly direct ports of Master System titles. Both platforms often had simultaneous releases of the same game with little or no difference between them. They traditionally ran at a lower resolution but capable of more. Some games sported minor differences in terms of visuals. For example, Sonic The Hedgehog has a tighter, more narrow view and others take advantage of the extra colour palette.
Master System/Game Gear Comparison

| | |
| --- | --- |
| | |
Very few games had significant differences and this was especially annoying since it is possible to play almost any SMS title on the GG anyway. However, examples such as Streets of Rage 2, Space Harrier/Fantasy Zone and Power Strike II were separate, distinct releases.
There were some good first party titles from SEGA and their third parties. Oddly there were many games released and never made it out of Japan; the least successful market even having basic versions of Panzer Dragoon and some Virtua Fighter related releases.
The Game Gear received all of SEGA's 8-Bit Sonic titles and some that never made it to the Master System. Games like Sonic Drift and Sonic Chaos 2/Triple Trouble are some examples.
SEGA Game Gear Games Gallery

| | | | |
| --- | --- | --- | --- |
| | | | |
| | | | |
| | | | |
| | | | |
| | | | |
| | | | |
| | | | |
Emulation of the Game Gear has been achieved since the hardware is essentially the same as a Master System and to a high standard and compatibility.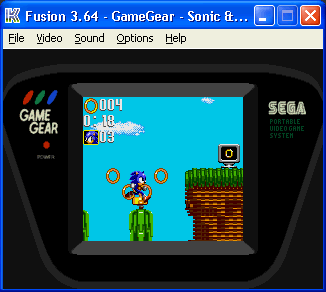 For more information and downloads checkout the Master System and Game Gear Emulators page.
Below are some links for some excellent Game Gear related websites. If there are any links you would like to see added here please let me know.
Note: These will direct you away from this site.
Game Gear FAQ
Filled will lots of essential information.
http://www.consoledatabase.com/faq/segagamegear/gamegearfaq.txt
Beginners Guide to the Game Gear
A good, concise and pictorial overview of the console and its games.
http://www.racketboy.com/retro/sega/gamegear/2008/01/sega-game-gear-101-a-beginners-guide.html
Rob's Game Gear Site
A big fan of the system, with in-depth information regarding the systems accessories.
Handhelds at Retrothing
This site covers news on ide range handheld devices being released but will have details on retro Game Gear re-releases.
http://www.retrothing.com/handheld_game_consoles/
---