SEGA MEGA-CD/SEGA CD AREA | MAIN FEATURE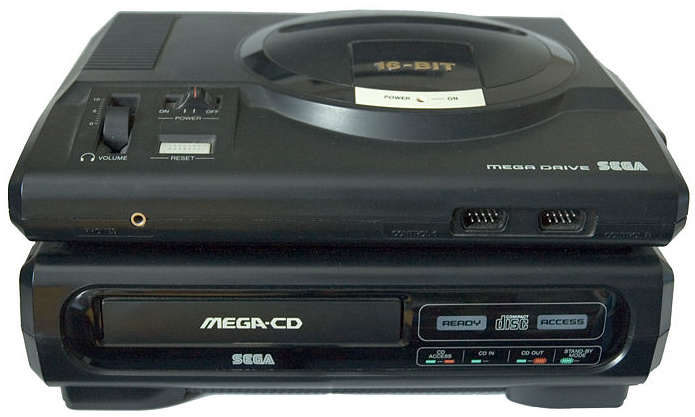 Seek to --> [History] [Today] [Hardware] [Games] [Gallery] [Emulation] [Links] [Misc]
The Mega-CD/SEGA CD is a CD-ROM drive add-on for the Mega Drive/Genesis (MD) giving access to optical media; be it CD Audio (Redbook), CD+G (graphics) or most importantly proprietary software from SEGA. It also acts to an upgrade to the base hardware with an extra processor, extra RAM, graphical and audio enhancements.
Although originally envisioned to become much more, it resulted in being a footnote of the multimedia revolution of the 90s for the most part being of little interest to gamers because of the games it sported and earned little notice in all territories except the US where the raging console war would trigger a political debate (echoes of which can still be heard today) that would swiftly damage the fortunes of the system and the brand, with its creator doing little to reverse its fate.
For details on its inception, regional performance and legacy checkout the History of the Mega-CD/SEGA-CD Feature.
So today, the platform is for those more enthusiastic SEGA fans whom invested originally or those wanting to play some of the cult classics being mostly RPG's contained in its library.
Real hardware is becoming very expensive to buy but still easy to locate whereas the third-party versions are very rare and exceedingly expensive. There have been no hardware re-releases official or otherwise. The only official piece was the non-functional upgrades of the Mega-CD and 32X for the completist look for the Mega Drive Mini console.
Software preservation is great as quality of emulation superb and is available on several platforms most notably the PC. Additionally, with no copy protection games can be copied with any device capable or writing a CD-R so the originals can stay safe. It also allows the lost gems in the systems library more exposure.
The games have seen no re-releases or compilation titles though there have been notable remakes of Sonic CD, Snatcher and the infamous Night Trap was re-released in Xbox One, PC and PS4 for the games 25th anniversary and in HD!
Very few sites exist specific to the system but most SEGA community websites will have a dedicated section for offering discussions, historical finds, reviews and other content such as soundtracks, game hacks and prototype/unreleased games now surfacing.
As the system has no copy protection homebrew games work on real hardware. Unfortunately, there is very little development now and coding competitions seems to have ceased. The biggest was Sonic Megamix.
For much more content for Mega-CD/SEGA CD zen - check out some if the URLs in the Links section below.
There are 3 official models of the Mega-CD/SEGA CD from SEGA. These are; Mega-CD (Model 1), Mega-CD II (Model 2) and the CD-X/Multi-Mega which is the least manufactured and most rare. Hardware was mostly manufactured by JVC who also pressed the majority of CDROMs and licensed some clone models. All units are compatible with each version of Mega Drive/Genesis.
Main Mega-CD/SEGA CD Models

| | | |
| --- | --- | --- |
| | | |
| | | |
The unit adds a Motorola 68000 processor, a custom video chip, a custom sound chip and a significant amount of RAM.
Model 1's use a motor driven CD tray and Model 2 along with CD-X/Multi-Mega use a flip-lid. These newer designs were to reduce manufacturing costs.
Mega-CD/SEGA CD Technical Specifications

CPU

Motorola 68000 @ 12.5Mhz
Runs in synch with Mega Drive's 68000

RAM

6Mbit (768KB) (program, picture data, sound data)
512Kbit (64KB) PCM Wave Form Memory
128Kbit (16KB) CDROM cache
64Kbit (8KB) Backup memory

Boot ROM

1Mbit
CD Game BIOS
CD Player Software
CD+G Compatability

Graphics

Sega Custom ASIC
Hardware Sprite Scaling and Rotation

Sound

PCM Sound Source
Stereo 8 channels
Wavelength Sampling 32KHz max

D/A Convertor

16 Bit D/A Convertor
8x internal over-sampling digital filter
PCM and CD sound mixing

Audio Characteristics

Wavelength characteristics: 20Hz to 20KHz
Signal v. Noise Ratio (S/N): Over 80db(1KHz)(Line Out)
Stereo Channel Seperation: Over 90db

CD Drive Unit

CD Diameter: 12cm and 8cm
Rotational Direction: Counter-clockwise (relative to the side opposite from the label)
Average Access Time: 0.8 sec

Audio Output

Line Out: RCA pin jack x2 (L/R)

Audio Input

Stereo Jack Mixing

Battery Back-up Secondary Duration

1 Month
When you first power on your Mega-CD/SEGA CD the BIOS treats you to a graphical demonstration with accompanying background jingle. What actually appears on screen depends on what model and region of machine you have.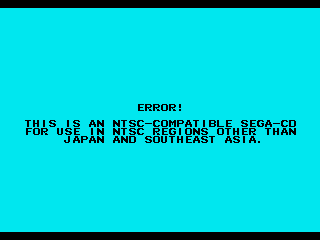 When a game is in the drive it will be region checked. There are methods of circumventing this the easiest is with the use of adaptors in cartridge form. If a game passes you will get a "Press Start" message. Pressing A, B, or C at this point will take you to the CD player utility instead. The player appears automatically if an audio CD is in the drive or any disc does not pass the check. During the boot sequence of the game a large SEGA logo in the centre of the screen with Sonic standing to the left.
BIOS Versions

Boot Jingle (MP3)

Boot Jingle (MP3)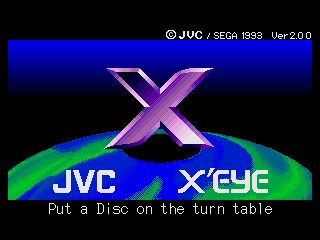 There exists some custom BIOS versions allowing for universal use of games that can be installed if you are willing to take the risk.
It is possible to make the majority games (but not all) perform a soft reset of the console by holding down A+B+C on the controller and then pressing START. This ability carried on to future SEGA Consoles.
The additional Motorola 68000 processor to the Mega Drive/Genesis design runs at a swift 12.5Mhz. When CD games are loaded, proprietary code is read from the bootstrap of the CD to sync the two processors for parallel processing. This second 68000 is idle when cartridges are played though the manual suggests there is a speed boost with the unit attached. Not proven.
SEGA already had some parallel processing abilities with dual Motorola CPUs in several of their arcade cabinets such as Space Harrier.
The upgrade adds substantially more memory to the console. 6Mbit (768KB) of main work RAM which was almost the size of a cartridge based game in those days being on average 8Mbit (1MB). There is a small cache for the CDROM drive, essential as every bit of speed needed to be squeezed from the single speed drive, some local memory for the PCM chip to store samples and the innovation of Internal Back Up memory, something that later consoles such as the Playstation did not even include. This was quite an amount for the day storing on average 10 game saves with high scores etc. Very useful for the RPG's the system was famed for.
The graphics Application-Specific-Integrated Circuit (ASIC) is a SEGA custom design and operates with the VDP of the Mega Drive/Genesis. It adds a variety of hardware processed sprite functions such as scaling and rotation, bi-axial scaling and rotation and super smooth sprite animation. All of these features directly matched that of the Super Nintendo's MODE7 abilities. Most of the best games on the platform used these features to the fullest.
What the chip did not do, however, was increase the amount of onscreen colours so although graphics moved nicer and faster they did not look that much better. More colours were desperately needed to make decent quality FMV. The system was still limited to 64 colours onscreen simultaneously out of a palette of 512. Apparently the designers did want to improve this but it would have significantly upped the cost of the unit. Later several programming techniques allowed more colours to be displayed at once. For example, Snatcher manages 192 colours and Eternal Champions 256!
Early attempts at FMV only used a third of the size of the screen and was very grainy. Later, as compression codecs improved, full screen FMV was available (along with some more colours) but this was still relatively grainy. Some FMV games manage to get 128 simultaneous colours.
The new PCM sound chip adds 8 channels for much cleaner sound samples to be used from a wider library as well as better background tunes. It is of SEGA custom design and again is used in conjunction with the Mega Drives/Genesis existing sound chip for extra audio channels and effects.
The actual CDROM drive itself is a single speed drive (150KB/s) with an appalling seek rate of <1 second. The later models such as the Wonder Mega and CD-X/MultiMega have this improved slightly but unofficially. Both 3 inch and 5 inch CD's can be used containing games, audio CD or CD+G.
Games are territory locked to prevent importing.
The CD audio abilities are pretty standard and were relatively new in the use of games. The playback of Audio CDs was pretty useful as stereos with CD Players were still relatively new and expensive. The Phono outputs on the back of the unit means easy connection to a Hi-Fi so you were not limited to the usually crap audio output of the TVs of the time.
The Various CD player Interfaces

| | | |
| --- | --- | --- |
| | | |
| | | |
For Model 1 units, a stereo mixing lead is provided which takes output from the headphone socket on the front of the Model 1 Mega Drive/Genesis' and into a mixing jack on the back of the unit. The phono outputs deliver all sound to an amplifier such as a Hi-Fi. Model 2 units simply have the phono outputs with mixing done internally.
QSound [Technology]
In the 90s there was a technology developed by QSound Labs that intended to provide positional surround sound from only two stereo speakers if the listener managed to get themselves dead centre between the two.
It was meant to revolutionise the audio experience of just about any format. A handful of vinyl, tapes and CDs were made with it.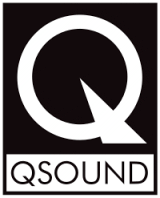 There were a few high-profile releases at the time such as Madonna: The Immaculate Collection and it was also employed on several PC soundcards. In reality it added little to the average user without high-end speakers.
Several Mega-CD/SEGA CD games used this such as Ecco 2: The Tides of Time and Eternal Champions: Challenge From the Dark Side. Any titles that do support it have a section in their manual.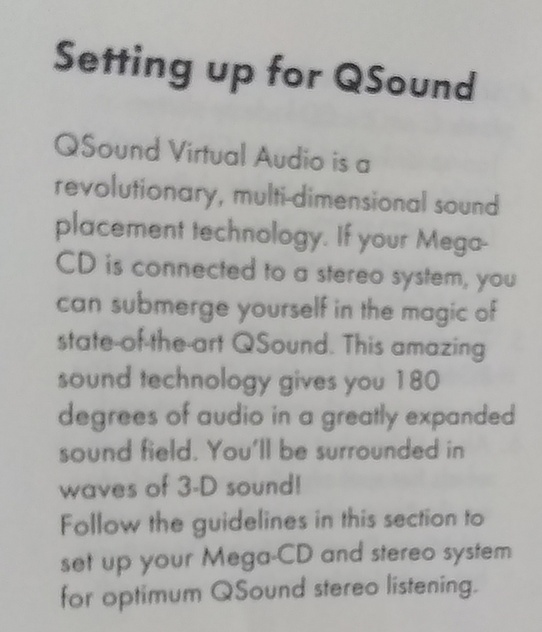 If the logo looks familiar then it's because Capcom also used this in their CPS2 arcade cabinets for games such as The Punisher.
The CD+G ability was a rarely used function outside of Japan. This feature was generally for karaoke as the words appear with the music and were not graphically intensive. As the system could only display 64 colours at once any graphics were not likely to be very good anyway. When JVC enhanced the karaoke abilities of their console SEGA produced a separate accessory.
A CR2032 coin cell battery provides power for the backup RAM. If the system is unable to retain save files replacing this is generally the fix.
Accessories
Although an upgrade, the system had some accessories.
Mega-CD/SEGA CD Accessories

| | |
| --- | --- |
| Memory Cartridge | Additional back-up memory on a cartridge that is obviously removable. The memory manager in the system BIOS allows for the moving of data to and from machine to cartridge and back again. |
| Karaoke Add-on | The afore mentioned use of CD+G for Karaoke and the release of the JVC WonderMega, spawned an add-on that was only ever released in Japan where Karaoke was more popular. It was also in response to the improved Karaoke abilities of JVC's Wonder Mega console. |
| Justifier Gun | For use with the game Lethal Enforcers. Just a standard light gun that plugs into a controller port. The gun itself also has a port for the connection of a second player. It has a very unsightly bright blue casing and the second player uses a bright pink one! |
| Flux | A utility, that comes on a cartridge designed to generate graphics on screen to the music being played in the CD Player utility. |
| Datel Pro CDX | Country Converter that looks like a standard cartridge. It bypasses the country code of a game to make it playable. Not all games were compatible with this. Future revisions of the system's BIOS prevented more games from being compatible. The 32X is known to neutralise some of these devices. Other companies produced similar devices. |
The Various Mega-CD/SEGA CD Logo's

| | |
| --- | --- |
| | |
| | |
Variants of the Hardware

Multi-Mega (Europe) / CDX (US) MK-4121-50

The system was bundled with 8 games, SEGA's Arcade Classics, Sol-Feace, Cobra Command and Tomcat Alley. The high price tag approx. £350 upon release stopped the system from becoming popular. When the 16-Bit market died you were able to pick one of these stylish units up for less than £150 sometimes cheaper. A collectable for the SEGA fan.

The unit itself actually does double as a portable CD player with x2 AA batteries. Games could only be played with power from an AC adapter.

JVC WonderMega

Released in 1992 it is an officially licensed and enhanced combination Mega Drive/Mega-CD.

Could read CD's some 15% faster, enhancements to the audio hardware to enrich CD and cartridge audio playback along with extra connections for MIDI and S-VHS output jacks and produced less noise when operating. It has two microphone jacks and an echo effects switch designed specifically for Karaoke and supported the CD+MIDI format.

JVC X'Eye

Released in September 1994.

It is a refined version of the Wonder Meg with the S-VHS output, modem and midi functions removed.

Both these system's are very rare and highly collectible.

Aiwa CSD-GM1

Released sometime in 1994 it resembled a portable Hi-Fi that incorporated Mega Drive and Mega-CD hardware. It is extremely rare having only a limited release in Asia.

Pioneer Laser Active CLD-A100

It was introduced in the US in early 1995 for the cost of $1600. Was essentially a laser disc player that had a SEGA licensed Mega-CD module. Games on this system even had their own unique format - Mega LD in addition to standard Mega-CD's. This was an expensive bit of kit.

As a sidenote, NEC also produced a module for this machine.

For more detailed information check out http://www.laserdiscarchive.co.uk/laserdisc_archive/pioneer/pioneer_cld-a100/pioneer_cld-a100.htm
There are some 220 games in the library and it's easy to write-off the entire library at first glance. There are essentially 3 types of games; Ports of Mega Drive games, Full Motion Video (FMV) crap and some really good games! In this section are some of the highlights and essential games that gave the system its character and identity.
Really good games were few in number but these really showed what the system was capable of doing rather than highlighting what it could not as with FMV projects. Many of the excellent releases were not promoted heavily or came at the end of the system's life.
By most accounts development for the system was not much more complex than for cartridge games. It was probably the first console where demos were affordable to be placed on the front of magazines even though there was a very limited market for it.
Users of the system will not complain about the hardware instead it would be the software which caused the irritation because for every good game there were 20 crap ones. The good games are those which make the correct use of the hardware which was very much underutilised. This need not necessarily be graphics; the enhanced audio abilities when used could really enhance the experience.
For the most part, it is the unique collection of RPG's that stand out in the system's library and one of the primary reasons people search for the system today some 15 years or so later and copies of games can be very expensive.
Upgraded ports of Mega Drive/Genesis games tended to be highly similar to their cartridge counterparts but with an animated introduction and CD audio that was usually underwhelming. Examples of this include: Sol-Feace, Wolf Child, Mortal Kombat, Chuck Rock, Hook, Brutal: Paws of Fury, Puggsy...the list goes on. However, there are a few exceptions to this rule.
Mega Drive and Mega-CD Counterparts

| | |
| --- | --- |
| | |
| | |
The use of CD audio tended to be neglected by many developers. The majority of games sported dreadful CD audio tracks although there were a few exceptions. Some developers included some excellent sound tracks which went well with the action on the screen.
Notable First Party Releases
Enternal Champions
Eternal Champions was SEGA's attempt to produce a Street Fighter II-class game with a deeper fighting system. The CD version improved on the cartridge release in many ways. "Challenge from the Dark Side" increased the number of playable characters from 9 to 25 each of which had their own fighting style. The gameplay was tweaked with more special moves added.
Graphics were massively upgraded loosing much of the grainy look of the Mega Drive/Genesis version and using programming tricks to increase the on-screen colours from 64 to 256 making it the only game in the system's library to do so. The most gruesome fatalities were shown as small FMV clips called Cinekills. Sound was improved and the CD audio tracks were pretty good.
Eternal Champions: Challenge From The Dark Side

| | |
| --- | --- |
| | |
Although very challenging, it showed exactly what the system was capable of and fans of both hardware and game loved it.
SEGA Europe even used the game as a pack-in title to re-launch the Mega-CD II in June of 1995 prior to the launch of the Saturn.
Sonic CD
Sonic CD is a good platformer, possibly the best on the system and stands slightly ajar (but equally as important) from the rest of the games in the series. It was not developed by Sonic Team so has a slightly different look and feel. Some fans will attest to this being the best 2D Sonic game ever.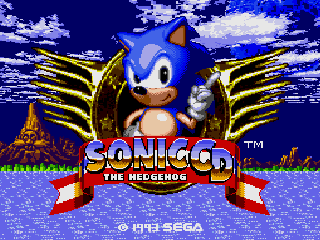 It offers exploration of the zones via time travel allowing Sonic to exist in the past and future versions of the zone he was in. The bonus stages, are an interesting concept and garner mixed reactions. They use the abilities of the custom ASIC chip for scaling and rotation to produce the playfield.
Being on CD, high quality audio is provided. Each stage and their point in time has different music giving a variety as well as catchy music.
For the full details checkout the Sonic CD feature.
Shining Force CD
From SEGA, an equally standout RPG is another instalment in the more strategy focused Shining Force series.
The disc contains two adventures called "books" which are remakes of Game Gear games (Shining Force Gaiden and Shining Force Gaiden 2: Sword of Hajya). They compliment the two cartridge instalments and have improved graphics and sound over their 8-Bit counterparts. After completing both books a third is opened (though not without a minor technical limitation).
Notable Third-Party Releases
A number of third party developers made some impressive entries into the library.
Though not strictly a developer, it is not possible to mention Mega-CD/SEGA CD games without Working Designs who were instrumental in bringing games from Japan in their English forms, most notably being Lunar: The Silver Star and Lunar 2: Eternal Blue with other releases showing off the system's capabilities. These two games were megahits and ultimately became the biggest selling on the system.
More RPGs...
Vay
Heart of The Alien
Popful Mail
Secret of Monkey Island
Dark Wizard
Dungeon Explorer
Snatcher from Konami is little known due to being released at the end of the system's life. Developed by Hideo Kojima (credited to Metal Gear Solid) it was a graphical adventure (digital comic) with a cyber-punk/sci-fi storyline. It was eventually ported to other consoles but the only English translation exists on SEGA's console. It is another title that exceeds the 64 colour limit by managing to generate 192 simultaneously.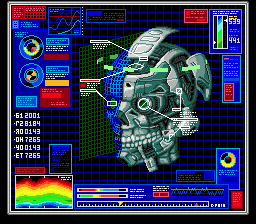 Gameplay is not just scrolling through text but also had action sequences. They could be improved somewhat as they were originally intended to be used with their light-gun.
Core Design produced Battlecorps, Soulstar, and the standout shooter Thunderhawk (AH3 Thunderhawk) games that demonstrated what could be possible using the custom ASIC chip (Mode 7 style graphics) for sprite-scaling and rotation. Combined with solid gameplay these were excellent games individually, yet it was Thunderhawk that was owned by a whopping 80% of the systems audience.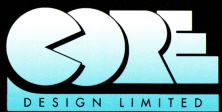 Thunderhawk (AH3 Thunderhawk) and Soulstar from Core Design - Features Online!

| | |
| --- | --- |
| | |
Game Arts wowed gamers with its Galaxian inspired 2.5D polygon shooter Silpheed producing some excellent scenes without an SFX chip (though technically pre-rendered trickery was used) and it was one of several high quality shooters on the system Robo Aleste and Android Assault. The excellent Keio Flying Squadron is a cutesy shooter with a scantily clad bunny-suit wearing girl riding on the back of a dragon. For more info check out the features.
Honourable mentions go out to Final Fight CD from SNK, as it was the only 'complete' version of the game outside of the arcades offering better graphics, better sound, all the characters playable and more over 2-Player co-op mode something seriously lacking from the SNES version.
Also from SNK was a port of their most successful home game for the Neo Geo - Samurai Spirits aka Samurai Showdown one of the best 1-on-1 fighting games of the saturated fighting era of 1993 and considered the best port apart from the actual NEO GEO.
Though not quite as exacting as the cartridge counterparts omitting the character Earthquake, toning down the blood and missing some graphical effects, it still managed to capture the hearts of some fans. Bizarrely it has a bug that causes the game to crash when upon reaching the final boss!
It is quite a rare find and can be very expensive in the regions of £100. A demo CD was provided with a magazine and sequels have been released on just about every major platform since, including SNKs Neo Geo Pocket Colour.
A mention goes to Earthworm Jim Special Edition, the popular platform run and gun game because it was ported (in the correct way) actually having upgrades. Stages were expanded with a new one - Big Bruty - and Jim has access to a new missile weapon. Graphics and sound were improved bringing full CD audio, cleaner SFX and voice clips. These enhancements went on to be the foundation of the later PC version.
A new HD edition of the game was released in 2010 for Xbox Live Arcade and PSN.
Bloodshot for attempting to create a Doom experience and pulling it off well. The game was developed but not released for several years.
Psynosis released a variety of games being minor upgrades of Mega Drive/Genesis games, FMV's and some original titles such as Flink - a cutesy platformer with excellent graphics and animation. They were not breakthrough titles but they fully supported the platform nonetheless.
Some More Offending FMV Titles
Double Switch
Tomcat Alley
Prize Fighter
Microcosm
Lawnmower Man
Sewer Shark
Slam City
Farenhight
Midnight Raiders
Surgical Strike
Power Rangers
The Whole FMV Thing
It may be difficult to conceive - but in this era, controlling a FMV was considered an actual game.
The novelty of playing FMV based games generally wore off having completed one for the first time - assuming it was not that bad you wanted to complete it anyway. The gameplay was usually dull needing the player to simply hit some buttons at certain times whilst otherwise just watching a video where the acting was generally atrocious. Some of them though could be funny because they are so bad, and some even achieved a 15 rating!
Some FMV Games

| | |
| --- | --- |
| | |
| | |
The video quality was bad. It was evident that the system struggled to play FMV and looked lacking compared to its peers of the time. This was mainly due to the 64 colour limitation and the technology of the time i.e the single speed CDROM drive was simply not up to speed. The audio was also scratchy 8-bit mono at a low sampling rate.
Improvements were made to the quality of FMV over the platform's lifespan. From the initial titles where only a quarter of the screen was used (Night Trap/Sewer Shark) then came a larger window capable with the use of Cinepak (Dracula Unleashed, Ground Zero Texas) which was a popular codec on many platforms of the day including Windows and Mac, to the full-screen video capable from SEGA's proprietary codec called TruVideo.
Here is a comparison of the three methods. Click on any of the images to see the opening video of the game.
FMV Games Quality Comparision

| | | |
| --- | --- | --- |
| | | |
| | | |
There were a few respectable attempts however. Dracula Unleashed is general remembered with positive remarks not only for better video quality but for more suitable use. Tomcat Alley for being a better product although simply an interactive movie.
But why so many FMV games? The chief reason was that at the time (early 90's) it was considered that FMV was the future of games. SEGA invested $10 million to open the SEGA Multimedia Stuidios in Redwood California to somewhat mass produce these titles. Their first release was Jurassic Park.
Even the PC was subject to these types of games (even got a port of Tomcat Alley), but the sudden rise of 3D accelerators made that genre irrelevant almost overnight.
As an aside, many of these games flew the banner of none other than Sony Imagesoft.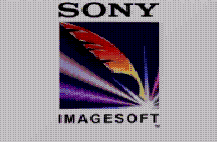 Still, a few developers thought that the visual quality of the footage was holding this type of game back and thus five games were released for use with the 32X upgrade. These FMV games sported more colours, smoother video and better sound but essentially were exactly the same games – and therefore suffered the same fate.
And there were just total junk such as Earnest Evans, Power Rangers, Star Wars Chess, Novastorm, and Animals.
The last official game to be released was Shadowrun and in Japan only. It was part digital comic part RPG and was a distinct version from the cartridge and SNES versions.
The latest releases were Bug Blaster (2001) which was an FMV style point-and-shoot and Burning Fists (2006) which was a 2D fighter in the vein of Eternal Champions both from Good Deal Games both were home brew efforts.
There were a number of announced games that looked promising but never saw the light of day. More notable ones include two Phantasy Star titles, which eventually came in a cut down cartridge form and Super Contra.
Home brew development has produced very few releases. An outstanding example however is Sonic MegaMix, a disassembly hack of the original Sonic The Hedgehog employing more levels and abilities. For more info check out the official site at http://www.youtube.com/watch?v=8CS9AyAdSjs.
Sonic MegaMix

| | |
| --- | --- |
| | |
Another example is a video player utility that employs some modern techniques for better FMV on the system.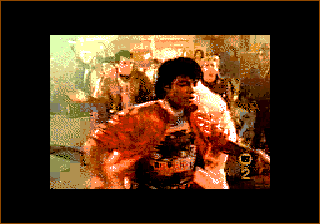 Some advanced topics for homebrew development are discussed in the forums at SEGA Xtreme.
Mega-CD/SEGA CD Games Gallery

| | | |
| --- | --- | --- |
| | | |
| | | |
| | | |
| | | |
| | | |
| | | |
| | | |
| | | |
| | | |
| | | |
| | | |
| | | |
| | | |
| | | |
| | | |
| | | |
Will My ROMs Work?
Many people ask, Why can't I just burn my Mega Drive/Genesis ROMs onto a CD and play them on my Mega-CD/SEGA CD? The answer why you can not do this is because a game designed to be spun off a CDROM (in this particular system) uses the memory structures differently therefore any game would have to be rewritten (as in coded) differently.
Get Of My Case #2
There are some variations in the size of the cases. Games in Japan and Europe were supplied in the standard double CD jewel case with a card spine whereas the US and some European games used enormous almost VHS sized cases (about the size of a Saturn PAL case) that could hold two CD's protected by a foam insert.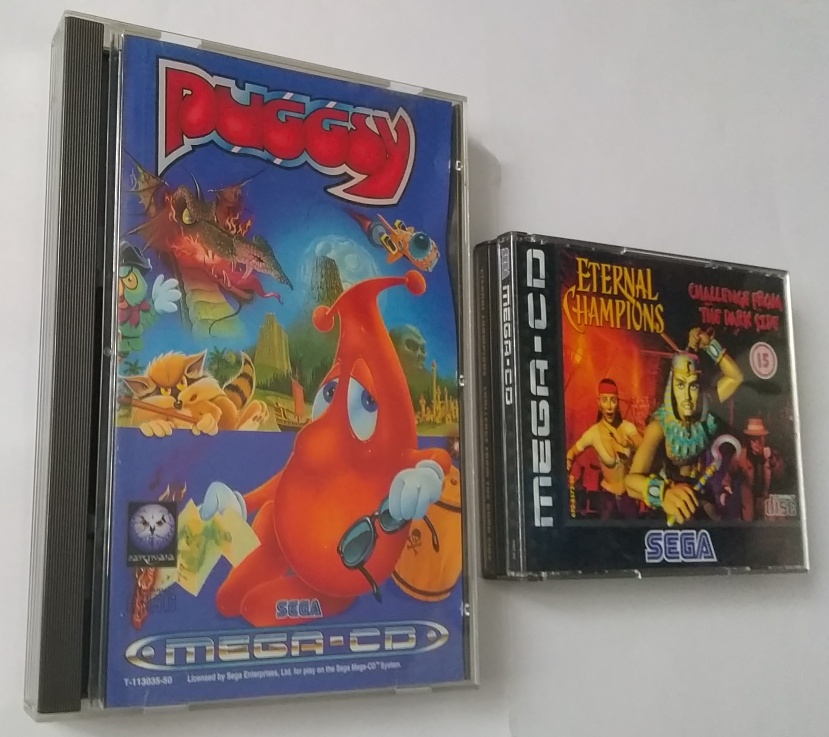 The case art could vary wildly. Apart from the console logo's (that were different between the regions anyway) the Japanese and US releases were totally different whereas the European versions tended to be the same as the Japanese ones barring one or two very minor changes.
Variations in game sleeve/case design

| | | |
| --- | --- | --- |
| | | |
| | | |
For more examples checkout http://timewarpgamer.com/features/box_art_disparity_sega_cd.html.
Collecting Rarities
In Europe, the rarest game is Lawnmower Man. Not only was it one of the later games released but it is not functional on PAL consoles. The region setting is for US. Unfortunately it is a classic crappy FMV game.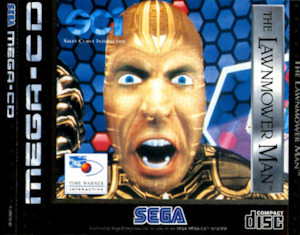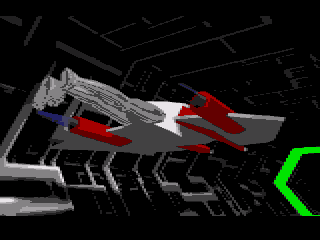 Lawnmowerman
Other games include Snatcher, Samurai Showdown, Flink and Keio Flying Squadron will cost between £50 and £100 for PAL versions. Their rarity is only partly the reason for the price. The main reason is that they are considered some of the best games for the system.
In the US some of the RPGs are the rarer titles such as Vay, Popful Mail, and Space Adventure Cobra. These generally sell for $100.
How to Burn/Copy Games
All Mega-CD/SEGA CD games are burned in unprotected ISO-9660 Mode 1 CD-ROM format. As a result, they can be copied and played on real hardware at will with any decent CDROM burner and the appropriate software.
You may have backups of games in various formats such as ISO+MP3, BIN+CUE, or something else. See the burning guide in the Saturn Area on how to deal with these.
Emulation of the Mega-CD/SEGA CD has been achieved through various programs with a high degree of compatibility. Checkout the Mega Drive/Genesis/MegaCD/SEGACD/32X Emulators page for downloads and more information.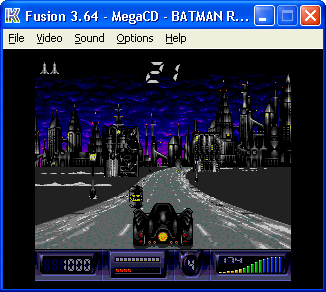 Unlike the various compilations and collections issued by SEGA that use Mega Drive emulation, there has yet to be any commercial use of a Mega-CD emulator. Before I get emails about Sonic CD on the Game Cube; that was a port of the PC version.
Below are some links for some excellent Sega related websites. If there are any links you would like to see added here please let me know.
Note: These will direct you away from this site.
SEGA CD Junkyard
http://segacdjunkyard.blogspot.com/
With some highlights of rare hardware and games it also takes some amusing reviews with plenty of footage.
SEGA Mega-CD Library
http://www.sega-mega-cd-library.co.uk/
A superb site focusing on PAL (European) games having pictures of the many rare items in that market.
Mondemul
Is an emulation repository and this site is well worth a look if you are hoping to play many of the games in the library. It is in French but very easily navigated.
Genny4ever
A very stylish website showcasing some outstanding development projects running off Mega Drive/Genesis, Mega-CD/SEGA CD and 32X.
Mini-ITX
http://www.mini-itx.com/projects/sega-itx/
A Mega Drive and Mega-CD casing used to house an ITX PC.
It is possible to make the majority of the games perform a soft reset of the console by holding down A+B+C on the controller and then pressing START. This ability carried on to future SEGA Consoles.
There exists some custom BIOS versions allowing for universal use of games that can be installed if you are willing to take the risk.
Most games have the volume label of MEGADRIVE_GAME_SPECIAL.
---