ALIEN SOLDIER | TREASURE | 1995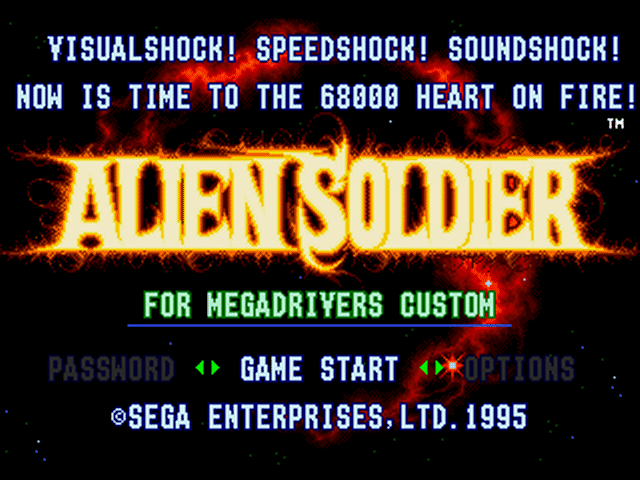 Alien Soldier is recommended as another essential piece of Mega Drive gaming. Developed by Treasure, it is another favourite amongst hardcore gamers for its intense action gameplay.
Alien Soldier not only has some great graphics (typical of any Treasure game) and speed only afforded by the power of the Mega Drive and the great programming talent Treasure have. The soundtrack is easily one of the best from the 16-Bit era.
Released in Europe and Japan in 1995 as one of the last Mega Drive games having a fairly limited run and as a result fetches a pretty high price because of its rarity. Expect pay around £60 for a complete copy.
Despite the outpouring of praise upon first release through consistently high review scores and the ongoing pleading of fans, the game had limited exposure and there was never any sequel or ports to other systems.
The game was released in November 2007 for Nintendo's Wii Virtual Console at the cost of 800 points, is available on Steam and was also part of the Gunstar Heroes Treasure Box (SEGA Ages 2500 Volume 25) which also included Dynamite Heddy and Gunstar Heroes.
Players can choose whether to have classic sprite and pixellated graphics or a new non-pixelled mode giving a hand-drawn look.
Alien Soldier European Case

| | |
| --- | --- |
| | "In the year 2015 the planet Sierra is in the grips of Xi-Tiger's Scarlet terrorists. All hope now lies with Epsilon-Eagle, a fearsome warrior with a lethal arsenal. Armed with all the hardware you can carry, blast, shoot and burn through level after level of incredible cyber-action before confronting the mighty Xi-Tiger." |
STORY
Epsilon-Eagle intends to save the planet A-Earth from a terrorist group called Scarlet created by A-Human and lead by XI-Tiger. His predecessor Epsilon-Eagle is reformed and has now returned to deal out justice against his former comrades.
GAMEPLAY
Alien Soldier is a side-scrolling run and gun affair very similar to the legendary Gunstar Heroes. You control Epsilon-Eagle, a bird like creature and the powers afforded by his suit.
The game is composed of fairly short platforming stages of fast paced concentrated action with copious enemies and explosions with a boss fight at the end. The game will actually feel like a slew of boss encounters which is a typical Treasure trait. Some bosses are huge, some take a while to defeat and the company of bosses also includes one of toughest bosses (as voted by readers of GamesTM) in the whole of gaming - Seven Force (The Bitch!) last seen in Gunstar Heroes.
The game offers a good challenge since there is a learning curve, especially those new to the style of game which also creates the replayability whether it to advance a stage or get an action fix. This will be in finding the best way to dodge and shoot bosses and knowing which weapon is best in a certain situation.
The default controls are as follows:
The D-Pad LEFT or RIGHT are for running. DOWN is for crouch.
All directions on the D-Pad are used for aiming weapons.
Button A brings up weapons selection. Use LEFT and RIGHT to select and any button to confirm.
Button B is fire. Rapid fire will be used until the weapons energy (force) is depleted. Pressing B twice is Counter Force. This is block or deflect. When timed correctly it will convert some enemy projectiles into energy stars.
Button C is jump. A double jump with make him hover in the air. If you can reach the ceiling with a further 3rd jump be able to run on it.
Down+A toggles the firing mode. When silver you stand still when firing. When gold you can continue running whilst firing. There will be certain situations such as boss fights where one will be better than the other.
Down+C is teleport. This is an evasive move where your character will move from one side of the screen to the other instantly. This can be done in the air when hovering. It is particularly useful for evading attacks from bosses or moving past areas of dangers like clusters of mines/bombs. When your energy bar is full (flashing) it will become a devastatingly powerful move as your character will become a fireball.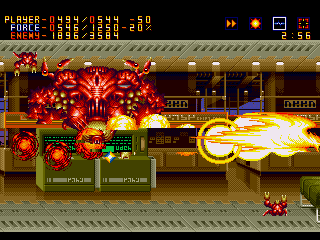 START - Pauses the game. When paused the score and -- Speed (SPD) (Super Easy Mode only) - Adjusts the speed of the game. 4 arrows is the slowest.
Before starting the game the player is required to select four weapons for their starting arsenal and the appearance of onscreen items from a selection of 26 types. These vary in presenting the critical information as either numbers, bars or no detail at all.
When selections are complete you are able to practise controls before getting to action.
Across the top of the screen will your vital details. These are: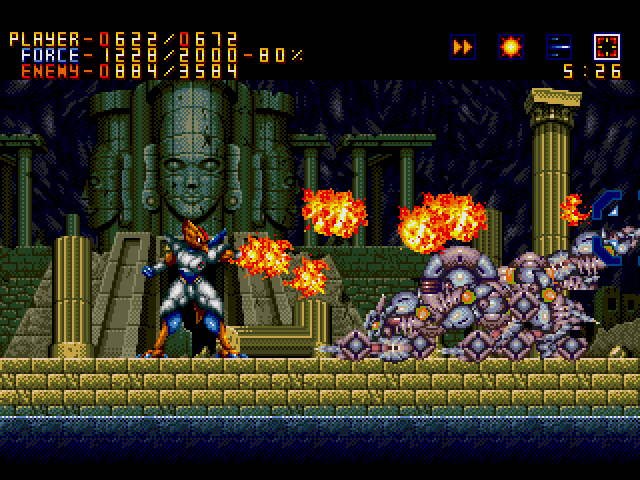 Player (Epsilon Energy Meter) - Current energy level and the current maximum. This is replenished by collecting the energy stars. Energy can be obtained from killing enemies or deflecting incoming fire with Counter Force. You loose energy by taking damage by touching enemies, mines bombs etc or take a hit from incoming fire. The level of damage taken and therefore Epsilon Energy lost will vary so take note.

You can continue to take hits or damage until your Epsilon Energy is down to 1. Your gauge will flash red. You die upon taking the next hit.

Force - The amount of power the selected weapon has and the current maximum.

Enemy - The amount of energy the enemy has and the total. When it reaches zero the enemy is defeated (and usually explodes).

Weapons (icons) - The four weapons you are currently using. The selected weapon is highlighted.

Time - The amount of time remaining to complete the stage. You start on 3 minutes. At the end of each stage you will get bonus points based upon time remaining.
There are a few but essential items. They are:
Power-Up - This fully replenishes Epsilon Energy and increases the maximum limit.

Weapon Chargers - These restore and upgrade the maximum limit for a weapons energy/force.

Star Small - Restores Epsilon Energy by 30.

Star Large - Restores Epsilon Energy by 100.
Weapons/Force
One important aspect to Alien Soldier is selecting which weapon would be the most effective in certain situations.
Each weapon has different characteristics, inflict different levels of damage, require different amounts of energy per shot and can only be effective against certain enemies.
When a weapon is not being used it will re-charge. The maximum limit for a weapon can be upgraded to a maximum value of 2000 by collecting weapon power-ups. These power-ups must be displaying the same weapon icon as your current selection to upgrade it.
The weapons you are currently carrying can be replaced by other weapons displayed on the weapons power-ups.
The arms are:
Weapons

| | | |
| --- | --- | --- |
| | Buster Force | Fires a stream of bullets. Makes an effective close range weapon but must be aimed manually in 45o increments. When not effective the shots will simply bounce off an enemy. |
| | Flame Force | A powerful flame-thrower. This weapon is highly effective against non-robotic creatures but has a very limited range. |
| | Sword Force | A fast laser. Not as powerful as Lancer but will give plenty more shots. |
| | Ranger Force | A spread based weapon. Effective in clearing areas of spaced enemies but requires a high amount of energy per shot. |
| | Homing Force | A spew of flames that automatically locks onto the weak spot of enemies. It has a fairly good range when powered up. Effective for fast moving bosses. |
| | Lancer Force | A very powerful penetrating pulse of laser energy. Requires a high amount of energy per shot but can be good for getting in a shot from a distance. |
Weapon Comparison

| | | |
| --- | --- | --- |
| | Time of Use | Power |
| Buster Force | Long | Weak |
| Flame Force | Short | Strong |
| Sword Force | Short | Strong |
| Ranger Force | Medium | Medium |
| Homing Force | Medium | Weak |
| Lancer | Short | Strong |
You also die if unable to complete the stage in the allotted time. You only have 1 life and 3 credits in which to continue. When you return from Game Over (continue) all of your upgrades are gone.
The Game Over screen displays stats on your performance. Use the D-Pad to scroll around various items that are not initially displayed on the screen.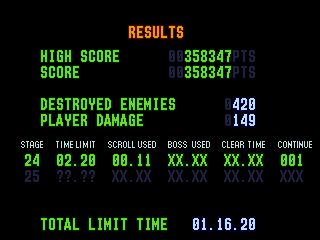 Options
There are a limited amount of options available. They are:
Level - Sets the difficulty. Choices are Super Easy or Super Hard (default). Super Easy mode activates the SPD feature and allows the use of passwords. See Cheats and Tips for a list.

BGM Switch - Toggle music on or off.

S,E Switch- Toggle sound effects on or off.

BGM Test - Listen to the tunes of the game.

S,E Test - - Listen to the sound effects of the game.

Voice Test - Listen to the voices in the game.
SCREENSHOTS
There are a total of 25 stages in the game taking you from a space port to dark laboratories, to icy mountains and asteroid fields.
Alien Soldier Screenshots
CHEATS AND TIPS
Passwords for Easy Mode.
Stage 01 - 1985
Stage 02 - 3698
Stage 03 - 0257
Stage 04 - 3745
Stage 05 - 7551
Stage 06 - 8790
Stage 07 - 5196
Stage 08 - 4569
Stage 09 - 8091
Stage 10 - 8316
Stage 11 - 6402
Stage 12 - 9874
Stage 13 - 1930
Stage 14 - 2623
Stage 15 - 6385
Stage 16 - 7749
Stage 17 - 3278
Stage 18 - 1039
Stage 19 - 9002
Stage 20 - 2878
Stage 21 - 3894
Stage 22 - 4913
Stage 23 - 2852
Stage 24 - 7406
Stage 25 - 5289
Alien Soldier Prototype
A preview of a very early build was shown in Official SEGA Magazine Issue #4.
The main player is actually a soldier rather an Epsilon-Eagle. The locations are familiar and the bosses in the shots are recognisable from the final game.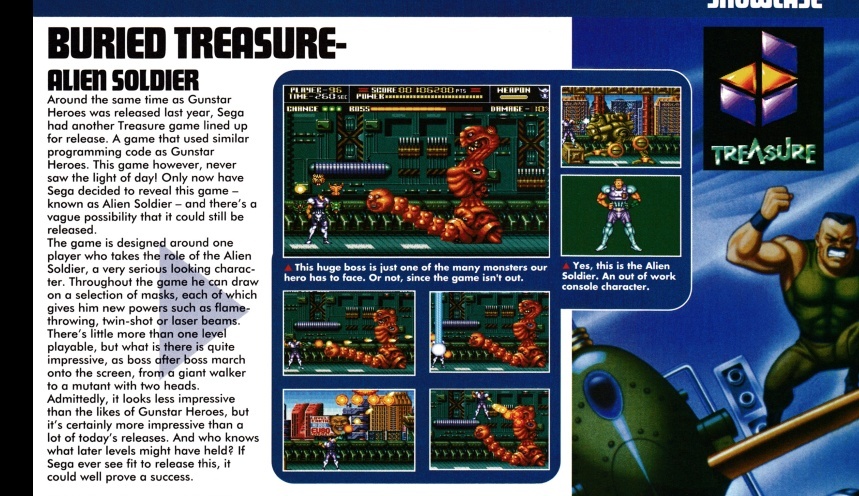 An entry has also been made on the popular Unseen64 website which hopefully will be updated with further info.
http://www.unseen64.net/2008/04/14/alien-soldier-mdg-beta/
Whether these were mock or there exists an alpha/bet ROM is unknown at this time.
EMULATOR COMPATIBILITY
Perfect! Play this with KEGA Fusion, Gens and Gens32 Emulators. You can download these from the SEGA Mega Drive/Genesis Emulators page.
Related
Alien Solder - Games of the Month Archive (June 03)
Gunstar Heroes - Games of Month Archive (August 2004)
Super Gunstar Heroes Games of the Month Archive (November 2005)
LINKS
Alien Solder at Hardcore Gaming 101
An overview of the game and links to download the songs.
http://hardcoregaming101.net/aliensoldier/aliensoldier.htm
Alien Soldier Sprites
All of the sprites from the game available to download.
http://www.bogleech.com/sega-aliensoldier.html
Alien Soldier Review
A review of the Wii (Virtual Console) release.
http://uk.wii.ign.com/objects/142/14216357.html
Virtual Console Review
This review also includes some video footage.
http://www.vc-reviews.com/games/megadrive/alien_soldier
---