JAMES POND II: CODENAME 'ROBOCOD'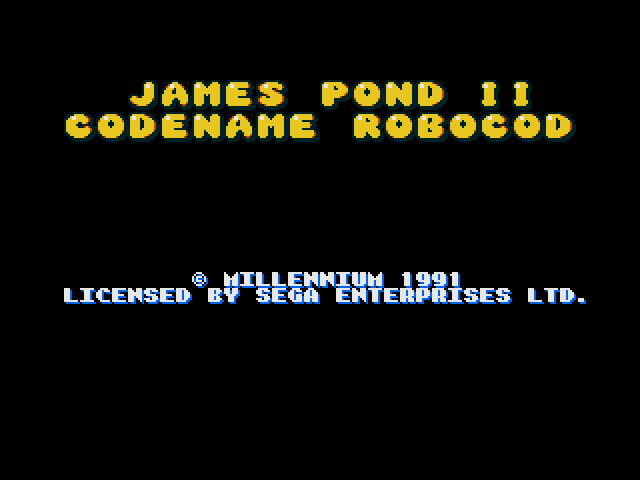 Robocod is the sequel to James Pond: Underwater Agent. It is a classic platform game known for having solid gameplay, being well designed and humorous.
Originally released in 1991 on the Amiga, PC (DOS),C64 and Mega Drive/Genesis by Millennium Interactive (also makers of Defcon 5) it has since went on to be released on multiple platforms including having a re-release on various more recent platforms such as the Nintendo DS.
As a personal note, this was actually one of the very first Mega Drive games I ever played and subsequently became one of the first that I owned as such I have very fond memories of playing it. I would even recommend this as an alternative to Sonic.
It is still easy to pick up a version of game for under £10.
James Pond 2 European Case

"To James Pond...For Your Fish Eyes Only! Pond, The fiendish Dr. Maybe is back. His bombs are ticking in the North Pole Toy factories. No human crime-fighter has been able to defeat him. So F.I.S.H has designed a special Robosuit for your survival on land. Pond, go for it!

Remember, Dr. Maybe has a screw-loose so stay on your fins!"
STORY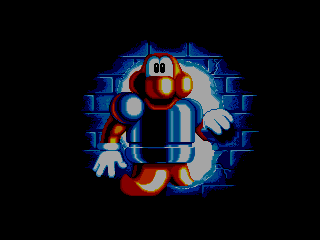 You have been requested by the penguins and sent to the Arctic Toy shop to deactivate the penguin bombs planted by the fiendish Dr. Maybe and save the toys for Christmas.
GAMEPLAY
As the title suggests the star of the game is the spoof hero James Pond. This time he has been outfitted with body armour that gives him the unique 'Stretchability' skill.
Breaking form the first James Pond game, the gameplay is now platform in its purest form and is one of the most fun made. There are variations. Some levels will be a left to right progression whereas others will be a combination of all directions. James will also bounce on springboards or get blasted out of a canon.
Levels are organised as rooms in the factory and each is themed from sporting to bathrooms and some will even be made of jelly and be upside down! Other levels will force you to progress by pushing James along whereas others will involve the use of wacky vehicles.
Overall the game is fairly large (for the era) and there are few really frustrating parts to dissuade from continuing.
The graphics are very detailed and colours are vivid. The main background tune to the game is one of the most haunting of the era.
The default control system is as follows:
The D-Pad LEFT and RIGHT are run. When running down any slope James can pickup considerable speed. When running into a wall at these speeds it will cause an earthquake of sorts. DOWN is crouch.

Button A and Button C are to stretch. This is used to reach and hold onto higher platforms. If you are touched/hit whilst stretched out you return to the ground. You are actually able to stretch to an extremely long length.

Button B is jump. When you land from considerable height it will cause an earthquake of sorts. Jumping on most enemies defeats them. Press repeatedly when in water to swim.

Button B + DOWN is a more powerful bomb drop. This does almost double the damage of simply jumping on an enemy.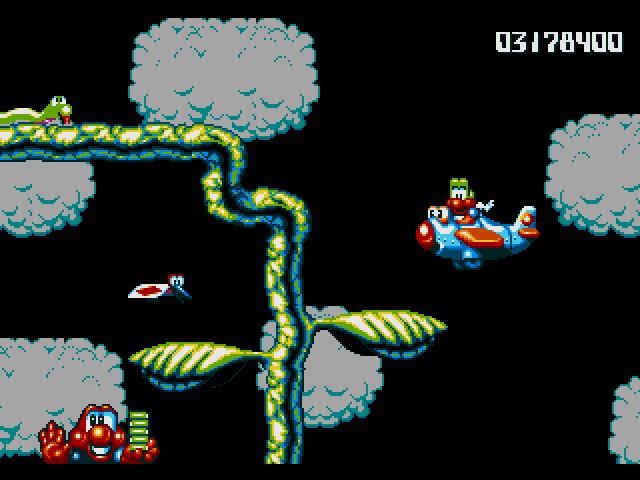 In the bottom-left corner of the screen James will keep you notified of his health. The fingers on his left hand will denote how many lives you have (though you can have more than 5) and the blocks in his right hand denote how many units of health you have out of a maximum of 5 therefore James can take 4 hits before death. Units of health are replaced by stars. His expression will be a quick way to gauge how you are doing.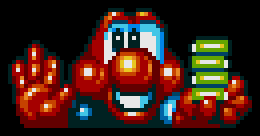 To the top right of the screen will be your score. You can earn extra lives every million points.
Upon Game Over you have 2 credits in which to continue. You will be placed at the beginning of the act where you died and your score reset to zero.
There are no options in the game for tweaking or changing the gameplay.
Levels are entered via the doors in the factory stores by simply walking up to them and are all filled with elements such as switches, moving platforms and plenty of enemies. They come in every imaginable form and vary in size from bullets fired from a cannon to busses leaping about the screen, from snakes to liquorice allsorts men!
Your only way to dispose of most enemies is to jump on them. If successful you will land a hit (enemy will flash white) and bounce off. To do extra damage, press down on the D-Pad to turn James into bomb of sorts. It is also a useful technique to help defeat bosses quickly.
You exit a level via the flashing Candy Twister stands. Sometimes the exit will not be available until you clear the area of penguin bombs or collect certain items.
The Penguin Bombs

| | |
| --- | --- |
| | |
Levels can have several acts to them and an act may have several exits. Some alternative exits will be a shortcut out, some take you to a bonus area whereas others will need to be the correct exit taking otherwise the section will loop. Levels are unlocked as you progress, however, upon completing the first level most of the door then become unlocked allowing you to choose which to play. An icon on the door will indicate the theme.
The scope for secrets inside levels is enormous. Exploring will be worthwhile since there is no time limit.
At the end of a room or boss fight you will receive a somewhat small bonus for energy, mystery and bonus.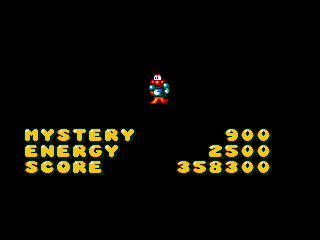 Power-Ups and Special Items
There are absolutely tonnes of items/objects to be collected for points from cakes to Christmas decorations. Gold items such as coins and crosses are worth the most. Some enemies when destroyed will leave behind a set of teeth which is worth 200 points.
When a level is completed James' head will appear on it. Bosses reside behind doors with "?" on them.
The more special items include:
Blue Star = Unit of Health.

Yellow Star = 1 Unit of Health.

Purple Star = Unit of Health.

[!] boxes - hit them from underneath to reveal a prize. Random item.

Restart Posts - activate these simply by walking past. You will start from here if James were to die.

Spring/Trampoline Boards - the more force you land on them the greater the height.

Canons - these blast you into the air at great speed. Combine with UP on the D-Pad to increase the height.

Umbrella - allows you to float down from any considerable height. Automatically deployed when needed. Can only be used a few times.

Wings - allows James to fly. Press Button B repeatedly to gain height. Lasts for a short period.

Suit - invincibility for a short time.
James will also be able to utilise several vehicles. It's usually necessary to use these to clear the level and destroy the enemies. These are: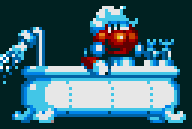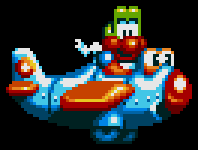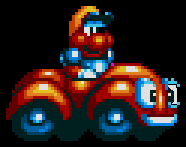 THE DOORS
Each level/room in the game has several acts making a total of 50. They are displayed below.
James Pond II Screenshots (Mega Drive)

Door 1 - Sports

Door 2 - Teddy's

Door 4 - Sweets and Cakes

Door 5 - Automotive

Door 7 - Bathroom

Door 8 - Cards and Games

Door 10 - Christmas

Door 11 - Music School

Door 13 - Circus

Door 14 - Final Boss

Final Boss

Secret Levels
CHEATS AND TIPS
Extended Invincibility
When the game starts collect the 5 items on the first roof in the following order to spell the word CHEAT.
Cake
Hammer
Earth
Apple
Tap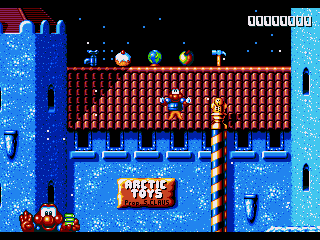 Also this cheat enables James to enter any door! Beware that this will last for a few levels only and if you collect an invincibility suit it will run out after the standard amount of time.
Infinite Lives
In the first level (sports) after climbing across the spikes, collect the items in the following order to spell the word LIVES.
Lips
Ice-cream
Violin
Earth
Snow Man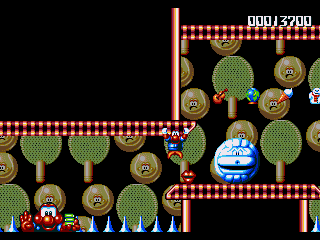 Secret Bonus Levels
From the position where the game starts, go across the roof with the 5 items. Then jump onto the next window ledge. Go up 3 more windows until you can jump onto a slope to the right. Walk down this slope and jump over the door with the "? ?" on it. Walk to the edge onto the tip of the slope to the right and do a big jump to the right. You will land on another roof. Walk left into a hole in the wall to be taken to a secret area!
Secret Bonus Levels

| | |
| --- | --- |
| | |
As you run down the first door "? ?" will take you to a moving train level. The second door will be liquorice allsorts themed level with a rather difficult act that is made from jelly and is upside down!
You can not re-enter the area once this level is completed so if you are a completer or fancy the points, then finish the train level first.
Secret Bonus Levels

| | |
| --- | --- |
| | |
OTHER VERSIONS AND UPDATES
It was ported to many consoles at the time with releases on Master System, Game Gear, Super Nintendo and Amiga CD32 (remember those?).
The latest versions on Playstation, Gameboy Advance, Nintendo DS and Playstation 2 tend to loose resemblance to the original with different level layouts.
The GBA version is significantly different from the original. Graphics were tweaked to take advantage or more colours available yet the level layout, although still themed is different. Any secret levels have been removed.
The DS version is identical to the GBA version except for the inclusion of a map.
James Pond III: Operation Starfish
A sequel was released in 1993 later and is considered to be one of the Mega Drives finest titles and best platform games with some reviews saying it surpasses Super Mario World. It was also available on the Amiga CD32.
In that game Dr Maybe had constructed a base on the moon. James and sidekick Finnius the Frog are sent to end the plans of him taking over the diary industry.
James Pond III: Operation Starfish (Mega Drive)

| | |
| --- | --- |
| | |
Since this game there have been no more sequels.
The Aquatic Games Starring James Pond and The Aquabats
A spin-off title called features James and pals in a parody of the Olympic games.
It was released in 1992 for the Mega Drive, Atari ST and Super Nintendo.
The Aquatic Games (Mega Drive)

| | |
| --- | --- |
| | |
| | |
EMULATOR COMPATIBILITY
Perfect! Play this with KEGA Fusion, Gens and Gens32 Emulators. You can download these from the SEGA Mega Drive/Genesis Emulators page.
MISC INFO
This was one of the first games to be used as advertising. The Mcvities Penguin can be seen in the sugar/sweets themed level.

This game was allot bigger than I originally remembered. I probably did not find all of the bonus rooms either.
Related
James Pond II Games of the Month Archive (July 2004)
---