SOUKYUGURENTAI OTOKUYO aka TERRA DIVER | 8ING/RAIZING | 1997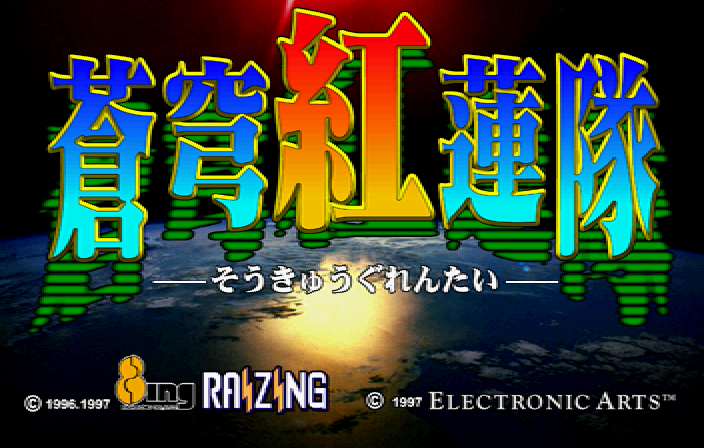 Soukyugurentai Otokuyo aka Terra Diver was created by 8ing/Raizing who also released the acclaimed Battle Garegga in the same year. The game was released in Japan only and surprisingly published by Electronic Arts.
It is a vertical shoot'em up in the most classic of presentations. The game was originally released in the arcades in 1996 and has console versions released on the Saturn and Playstation.
Although perhaps somewhat overlooked in the arcades, it became regarded as one of the better shooters on the Saturn which was (and to some extent still is) the console of choice for hardcore gamers particularly of this genre fans of which should not overlook.
The Saturn is home to two versions of the game. This version, post-fixed 'Otokuyo', was released to redress some issues, most notably the corruption of the graphics caused when using an Action Replay cartridge on a non-Japanese Saturn. Unfortunately most of the English was removed from the first release.
Both Saturn versions are somewhat collectable and can fetch high prices on Ebay.
Note: The manual for this game is in Japanese so some content may be incomplete and the terms may not be accurate. If anyone can help improve the contents of this page please contact me.
Soukyugurentai Otokuyo Case Scan

| | | |
| --- | --- | --- |
| | | Click on the images for larger versions. |
STORY
Earth has exhausted its supply of fossil fuels. Companies team up with NASA to be begin exploring beyond Earth for new sources. Mining facilities are setup on Mars and asteroids near the Moon.
The companies benefiting from the distribution of these new found resources begin attacking each other. The largest company is Jin-Sei.
The largest of these attacks started on the Martian colonies that were owned by Eight Luck Interstellar. They banded with other smaller companies intent on claiming Mars for their own in order to monopolise the planet.
In response Jin-Sei joined with JSDF and created a space fighter program organised by the Defensive Section 2 of the JSDF known as the Red Lotus Team (SOQ) which used unique laser weaponry known as NALS (Non-Blind Spot All Range Laser System)
With the best fighters, the SOQ are deployed to defend company territory from rival companies in space and on Earth.
GAMEPLAY
Soukyugurentai is a traditional vertical 2D shooter in the purest sense. Your ship is pitched against waves of enemies filling the screen all bombarding your ship with fire with a huge bosses awaiting at the end of each stage. Occasionally you will have to dodge something in your way such as asteroids or huge laser beams.
Leaving the title screen on long enough plays a 'How To Play' demo.
There is a choice of 3 ships to play the game. They are:
Red S.O.Q-004 (Swordfish) - least powerful weapons but most manoeuvrability.

Blue S.O.Q-010 (Mackerel) - Good manoeuvrability and weapons. Good all round.

Green S.O.Q-025 (Scollap) - Most powerful weapons, least manoeuvrability.
All ships have a main Vulcan weapon which when fired will also launch ancillary homing missiles. The secondary weapon is a more powerful homing weapon that must be targeted. This is sometimes the only way to destroy certain ground targets. The final is a devastating bomb that will pretty much clear the screen.
Enemies will also be in varying shapes and size and will attack from pretty much any direction. Some will require a single shot to destroy whereas others will require considerable punishment before they explode rather satisfyingly. Points are awarded for every shot hitting a target.
The speed in which the stages scroll vary and sometimes the direction changes. There is a small degree to the left and right extremes of the screen that will scroll further when you move your ship to these places.
Your ship has no shielding and as such a single hit or collision will destroy it though it is possible to gently bounce of some enemies and objects such as asteroids. You will quickly appear back on the screen and the majority of your collected Power-Ups will be scattered for your re-collection along with a replacement compliment of bombs. There will be extra Power-Ups if returning from a continue credit.
A no frills 2-Player co-op mode is available and there is special unlockable options and bonus content included over the original arcade and Saturn releases in the form of character biographies and soundtracks from other Raizing games.
Graphically the game is a sprite fest and therefore plays superb making full use of the Saturn's abilities. There are some excellent zooming effects with backgrounds given additional depth with polygons.
A superb fitting soundtrack compliments the action and the themes for the boss fights create a good sense of confrontation.
At default difficulty the game represents a medium to modest challenge as there is certainly more difficult shooters out there. The game is a fairly short experience but worthy. Cranking the difficulty up to level 8 makes the game rather intense (comparable to Mars Matrix on medium).
Thankfully, responsiveness of the controls is superb and there is support for the analogue controller. The default controls are:
The D-Pad moves your ship about the screen in all directions.
Button A is a burst from your main weapons. This will be shots from the cannon and extra fire such as homing missiles. Holding this down activates the web/targeting mode for your secondary weapon. Use with the D-Pad lock onto targets.
Button B is a Bomb that clears the screen and inflicts major damage to larger craft. This can be used in combination with the D-Pad to control the spread of explosions.
Pressing only Button B plants a bomb. Last for a few seconds.
With rapid fire, pressing Button B + D-pad direction will create a wider scattering/cluster effect. Very effective against many all enemies.
And after locking on to enemies or a single large enemy with Button C, Pressing Button B directs all of the bomb to those targets inflicting massive damage.
Should you feel death is close by let rip your bombs.
Button C is web select/change. This changes the targeting mode of your secondary weapon and allows approx 7 lock-ons. Each ship has different webs and the smaller the range indicates the more powerful the weapon.
(Blue Ship) All Range = 360o and Bou-Ryu = half range circle forward.
(Green Ship) Mu-Sou = half range lasers and Random = full range fireballs.
(Red Ship) Ei-Dou = half range circle forward and Pinpoint = quarter range funnel.
LEFT and RIGHT TRIGGERs are rapid fire of the Vulcan.
Button X, Y and Z have no use in combat but when held down can be used to accelerate the animations between the end and beginning of each stage.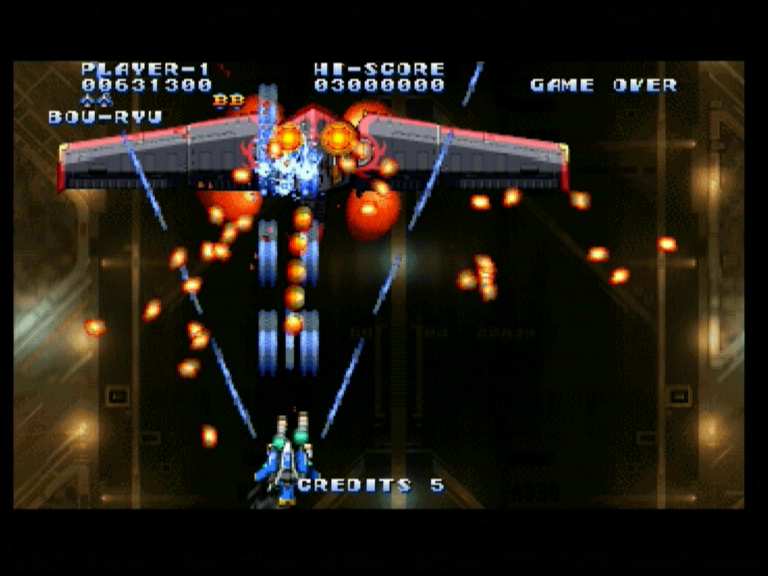 During play the only items displayed on the screen will be:
Player(s) Score and the current Hi-Score, No. of Bombs and the current Web Mode.
Power-Ups
Power-Ups are dropped in red/white cases that must be shot open. It will contain 1 of 3 types. Simply fly over to collect.
P's - (small) - These scatter in groups of 5. They increase the power of your main weapon (Vulcan). When your weapons are powered up to maximum any additional P's will be worth extra points worth 100, 200 and then 500 points consecutively.

Big P - are x5 small P's.

B - x1 Bomb.
You will encounter a boss at the end of each stage and a few seconds before this given a brief tactical overview though this is of little use. Bosses can be destroyed either gradually by targeting the various arms and cannons on the body or simply concentrating on the main weak spot. Some are defeated more easily this way whereas it maybe safer to break others up.
When defeated you will be given a percentage of number of enemies missed (confirmation needed) and bonus points.
Options
The game has some options for tweaking the gameplay. Many are in Japanese but they will give good enough reasons to play the game again.
Title Screen Selections
#1 Start Game
#2 Practise Mode
#3 Main Game Options
#4 Playable Demo of Battle Garegga - the highly rated Saturn shooter also from Raizing. (First stage only)
#5 Special/Extend Options - Toggling this to ON takes you to another set of options. This toggle is available after playing the game once and the options inside are unlocked.
Practise Mode Options (Selection #2)
Start
Pilot Info
Round Select
Round High Score
Exit
Main Game Options (Selection #3)
Difficulty Level - 1 being the easiest and 8 being the hardest
Control Assignment
Stereo/Mono
View Scoreboards
Sound Test
SFX/BGM Balance (slider)
Special/Extend Options/Unlockables
Extend Control Setup
More Difficulty
Lives
Bombs
Credits
Extends
More Music - Raizing Sound History. Press UP or DOWN to select between the 3 games; Mahou Daisakusen / Sorcer Striker, Shippu Mahou Daisakusen / Kingdom Grand Prix and Battle Garegga. Press LEFT and RIGHT to select a tune, BUTTONS A or C to play and BUTTON B to Stop. START returns to special options.
THE STAGES
There are a total of 7 stages in the game. A period of time elapses between each and the dates are derived from the current date and time of the console.
By default, the game begins with 5 continue credits each having 3 lives. Extra lives can be earned with every 1,0000000 (billion) points.
Stage 1 12 June 2054 Gambiter (None Specified)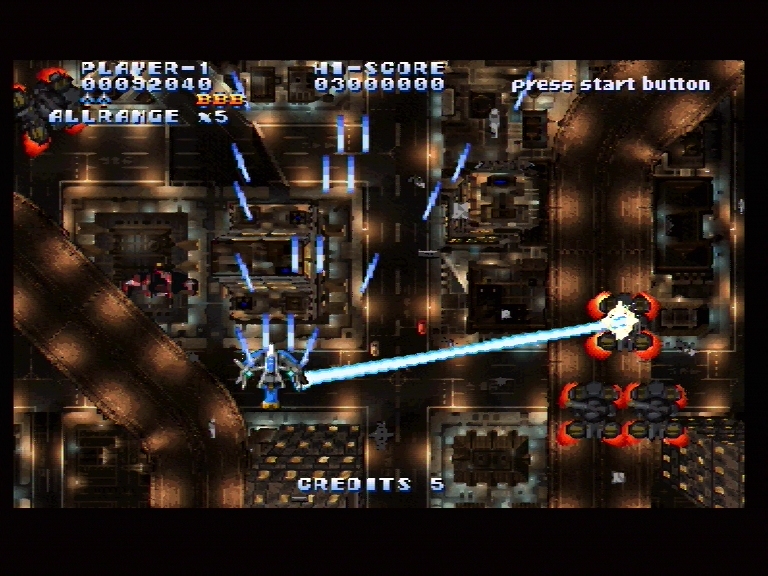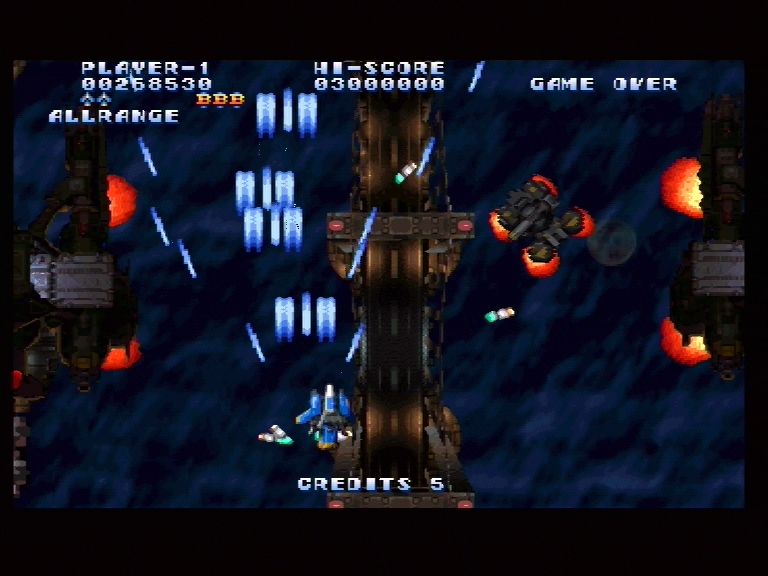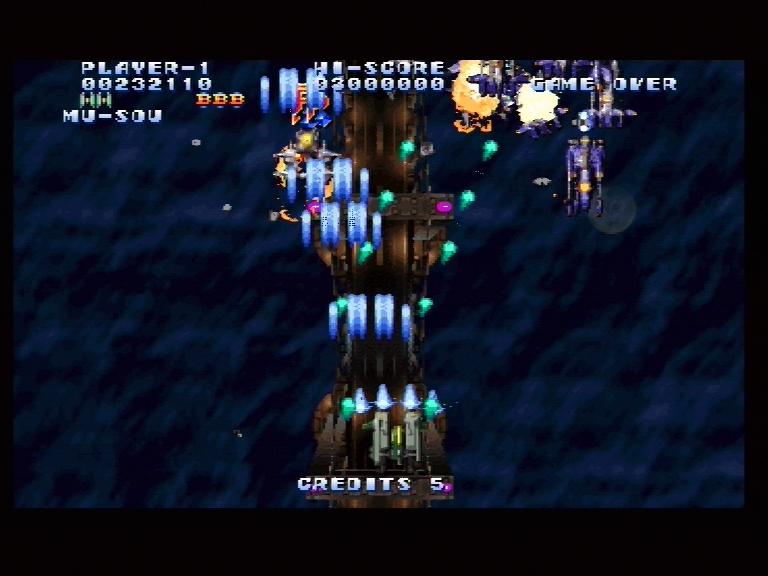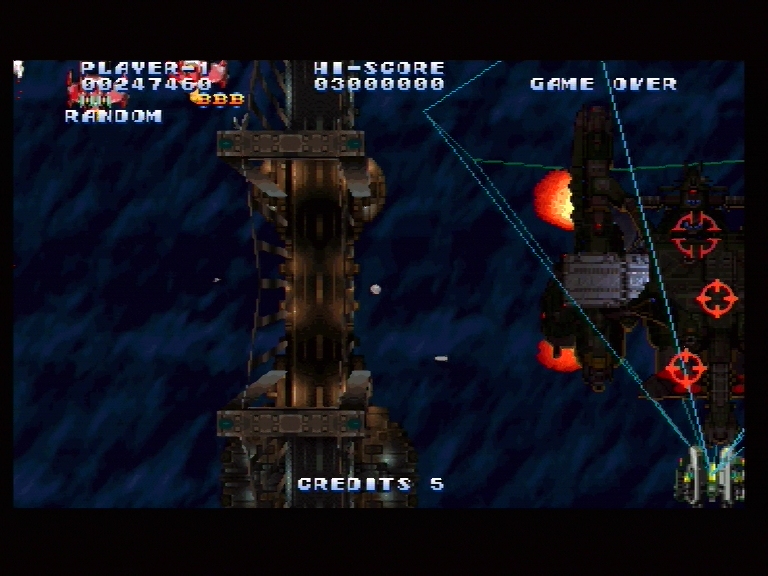 Boss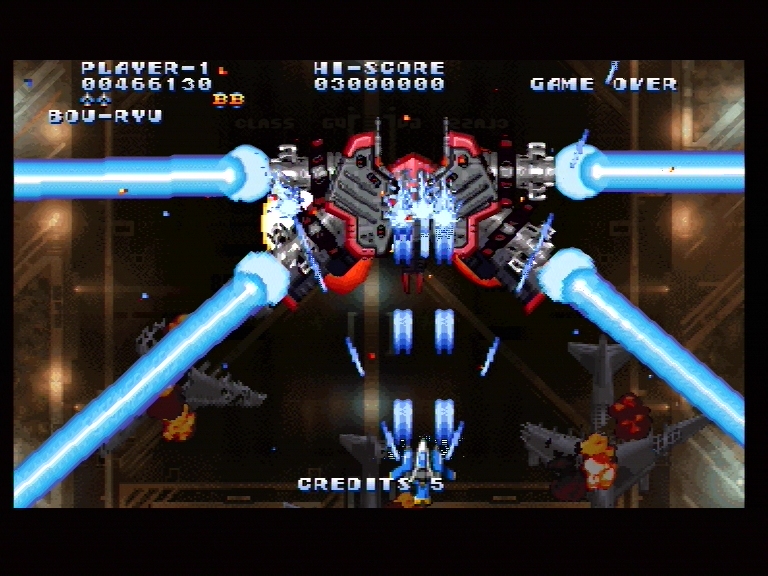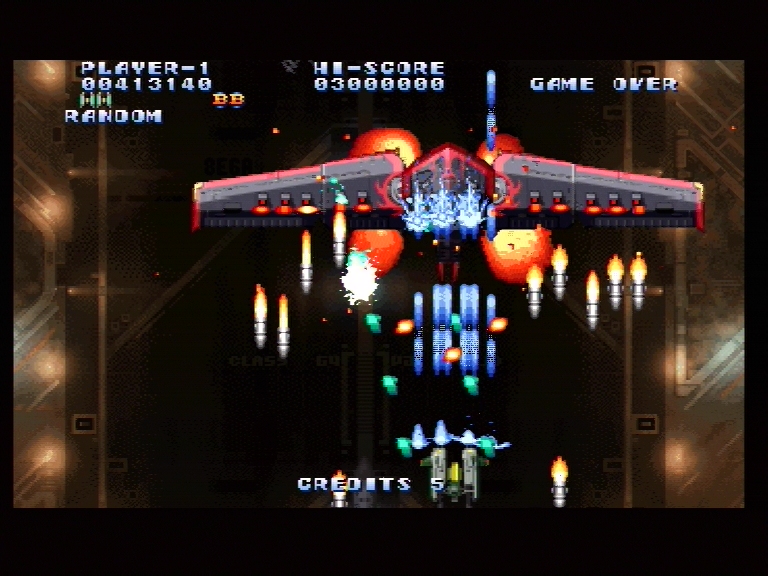 Stage 2 19 June 2054 B-Lizard On low orbit around the Earth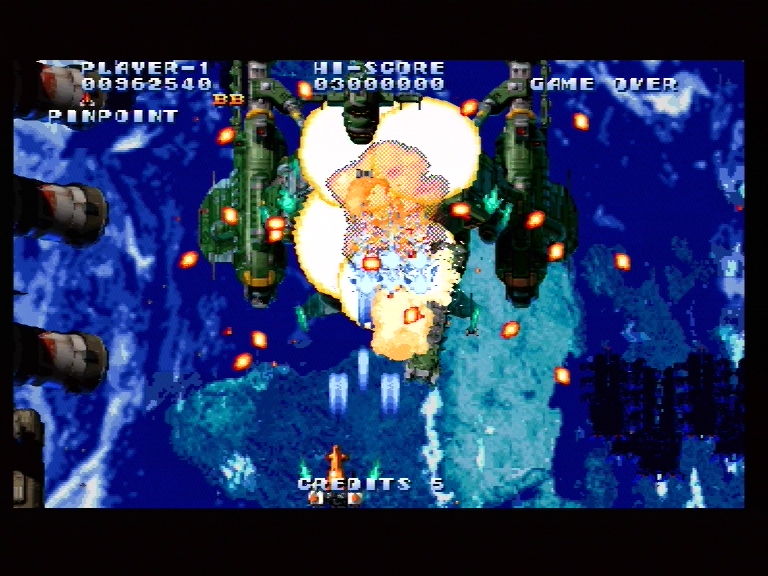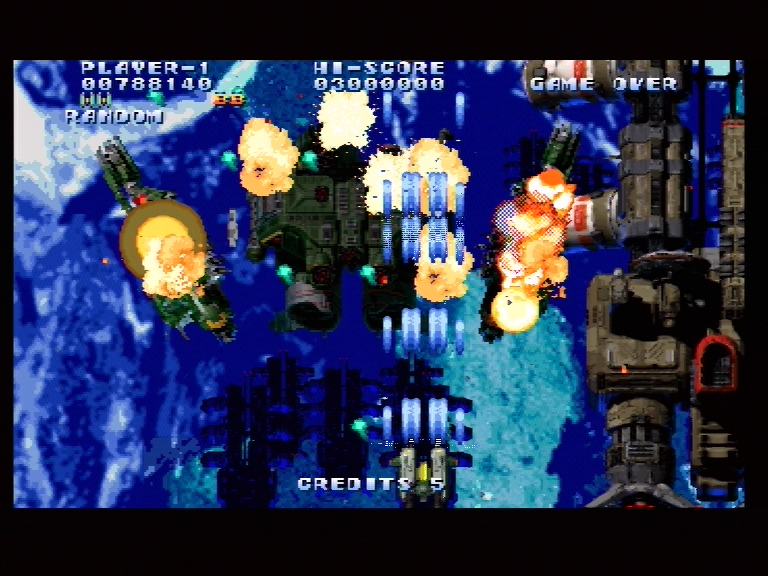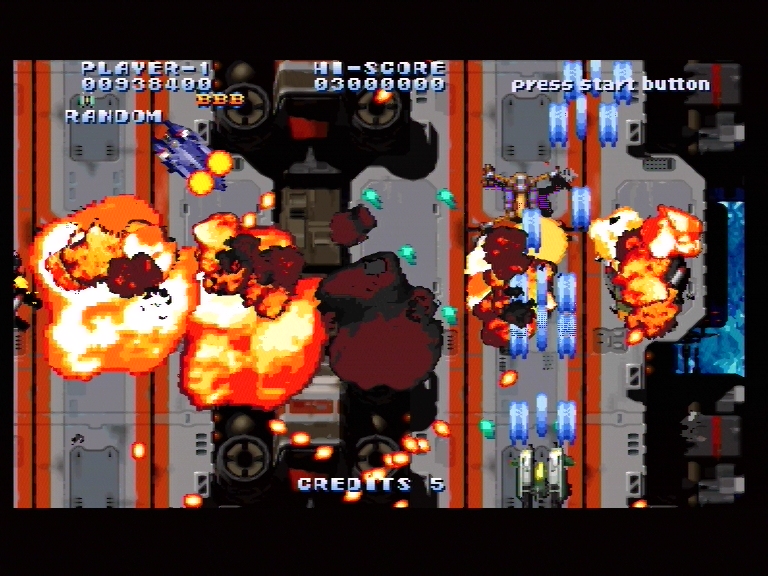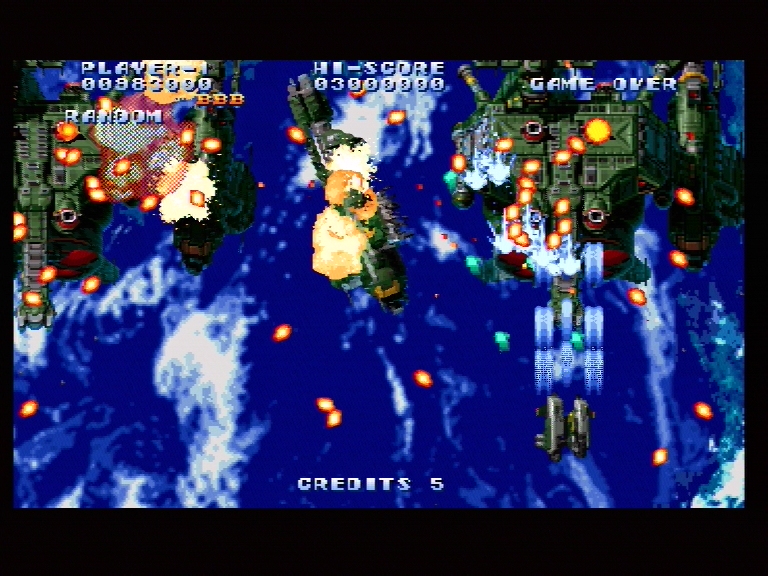 Boss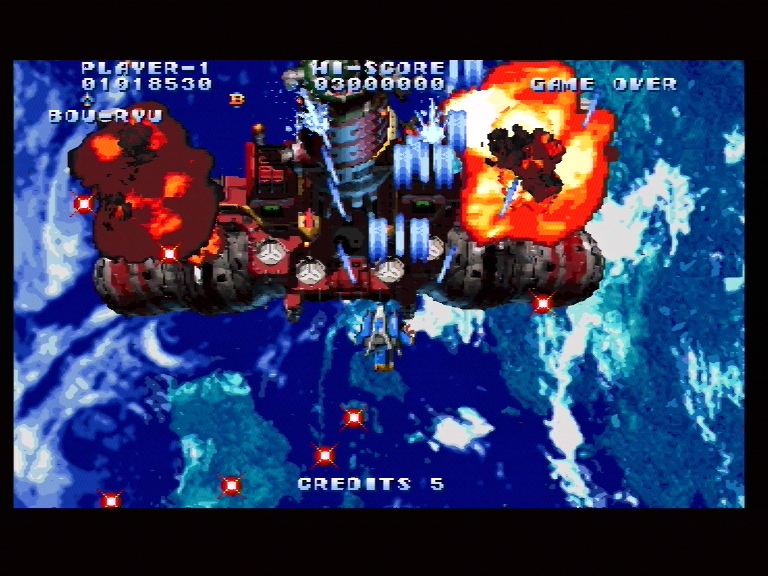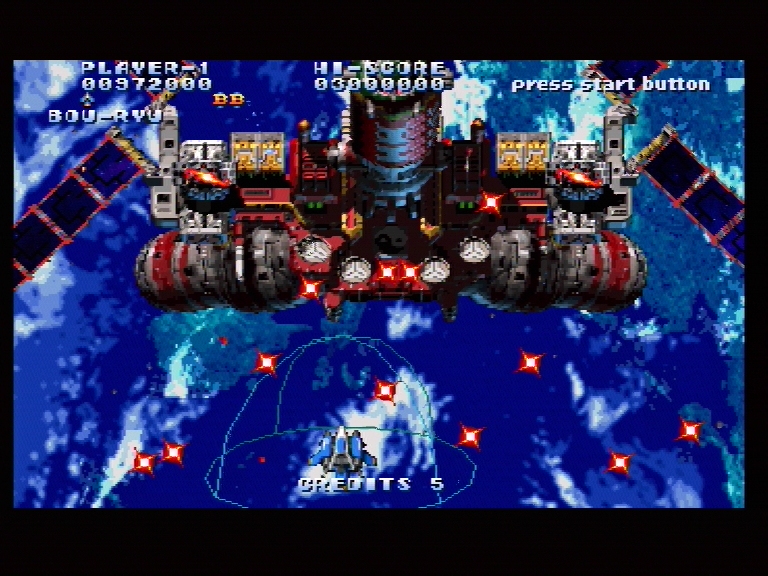 Stage 3 27 June 2054 E-Quaterm and Descenter 5000 Meters Up in The air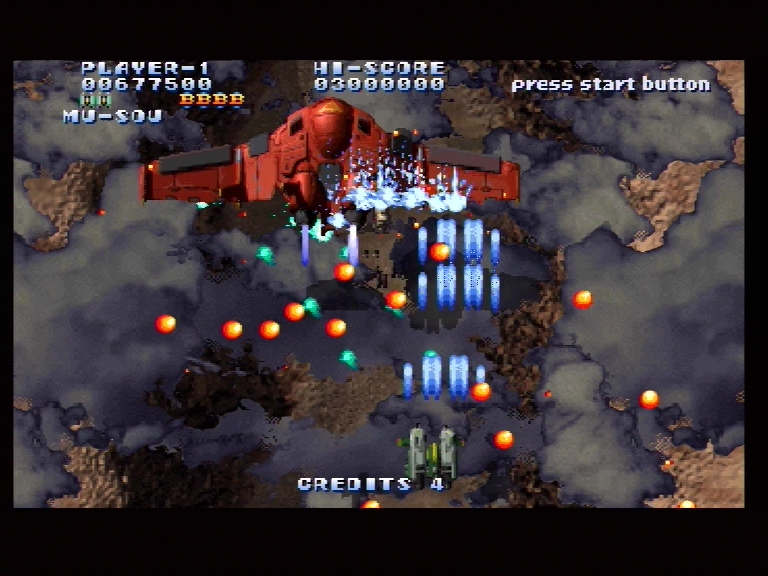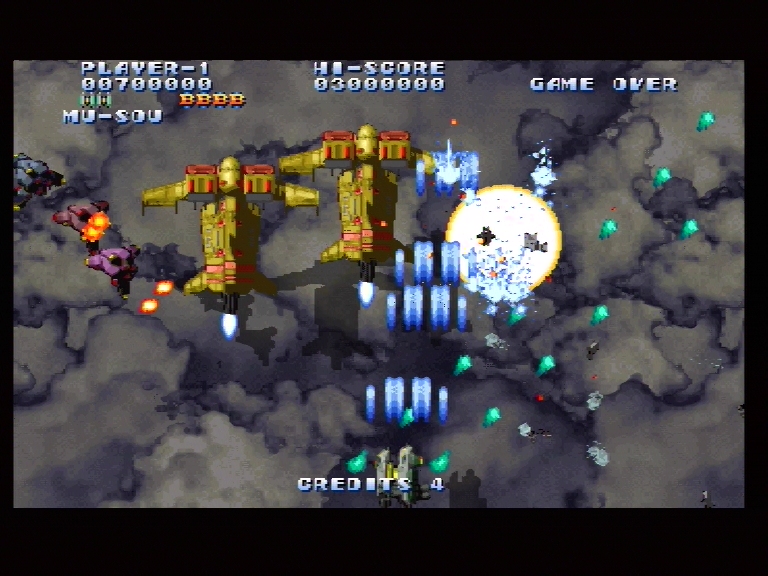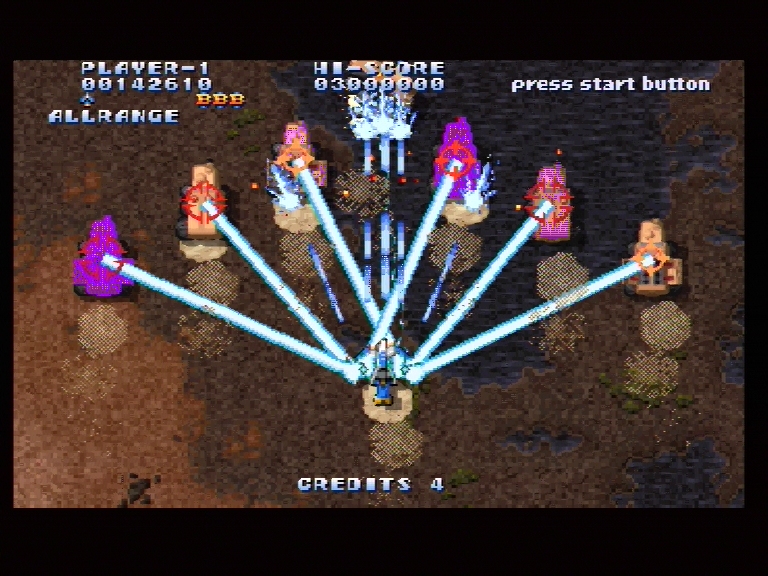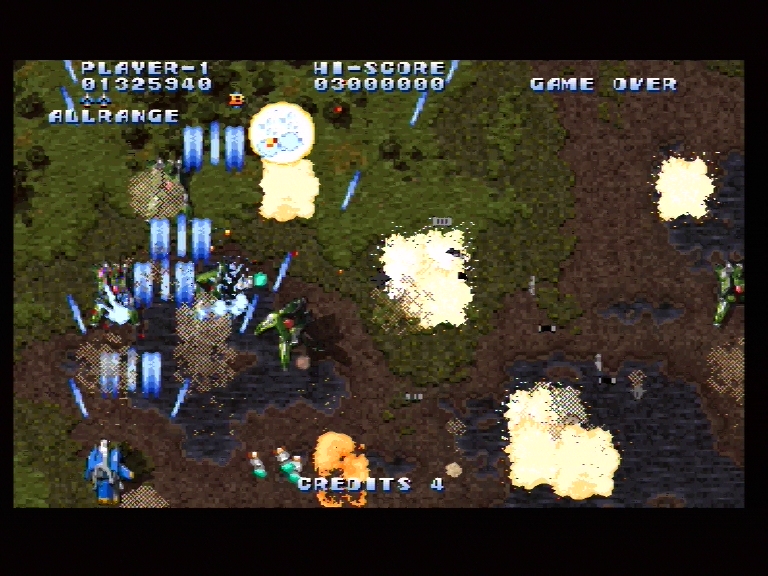 Boss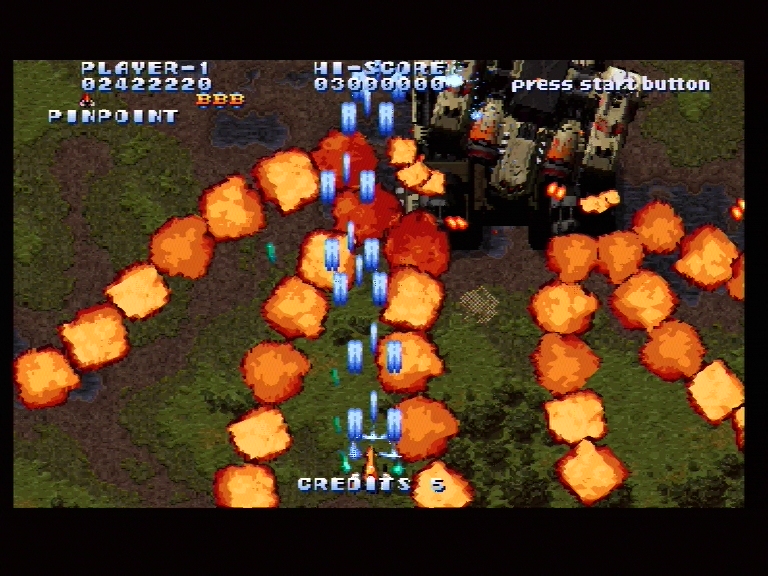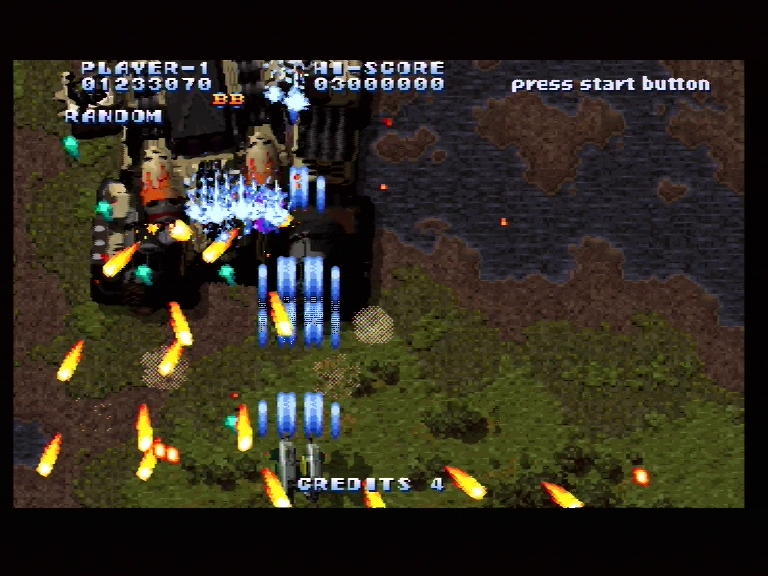 Stage 4 06 July 2054 Victimizer La Grange 3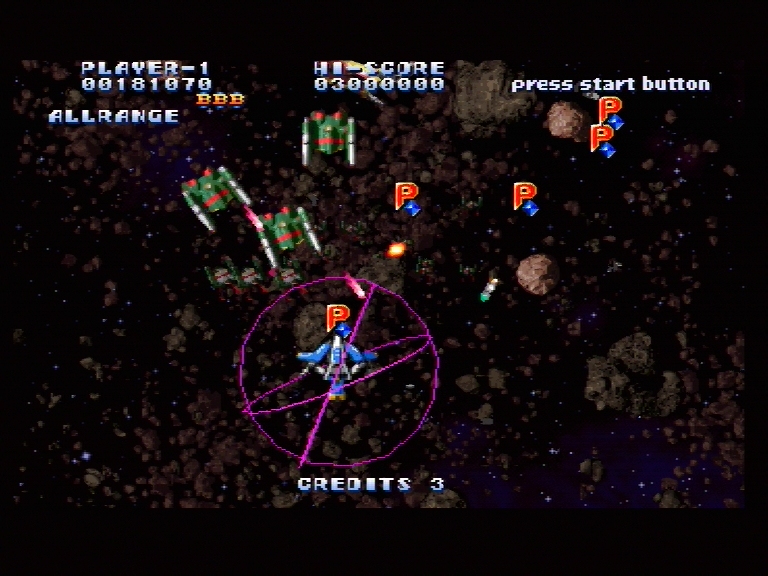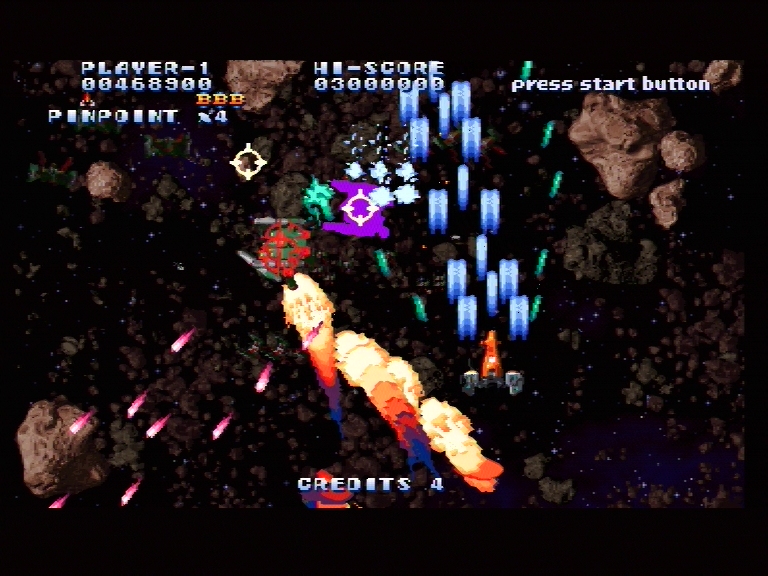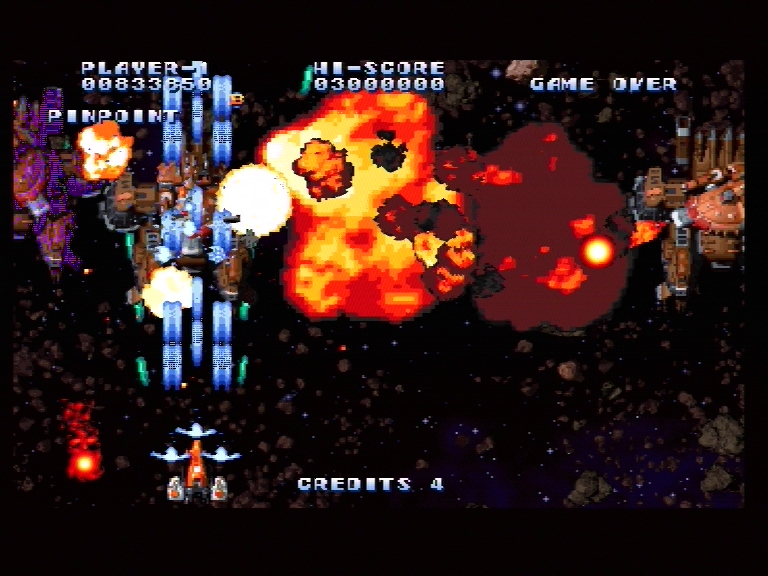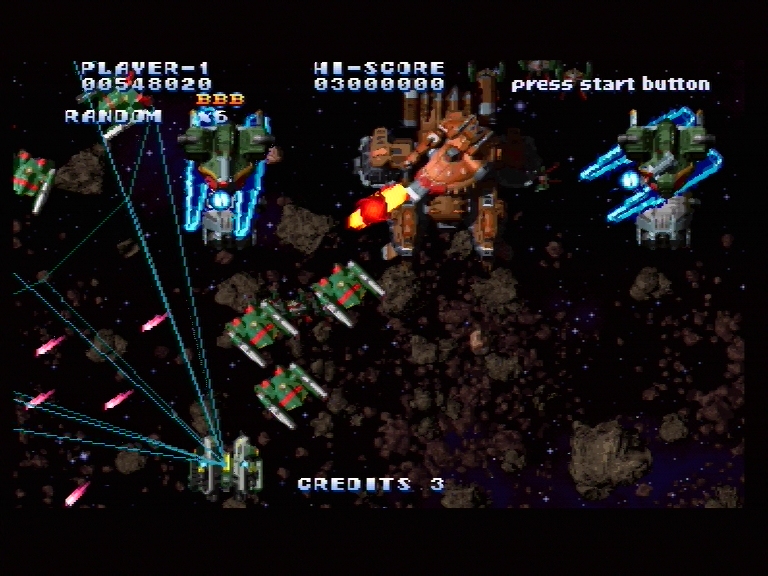 Boss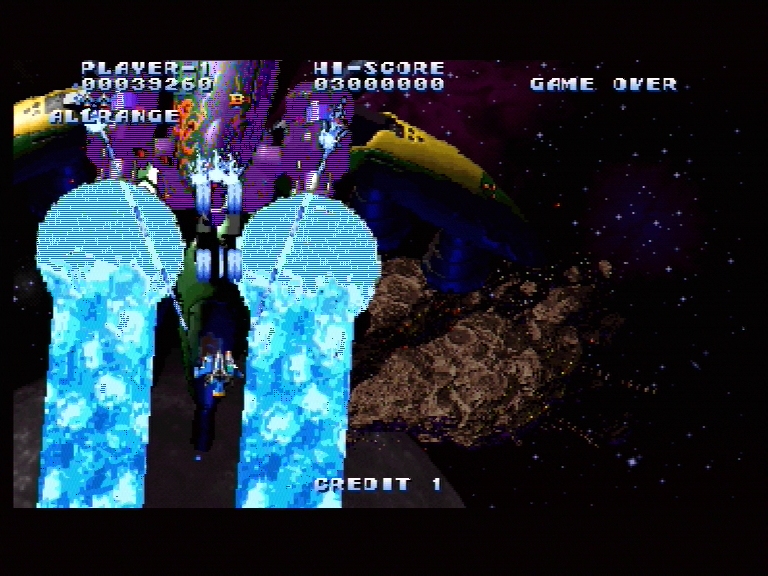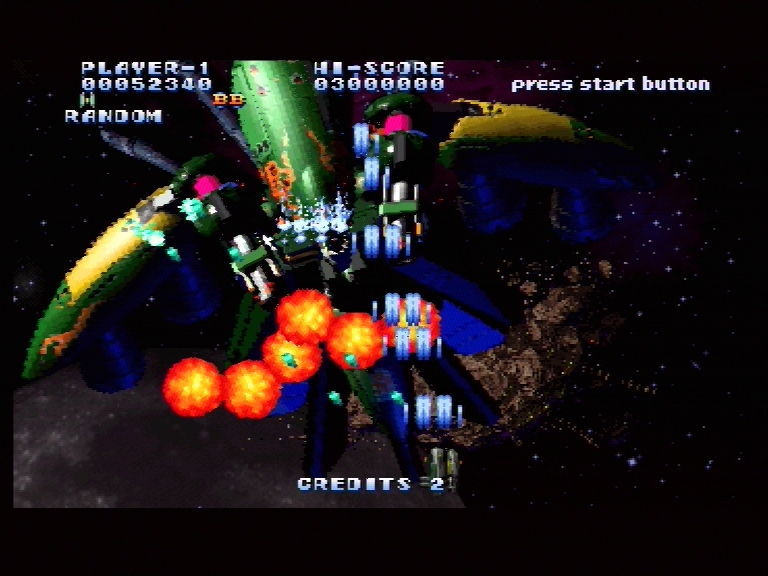 Stage 5 18 July 2054 G-Omen Atlantic Ocean Fields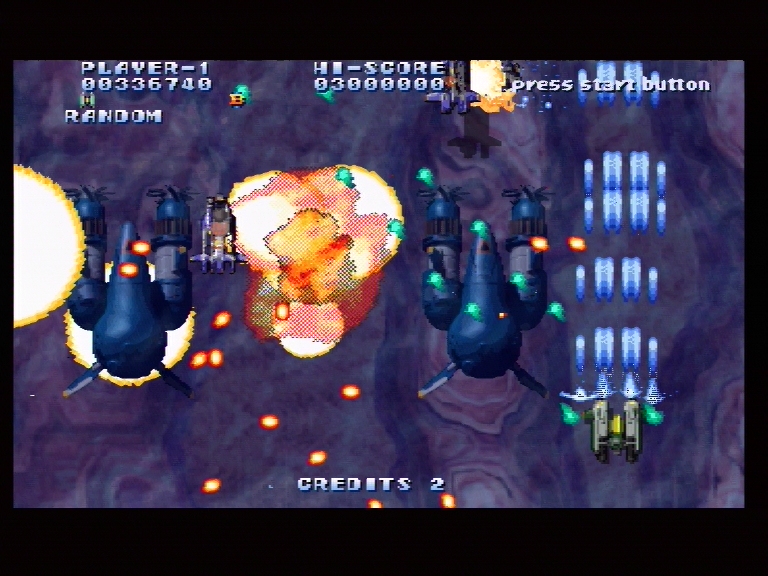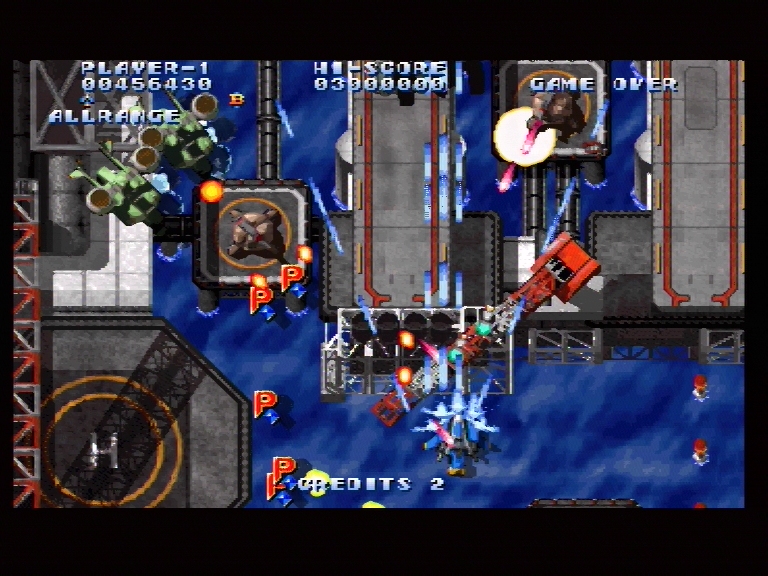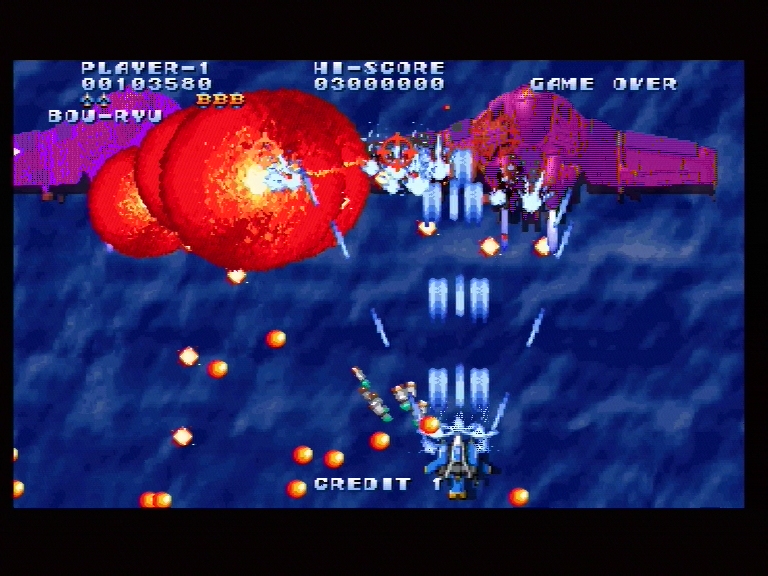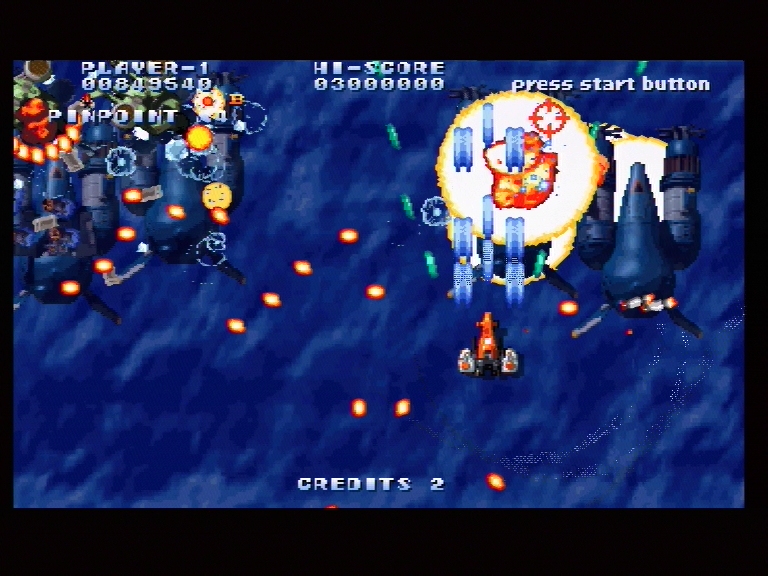 Boss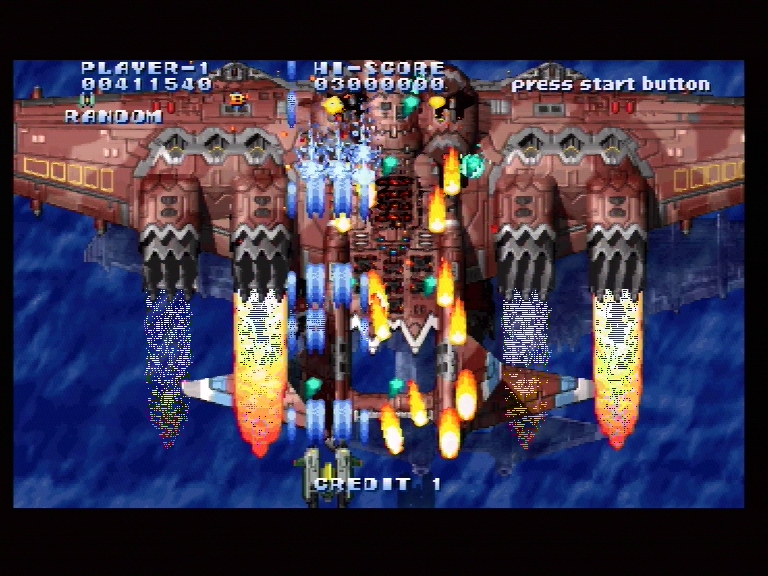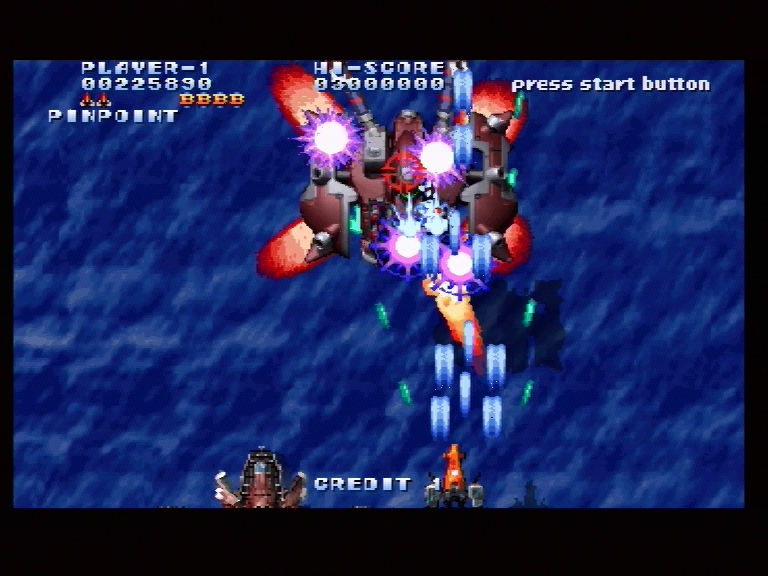 Stage 6 17 August 2054 Zodian On Mars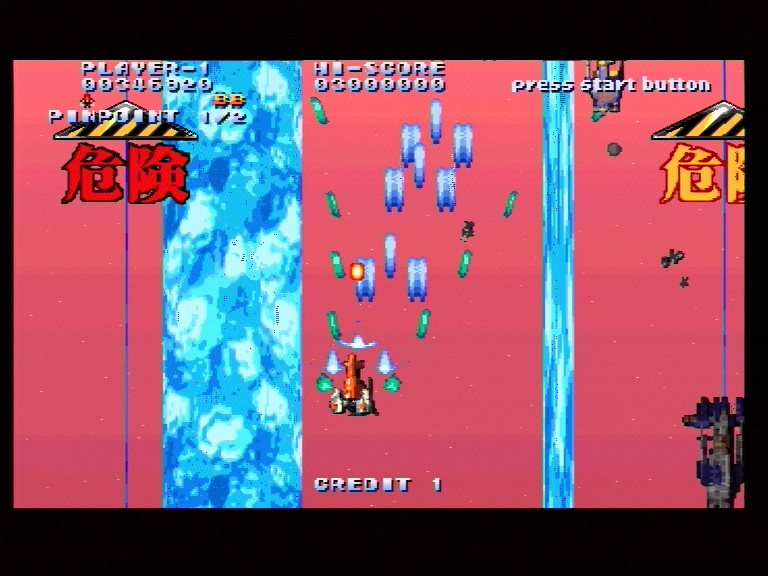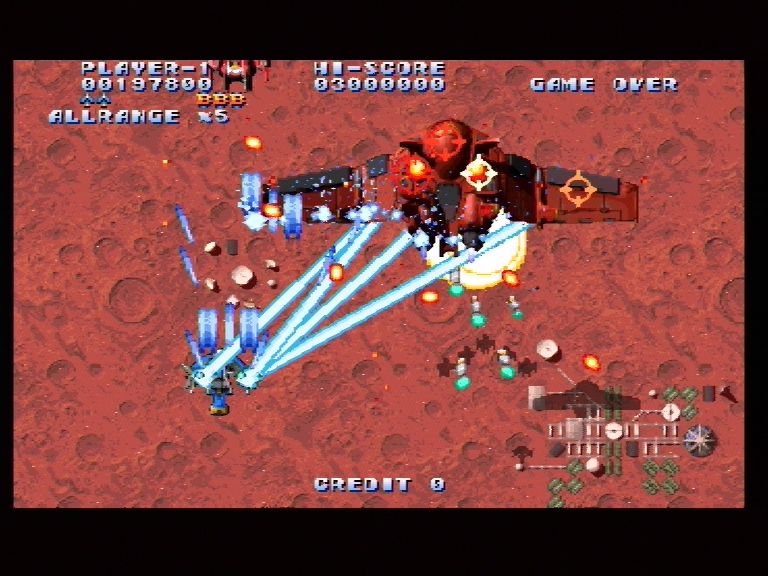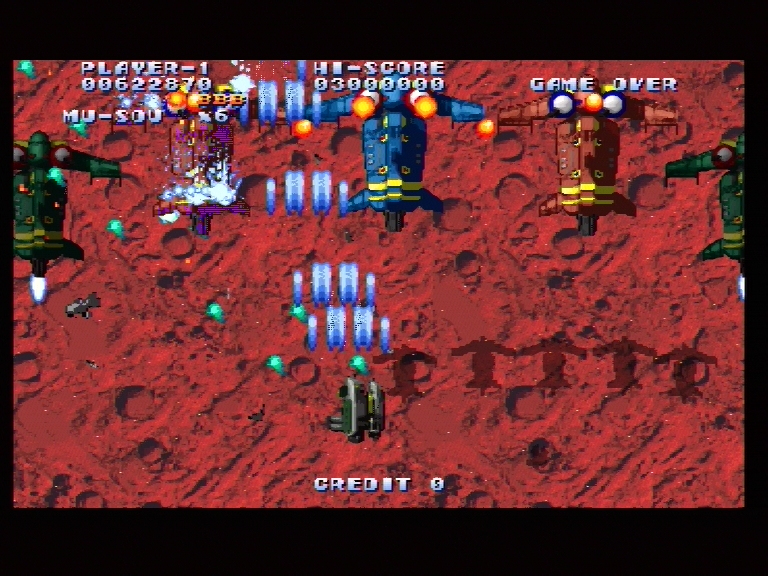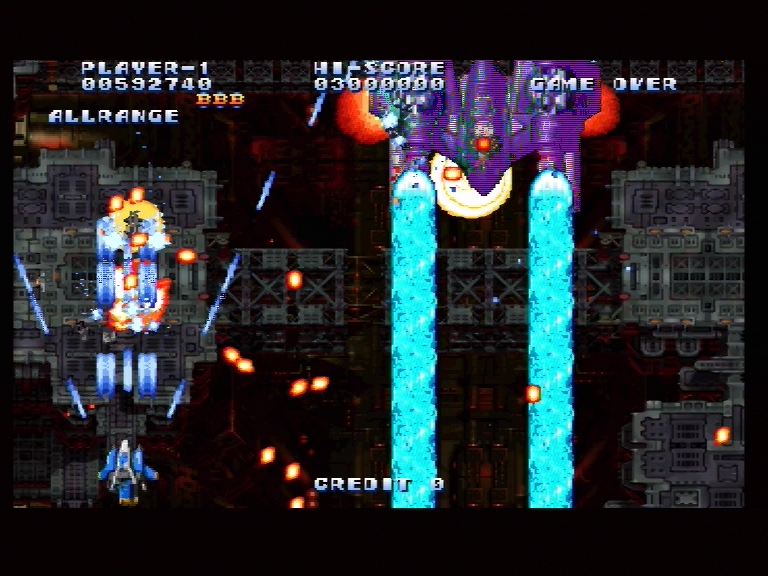 Boss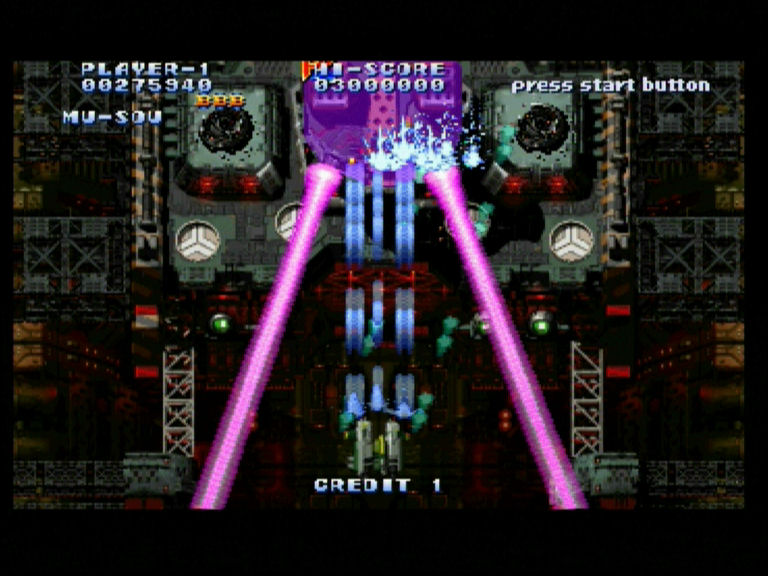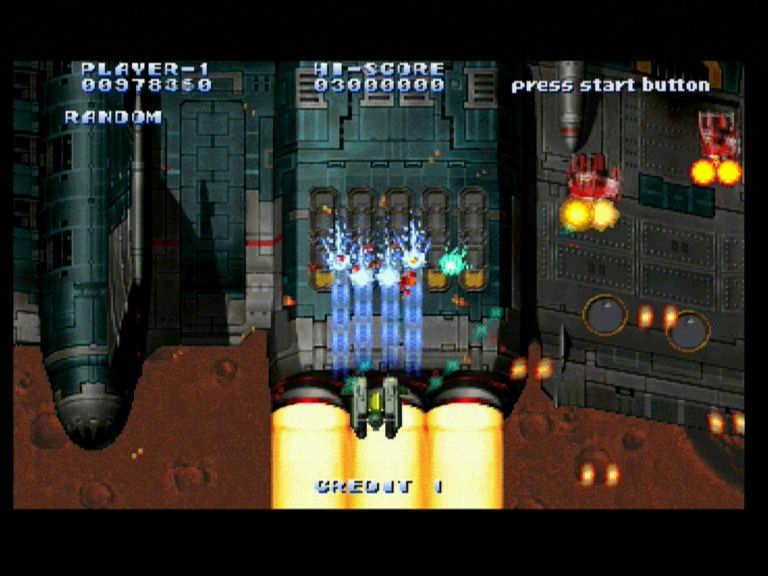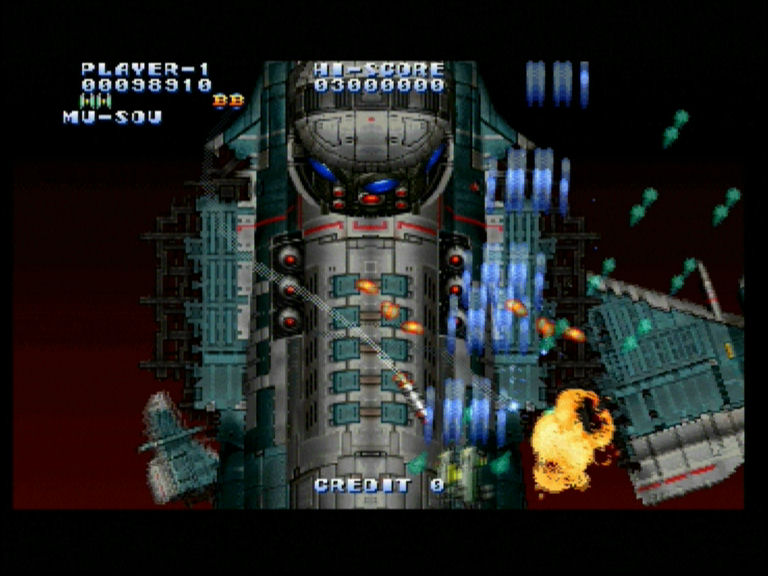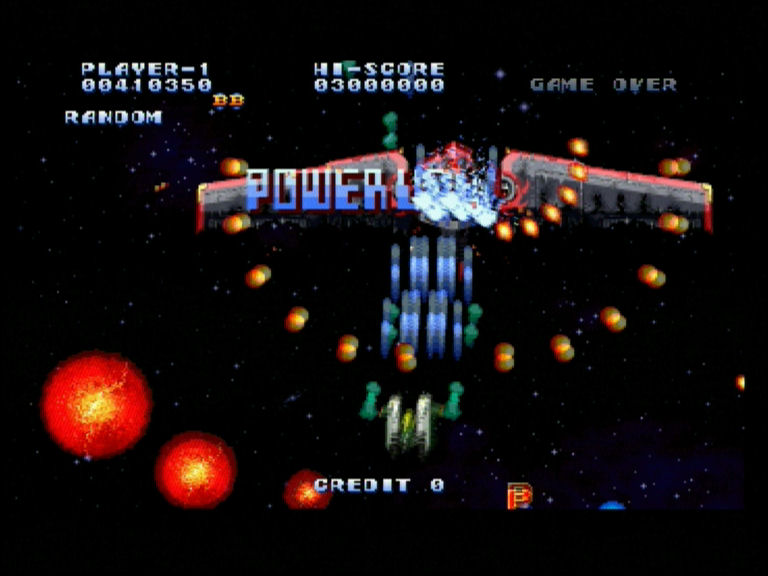 OTHER VERSIONS
Original Arcade Version
The arcade version was released in 1996 and uses the ST-V board/Titan board (which is essentially a Saturn with more RAM) and comes in cartridge form.
The arcade version is playable using the latest versions of MAME although sound emulation is not complete.
Soukyugurentai/Terra Diver (Arcade)

| | |
| --- | --- |
| | |
| | |
Playstation Version
The major changes with the Playstation version are an extra (yellow) ship which is pretty powerful, dual shock support for some of the larger explosions and Japanese voice-overs at certain parts of each stage linked together with FMV introductions and cut scenes, that are voiced over and subtitled in Japanese.
Soukyugurentai/Terra Diver (Playstation)

| | |
| --- | --- |
| | |
| | |
It suffers from noticeable slowdown and therefore does not play as smoothly nor are the graphics as detailed or well animated as the Saturn version due to the inferior sprite abilities of the hardware.
There also does not appear to be any bonus items to unlock or general options from the title screen. I could be mistaken since the game is almost 100% Japanese.
EMULATOR COMPATIBILITY
It is possible to play this game using the SSF emulator. You will need a pretty speedy PC in order to run it at a decent speed
MISC INFO
The game can also be played with the NiGHTS 3D Controller.
This is what happens as a result of the Action Replay bug.

In 2001 Raizing was incorporated into 8ing and since then no more shooters have been produced.
Related
SEGA Saturn Feature Games Library 2D Shoot'em Ups
LINKS
8ing Official Website
The majority of this website is in Japanese.
Information at Classic Gaming
Some in-depth information including shots from the Playstation version.
http://hardcoregaming101.net/souky/souky.htm
R8zing Tribute Site
Has some information about the arcade version along with artwork as well as the other shooters from R8zing.
http://www.world-of-arcades.net/R8zing/Terra_Diver/TDiver.htm
A Gamers Blog
An excellent overview of the game.
http://1cclog.blogspot.com/2009/10/soukyugurentai-saturn.html
Review from 2 Informed Gamers
http://www.users.globalnet.co.uk/~bevhome/souky.htm
Review at Gamespot
http://uk.gamespot.com/saturn/action/soukyugurentai/review.html
---