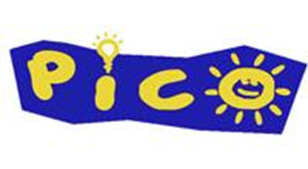 SEGA PICO
History
The SEGA Pico (also known as Kids Computer Pico and later Kids Communication Pico) was originally released in 1993 in Japan, 1994 in US and Europe, and was SEGA's first educational console. As such it was aimed at children under the age of 10. It can be described as a cross between a games console, a tablet and an eBook reader.
Although the average SEGA gamer probably never saw one, much less bought their children one, it did become one of the most successful devices of its type thanks to its uniqueness and international distribution. It had the advantage of a few years alone before rival products from LeapFrog and VTech appeared on the market.
Over its lifespan, the system evolved slightly to include basic Internet support.
Japan
All sales were handled by SEGA Toys arm of the company. It sold comparatively few outside of Japan where it sold in excess of 3 million units which is impressive for what was already old hardware and for the market.
Games were still developed until 2005 (over ten years!) apart from in Europe and the US where the system was no longer supported from 1998.
For the systems 10thanniversary, SoJ re-released some of its games in Japan only.
It was succeeded by the more powerful Advanced Pico Beena in 2005 released in Japan only. In other territories, instead of releasing this successor, SEGA backed products from other companies instead such as LeapFrog.
US
In the US, whilst not as successful as Japan, sales were good after getting critical acclaim from toy and Edutainment companies. It was discontinued in 1998 with a mere 20 games being released.
These games were coined deluxe storyware though what the difference is from plain storyware is unknown.
It was revived by Majesco sales in 1999 and sold for significantly less than previous, though retro gamers seem to have little interest.
Europe
The various European languages were a hurdle for the Pico since all the physical pages of the book needed to be translated. It could be this reason why fewer games were released in this region and thus the system sold less than in the US.
A minor difference is that the cartridges are yellow and there is one game exclusive to Europe being Professor Pico and the Paintbox Puzzle.
Other Markets
The Pico enjoyed a strong performance in South Korea where Samsung released two licensed versions along with plenty of games translated from Japan and a few US as well as Korean.
Brazil also had the system courtesy of SEGA's partners Tec Toy. Games were usually based upon US and European versions and translated into Portuguese though Tec Toy have translated at least one Japanese game Hello Kitty no Tanoshii Butoukai.
Hardware
SEGA manufactured several Pico models and there are cosmetic changes with a notable change in 2001 where the brand was changed slightly from "Kids Computer Pico" to "Kids Communication Pico", when Internet capabilities were added.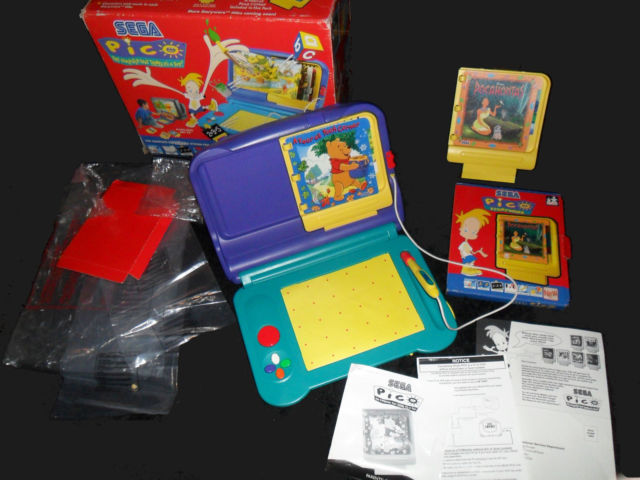 There was also an official variant manufactured by Samsung and released into South Korea where it enjoyed success, and Yamaha released a few versions one of which - the Mixt Book Player Copera - added additional audio hardware and software written for this will not function correctly in other models. There were models reportedly released into Asia however little is known about them.
Since it will be in the presence of kids, some more robustness seems to have been included in its design and thus is able to take a small battering.
It has five coloured buttons (a large and four smaller), a touch pad and a hardwired Magic Pen to use on it. This pen also creates another button when pressed.
Software has a high degree of compatibility across all Pico models.
Pico Technical Specifications

Central Processing Unit (CPU)

Motorola MC68000
@ 7.61Mhz PAL
@ 7.67Mhz NTSC

RAM

64KB Main RAM
64KB Video RAM
8KB Secondary RAM for Z80 (sound)

Video Display Processor (VDP)

SEGA Custom 16-Bit VDP (enhanced version of Master System VDP)
Resolution 256x224, 320x224 or 320x240 (PAL Only), 40x25 Text Mode
512 colour palette
64 onscreen colours
64x9 Kbit dedicated Colour RAM for Palette storage
64 Sprites on 3 planes (1x sprite plane, 2 scrolling playfields)

Audio

Zilog Z80 @ 3.51Mhz for control
8KB RAM (used as Main RAM in Master System compatibility mode)
Texas Instruments TI-76489 PSG (4 channels)
Yamaha YM-2612 FM Synthesizer (6 channels)
14db signal-to-noise ratio

Control

Input Pen with an action button called "Magic Pen". Uses electromagnetism to send signals, and therefore does not need to physical touch the device in order to operate.

ROM

2KB Boot ROM (Trademark Security System) for system's made after 1990

Outputs/Ports

Separate RF and 8-pin din socket for Composite/RGB with mono sound (original model)
RF/Composite/RGB, Stereo and Mono sound via 9-pin mini-din (Mega Drive 2/Genesis 2, Multi-mega and Genesis 3 and Nomad)
Stereo headphone 3.5mm jack (original model only)
9pin D RS232 Serial (original model only)
x2 9-pin D connectors for controllers
Expansion Edge Connector
Power Connector

Storage

Cartridge (ROM) ranging in size of 8Mbit (1MB) to 64Mbit (8MB)
It is reportedly an under-documented device, however, in comparison to the Mega Drive/Genesis, the Pico lacks the Z80 CPU and the YM2612.
Early models had a DE-9 port. There are no known uses for it.
It used a power supply similar to that of the Mega Drive 2 and 32X.
As a console, the system connects directly to a TV yet it did away with the standard RF connector, instead using composite which provides slightly better video quality.
The system had several accessories such as a steering wheel that were released primarily in Japan and Korea and these added to the popularity of the system.
Software
The games came on cartridges (ROMs) that were book shaped and hence termed "Storyware". Cartridges plug into the top half of the system and pages open out to fill the space.
The game being played recognises which pages have been turned with the game advancing accordingly. This control was via the Magic Pen and buttons.
The last page of each book had a freehand drawing section and could be manipulated by the Magic Pen (essentially giving the system two touchpads) where players can also insert stamps or icons of characters previously shown in that game.
There are some known 227 games (not all of them were released) where the vast majority were released in Japan as opposed to 20 or so in the US and slightly less in Europe.
Familiar characters such as Sonic The Hedgehog and Ecco The Dolphin with games from Disney and Hello Kitty appeared in the software library. It also has the distinction of having the first game licensed from Nintendo.
A handful of Pico games were ported to the PC under the Paso Pico brand between 1998 and 2002.
Emulation
Since the hardware is based upon the Mega Drive/Genesis there are a few emulators that can run Pico ROMS. An example is KEGA Fusion (which is available at the Mega Drive/Genesis Emulators page) and an alternative is the open source PicoDrive which has some more specific Pico emulation.
However, this is for the core hardware only. The other elements such as the (physical) book need to be specifically added: ergo digital scans of the pages added as supporting files with the dump of the ROM. As such, Pico emulation beyond the basic is rather difficult.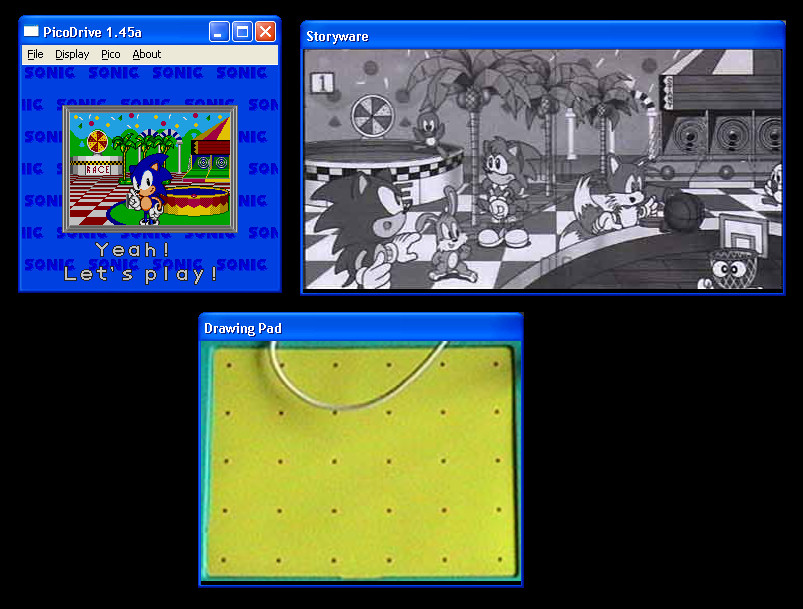 Misc Info
"Pico", like "Mega", is an SI prefix, in this case equating to 10-12.b
It is possible to build an adaptor to play Pico games on a Mega Drive/Genesis. One such example is the Retroade SEGA Pico Plug-in adaptor.
---