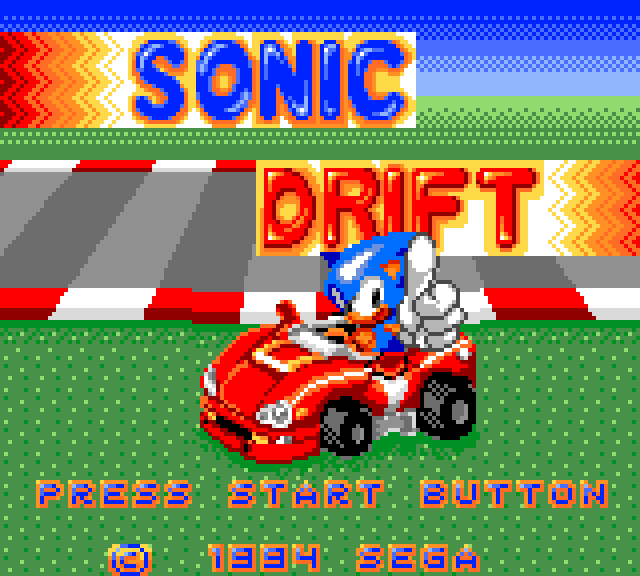 Released in March 1994 for the Game Gear and in Japan only Sonic Drift simply puts characters from the world of Sonic The Hedgehog and places them in a kart racing game.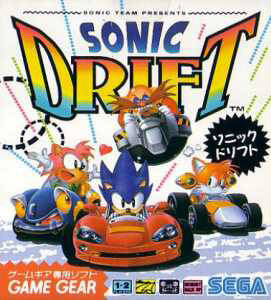 Story
It's all in the spirit of competition - probably.
Gameplay
It's a racing game so being first across the finish line is important.
The D-pad steers your vehicle. LEFT and RIGHT apply only. Pressing UP triggers your character's special move.
Button 2 accelerates
Button 1 brakes
By pressing buttons 1 and 2 at the same time you perform a drift during which you can make it around sharp corners and remain on the track. Though there is the need to use the Drift at certain points if held for too long you spin out of control, come to a complete stop and a ring is lost.
Going off the track puts you on the rough and slows you down however the main danger here is hazards such as palm trees and billboards which when driven into bring you to a stop with the loss of a ring.
Competing with you will be 3 opponents. These are pretty stupid any their only real threat is keeping on the narrow track and trying to get around them. Should you hit one you come to a stop and loose a ring as if you hit an obstacle. As well as obstacles, there are items to assist:
Rings - Collecting 2 of them allows your character to perform their special move. Press UP on the D-Pad to trigger.

Red Boxes - Temporary speed up

Blue Boxes - Temporary Invincibility

Springs - Send you into the air. Good for getting over an opponent in your way.
There are 4 playable characters in the game Sonic, Tails, Amy and Eggman (Robotnik). After you choose your character the remaining 3 become your opponents. Each character is different having their own strengths and weaknesses as well as a unique vehicle.
Sonic Drift Characters

| | |
| --- | --- |
| Sonic The Hedgehog drives The Cyclone Best speed but with poor handling. Special move: Burst of speed. | Miles "Tails" Prower drives the Whirlwind S7. Pretty well rounded racer. Special move: Flying leap. |
| Amy Rose drives the Breeze. Good acceleration and handling but with slow speed. Special move: Throws red hearts which confuse and slow down whoever hits them. | Eggman (or Robotnik) drives the Egg Typhoon. Good handling but with poor acceleration. Special move: Plants mines which stop and jolt a ring out of an opponent who touches them. |
The main crux of the game is the Chaos GP's (Grand Prix) which consists of a race of 3 laps around 6 tracks. Winners are determined by the amount of points earned.
3 points are awarded for 1st place, 2 for second and 1 for third whilst the fourth player gets nothing (because they're crap presumably). Points are totalled in a ranking at the end of each race. The player with the most points at the end of the sixth race is the winner of the GP.
There are 3 GP's in the game: Green, Yellow and Red.
Green is the easiest, Yellow more difficult and Red the hardest. In total, there are 18 different tracks but on 6 'zones' from the first Sonic The Hedgehog. They are:
Green Hill Zone

Marble Zone

Spring Yard Zone

Labyrinth Zone

Star Light Zone

Scrap Brain Zone
Completing the Red GP in first place will access the ending to the game showing a brief animation with your winning character and the games credits.
Free Run mode is a Time Attack mode where you challenge computer times around the tracks. Your best times however are not saved.
A Versus mode is available provided if you have a Game Gear Link Cable and another copy of the game.
Options in the game include a sound test and a difficulty which is simply Normal or Hard. In hard mode, your opponent's gain a little more speed.
The Zones | Screenshots
Sonic Drift Screenshots

Green Hill Zone 1

Marble Zone 1

Spring Yard Zone 1

Labyrinth Zone 1

Starlight Zone 1

Scrap Brain Zone 1

Green Hill Zone 2

Marble Zone 2

Spring Yard Zone 2

Labyrinth Zone 2

Starlight Zone 2

Scrap Brain Zone 2

Green Hill Zone 3

Marble Zone 3

Spring Yard Zone 3

Labyrinth Zone 3

Starlight Zone 3

Scrap Brain Zone 3
Emulator Compatibility
This game is best played with the KEGA Fusion emulator which you can download from the SEGA Game Gear Emulators page. When using DEGA, the game fails to play beyond the starting line.
Misc Info
Release Date 18-03-94
The game was included Sonic Adventure DX as an un-lockable mini game when you collect 40 Emblems.
Sonic Drift 2 was released on Game Gear in 1995 and in more territories.
Related
Sonic R Feature (Saturn and PC)
---