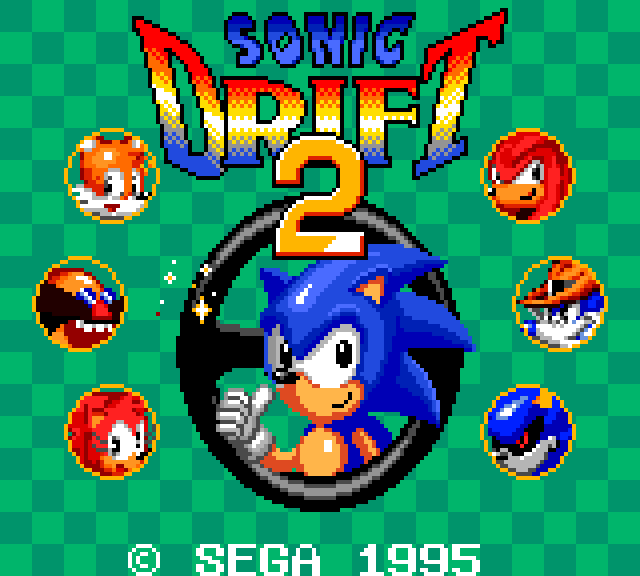 Sonic Drift Racing (Sonic Drift 2) drives out to improve upon what has come before it. For the most part the game is way ahead of its predecessor in all areas however in its simplest form it is still just another kart racing game with Sonic characters in.
The game was released in all territories on the Game Gear unlike the previous Sonic Drift which only saw a Japanese release. For Europe the game was entitled Sonic Drift Racing.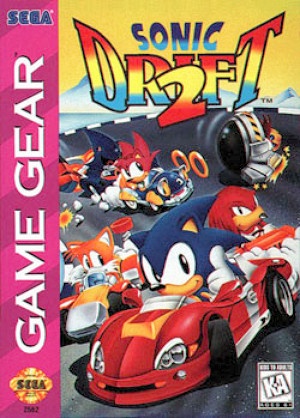 Story
It's all in the spirit of competition....again!
Gameplay
The rules in Sonic Drift Racing remain mostly unchanged from the original. As before the main game lies in completing all of the Chaos GP's.
D-Pad LEFT and RIGHT steers the vehicle
UP - Activates Special Items. Described below.
DOWN - Nothing
Button 2 - Accelerate
Button 1 - Brake
Button 1 and 2 performs the drift.
Start Button - Pause/Show current lap time
Obviously, we are in a race so your main goal is to remain on the track and be first across the finish line.
The main enhancement in this game is the boost in AI that the other opponents on the track have. In addition, they have a lag boost which allows lagging racers to zoom ahead faster than normal every time you pull into the lead.
This does ensure action up front it removes most of the skill requirement to the game since it's possible to get ahead in the last 10 seconds of a race rather than getting you into the leading position and staying there.
A track would not be complete without a ton of obstacles to slow you down and there are enough in Sonic Drift 2. These are:
Items that go off when you touch them:
Springs/Ramps/Rocks - Send you flying. Minor effect on speed.

Flashing Stars - makes the screen white or roughly a second to disorient.

R Spheres - Temporally reverses your steering.

Robotnik Mines – He tosses these onto the track causing whoever runs into one to come to a halt and deprive you of a ring.

Junk - Each track will also have an assortment of junk that will litter the track. These will just slow you down. For example, Casino Night will have a weird looking spring and Desert Road will have patches of sand.
In addition to opponents and obstacles there are some special items to assist. They come in boxes and instead of being triggered instantly when running over them and instead they can be used at will by pressing UP on the D-Pad.
Rings - dotted around the course. Collecting 2 allows your character to perform their special move except Metal Sonic who needs 3 rings.

Red - Temporary boost in speed.

Yellow - Allows you to perform a single bounce as if running over a spring.

Blue - Temporally invincibility against attacks and obstacles.

Black – Arms you with spiked black ball. Any vehicle running into it comes to an immediate stop.

Grey/Black - Gives you a mine to lay on the track. Anyone running into it will come to a halt.
There are more characters in Sonic Drift 2 although only 4 will play in any Chaos GP (Grand Prix). After selecting your character to race with you can choose your 3 opponents or let the computer decide them randomly.
As before each character has certain strengths and weaknesses.
Sonic Drift Racing Characters

Sonic The Hedgehogdrives The Cyclone. Best speed but with poor handling. Special move: Burst of speed.

Miles "Tails" Prowerdrives MTP-02 Whirlwind S7. Pretty well rounded racer. Special move: Flying leap.

Amy Rose Rose drives The Breeze. Ok acceleration and handling but with slow speed. Special move: Throws red hearts which confuse and slow down the driver with her feminine wilds.

Eggman (or Dr. Robotnik) drives Egg Typhoon. Good handling but with poor acceleration. Special move: Plants mines which stop and jolt a ring out of an opponent who touches them.

Knucklesdrives The Tempest. Low speed but with better handling. Special Move: A punch that will stall any nearby opponents. If there are no opponents close by he simply has a leap.

Fang The Sniperdrives The Marvellous Queen. Good acceleration and poor handling. Special Move: Can toss oily balls that make opponents slip out of control.

Metal SonicMetal Sonic drives Blue Devil. Good speed and poor handling. Special Move: Temporary boost in speed the game as Sonic but lasts longer and requires 3 rings instead of 2.
As before there are 3 different Chaos GP's to race in; Purple being the easiest, White being more difficult Blue being the most difficult.
Each Chaos GP consists of 6 tracks. To complicate the race some tracks have separate start and finish lanes and others loop. If a track loops, then 3 laps determine the winner. Some tracks have sections that become half-pipe's ala Sonic 2 Special Stage and with enough speed can be driven in.
There are some new graphical backdrops to some tracks whereas others are derived from Sonic 2 and Sonic 3.
Sonic Drift Racing Chaos GP's

Purple Chaos GP

Emerald Hill 1
Hill Top 1
Dark Valley 1
Casino Night
Desert Road 1
Iron Ruin

White Chaos GP

Desert Road 2
Rainy Savannah
Ice Cap
Hill Top 2
Mystic Cave
Emerald Hill 2

Blue Chaos GP

Dark Valley 2
Quake Cave
Balloon Panic
Emerald Ocean
Milky Way
Death Egg
To play the final GP you need to earn all 6 Chaos Emeralds done by coming first on all 6 races.
The Final GP is a showdown between yourself and the opposing team's leader in the Death Egg. If you are playing as either Sonic, Tails, Knuckles or Amy you will race Eggman (Robotnik). If you are either Fang, Metal Sonic or Eggman then you race against Sonic.
Extra modes in the game are the Free Run where you race against computer times. Again, your times are not saved.
A 2-Player versus game can be had should you have a Link Up cable and another copy of the game.
Options in the game allow the choosing of difficulty from Normal or Hard which basically adjusts the ferocity of the AI opponents. The enemy option simply toggles enemies on or off. With enemies off there will also be less obstacles on the track.
The Zones | Screenshots
Sonic Drift Racing Screenshots

Emerald Hill 1

Hill Top 1

Dark Valley 1

Casino Night

Desert Road 1

Iron Ruin

Desert Road 2

Rainy Savannah

Ice Cap

Hill Top 2

Mystic Cave

Emerald Hill 2

Dark Valley 2

Quake Cave

Balloon Panic

Emerald Ocean

Milky Way

Death Egg
Cheats and Tips
Quick Starts
For a boost at the start of the race hold down button 2 the instant the go-light turns blue.
Improved Steering
To get slightly more control out of your kart use brake (button 1) in conjunction with accelerate (button 2). This is especially useful for tracks like Quake Cave or tracks with bottomless pits both sides like The Milky Way.
Exit Free Run
To exit the Free Run mode press START and then hold buttons 1 + 2.
Emulator Compatibility
This game is best played with the KEGA Fusion emulator which you can download from the SEGA Game Gear Emulators page. When using DEGA, the game fails to play beyond the starting line.
Misc Info
Release Dates: Japan 17-03-1995, Europe 03-1995, US 11-1995
There have been no other titles in the Sonic Drift series however the next game to feature Sonic characters racing was Sonic R on the Saturn in 1998.
Sonic Drift 2 was included as an unlockable mini game in Sonic Adventure DX (as was Sonic Drift) when you collect 130 Emblems and completed at least 20 missions.
In the last race of the game against your opponent's team leader in the Death Egg the background music is the boss music from Sonic 3.
Related
Sonic R Feature (Saturn and PC)
---